I've heard from a number of men that "the best gift you can give Dad on Father's Day is a full stomach" — preferably one filled by someone other than himself! The day belongs to dad, so let's let him step away from the grill: no standing over a hot BBQ making sure everyone's steak is cooked to perfection. No flipping burgers or turning hot dogs for the kids. This year, Dad, the day is yours, with these mostly make-ahead meals that someone else has prepared!
PEPPERED PORK LOIN ROAST WITH ROASTED POTATOES
SERVES 6 TO 8
A pork loin roast comes from the area of the pig between the shoulder and the beginning of the leg. It's sometimes confused with pork tenderloin, but they're not the same. A loin roast is typically sold in pieces weighing between 2 and 4 pounds whereas a tenderloin is a smaller, long cut that usually weighs about 1 pound and is sold packaged in pairs. A loin roast, best cooked to an internal temperature of 145ºF to 160ºF, is delicious rubbed with a spice mixture, like this one made with mixed peppercorns, coarse-grained mustard and herbs. Serve it with a green salad or the mixed bean salad that follows.
6 tablespoons coarse-grained Dijon mustard
2 tablespoons mixed peppercorns, coarsely ground
2 tablespoons minced garlic
2 tablespoons balsamic vinegar
2 teaspoons chopped fresh rosemary
2 teaspoons fresh thyme 
Grated zest and juice of 1 lemon
1 tablespoon honey
1 (4 pound) boneless pork loin roast, patted dry with paper towels
Salt
2 pounds baby potatoes, washed and dried
1. In a small bowl, combine mustard, peppercorns, garlic, vinegar, rosemary, thyme, lemon zest and juice and honey. Coat pork with peppercorn mixture and let sit for about 2 hours.
2. Preheat oven to 375ºF. Place loin on a rack in baking dish. Surround with potatoes. Roast for about 1 hour, or until an instant read-thermometer inserted into center registers 150ºF. 
3. Remove from oven and let rest for 15 minutes. Slice pork thinly and serve with potatoes.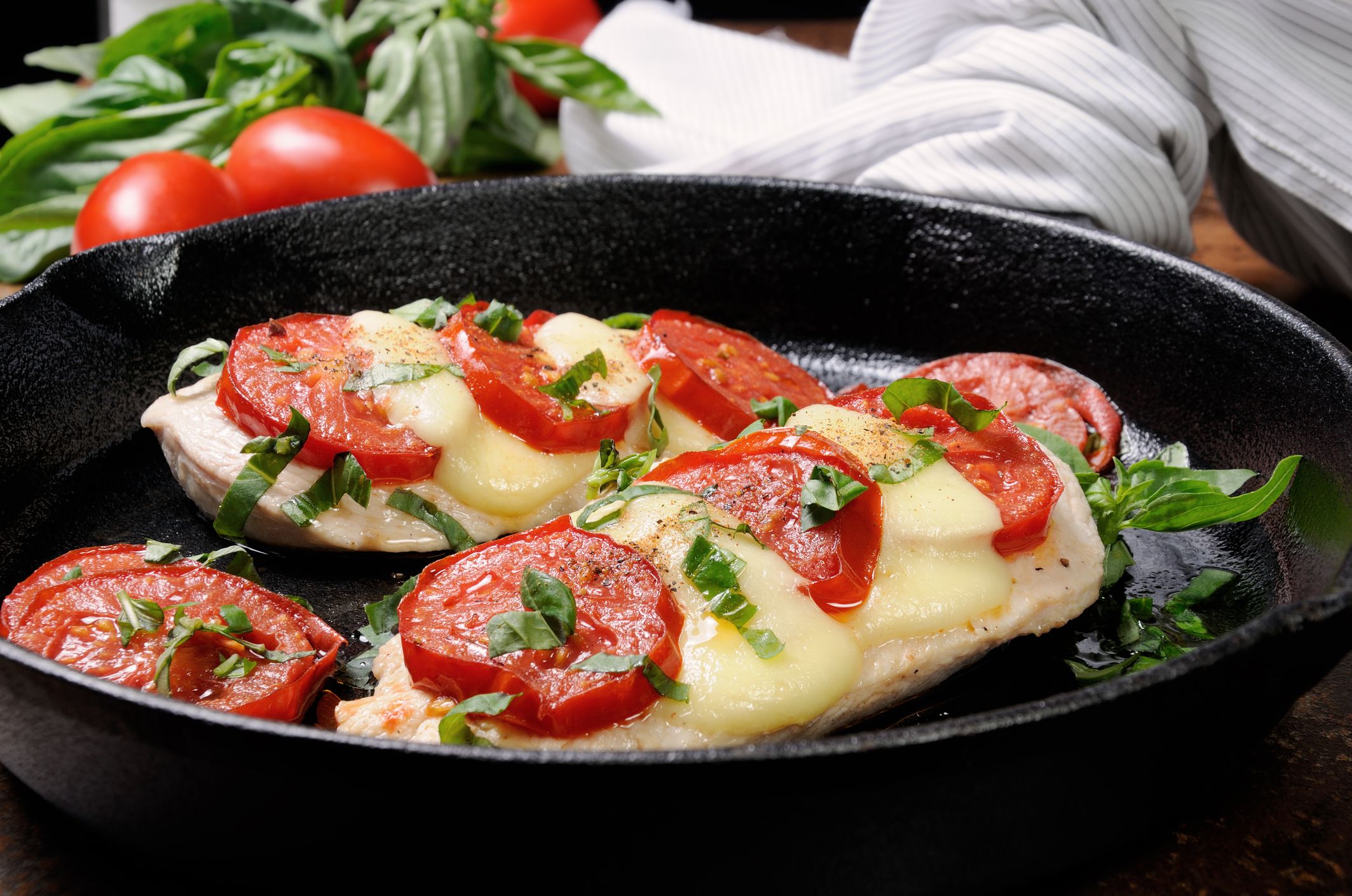 CHICKEN CAPRESE
SERVES 4
            For a new twist on the classic summer salad of tomatoes, mozzarella and basil — aka Caprese — add chicken and a quick finish to melt the cheese for a tasty main course. If you have a cast-iron skillet, use it for this soon-to-be Father's Day favorite.
4 (5 to 6-ounce) skinless chicken breasts
Salt
Ground black pepper
2 tablespoons olive oil 
1/4 cup balsamic vinegar
1 tablespoon chopped shallot
15 cherry or grape tomatoes, cut in half
8 to 10 basil leaves, thinly sliced
4 (1/2-inch-thick) slices mozzarella cheese
Basil leaves, for garnish
Arugula, for topping (optional)
1. Season chicken with salt and pepper. In a large ovenproof or cast-iron skillet over medium-high heat, heat oil. Cook for 4 to 6 minutes per side, or until golden and cooked through; transfer to a plate. 
2. Add balsamic vinegar to skillet. Stir in shallot and cook for 1 minute, or until soft but not browned. Add tomatoes, season with salt, and simmer for about 5 minutes, or until tomatoes are soft. Stir in basil. 
3. Return chicken to skillet and tuck in to tomatoes. Place a slice of mozzarella on top of each piece of chicken breast, cover, and cook for about 2 minutes, or until mozzarella melts slightly. 
4.To serve, transfer chicken to a serving plate, spoon tomatoes on top, and garnish with basil leaves and a few sprigs of arugula, if desired.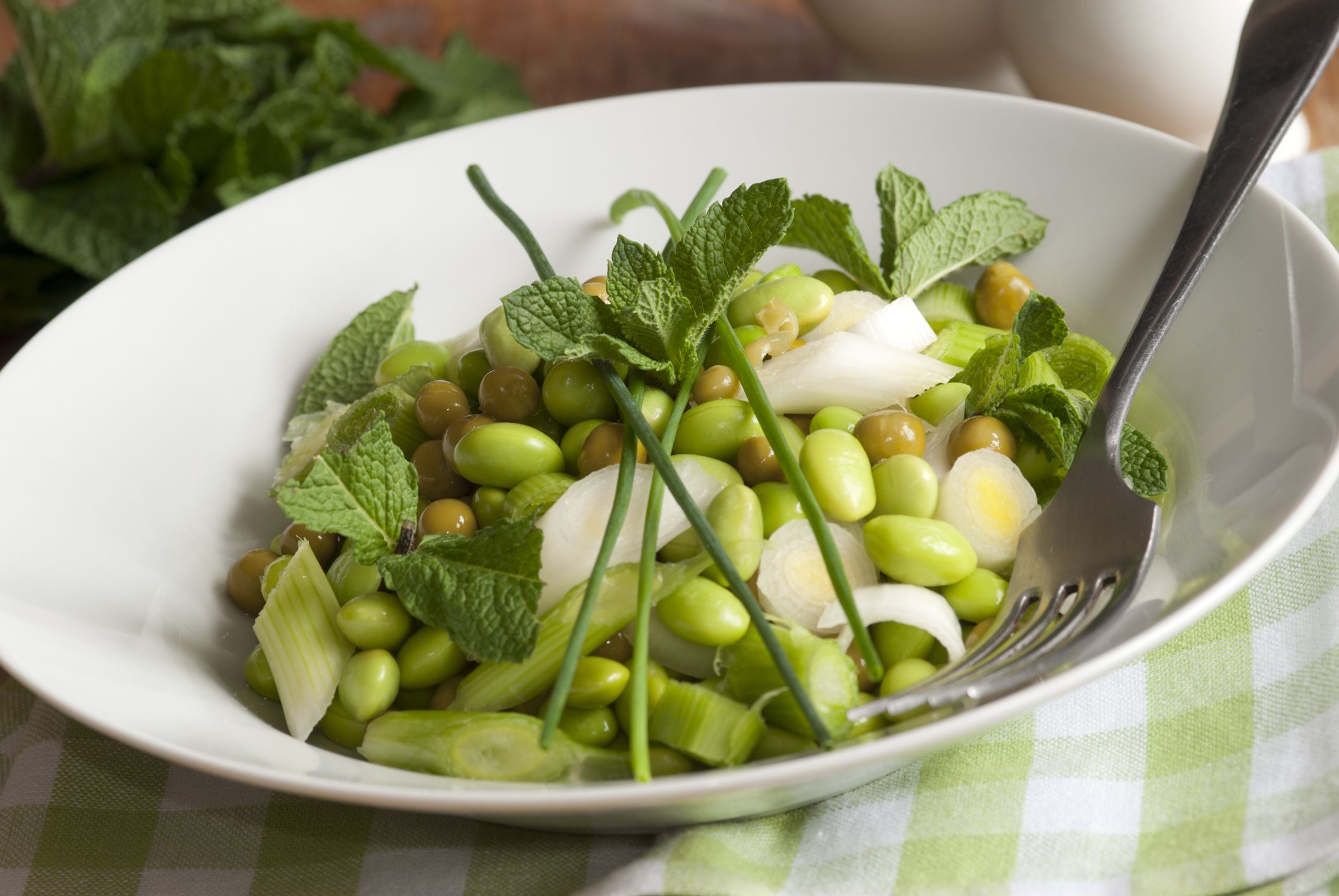 MIXED BEAN SALAD WITH WALNUT VINAIGRETTE
SERVES 4 TO 6  
            Sugar snap peas are the sweet, crunchy cross between English butter peas and snow peas. They're delicious in a summer salad combined with green beans, broad beans, butter beans or baby lima beans. Toss with this flavorful walnut vinaigrette or a splash of oil and vinegar. The sugar peas have strings on both seams that should be removed before eating; just snap off a bit of the stem and pull gently down both sides.
For the salad
1 pound fresh sugar snap peas, strings removed
1 pound fresh green beans
1 (10-ounce) package frozen butter beans
1 (10-ounce) package frozen lima beans
2 celery stalks, sliced
Salt 
Ground pepper 
Fresh chives, for garnish
For the vinaigrette 
3 tablespoons roasted walnut oil 
1 tablespoon canola oil 
1 tablespoon white wine vinegar 
Salt 
Ground pepper 
Fresh chives, for garnish
Fresh mint, for garnish
1. Make salad. In a large saucepan over high heat, drop snap peas and green beans into boiling water; cook for 1 to 2 minutes, or until tender crisp. Drain and refresh in cold water. Transfer to salad bowl. 
2. Refill saucepan with water, bring to a boil, and cook butter beans and lima beans for about 8 minutes, or until tender; drain. Transfer to salad bowl. Add celery and season with salt and pepper. 
3. Make vinaigrette. In sealable jar, combine oils, vinegar, salt and pepper; cover and shake until blended. Toss salad with dressing; garnish with chives and mint.
OLIVE OIL CAKE WITH MASCARPONE CRÈME 
SERVES 8
Add this rich pound cake to your Father's Day menu for a perfect finale. Serve it with seasonal berries and a dollop of whipped cream or mascarpone crème.  
For the mascarpone crème 
1 (8-ounce) container mascarpone, chilled 
1/2 cup heavy cream
1/3 cup confectioners' sugar
1 1/2 teaspoons vanilla extract
For the cake
1 1/3 cups extra-virgin olive oil 
2 tablespoons grated orange zest 
2 1/2 cups all-purpose flour, sifted
1 3/4 cups sugar
1 1/2 teaspoons kosher salt
1/2 teaspoon baking soda
1/2 teaspoon baking powder
1 1/4 cups milk
3 large eggs
1/4 cup freshly squeezed orange juice
1/4 cup Grand Marnier
Fresh berries, for serving
1. Make crème. In a stand mixer fitted with a paddle attachment (or with a hand mixer), beat mascarpone, cream, sugar and vanilla until smooth. Cover and refrigerate.
2. Make cake. Preheat oven to 350°F. Coat a 10-inch springform pan with cooking spray; line bottom with parchment paper. 
3. In a large bowl, combine olive oil and orange zest; set aside to infuse.
4. In a medium bowl, whisk together flour, sugar, salt, baking soda and baking powder.  
5. Whisk milk, eggs, juice and Grand Marnier into olive oil. Stir in dry ingredients until just combined. (Mixture will be thick like pancake batter). Transfer to prepared pan and bake for about 1 hour, or until top is golden and a skewer inserted into center comes out clean. 
6. Remove from oven, transfer to a wire rack, and let cool for at least 30 minutes. Run a knife around edge of pan and release sides. Invert cake onto rack, remove parchment paper, and then return to upright. 
7. To serve, cut cake into slices; serve with mascarpone crème and berries.  
    Margaret Johnson's "Recipes" page also includes "Ireland Hopping: Adventures in Food, Drink, and Travel." For further details on her work, or to order a signed copy of her cookbooks, visit irishcook.com