In the prologue to Richard O'Rawe's second novel, Hermann Goering washes down a morphine tablet with some red wine. He puffs on but doesn't inhale his Cuban cigar.
Relaxing in his easy chair, the Reichsmarschall considers the roaring log fire before him, and "is reminded of the flames from the 22 allied planes he shot down during World War I. It's time for introspection, mostly about his life and the war, that accursed garotte coiling around his neck, strangling his life force…"
Presently, though, as an Allied attack on Berlin intensifies, Goering is escorted by SS officers 36 feet into the earth to join Emmy, his wife, and their 6-year-old daughter, Edda, in the bunker. When the bombing ceases, he's back in front of the fire. Another SS officer brings to him a summoned archaeologist named Hans Winkler, whom he proceeds to pepper with questions about Ireland.
But the one thing Goering is most interested in, it seems, is information about a certain Adolf Mahr. Winkler dutifully reports, "Herr Mahr was the first keeper of Irish Antiquities and director of the National Museum of Ireland from 1934 to the start of the war, and it was my privilege to be one of his assistants."
O'Rawe told the Echo that the kleptomaniacal Goering "realizes the war is lost and decides to hide a large cache of gold bullion for the rainy day that he knows is just around the corner. 
"Thence 'Goering's Gold' is a treasure hunt that takes place around Europe. There are several claims to the gold, not least that of a neo-Nazi paramilitary group, who believe they are the rightful inheritors of the gold. The neo-Nazis also believe that Goering's ceremonial baton is the key to finding the treasure and that Ructions O'Hare, an Irish criminal mastermind who got clean away with robbing the national bank in Belfast of £32 million in 2004, has possession of the baton. Also looking for the gold is the IRA, who find out that Ructions is the central figure in ascertaining the location of the missing gold."
O'Rawe continued, "Interpol and the Irish police are also hunting Ructions, but he's an elusive character. Where's the gold? On Treasure Island! Ireland!"
In an Echo piece earlier this month, O'Rawe revealed that he can thank his daughter Bernadette for the concept of "A Ructions O'Hare Novel," in that she thought it a mistake to kill off such a compelling character. And so, Ructions was still in the world of the living at the end of the final draft of "Northern Heist," the version that got picked up by the publisher.
And admirers are already hoping for a third. "I…clamor for the next installment of Richard O'Rawe's rollicking series of heist novels featuring James 'Ructions' O'Hare," said crime fiction reviewer Sarah Weinman in the New York Times Book Review.
"Mr. O'Rawe," said the Wall Street Journal's Tom Nolan, expressing a similar sentiment, "has written the most riotous caper novel since his own 'Northern Heist,' and with luck, there will be more adventures ahead." 
Weinman said, "Rumors that the stash had been buried in the Republic of Ireland have never amounted to much, but as soon as Ructions gets involved, the game is on — and it's a matter of when, not if, it will lead to kidnapping and bloodshed.
"O'Rawe adopts a pitch of dark humor that is at times brutal, often arch, but hardly ever bitter," she added. "The pace crackles as it moves from Belfast to Paris to other European climes, and it's nearly an impossibility not to root for Ructions, rogue that he is. His triumph is enough in doubt, however, to make it feel earned."
Richard O'Rawe
Date of Birth: Dec 21, 1953.
Place of Birth: Belfast.
Spouse: Bernadette O'Rawe.
Children: Bernadette, Stephanie, Conchúr.
Residence: Belfast
Published works: "Blanketmen" (2005), "Afterlives" (2010)," In the Name of the Son: The Gerry Conlon Story" (2017), "Northern Heist" (2018); "Goering's Gold."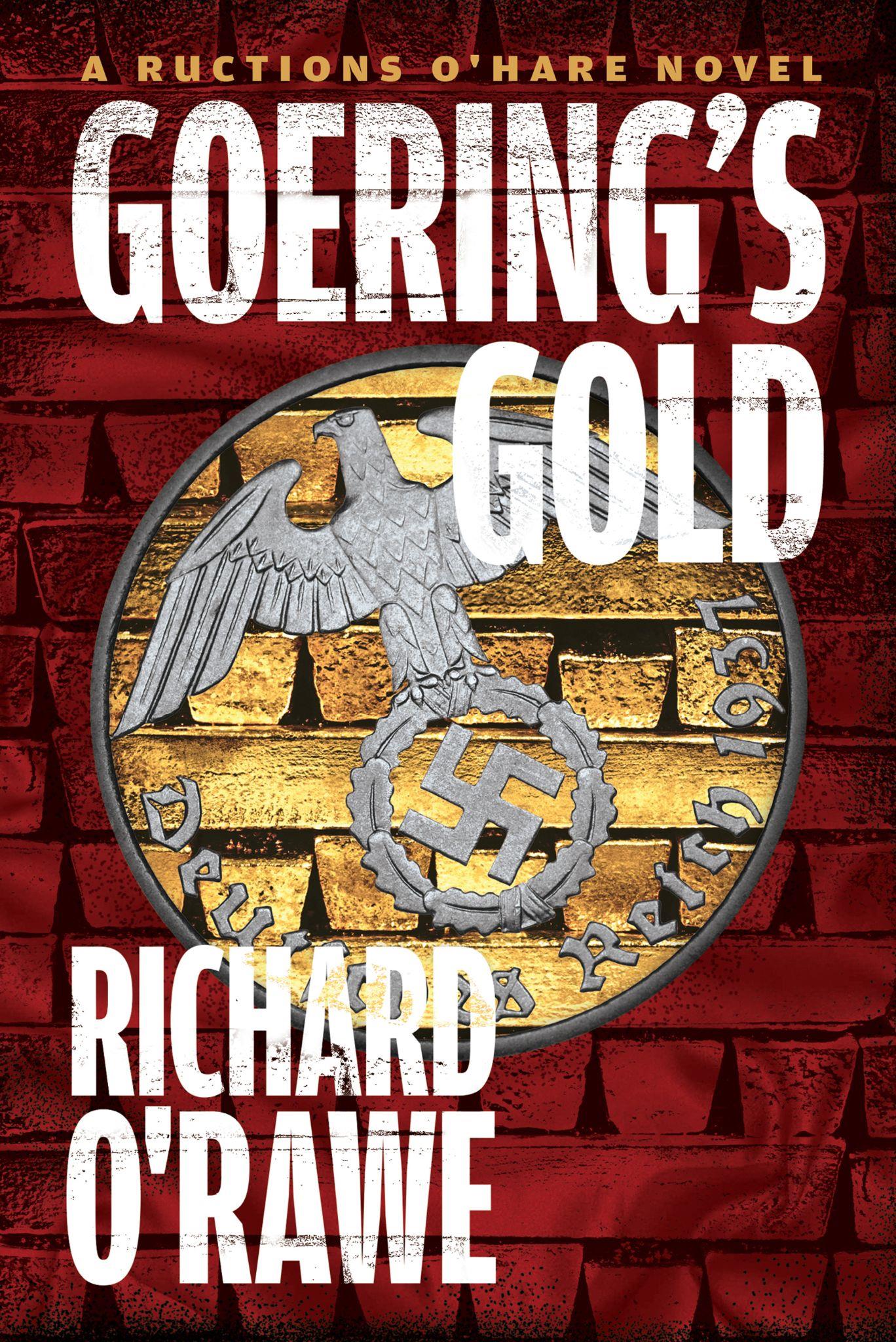 What is your writing routine? Are there ideal conditions?
I haven't really got a writing routine, as such. I tend to write very early in the morning, sometimes beginning at 5 a.m. and maybe finishing at midday. I find the early morning to be the most productive time of the day because my mind is clear, and my ideas are fresh. And I tend to write in spurts, sometimes I would put in a 12-hour shift and at other times I can barely look at the computer. 
What advice would you give to aspiring writers?
I don't want to sound condescending, but writers, even published writers, need to understand that rejection is rarely far away. All my books were rejected by publishers, with one, in particular, many times. It's gut-wrenching when your work is declined but it helps if you know that rejection is only a matter of opinion and different publishers have different opinions and book preferences. Also, I think it is worth saying that sometimes you don't need the full story plotted out before writing. When writing "Northern Heist," for example, the plot changed several times as the story developed … new ideas enter your mind, some characters start asserting themselves and demand a stronger presence in the storyline, and so it important not to be too rigid. It's also important to enjoy the writing, otherwise it becomes a chore, and writing should never be a chore.    
Name three books that were memorable in terms of your reading pleasure? 
A difficult question. "Trinity" by Leon Uris. A giant of a book. I read it in Long Kesh in 1977 and had the pleasure of hearing Bobby Sands tell the story out his cell door in the H-Blocks of Long Kesh in 1979. Bobby drew it out over a week, keeping us, his fellow-protesting prisoners enthralled. In truth, he had a way with words himself, a style of writing poetry that appealed to the man on the street. And he wrote his poetry and songs on the back of toilet paper (we had no writing materials).  Without labouring the point, I have always said that he was a serious loss to Irish literature. Who knows what a creative mind like his could have produced?  
"Bring up the Bodies," by Hilary Mantel. This lady weaves a spell over her readers with her magical grasp of the English language. Moreover, her character and plot development and the immediacy with which she depicts scenes, puts her readers in the very presence of the tyrant, Henry VIII. She can be overwhelming, sometimes wordy, but that's not such a bad thing in her case. 
"Star of the Sea" by Joseph O'Connor. A story of Irish immigration during the Famine to the promised land of America and of incredible hardship during the terrifying journey. O'Connor has written a masterpiece. 
What book are you currently reading? 
I am re-reading an oldie but goodie entitled "On the Brinks" by Sam Millar. It's a true story of how Sam, a former IRA prisoner, and others robbed a Brinks Depository of $8 million in New York City. A wonderfully written and humorous gem of a book.                  
If you could meet one author, living or dead, who would it be?
That's a no-brainer; Ernest Hemingway, of course! Not for the first time have I Imagined myself going into the El Floridito bar in Havana, Cuba, and meeting Hemingway in his favorite corner, and the two of you downing scotch and soda, or Mojitos to beat the band. And at the end of the night, a rendition of "The Foggy Dew" as we hold each other up!     
You're Irish if … 
You can quote the Proclamation backwards!