"I Called Her Mary" is memoir about the life of Peg O'Hagan that I co-authored with her. It tells a story of faith, hope and love. The book explores the idea that sometimes in life we come to a fork in the road where every choice can only lead to heartbreak.  Occasionally, the thorny path we choose ultimately leads to a happy ending.  Peg's tales of hardship and unconditional love carry the reader through an emotional journey of true determination and love.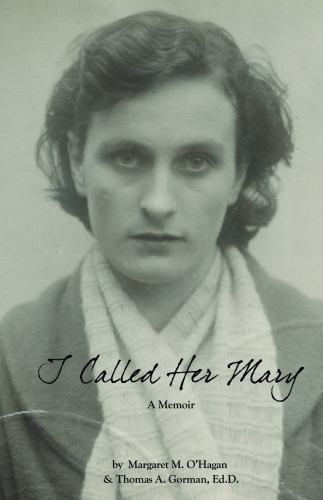 "Before ye get into anything serious, don't start yer new life off with a lie" is the sound advice Peg received from her mum prior to saying "yes" to her soon-to-be fiancé. This made all the difference to this story being told, as it opened the door to a secret that Peg, who died in April, was scared to tell but ultimately resulted in a wonderful and blessed life filled with love and a reunion over 50 years later with her biological daughter.
Over five years, as Peg's son-in-law, I sat, listened, and captured her riveting story. We spent many afternoons sitting in the living room, sometimes in front of a crackling fire, recording her funny and heartbreaking stories.  
Peg recalled the heartrending story of giving her baby daughter away only to be reunited with her later in life and a continent away.  As an unwed teen in 1950s Catholic Ireland, Peg was faced with keeping the daughter she loved or giving her a chance to escape a life of ridicule and ostracism. The story provides inspiration to all the separated mothers and children searching for each other.  It is also a love story between Peg and the man who saved her when she came to America.  
This memoir is particularly timely since "The Mother and Baby Homes Commission of Investigation in Ireland" published their findings of the abuses and deaths of thousands of babies in these homes in January 2021.  The odds that Peg and her daughter survived and were reunited are extremely slim.
When Peg became pregnant as a teenager in a conservative village in 1950s Ireland, she knew her life would never be the same again. She was sent away in shame only to find courage and wisdom deep within her soul that led her to the greatest life, husband, and family.
Being poor and not having many options, Peg Holland's parents send her to Sean Ross Abbey to deliver the baby. After her baby, Mary, is born, Peg and Mary are heckled and ridiculed by townspeople for nine months until Peg decides she must give Mary up for adoption so she can have a better life. This decision haunts her the rest of her life. Having nothing left to keep her in Ireland, Peg leaves home to work for a family in America.  
As the nanny of five children, Peg cooks, cleans, and does whatever the family needs in this new land.  However, Peg must stand up for herself to fight off advances by the husband. After a while, she begins to go out with a girlfriend to bars and meets Mick O'Hagan.  Mick is swept away by Peg and wants to marry her.  She refuses due to the secret of her baby that no one knows about.  After seeking her mum's advice, Peg decides she will tell Mick everything because she truly loves him.
Mick convinces Peg to leave the nanny job and move in with his sister. At the kitchen table, Mick again asks Peg to marry him.  This is the moment she decides to blurt everything out about her past and Mary.  Hearing the news, Mick still wants to marry her and they are wed within the year.  They consider Mary their guardian angel.
Living in the Bronx, Peg and Mick have four children together.  However, there are several miscarriages and Peg thinks it is because God is punishing her for giving Mary away. Wanting to move to the suburbs, they relocate to New Jersey to raise their family. They have a great blue-collar life in their new town filled with parties, sports, and hard work.  However, they have difficult times too.  Mick gets cancer and lives with a feeding tube for 16 years.  
Fifty-two years after the birth of Mary, Peg receives a phone call from her daughter.  They are reunited and the family only grows bigger and stronger because of their love.  Peg and Mary stay in touch and visit each other several times a year.  They share many stories of what each other missed out on but as the stories are told new details emerge.  
After Mick's passing, Peg cleans out the closets and stumbles across documents that Mary shared with her.  The story that Peg told of the adoption and giving Mary away don't match up to the letters and documents that Mary possesses.  Fighting past the trauma of giving Mary up at such a young age, memories come flooding back and a new truth of what actually happened comes to light – Mary lived with the nuns at the abbey for a year. 
On the back deck, Peg and Mary continue their beautiful relationship and reflect upon how wonderful, despite all the heartache, their lives turned out.  This memoir was originally recorded as a family legacy.  However, all who have come to know the story are moved by the experience and believe it must be shared with others on a larger scale. 
For more information about "I Called Her Mary," by Margaret M. O'Hagan and Thomas A. Gorman, click here.