So, what's in store for all those Irish language seekers and speakers at the University of Connecticut? In the village of Storrs and town of Mansfield, half-way between New York City and Boston, nothing is half measure about UConn's dedication to the Irish language.
The University of Connecticut is one of very few places in the U.S. that offers students the opportunity to study Irish in all its forms: Old Irish, Early Modern Irish, and the modern Irish of today.
"UConn is home to an international collaborative online project to make Early Modern Irish available to people free and globally," says Professor Brendan Kane, Professor of History, and Professor of Literatures, Cultures, and Languages, who teaches Early Modern Irish.
For those seeking to connect with the Irish language and other speakers, University of Connecticut is the place to be. And while Covid may have impacted the advertising of classes, it hasn't dampened the spirits of those UConnHuskies teaching and learning the language. 
Check out our progress on Léamh! The Léamh team is working on a grammar game for learning Early Modern Irish. This project comes from https://t.co/gYkxnh38jR, a web based tutorial for learning to read and translate Early Modern Irish, launched at UConn in 2017. pic.twitter.com/671sZ7C8KZ

— Greenhouse Studios (@GreenhouseUConn) May 25, 2020
Muireann Nic Corcráin, a Wexford native, is this year's Fulbright Foreign Language Teaching Assistant (FLTA) at UConn, where she teaches classes at beginner and intermediate levels, including a community class.
"The first set of Irish classes I did had around 25 people; for the following session we had over 43 people sign up," she enthuses.
As a keen sportsperson who grew up and played in her local Wexford GAA community, she has been bringing some of that grá of GAA to the local club in Glastonbury, CT, and the UConn Gaelic football team, founded in 2017. Many of those players also take her college and community Irish classes.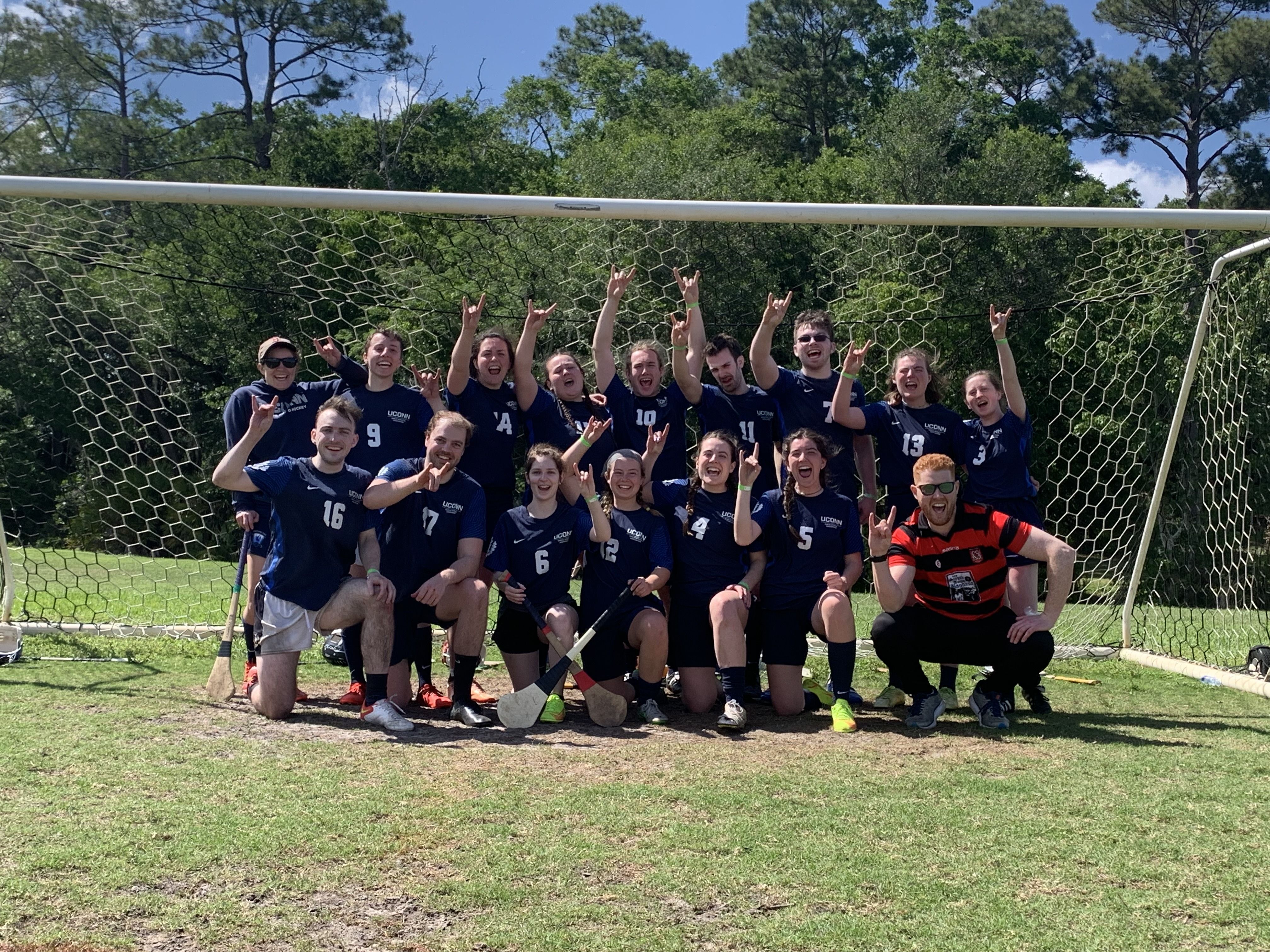 "Some people are still a bit hesitant to take up the language again after not using it for a while, or even to begin their language learning journey because they have heard how hard the language is to pick up," says Nic Corcráin.
They quickly overcome that fear of the language, however, once they hear its beautiful sounds, appreciate its grammatical structure, and begin to learn its history: all in an open and welcoming environment.
"Once they are introduced to the language and begin to learn more about the history behind the language, how it survived colonization and The Great Famine, there's a lot of respect shown towards those who are here to share the language and it begins to generate some interest," says Nic Corcráin.
"Being able to draw parallels between Irish and Algonquian in terms of culture and the history behind the language has been a real eye opener for me and I'm excited to see where this partnership goes in the future to support both languages."
"I've also started teaching volunteer conversation classes down at the Irish club, so when students go down and are in the bar area, the language has started to flourish and become more widely used by all members of the club," she says.
And rumor has it that a pionta amháin helps with the flow of prepositional pronouns and maybe even the dreaded modh coiníollach, so the community class takes place in a relaxed and social setting, yet with all the rigor the language deserves.
The college has also revived the Cumann Gaelach with Nic Corcráin's help, and the students are flourishing with all these opportunities to be immersed in the culture and language of Ireland.
IT TAKES A VILLAGE
And, since it takes a village, they are very "lucky to have great support from the Irish American Home Society in Glastonbury, who offer set dancing classes, Irish dancing, music sessions and more that we can promote to our students who wish to delve deeper into Irish culture," says Nic Corcráin.
There are opportunities for UConn students to travel to Ireland in the summer and attend the Gaeltachtaí; both undergraduate and graduate students can learn Irish; and there's still more room for growth.
"I think there is definitely room to grow the Irish language program here, there is an interest for sure in Irish history and culture in general and it would make the most sense to try and build a cross-departmental Minor in Irish Studies at the very least," says Nic Corcráin.
"There are years of history of trying to rebuild the language and rebuild the positive connotations toward the language," says Muireann Nic Corcráin of Irish, the language she's teaching as a visiting Fulbright Scholar at UConn this year. https://t.co/bgIE4W2Sn3 pic.twitter.com/f5rxGYaWB5

— UConn (@UConn) October 5, 2021
While Nic Corcráin has been sharing the Irish language with Connecticut, she's had the wonderful opportunity to delve into the history and connection with other minoritized and Indigenous languages. 
"I've been incredibly lucky to be able to connect with the UConn Native American Cultural Program here in UConnand host workshops on Minoritized Languages, including Irish and Algonquian, which is the language of the Mashantucket Pequot Tribal Nation," she says.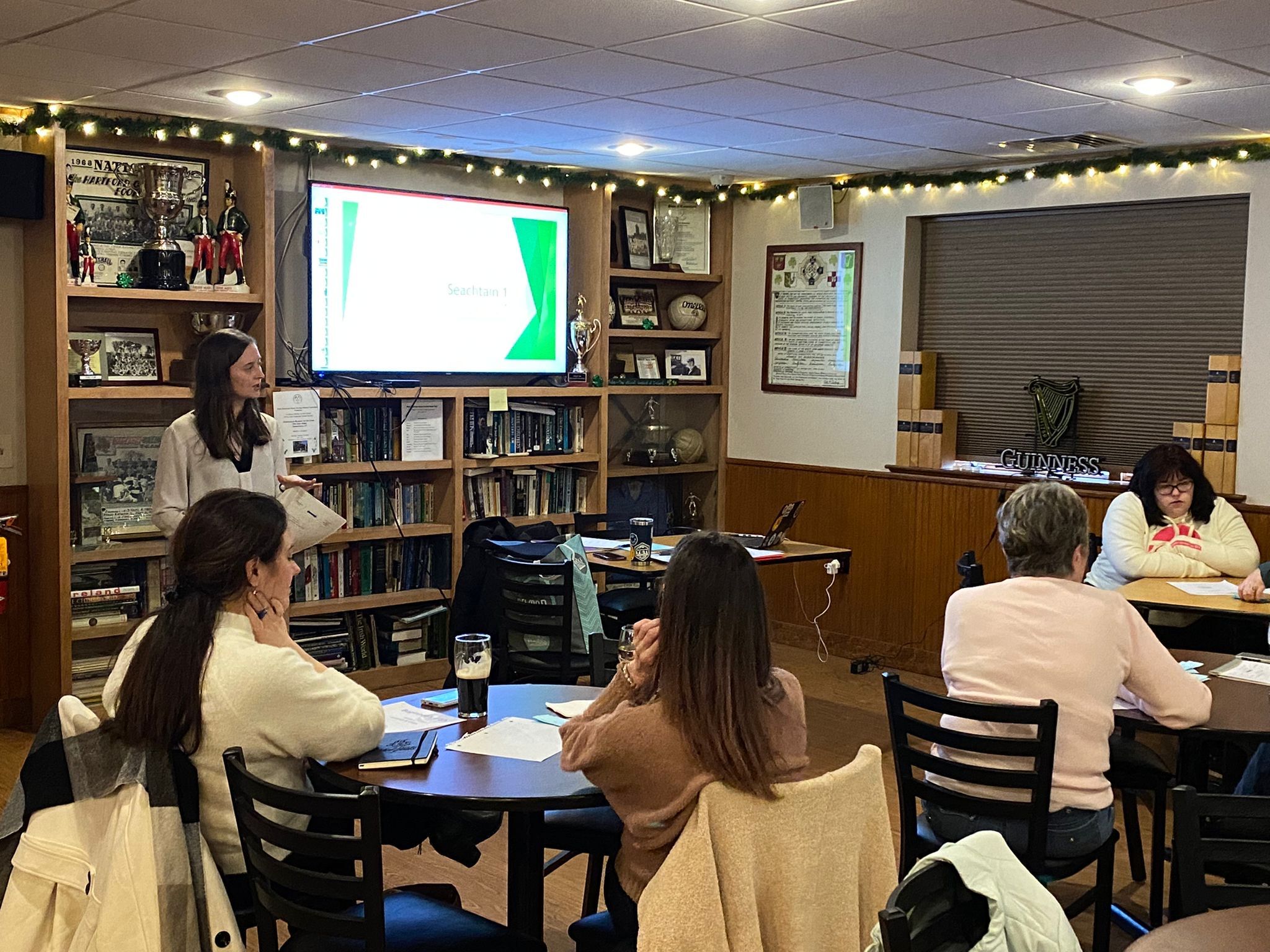 "Being able to draw parallels between Irish and Algonquian in terms of culture and the history behind the language has been a real eye opener for me and I'm excited to see where this partnership goes in the future to support both languages."
That Wexford spirit never wanes. Nic Corcráin has always been an ambassador and activist for the Irish language, never shying away from standing up for what she believes in, even as an undergraduate at Trinity College, Dublin.  
"I've been involved in Irish language activism since my first year in university, where I could see the opportunity to fight for my language rights and try and make a difference," she says.
"By taking on the role of Irish Language Officer of the Student Union in my final year of my degree, I successfully lobbied for student I.D.s to include the síneadh fada, when they used to protest that their system couldn't accommodate it. The following year when I started my Masters, I got my new student card with the fada on it, no questions asked."
FERVOR
She has brought that fervor and Wexford warrior spirit across the sea to Connecticut, and the circle continues. She teaches. They learn. More speak. Connect. The Irish language travels some more. Flourishes some more. Her opportunity is the language's opportunity.
"For me this was the opportunity of a lifetime to travel to America, to meet new people and to spread the grá I have for my language, my history and my culture," says Nic Corcráin.
"The Irish language, for me, is a huge part of my identity, and to get the chance to share this with people is a privilege and an honor," she says.
Nic Corcráin is a proud Loch Garman Gaeilgeoir, bringing her knowledge and grá of Gaeilge and GAA to those in Glastonbury, UConn, Connecticut and beyond. While her academic year at UConn is drawing to a close, the Irish language continues to flourish and thrive, and the Connecticut connection carries on.