In my comic debut novel, "Mr. Wizard," published by Open Books in 2020, two Jewish brothers from New York learn via DNA testing that at least one of them actually has an Irish father.
A genetic treasure hunt ensues, taking Phillip and Spencer Elliot from their homes in Manhattan and across the sea to Dublin and the fictitious Irish golf town of Ballydraiocht, where Phillip discovers his father is an aging Irish golf professional who happens to be the brother of the man the brothers were always told was their father.
But the pro is not Spencer's father.
Much hilarity ensues as Spencer falls in love with the golf pro's daughter, who has just proven to be his now half-brother's half sister, and the new family coalesces around golf and music and fine Irish spirits.
The novel ends with the brothers having both discovered their true parentage, but they are left, in their mid-fifties, with questions about what these unexpected changes in identity mean for who they are, as individuals and as brothers.
This past St. Patrick's Day, Open Books published the stand-alone sequel/prequel to "Mr. Wizard. "Entitled Everyone Here Is From Somewhere Else," the book takes off where the first one concluded. When I finished the first book I did not know a sequel was imminent. Now I'm considering whether there might be one more novel in me about the brothers.
In the books, some of the action takes place at the Ballydraiocht Golf Club on Ireland's west coast, and in the town of the same name. Let me offer a few words about how and why I created a fictitious Irish town and golf course in the novels - without ever having to pay any taxes on either!
I've probably made close to a dozen trips to Ireland over the years, mostly for magazine assignments to write about golf, and so have some familiarity with Irish towns, big and small. The scenes set in "Mr. Wizard" and "Everyone Here" that occur in Dublin, of course, were researched so that characters walk down the correct street to see a particular statue (Oscar Wilde in Merrion Square), or accurately stroll along the River Liffey from the docks to the Phoenix Park.
When leaving Dublin, Phillip and Spencer Elliot drive actual specific highways to reach Ballydraiocht. But once they arrive I essentially abandon truth by the side of the road.
Although the town and the golf course and the pub are all based on real places I've visited - or at least on my sometimes imperfect memories of those places - in the book they are fictionalized so that I could manipulate the details to suit my own purposes.
And even more importantly, so I didn't have to worry about getting all the details of an actual place correct.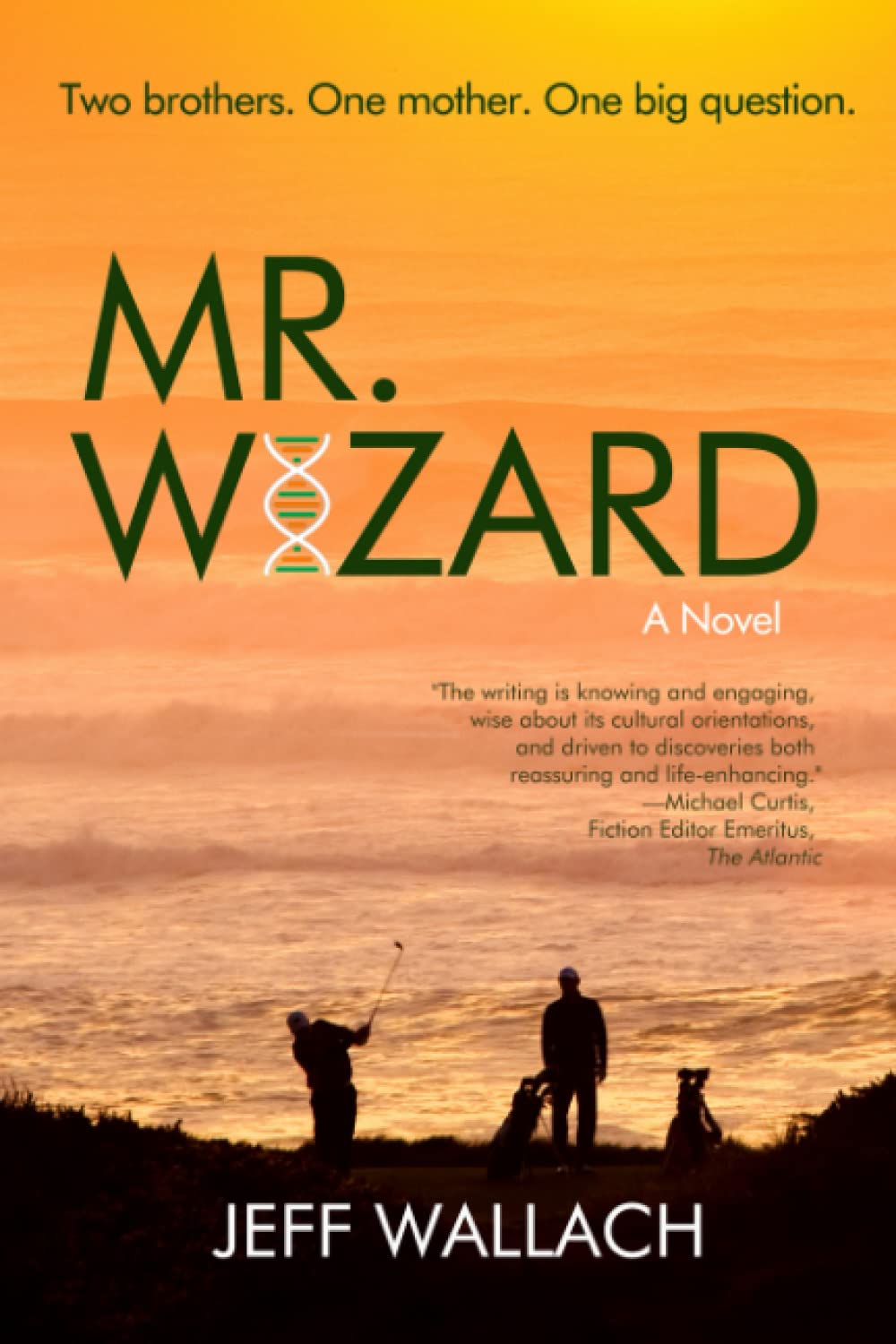 Since I invented the town, I could pretty much say whatever I wanted about it without having to worry about the verisimilitude of what the main street looks like, what shops are on it, what the views are like from the golf course, or whose names appear on the champions' board in the clubhouse.
I've often thought this would be a convenient super-power in real life, as well. For one thing, I could make myself an Irish golf champion without ever having to practice my putting.
And by the way, the name of the town and golf course in the books is Gaelic for town or home of the wizard, which is one of many puzzles built into the fiction that most people will not necessarily recognize.
In "Everyone Here," every chapter title is actually a puzzle to be solved. Some folks who are golfers might recognize, for example, that the fictitious Ballydraiocht Golf Course has a graveyard off to the right of the first tee box, which might remind them of a famous Irish golf course that also has a graveyard in the same location. But you won't get me to tell you whether the golf course is supposed to be any actual, specific golf course.
One more thing about Ballydraiocht, and the interesting subject of truth in fiction writing. When I was a teenager I spent a summer working as a camp counselor in New York's Catskill Mountains.
On our rare nights off we would venture into the small town of Monticello, where there was a long-abandoned restaurant with an old neon sign that was missing several of the letters. They had apparently just fallen off the building.
One day, one of the other counselors referenced the place as St. Urants. You can visualize this when you think of the word "restaurant" missing several letters.
It was a brilliant observation. And I knew at that very moment at the age of 18 that I would use this someday in some short story or something else that I felt at that time destined to write. And so I carried the entirety of St. Urants with me everywhere I traveled and lived for the next 40 years, until I finally unpacked it to describe the local pub in Ballydraiocht. So while the reference is sort of true in a personal way, my use of it is still fictitious, if that makes sense.
The new book contains more mysteries, comedy, and atmospheric links golf, as well as much Guinness and Jameson, and some very dry caddie humor. In it, the Elliot brothers undertake another quest inspired by their dead mother: this time, to discover "wonderful things," the phrase used by archaeologist Howard Carter in describing his first look into King Tut's tomb.
Their mom was a budding Egyptologist when tragedy deflected her life in another direction.
I was very happy to revisit some of the characters who appear only briefly in "Mr. Wizard," such as Jenny Elliot, the boys' mother, who dies on page one of the prologue. It was great fun learning the backstories of these characters and what made them who they were, and their reappearance shed additional light on other characters and explained some of the issues and idiosyncrasies that make up their personalities.
And by looking both forward and backward from "Mr. Wizard" in the new book, I was able to solve some of the original mysteries more satisfactorily, while also addressing new ones that arose in their place.
Phillip and Spencer consider themes of permanence, change, and legacy as they follow a trail to find their true place in the world, place being key as they consider whether where you live is as crucial to who you are as much as other obvious factors such as as DNA and upbringing.
The book concludes with events and connections that I hope are as surprising as they are inevitable.
John Norville, writer of the beloved golf movie "Tin Cup," was kind enough to comment on the new book, "Wallach continues his chronicle of the Elliot brothers as they traverse landscapes of fresh discovery and human connection . . . a journey rich in humor, wit, and insight."
And that's a real quote, from an actual person. I didn't make it up!
Jeff Wallach is the award-winning author of five non-fiction books and two novels, as well as nearly 1,000 articles, essays, reviews, and columns in The New York Times, The Oregonian, Sports Illustrated, Men's Journal, GOLF Magazine, Men's Health, Health, Money Magazine, and many other national publications. He is currently the golf columnist for Business Traveler Magazine. He holds a Master's degree in Fiction Writing from Brown University and a Bachelor of Arts Degree in English from Vassar College. He lives, writes, hikes, and plays soccer and golf in Portland, Oregon, and around the world.
"Everyone Here" and "Mr. Wizard" are available directly from the publisher at http://www.open-bks.com/library/moderns/everyone-here-is-from-somewhere-else/order.html, and at jeffwallach.com. The books are also available from Amazon.