Irish dance Christina Mariel Wiltz, age 15, slipped on her first pair of soft shoes at age four in Yonkers, New York at the Open House of the Grand Opening of the McGough Academy in 2011.
Christina is a three-time Mid-Atlantic Regional Champion and won her first North American title in 2016. Additionally, Christina is a top-five ranked All Scotland Champion, Irish Open Champion, and World Championship medal holder.
After the Covid-19 shutdown, Christina trained "as if" and reclaimed her U.S. National Title in Phoenix, Arizona in July 2021.
"Nationals was the first big competition for me coming out of lockdown, and it was certainly an experience to remember forever," says Chrstina.
"The feelings when I first arrived in Phoenix almost seemed unreal. Being at Nationals with my McGough family, supporting one another, was a huge thing I missed while in lockdown."
Last month, Christina represented the USA with the McGough Academy at the 50th Anniversary World Championships in Belfast.
This was the first world championship for CLRG since the Covid-19 pandemic shutdown.
After a three year wait from the 2019 World Championships in Greensboro, North Carolina, Christina was finally able to achieve her lifetime goal of bringing home a globe with fifth overall Overall at the World Championships.
She was also the op North American.
The McGough Academy teaching team, in a release, said it was delighted with Christina's hard work to jump 23 spots into the Top 5! This is Christina's 2nd World Medal.
She is currently ranked in the top two percent of her age group globally.
Christinabrought home the first Major Championship title home to the McGough Academy in 2013.
Now, in 2022, she brought home the first World Championship Globe to the academy.
"She has paved the way at the McGough Academy and has served as a role model for hundreds of dancers over the years," says Meagan McGough, owner of McGough Academy.
"She trains six days a week with one rest day built into her training regimen. In addition to Irish dance classes, Christina participated in various physical training routines."
The McGough Academy, continues the release, offers a well-rounded coaching experience from top choreography, performance coaching, personal training, and team building activities.
In addition to embarking on a rigorous training schedule, Christina was diligent when it came to remaining centered with  mental health throughout the practices and during the World Championships.
Meagan McGough added: "When I noticed the intensity build-up prior to the World Championships, I took the time with my teaching team to check in on the dancers and how they felt mentally and emotionally. I have found with my experience as a coach, the mental well-being of the dancer is just as important as physical training.
"It was my job to communicate that, no matter the outcome, my dancers make me proud.
"This allowed them the headspace to complete three strong rounds on the day of the event and it was instrumental in achieving this great result."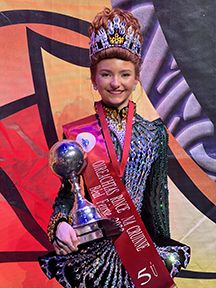 Said Christina: Hearing my number called into the Top five in the World and Top North American was a dream come true.
"It was surreal to hold the globe in my hand for the first time. It is by far my career highlight to date. I felt good and prepared heading into the event, thanks to the time my teachers took with me to make me realize I am strong and ready.
"A lot of work, sweat, and tears went into my preparation for this competition, and it was totally worth every second. I could not get where I am today without my teachers, especially Meagan McGough, who has been the best teacher through everything. I cannot wait to dance at Worlds again next year."
The next major event for the McGough Championship team, including Christina Wiltz, is the NAIDC North American Championships in Montreal, Canada this coming July.
Stated the release: The McGough Academy is a T.C.R.G./A.D.C.R.G. Certified Irish Dance Teaching Academy with CLRG and celebrates its 10th Anniversary this year.
"It is known as a high-quality dance academy that is dedicated to the future of the dancers, on and off the stage. With four locations in New York, Pennsylvania, Maryland, and Puerto Rico, we are conveniently located near the NYC, Philly, DC, and San Juan Metropolitan areas.
"The McGough Academy provides each dancer with an environment where you can feel comfortable and trust the staff to help you become the best dancer and person possible. Due to the Covid-19 pandemic, the McGough Academy offers both digital and in-person programs aimed at helping you achieve your individual goals."
More at www.mcgoughacademy.com.