Back in 2017 I was leading a tour group of Chicago characters to Ireland and the Westport Hotel gave me a complimentary massage for booking the group there. We were out on the bus for a day trip, and I told our driver, "Make sure we're back by 3pm cuz I got a massage scheduled."
Like most Irish bus drivers, he was a wise guy and started announcing to everybody on the bus that "Houli has to be back to meet his masseur 'Ronaldo'!"
Everybody on the tour thought that was hysterical and when I finally did get the massage from a lovely Asian gal, I was given a fruit juice and guided back to a decompression room in my robe with soothing music and fake water falls to chill out afterwards. That's where I first met Ann Quattrocki. 
Ann was also on our tour and in her après massage robe she complimented me for my sporting attitude in the face of merciless ribbing from our driver. I asked her, "What brought you on this tour?"
She then told me that she had always wanted to visit Ireland and she had recently been diagnosed with brain cancer and lung cancer and so she figured she better go now before it was too late. 
I remember being stunned then and not sure what to say as I chugged my juice and exited the spa. 
Wishing all pilgrims from @achonrydiocese every blessing in @knockshrine this afternoon. Our Lady of Knock, pray for us! @vincentsherlock pic.twitter.com/0beuVjvayt

— Bishop Paul Dempsey (@Bishop_Dempsey) May 15, 2022
Coincidentally the next day in Mayo our group visited the Shrine of Our Lady of Knock. A tour guide gave a talk on the historic Marian apparition of 1879. There is a huge mural on the wall of the cathedral that depicts the apparition. I spied Ann sitting by herself and I sat down next to her and asked her to recount what she had told me the day before. 
This time her emotions were not so matter of fact and she wept. I asked her if she felt the irony of the moment at the Shrine of Our Lady of Knock and she assured me that "I feel at peace here."
Four years later Ann stopped by to see me at our radio show taping. She was still alive! Was it a miracle? Her doctor calls her "my miracle patient" 
Ann told me then, "Most people who have the kind of cancer I have are gone within three years. And I've doubled that."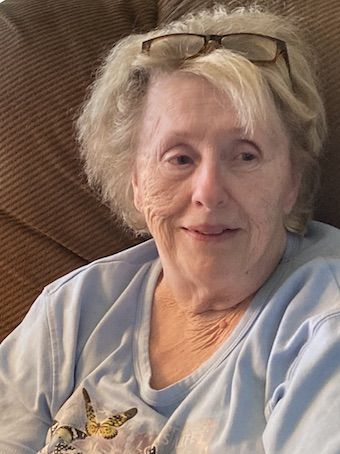 Sharing her story is my job now. "If it helps one person, that's great. I've never said why me? I've always said why NOT me. Let me have it instead of the person who's gonna get married and have kids, or the person that's two years old? Why do they have to suffer? Give it to me, I can take it!"
I tell her that's because she's a tough broad and Ann laughs, "Darn right, darn right!"
Last Friday I had a beer with Ann Quattrocki at the home she now shares with her ex-husband Jim. The cancer is still there but has stopped growing. 
Six years later you never thought you'd be sitting here. "The doctor is surprised I'm sitting here now." 
Her ex Jim jokes, "She just wants to get even with me!"
We reminisce about our trip to Ireland, and she says, "My maternal grandmother was conceived in County Mayo!"
Rori Griffith, GSC Class of 2019, sings the ending of "Our Lady of Knock" at GSC Irish Night (Saturday, March 5, 2022).#GSCputsGodfirst #GSCCommunity #GSCProud #GSCCelebratestheArts pic.twitter.com/kviWM8emCH

— gscelem (@GSCelem) March 18, 2022
And our visit to the Shrine of Our Lady of Knock? "I just felt that something came over me. I know it sounds strange, but it did. When I left there, I just felt that everything was gonna be okay. And that's how I live now, everything is gonna be okay…and when the time comes, I'm ready. When I walked in there, I felt like somebody had wrapped a blanket around me. And I was safe. That's the only way I can really describe it."
Jim tells me they have traveled to Texas and South Dakota and downstate Illinois since her return from Ireland years ago. Ann says, "Everything is an adventure…. don't give up and keep praying. I'm grateful…I wouldn't be anywhere without God. "
And Our Lady of Knock.