"Nowadays you can go on Google and look up pictures of Australia."
So said theatre director Nicola Murphy, throwing into stark relief the leap of faith taken by many young women and girls during Famine times.
Jaki McCarrick's play "Belfast Girls", which opens tonight at the Irish Repertory Theatre, is set on a ship on a four-month voyage as part of the Orphan Emigration Scheme.
"They wouldn't have known anything of what they were going into," the director said of the program founded by Earl Henry Grey that sent 4,000 to Australia in the three years from 1848. "Like all emigrants they were hoping for a better life."
The conditions onboard on a long sea journey is one of the more obvious things that theatre-goers can consider 170 years later. "How tough that would've been, living on top on one another," Murphy said, "Not that they were leaving anything that was much better.
"Many of them would've been afraid of the sea," she added. "That was really profound when we got into that.
"We already had a great base in terms of what Jaki had done," the director said. "Jaki did incredible research when she wrote the play, even to the extent of finding the names of the young women who would've been on these ships.
"I love to do research myself on anything I'm working on. I think it's a really important part of the process, but for the actors also.
"I think it empowers the actors to know the world and the history and the story that they're telling," Murphy said. 
So, the early part of the rehearsals involved some independent reading and each cast member sharing what she had discovered.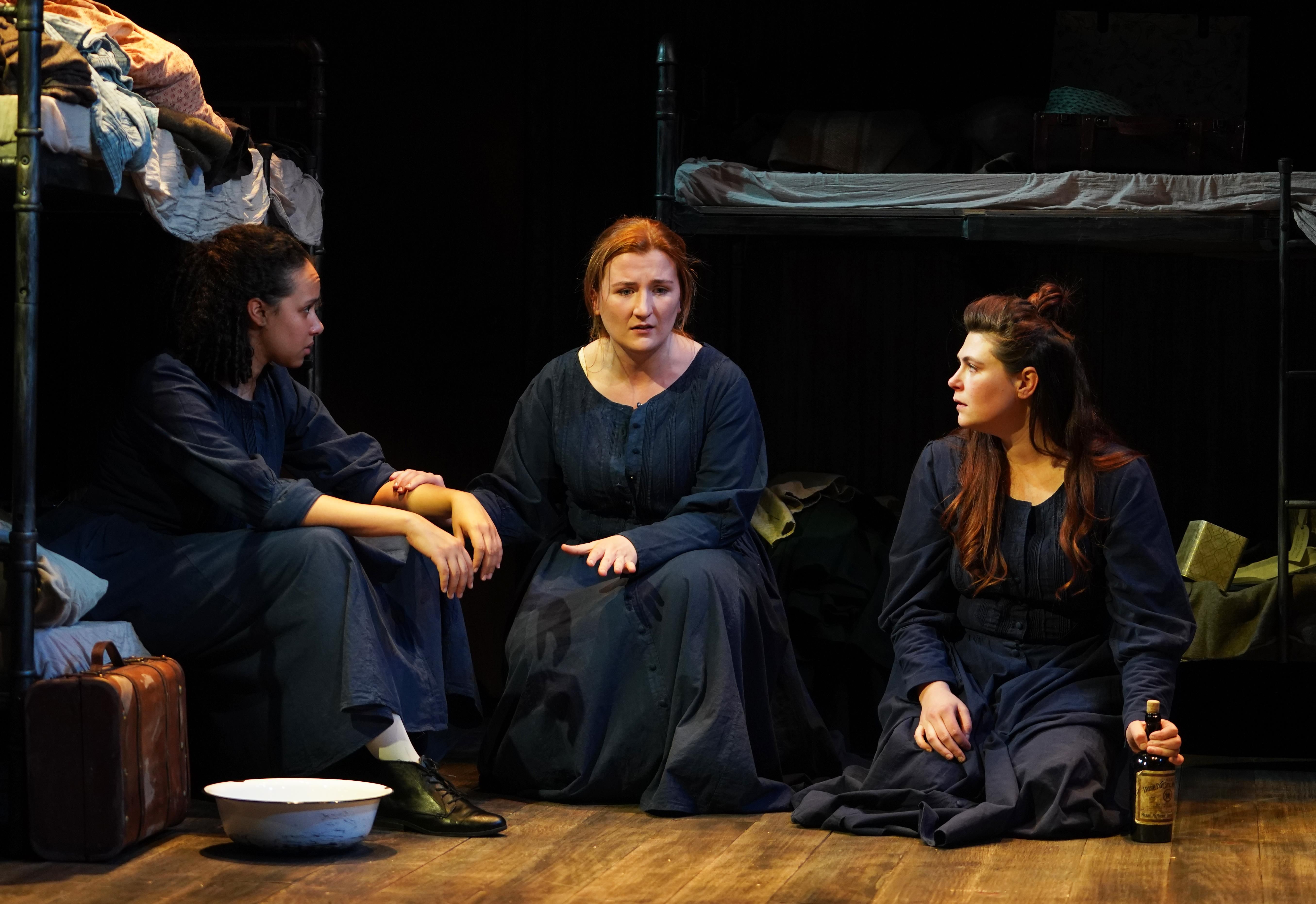 Caroline Strange, Labhaoise Magee, and Mary Mallen in Irish Rep's 2022 production of "Belfast Girls." PHOTO BY CAROL ROSEGG
There are surviving accounts of life on board the ships bound for Australia, and the playwright drew on one real-life description of a violent incident. 
"One of the interesting things for me is exploring where women are as complex on the page as they are in life," Murphy said. "And there is a rage. That kind of violent act was not surprising, but it jumped out to Jaki, and she ran with that when she was writing the story."
The actress Murphy is a graduate of the American Academy of Dramatic Arts, but it was while doing an MFA at The Lir, National Academy of Dramatic Art, Trinity College, in her native Dublin, that she realized that she had a passion for directing. 
Murphy first did a reading of "Belfast Girls" in her role as a teacher and a director at the American Academy of Dramatic Arts. It had been recommended by one of the actors in the current Irish Rep production, Sarah Street, who had acted in McCarrick's "The Naturalists" in New York in 2018.
When doing "Belfast Girls" with her students last year, however, everyone was still masked up and distancing, and out of that experience grew an aspiration to do it without those restrictions. 
She was "excited' that Charlotte Moore and Ciaran O'Reilly of the Irish Rep agreed to a full production, which began previews last week, and is "grateful" more generally for their support for her career.
A co-founder of On the Quay Productions, a New York-based international production company, Murphy has previously directed a solo show, a monologue play and some readings at the Rep.
"[But] 'Belfast Girls' has a lot more moving parts," she said. "It's much bigger in scope than any of those other plays.
"'Belfast Girls' is particularly exciting for me," Murphy said.
The American premiere of "Belfast Girls" will run on the Francis J. Greenburger Mainstage, Irish Repertory Theatre, through June 26. For details go to irishrep.org.