Villanova University, 30 minutes north of Philadelphia, PA, has always had an Irish connection. Founded by two Irish Augustinian friars in 1842, Irish names are carved into its halls and history: Kennedy, Ryan, Corr...the list goes on.
Villanova's Irish Center was elevated from its founding program of 1979 to a Center in 2016, thanks to the generosity of the Connelly Foundation of Philadelphia: a foundation inspired by its Catholic heritage to "create access for those in need and opportunity for those with vision."
The Irish Center, under the Directorship of Professor Joseph Lennon, explores the global dimensions of the Irish experience through Irish identity, history and culture, and a big part of that exploration is through their Irish language program.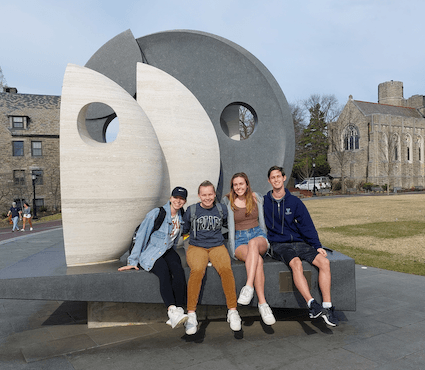 Each year Villanova's Irish Center brings over a visiting instructor from Ireland, who has been awarded one of the prestigious Irish Fulbright Foreign Language Teaching Assistantships (FLTA) to teach its Irish language programs. 
This year its program is in the safe and capable hands of Co. Cavan múinteoir James Ó Conaill who shares his vast teaching experience and deep love of the Irish language with all.
Hailing from the parish of Mullagh in east Cavan, Ó Conaill understands the connection of borders, language, and identity. "So, we're nearly in Meath, but we're proudly in Cavan," he speaks of his hometown. When you're growing up in Cavan, and you're there on the border, and you're going in and out of the border too, questions of identity: it's natural to have them," he says.
With an aunt an Irish language teacher and very encouraging parents, he continued his studies of the Irish language and history, as both these subjects captured his heart and imagination.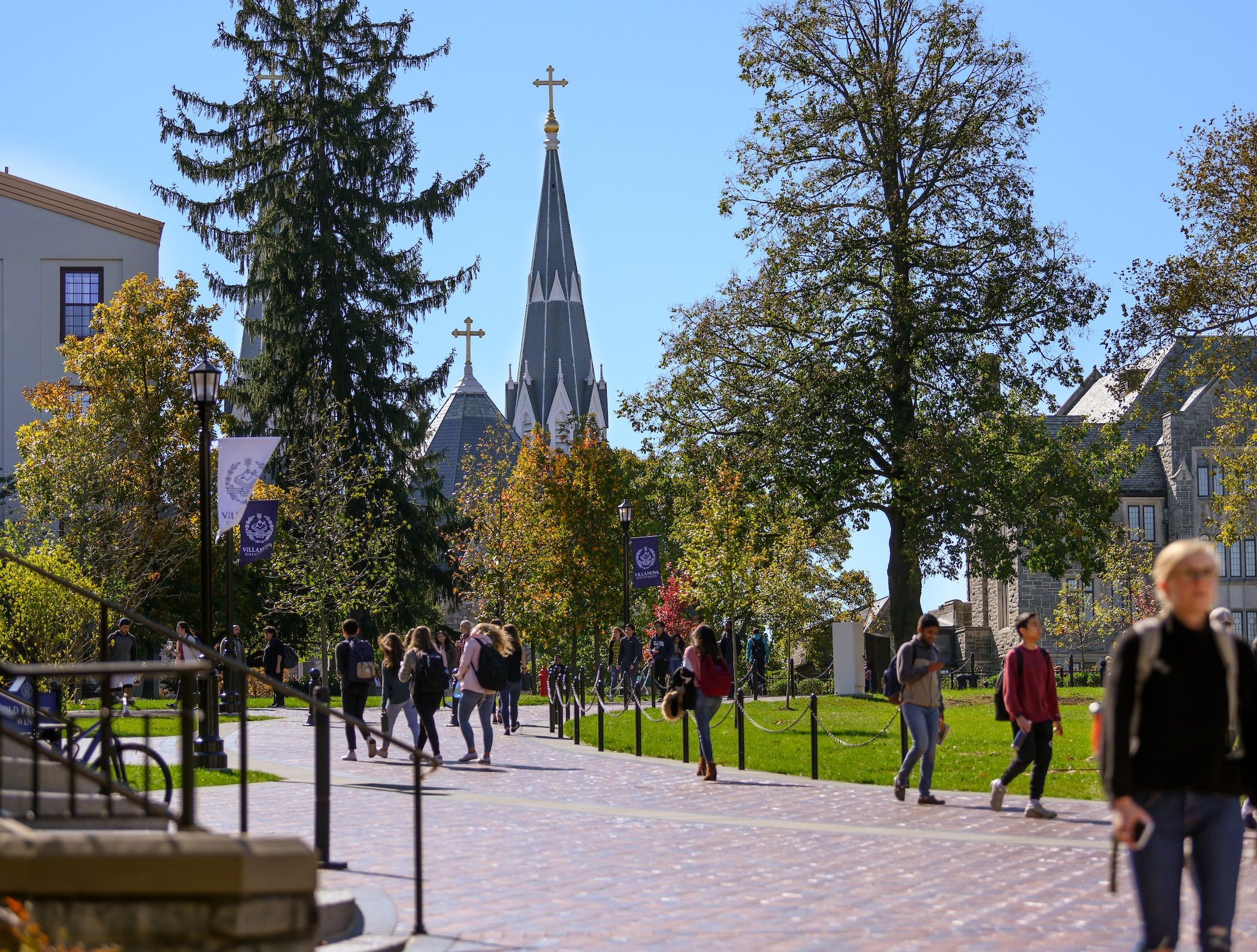 "Identity is a central thing," says Ó Conaill. "It seems obvious, for me anyway, when you're talking about Irish: it's who you are. And there's so much when you get to know the story of how the state of the language came to be. It gets you on an emotional level."
Ó Conaill had taught Irish and history previously back home at Coláiste Ghlór na Mara, an Irish language-medium middle and high school in north County Dublin but it's difficult to find a textbook or mathematical equation to quite capture that emotional connection between language and identity. 
"There are reasons for it that are deeper," he reflects. "When it comes down to identity and the things that you care for, the things that make you feel at home."
Ó Conaill's home for now is Haverford, northwest of Philadelphia, and close to Villanova. He delivers Irish classes through the College of Professional Studies in addition to classes specifically targeted at undergraduates, with an impressive 23 students in that cohort. 
"It was really meaningful for me to bring Irish to America," he says.
One advantage of Covid is that the course offered through the College of Professional Studies is online this year providing Ó Conaill with students from Boston, California and further afield.
The undergraduates who take Irish do so for many reasons: some have Irish connections and heritage, but others do not.
"There's also a language requirement, so Irish is competing with all the other languages: with Spanish and French and Mandarin and Arabic," acknowledges Ó Conaill.
However, Ó Conaill believes the Irish language can compete on the world stage with other languages: It may be a minority language, but it's a living language, he states. 
"The Irish culture and language have a draw internationally that I think people at home don't always realize. We have links internationally, and have the international reputation," he says.
Villanova offers a deluge of opportunities in many programs for students to visit and study in Ireland. 
These are as wide-ranging as a creative writing workshop during spring break at the Seamus Heaney Centre at the Queen's University of Belfast, or the Irish Studies Summer Program at the National University of Ireland, Galway Summer School in Irish Studies. 
An early Irish-American Fenian Motif with the Green flag rather than the tricolor alongside the American flag and shield. From The Fenian's Progress, 1865. (Villanova University) pic.twitter.com/xWjgRfPzEu

— Dr Conor McNamara (@ConorMacHistory) June 4, 2020
"We're all connected," adds Ó Conaill. "We're all interrelated and what we do affects one another. That's as true for the language as much as everything else. I'm lucky: All of my childhood Ireland was at peace. There were none of the questions, the troubles of my parents' generation. But that was in no small part due to the international cooperation that came from America."
Villanova wishes a very Happy Birthday to our President, Rev. Peter M. Donohue, OSA, PhD! pic.twitter.com/hSf0wbMCKG

— Villanova University (@VillanovaU) February 28, 2022
And so, he's giving back. Bringing the Irish language to America. Sharing a modern, international language that he loves. "It's something that we have as a heritage that is valuable and is there for the taking, if we choose to."