Born to Donegal parents in the English industrial city of Derby in 1961, Charles (Charlie) Lavery has chartered his own unique path to a leadership role in Local 3 of the Operating Engineers, San Francisco.
For the Lavery family, all nine of them, Buncrana, Donegal, was "home" and, Charlie recalled to the Irish Echo, they regularly traveled, "back and forth, often several times a year."
Quitting school, Lavery followed his parents home to Buncrana in 1979. Opportunities were scarce in Ireland at the time but Charlie tried his hand as a nurse in psychiatric hospitals in Derry, an experience that was not for him.
Lavery describes those pre-Celtic Tiger days.
"It was also the time of Margaret Thatcher who was waging the dirty war and 'shoot to kill' against nationalists in Northern Ireland and a labor war against unions, especially the miners' union in England. She closed dozens of mines and effectively wiped out many communities, making tens of thousands redundant."
Last week, @AkerWind's @JonahMargulis joined partners @PrinciplePower & Ocean Winds on a tour of Operating Engineers Local Union #3's training facility near Sacramento, California. It was incredible to see #OE3's commitment to training the #floatingwind workers of the future! pic.twitter.com/NCFVWHnTqN

December 6, 2021
Lavery describes himself at that time, "floundering as part of an unemployed generation."
"When I came to San Francisco I slept on a friend from Derry's couch, another Derry friend helped me find a job. A contractor from Clare got me in the Union. Today I try and pass on similar opportunities to the underserved and the immigrant, whether it is joining the Union or becoming a Union contractor."
Having tried England and Ireland, New York was perhaps the next logical landing spot for Lavery and in 1987 he joined the hordes of young Irish chancing their luck in the Big Apple.
With a somewhat rueful laugh, Lavery describes his New York arrival: "Classic experience. You get off the plane at JFK, we stop at the bar before we get to the apartment, and close the bar."
From there Lavery had another experience that many immigrants can relate to — being exploited by their own. Lavery describes working for some Irish American contractors on Long Island for "50 bucks a day, and no set hours." 
For the only time in our conversation a trace of bitterness enters Lavery's voice as he recalls, "Irish Americans and emigrants who really just cheated me and cheated the system."
JOURNEY WEST
Lavery soon learned to better navigate "the underground economy," for better wages and conditions, continuing his journey on to the West Coast, making his move to San Francisco in 1993.
It wasn't an easy move.
"When I came to San Francisco I slept on a friend from Derry's couch, another Derry friend helped me find a job. A contractor from Clare got me in the Union. Today I try and pass on similar opportunities to the underserved and the immigrant, whether it is joining the Union or becoming a Union contractor.
"As a single dad raising two daughters, the S.F. Irish community has always been supportive. The girls danced and played GAA, and played soccer with the Glens club. I have coached and helped raise money from the Irish Union contractors to send the girls' team to the Feile in Ireland." 
Lavery's working life took an interesting detour in 1995 when he was asked to help out with a documentary on the ongoing situation in Northern Ireland.
"I was taking some film classes and I curated an Irish Independent film festival in 1995 when these guys came up to me and said, 'hey, you know something about film, can you do something with this box of materials'."
With the soundtrack donated by New York Irish group Black 47, and with Lavery acting as co-director and co-producer, he and his partners would go on to produce 'Uncensored Voices: War or Peace in Ireland'. 
"We wanted to put something together to inform the Irish American community principally, at a time when nationalist voices were really under blanket censorship."
Lavery recalled that the film "went down really well," and was aired by PBS and also appeared at a Film Festival in California.
But a life in film wasn't to be for Lavery and when he joined the Operating Engineers Union in 1998, Lavery called it, "a game and life-changer." Lavery adds, "to be getting a fair wage and benefits, I walked down the street with my head held high, underground no more. It happened the same time that I started a family so my two daughters have always had first-rate health care."
"DEEP APPRECIATION"
Having grown up in what he called, "a labor house," Lavery had been a member of the Amalgamated Engineering Union in Derby while still in school, prior to his move to Donegal. Given that upbringing, combined with his experience as a part of Ireland's unemployed generation, and all those years spent working off the books in the underground economy,' it is of little surprise that to this day Lavery maintains, "a deep, deep, deep appreciation," for his union status.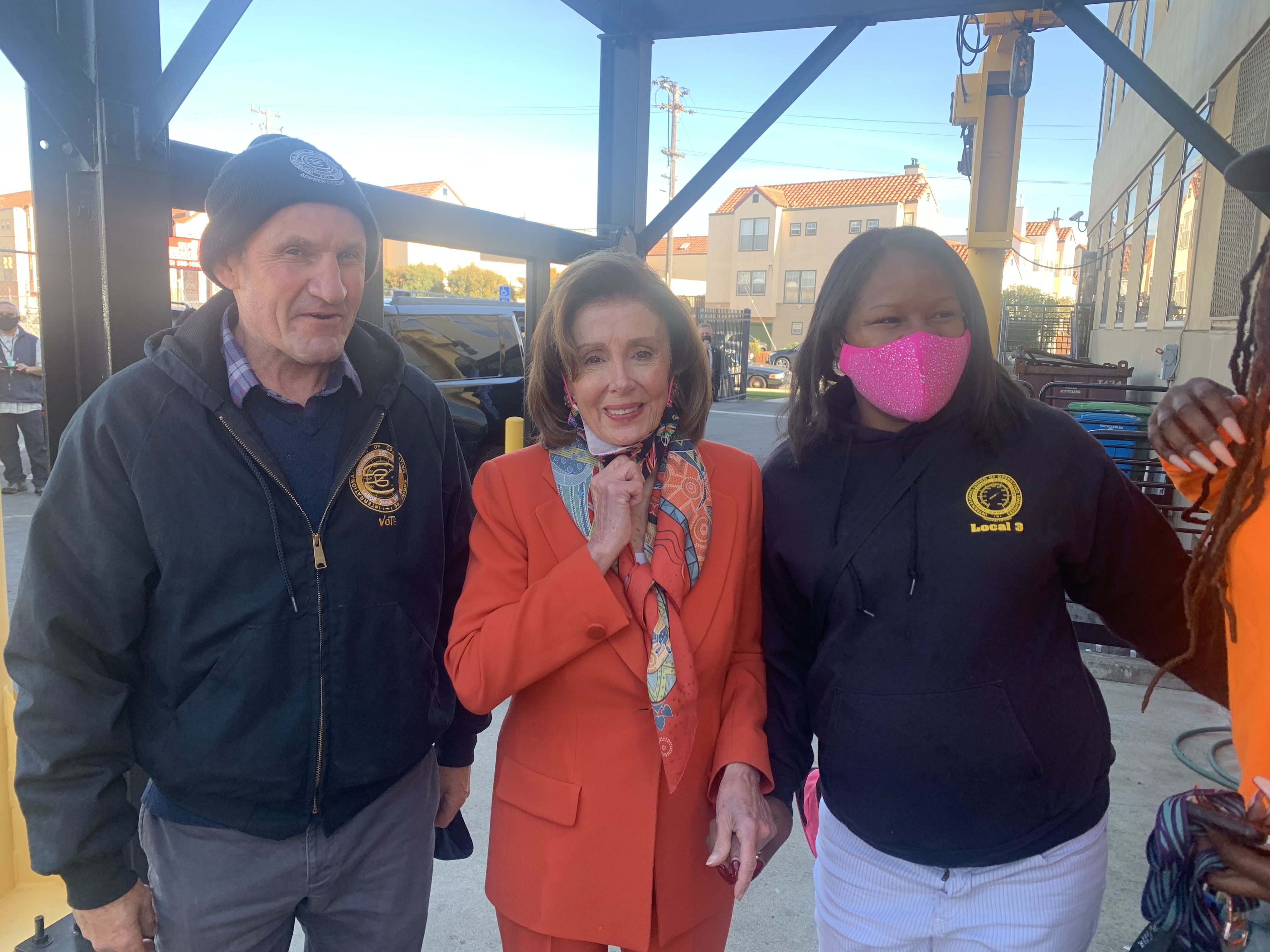 It was a natural fit then when an injury in 2006 brought an end to his long career in the field and Lavery took on a new job as Apprentice Coordinator for the Local, giving others the same opportunity to change their lives that the union had provided for him.
"Charlie was a very modest man but he was very strong in his opinions when he represented the Operating Engineers," said Robbie Hunter.
Hunter, the retired head of the half-million-member strong State Building and Construction Trades Council of California noted that the "Irish fight for freedom has always been a working class fight and Charlie carried that with him when he came to America."
As Apprentice Coordinator, Lavery said, "I came in and was recruiting people and mentoring them and I was able to get out in front of a lot of community groups, particularly underserved communities."
.@POTUS touring the Virtual Reality Lab at the International Union of Operating Engineers Local 324 Training Facility in Lansing, Michigan. pic.twitter.com/hduMdDY30c

— Karine Jean-Pierre (@KJP46) October 5, 2021
"I recognize a lot of the similarities with the MacBride Principles, that equity idea," Lavery said. He explained, "a lot of the communities I got in front of weren't even aware that this was open to them. They had the idea that unions were white and male dominated."
"We made a real effort to get more diversity," Lavery said, adding, "OE3 (Operating Engineers Local 3) has the highest percentage of female apprentices of any craft and still has room to improve."
Lavery was promoted to Business Agent and then to District Representative and Trustee, with responsibilities for San Francisco, San Mateo and Marin Counties.
In his current position Lavery is responsible for negotiating labor contracts and Project Labor Agreements  "to try to ensure union jobs and pathways to careers in construction for as many folks as I can." 
St. Patrick's Day isn't until next Thursday, but the Bay Area's Irish community is already celebrating ☘️🇮🇪 @KQEDnews

Before the SF #stpatricksdayparade today, organizers gathered for mass at St. Patrick's Church. Flags represent Irish provinces and counties. 🎶: @irishpbsf pic.twitter.com/gE9606UpY2

— Annelise Finney (@sharkfinney) March 12, 2022
Despite calling San Francisco home for so many years Charlie has never forgotten his Irish beginnings. Séamus McAteer, a leader in the expats start-up community in the Bay Area and a veteran supporter of health and wellbeing charities in San Francisco, has this to say about Lavery.
"Charley is always available with a helping hand for those in the Irish community who are struggling. His wonderful, talented daughters are a testament to his dedication as a father."
Although his birth in Derby, England is immediately signaled by his accent, Charlie has made sure to pass his love of Donegal to his American family.
"We try to visit Donegal every 3-4 years; the girls feel an immediate connection each time. I hope they never lose it."