Kerry 3-19 Mayo 0-13
Jack O'Connor doesn't do things by halves. As in his previous two incarnations (see further down) as Kerry senior boss, he likes to begin a successful championship campaign on foot of a league title victory.
So plus ca change except he may be a little worried he has his Kerry boys firing on all cylinders too early in the season with this emphatic 15-point victory at Croke Park on Sunday.
David Clifford delivered another tour de force by leading from the front with 1-6 to his name as the men from the south collected their 23rd league title in front of just over 31,000 fans.
Mayo Boss James Horan sounded upbeat in pre-match interviews but even he could hardly have envisaged how badly outclassed his side would be against the flying Kerry machine.
Yes, they were missing four stalwart players through injury and at the end of the day the only consolation for the manager was the safe return after two seasons out of talisman Cillian O'Connor, who got a quarter of an hour's run and kicked a point from a place ball to announce his return.
First to O'Connor's read on proceedings. Naturally he had his Kerry guile working as he wanted to keep his players and his fans expectations closer to earth than they are right now.
"It's hard to know how much intent Mayo had. One eye, if not two of their eyes were on the Connacht championship game in three weeks, so it's hard to know," he said wistfully on RTE after the game. 
Referring to his own outfit, he declared: "We've five weeks until our Munster championship game with Cork and maybe that meant we could go a bit more flat out today. That showed in the last 20 minutes. it was competitive in the first half. I felt we left a good share of scores behind us in that time. We told the lads to settle down and be a bit more patient with the ball up front.
"I thought we were forcing it a little bit. In the second half Mayo had to chase the game a little bit and we played on the break. David [Clifford] and Paul Geaney and Tony Brosnan, when he came on, got a lot of space up front. We know what David can do when he gets space."
In Jack two previous terms as Kerry manager,  a good omen from Sunday is that All-Ireland titles followed League title in 2004, 2006 and 2009. Roll on 2022.
Once again he had a reply for that: "I don't believe in piseogs but it never hurts to win a league when it's in the same calendar year as the championship."
Horan could do nothing but accept it was a very disappointing day at the office. "Kerry were very good and we were very bad. We kicked the ball away, we were second to everything, they ate us on breaking ball. Kickouts we couldn't get near them, we couldn't get tackles, we were way off today. But they were very good, so that's just the way it is.
"If you live and die on one game it's not a very good review. We look over the whole league and see what we can take from it, and there's a lot. We got some good results and good performances. We got guys back on the field today but we've a lot of injuries to deal with.
"Hopefully our pitch is sorted for next week so we can get down to getting ready for our championship game. Galway are a very good team who have been going very well. Any game against them is always very tight but it's one we're certainly looking forward to," he stressed.
Kerry were up for this from the start and once you allow them a run on you, there will always be trouble ahead. Once they got the foot on the jugular with a six and then a nine point lead, they killed off poor Mayo with late goals from the unstoppable David Clifford and enterprising full-back Jason Foley.
Kerry: S Ryan (0-1f); G O'Sullivan, J Foley (1-0), T O'Sullivan; G White (1-0), T Morley, B Ó Beaglaoích; D O'Connor, J Barry (0-1); D Moynihan (0-1), P Clifford (0-2, '45), A Spillane (0-2); S O'Brien (0-1), D Clifford (1-6, 1f), P Geaney (0-5, 1f) Subs: T Brosnan for O'Brien (48); G Crowley for White (52); M Burns for Spillane (62); J O'Connor for Barry (66); J Savage for Moynihan (66).
Mayo: R Byrne; L Keegan, S Coen, P O'Hora; M Plunkett (0-2), R Brickenden, E Hession; M Ruane (0-1), J Flynn (0-1); C Loftus (0-1), A O'Shea, J Carney; J Carr (0-2), J Doherty, R O'Donoghue (0-5, 3fs) Subs: K McLoughlin for Carney (HT): C O'Shea for Flynn (46, inj); A Orme for Doherty (50); C O'Connor (0-1f) for Carr (55); D McHale for Ruane (66).
Ref: N Mooney (Cavan).
National Football League Finals
Division 2: Roscommon 1-20 Galway 0-22
Division 3: Louth 1-14 Limerick 0-12
Division 4: Cavan 2-10 Tipperary 0-15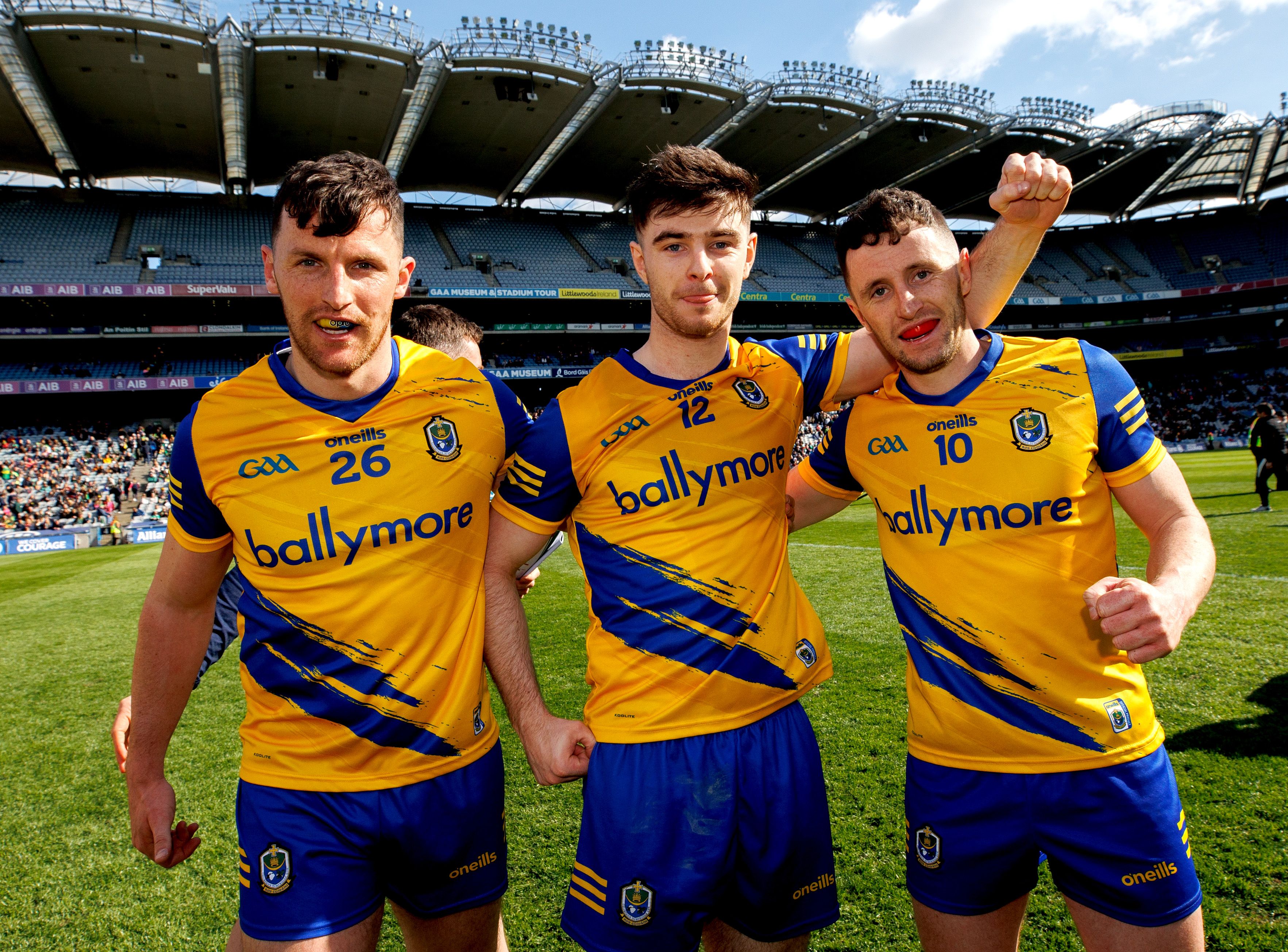 Roscommon's Diarmuid Murtagh, Cathal Heneghan and Ciarain Murtagh after the win over Galway in the Div. 2 final.  Inpho/James Crombie