A biting requiem for a bygone dreamer is heard wailing through the walls at the Irish Repertory Theatre this week, as the bell tolls for the modern macho male in director Ciarán O'Reilly's revival of "A Touch of the Poet," playing through April 17. 
 First premiering in March 2020 but suddenly closed due to Covid-19, this production raises the dead—so to speak—of its former glory, returning the O'Neill masterpiece to the Rep's floors once more, with more vigor and urgency than ever before.
 "A Touch of the Poet," like all of Eugene O'Neill's oeuvre, deals unflinchingly with the complexity of family life: the cruelty, delusion, and disillusionment of those we love, and have come to idolize, or despise. Yet this production in particular takes on the family drama of "A Touch of the Poet" with a touch of the political, and is in touch with its enduring American themes of ethnic prejudice and esoteric masculinity, which it reconciles with pity and shame.
 The plot of "A Touch of the Poet," set in 1828 on the outskirts of Boston, mourns the waning life of a man, Cornelius "Con" Melody (Robert Cuccioli), who resists coming to grips with himself. Once a major in the British army and quasi-legitimate heir of Irish gentry, the latter hero douses his langered days to the dregs as the floundering owner of an inn, indebting his bad luck to the English and Yankees alike. 
 On the 19th anniversary of the Battle of Talavera, a day that remains at the apex of his pride, Con parades through his day as the man he wishes he used to be, marching in his mind in the triumphant days of his youth, while guilt-ridden, eternally dotting wife Nora (Kate Forbes) and resentful daughter Sara (Belle Aykroyd) pay the full cost of his egotism.
 In tow with previous productions of the season, with "A Touch of the Poet," Irish Rep continues to address and focus on women's commentary on masculinity, and the price of a patriarchic world, to very provocative and potent effect.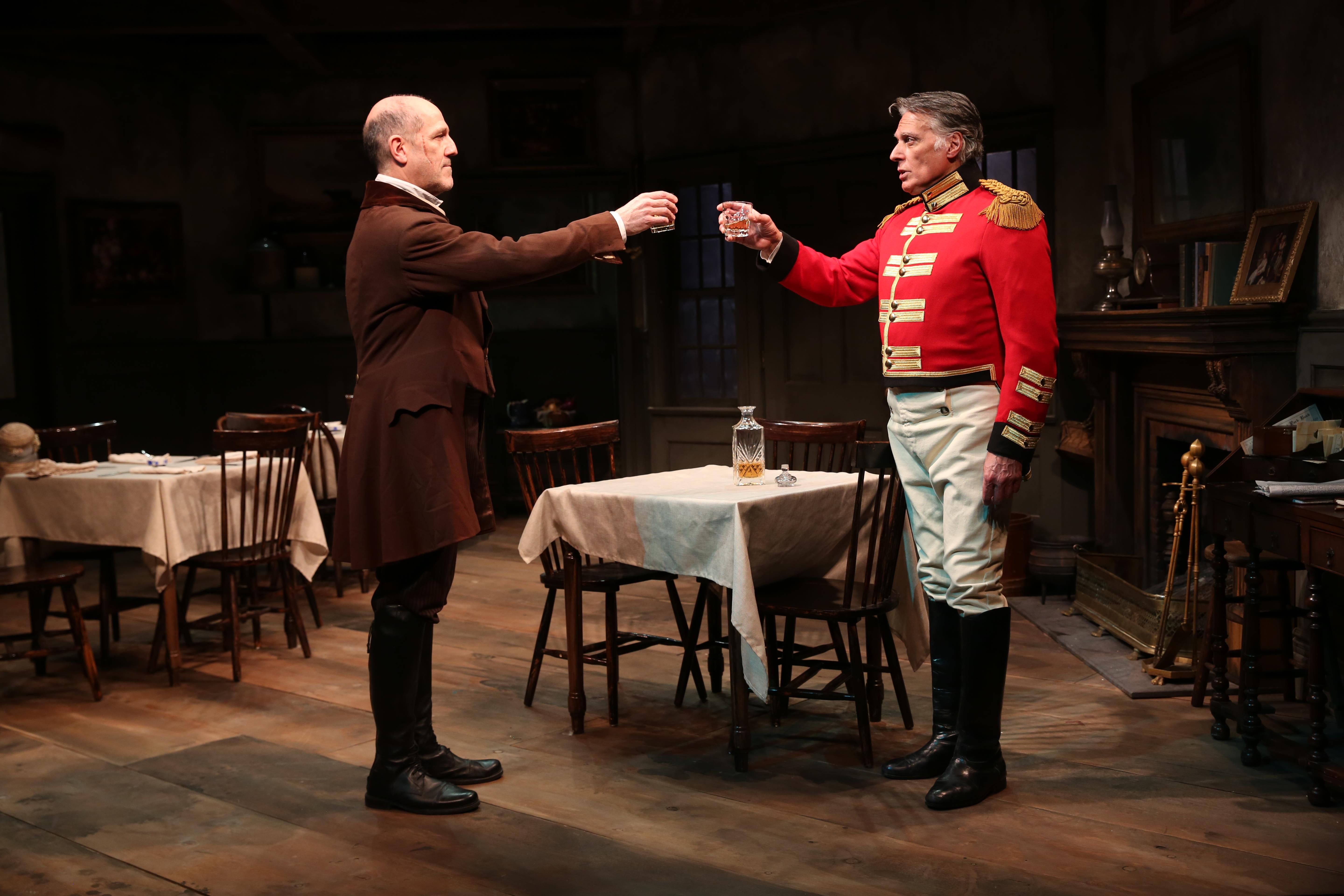 Andy Murray plays Jamie Cregan, left, and Robert Cuccioli is Cornelius "Con" Melody.
 Among the enticing viewpoints of the play is the production's choice of placing a spotlight (quite literally) on narcissism and vanity as the culprit behind pride. In several instances throughout the play, stage lights dim and a spotlight appears on any mirror into which Con's obsession is pulled, for whom he recites Lord Byron's "Childe Harold's Pilgrimage" to fluff his fragile ego. While laughing at each occurrence, audience patrons might not help but imagine the same repetitive routine in Con Melody compared with every aspiring dictator the world over.
 Yet for every reprehensible action emanating from Con's gaudy chauvinism, there is yet a sadder theme under-riding it which this production highlights just as importantly: the insecurity of immigrants' place in America. 
 Whether reflected by the cringingly stereotyped, poteen-soaked caricatures of Con's rural Irish compatriots Jamie Cregan (Andy Murray), Dan Roche (David Beck/James Russell), Paddy O'Dowd (Rex Young) and Patch Riley (David Sitler), or in the split of hierarchy between Nora's brogue and the adopted American mannerisms of Con and Sara, the theme of suppressing and exploiting one's ethnicity to get ahead in America is sure to strike a controversial nerve for audiences to this day.
 This production, exceptionally directed by O'Reilly, approaches its audiences like a Romantic melodrama on a collision course with Miller-like realism with bold and memorable consequences. The set design, painstakingly conceived by Charlie Corcoran, which drew theatre patrons so vividly into the multi-roomed 19th century tavern like a Romantic portrait of American life unto itself, was intriguingly disrupted by blips of postmodern lighting (Michael Gottlieb) and sound alterations (M. Florian Staab) that brought well-received dimension to this O'Neill classic.
 While certain costumes, makeup, and performance choices felt slightly too stiff, stock, and stalwart to inspire in this revamped production, the success of the show is garnered admirably from the performance of this cast; an intense genuineness to give life to the play's noble humanity.
 In her role of Deborah Hartford, would-be in-law to Sara Melody, Mary McCann gives an alluring performance, whose peculiar monologue to Sara about the insatiable ambitions of men was among the play's formative scenes, and her speech dangles in the air like a dagger for the rest of the act.
 For the part of Sara Melody, Belle Aykroyd's performance, while distractingly monotonous for the majority of the role with her blunted, rasping scorn of Con, does find variety in the final act, with compelling monologues and a few moments of tenderness. 
 Yet among all, the play's great dynamos are this production's Con and Nora Melody.
 From his tremulous entrance to eviscerated end, in the role of broken dreamer Con Melody, Robert Cuccioli's ferocity is immeasurably touching. His emotional breadth as a man confronting the death of his dream—for his new country and himself—was colossal on the Irish Repertory stage, and Shakespearean in magnitude and tragedy.
 As Nora, Kate Forbes is absolutely untouchable, transcending each moment on stage with stoic frailty and vulnerability, all with a poetic realism that would have filled O'Neill himself with pride. 
 With its two acts totaling a nearly three-hour run time, be prepared for a long evening's journey into night. But be not afraid: this New York bard's blarney will be sure to keep you engrossed. 
  "A Touch of the Poet," is an American tragedy in touch with our time, one of embittered nostalgia, reckoning, and love. 
 You will feel despair, hope and truth: "Among the crowd…and of them." 
For tickets, visit irishrep.org.