The prodigal poet has returned home to the Irish Repertory Theatre this season, as Eugene O'Neill's "A Touch of the Poet," directed by Ciarán O'Reilly, received its long awaited reappearance before an in-person audience. Finally, after a two-year postponement, patrons and performers alike are able to experience this emblematic play on the same stage, together through April 17.
This production, which premiered in March 2020, but performances of which were almost immediately shuttered during lockdown, has undergone a trial by fire for survival, including a pivot to the online format, and yet another scare of  show delays during the city's Omicron variant scourge.
Yet after two toiling years, the cast and creative team of Irish Rep's "A Touch of the Poet" make their comeback with more vitality than ever, taking with them to the stage lessons in necessity, acceptance, and the gratitude of finding completion.
Andy Murray, who portrays Jamie Cregan for this production, discussed a few days ago performing this show for the first time, twice.
 "It's a strange experience. Obviously none of us have ever had that experience before: starting a show and having to leave it, and pick it up again two years later," he said, "but strangely from my perspective as an actor there have been some benefits to that. You have a little more freedom."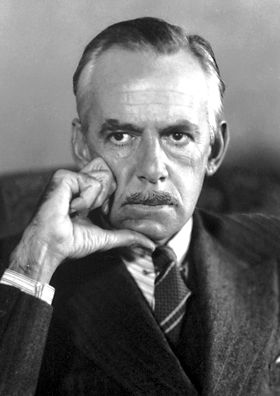 Eugene O'Neill.
Murray recalled the social upheavals preceding the pandemic, he and his wife's relocation to Berlin, and that vagueness of an unsure future that followed ever since. After "A Touch of the Poet" closed the play was briefly prolonged online, for which the English-born actor remembered using green screens, costumes and cameras sent to him to Berlin for the digital performance. While acknowledging the ingenious innovations, Murray was uncertain then whether he'd be treading the stage at Irish Rep as Jamie Cregan in the foreseeable future.
 "The show somehow stays with you," he said, now that it's back on the live stage. "So for me, I've had as much fun as I've ever had in rehearsal, because a bit of the groundwork's already been done—normally you're starting from zero—so that's been a good aspect of it."
Murray has found when revisiting the O'Neill play that it's as eternal and unaltered as always. Asked if the past two years have influenced the approach to his performance, he prefered to extol, rather, the play's enduring consistency. "There are themes in this play that are always contemporary, and strangely I hear one every night, where I go, 'Oh, they're talking about yesterday,' and all really terrific plays do that in some way," he said. "But in terms of playing the role, it's more about having a base there on which to build in terms of a little character exploration or what have you."
In performing O'Neill's works, the aim for Murray is about finding a balance of lightness in the often somber grimness of the scenes. "We have a laugh in that dressing room, man. And my character at the beginning I get to be a little playful," he said. "Maybe you do need that outlet. It demands a lot of commitment from you."
Of the play's language, Murray said, "There's a naturalism about it, but he's also writing a kind of poetic drama."
The actor spoke about the soul of the Irish Rep, and the character of its people, which is what he appreciates the most about being back on its stage. Of O'Reilly, he said, "He's just always so positive, and he's always so supportive. His enthusiasm for actors and the work that they're doing is infectious.
 "I've worked in theatres before where there hasn't been that positive energy. Whereas that place, I'm not claiming it's the 'Irish spirit,' but there is a spirit about that place that I think helps you to do better work.
 "That's why I came back," Murray said, "It was really because of the show, because of the people, because of Ciarán, it was like unfinished business.
"I've led a pretty unstructured life," he said, referring to the last two years, "but I love the structure of what doing a play gives me. No matter what was going on, at 8 o'clock, the curtain's going up, metaphorically, and you know where you're going to be and you know what you've got to do. There's no kind of grey-area. It doesn't matter how you feel -- you've got to go to the theatre and you've got to do that thing.
"And maybe in a time like this when there's so much chaos now with the war, uncertainty, you can go, 'alright I know what's going on today: 3 o'clock I'll be walking out on the stage as Jamie Cregan and I'll be doing the same thing at 8 o'clock,' and barring some disaster that's what my day is, and that's good for me mentally," Murray said, with a smile.
We should, by that measure, all have a touch more theatre in our day.
For tickets, visit the Irish Rep here.