Spirits were as high as the ceilings in the glassed-in back room of the elegant Ellington restaurant, on West 105th Street, as it filled up with jovial Irish American Writers & Artists and their supporters, for their first post-Covid, in-person, upper westside Salon. The host for the evening was IAW&A Vice President Brendan Costello Jr. 
Board member Sarah Fearon, comedian and real-estate agent par excellence, led off with some banter and jokes she is honing for her upcoming show, "Ladies of Laughter," at the Emelin Theatre, in Mamaroneck, NY, on April 2nd.  Among other topics, she proffered some advice to those seeking to rent a studio apartment in New York City for less than $7,000:  "Move to a new neighborhood — Idaho!"  Her video, starring Sarah as her comic RE agent character, Snazzy Peabody, is a finalist in the NYC Real Estate Video Awards.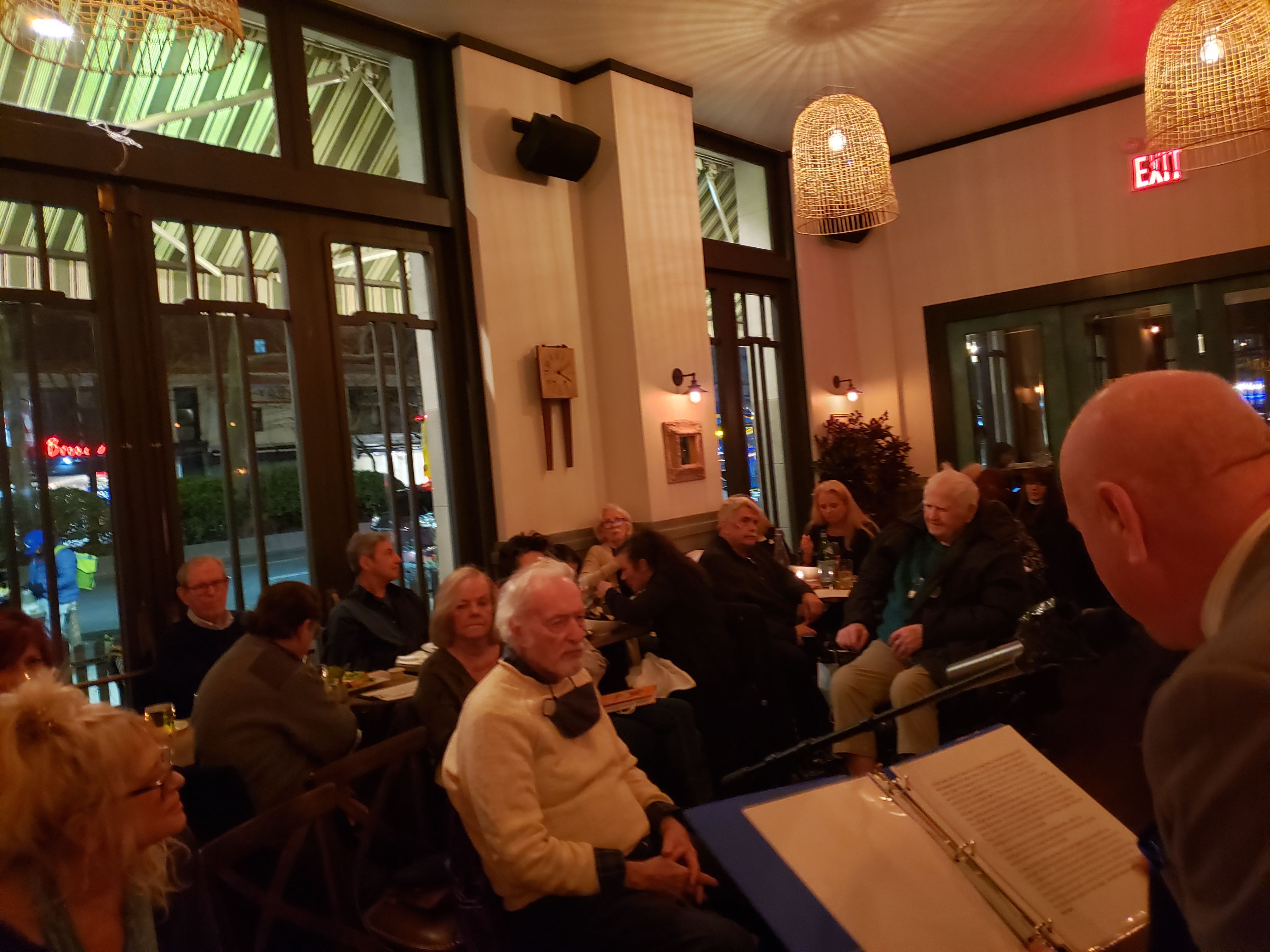 The Salon regroups.
Making his debut presentation, lawman Al Gonzales read an excerpt from his memoir "The Wearing of the Blue."  The chapter titled "Joe Dogs" tells of an eccentric officer and wrangler/trainer of stray dogs, who uses his canine partners to assist in clearing addicts from abandoned buildings in the South Bronx, circa 1987.  The memoir provides an unfiltered look at the chaos and humor of a life in uniform, from the Bronx to Buckingham Palace (where Gonzalez served as bodyguard to Princess Diana).
Novelist, humorist and science journalist Rebecca Coffey returned with another amusing reading from her book of outrageous recipes, entitled "Nietzsche's Angel Food Cake."  This excerpt, "F. Scott Fitzgerald's Pickled Tomatoes," describes the somewhat amorous manipulation of a coterie of tomatoes before submerging them in a bath of vinegar sugar, salt, horseradish, dill & garlic. Coffey's highly praised novel, "Hysterical: Anna Freud's Story," is widely available in paperback and e-book.
The Salon warmly welcomed another first timer, William J. McGee, who read an excerpt from his novel, "Half the Child."  Set mostly in Queens, it's the story of Michael Mullen, an air traffic controller, and his fight to keep his young son in his life through divorce, custody and international abduction.  When not writing fiction, McGee is a journalist, editor, creative writing professor and consumer advocate for airline passengers.
Poet Patricia Brody paid tribute to the great Irish poet Eavan Boland whose sudden death, in 2020, was a loss to Ireland and to the U.S., where she taught at Stanford University.  Brody then read "Althea's Game" from her own collection, "Dangerous to Know," and a moving poem in memory of her mother, "When You Wake You Will Be Young." She also teaches a poetry workshop, "Seeking Your Voice: Women Writing Poetry & Memoir."  For more info:  http://brodypoet.wordpress.com.
Turning up the exuberance of the evening to an even higher pitch, Demi Bonet stepped up with her violin to raise the roof.  A pop/rock singer/songwriter and classically trained musician, Bonet's career includes performances with R.E.M., Sarah McLachlan, Cyndi Lauper, Scissor Sisters and Warren Zevon, in such venues as Carnegie Hall, Lilith Fair, and the White House for both President Obama and President Biden.  She delighted the crowd with her original songs "Why Not You?" and "The Girlfriends of Dorian Gray," plus an instrumental, "Love is a Circular Thing."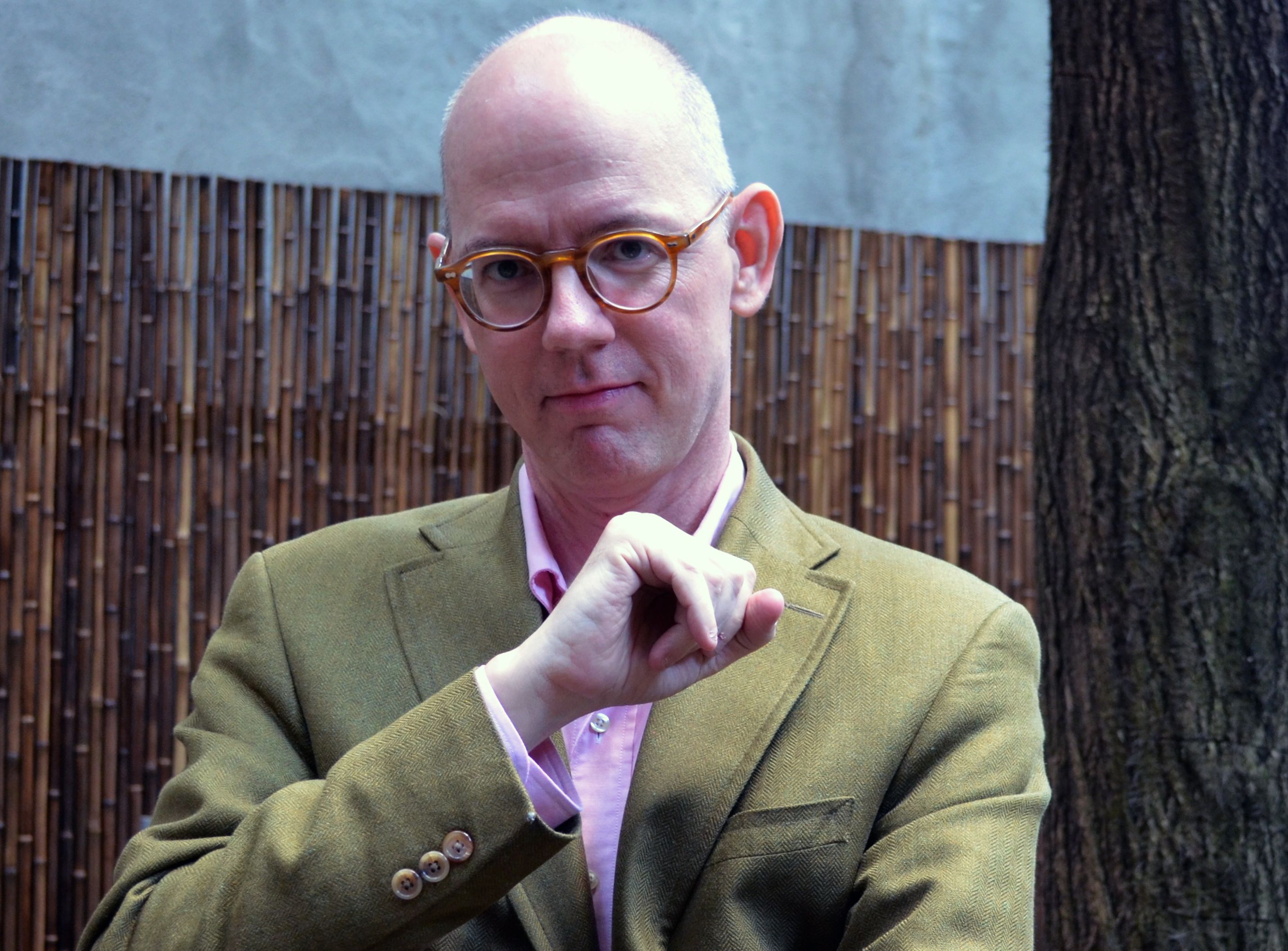 Joseph Goodrich.  [Photo by Vera Hoar]
Actor, playwright/director Thom Molyneaux presented another scene from his play, "The Year of Yorick," essentially a prologue to Shakespeare's "Hamlet" (the last scene in Yorick ends with the first one of Hamlet). Thom read a scene from his work-in-progress, where Bernardo  — a character with only a bit part in Hamlet but a major role in Thom's play —  recounts the story of the King and Queen's courtship, not as history but as an exciting, perilous, romantic, fairy tale. 
Author and Dramatist, Honor Molloy presented the first two scenes from her new play- in-progress, Dublin Noir. Set in 1941 Dublin and Drogheda on the brink of WWII,  the play is a treacherous triangle of greed, passion, and patriotism.  Novelist Kevin Holohan (author of The Brother's Lot), actor Zoe Watkins and Molloy herself read the characters.  Playwright Joseph Goodrich (whose novel, "The Paris Manuscript," has just been released) provided stage directions.
When he's not writing short stories, James Rogers teaches at the UN School.  The new story he read this night, entitled "Solitary," is a dark tale of enforced isolation and the damage it does to humans. A native of County Leitrim, Rogers's work has appeared in publications such as The Galway Review, The First Line, and Inscape.  For a sampling, check out his website at jameswrogers.com.
Kathleen Walsh D'Arcy, Director of the inclusive St. Pat's for All Parade (and IAW&A Board member) was on hand to thank the organization for its support and participation in this year's successful event in the Woodside/Sunnyside area of Queens, after a 2-year hiatus due to the pandemic.
The one and only Malachy McCourt brought the evening to a close. His usual display of wit and wisdom included a pithy biography of one Maewyn Succat (later to be known as Saint Patrick). The Ellington was then musically christened with our founder's signature sign-off ballad, "Will Ye Go, Lassie Go", heartily rendered by all assembled.
The next Salon will be virtual and hosted by Lori Cassels in California, on Monday, March 28 on Zoom.   If you'd like to present on the 28th or at a future Salon, sign up for a 5- or 8-minute slot at iamwa.org/salonsevents/