Super Bowl LVI kicks off at SoFi Stadium in Los Angeles next Sunday, drawing what will probably be close to 100 million viewers. The competition both on the field and on TV screens will be enormous, especially since the 24th Winter Olympics in Beijing will be playing out at the same time! For the second straight cycle, NBC will be televising the Super Bowl and the Winter Olympics in the same month, but this year, with an extra week in the regular NFL season, the Super Bowl will land in the middle Sunday of the Winter Olympics, presenting television audiences with the two biggest events in media simultaneously. So, what will you be watching — the Bengals vs the Rams? Downhill skiing or ice dancing? More importantly, what will you be eating on this super of all super Sundays? Here are a few suggestions.
BUFFALO BEER CAN CHICKEN
SERVES 4 TO 6
            Despite the fact that the Buffalo Bills are not in this year's Super Bowl, the spicy wings named for that city are football fans' most popular snack. Supposedly invented at the Anchor Bar in Buffalo (there are other origin stories, by the way), the wings are typically served with tangy blue cheese dipping sauce, celery and carrot sticks. On this super Sunday, why not roast a whole chicken on top of a beer can and enjoy the same flavor but with more chicken! You can also use a vertical roasting rack with the beer can set inside.
For the chicken
1 tablespoon paprika
1 tablespoon chili powder
1 tablespoon garlic powder
1 tablespoon sugar
1 tablespoon salt
1 teaspoon black pepper
Canola oil, for brushing on chicken
1 (4 to 5 pound) broiler/fryer chicken
1 (12 ounce) can beer
For the sauce
2/3 cup hot sauce
4 ounces butter
1 1/2 tablespoons white vinegar
1/4 teaspoon Worcestershire sauce
1/4 teaspoon cayenne pepper
1/4 teaspoon salt
Celery sticks, for serving
Carrots sticks, for serving
1. Make chicken. Preheat oven to 425ºF. In a small bowl, whisk together paprika, chili powder, garlic powder, sugar, salt and pepper. Brush chicken with oil. Rub seasoning mixture all over chicken.
2. Open beer in two places on top of can. Pour out (or drink) about one quarter of the beer. Put can in center of a large baking/drip pan. Holding chicken with legs pointed down, lower chicken over can so it fits firmly on top of can.
3. Roast chicken for 1 hour to 1 1/4 hours, or until an instant-read thermometer inserted into the thickest part of thigh registers 165°F.
4. Make sauce. In a small saucepan over medium heat, combine hot sauce, butter, vinegar, Worcestershire sauce, cayenne pepper and salt. Cook until better melts and sauce is bubbling. Pour 1/2 cup of sauce over chicken (reserve remaining sauce for dipping); bake 5 to 8 minutes longer, or until chicken is crisp. 
5. Remove chicken from oven; let stand for about 10 minutes. Twist can to remove from chicken; discard can. Transfer to a serving platter; cover with a piece of aluminum foil. Let chicken rest for 10 to 15 minutes before cutting into pieces.
6. Serve chicken with sauce, blue cheese dressing, celery and carrot sticks.
CASHEL BLUE CHEESE & CHIVE DRESSING
SERVES 4
            For the most delicious blue cheese dressing/dipping sauce for your chicken and crudité, use Cashel Blue from County Tipperary. 
1 cup mayonnaise
1/2 cup heavy cream
1/2 cup sour cream
1 teaspoon Worcestershire sauce
2 tablespoons distilled white vinegar
1 tablespoon chopped fresh chives, plus more for topping
Ground black pepper 
6 ounces Cashel Blue cheese, crumbled, plus more for topping
1. In a medium bowl, whisk together mayonnaise, cream, sour cream, Worcestershire, vinegar, chives and pepper; stir in blue cheese. Cover with plastic wrap and refrigerate for at least 1 hour and up to 24 hours.
2. At serving time, top with additional blue cheese.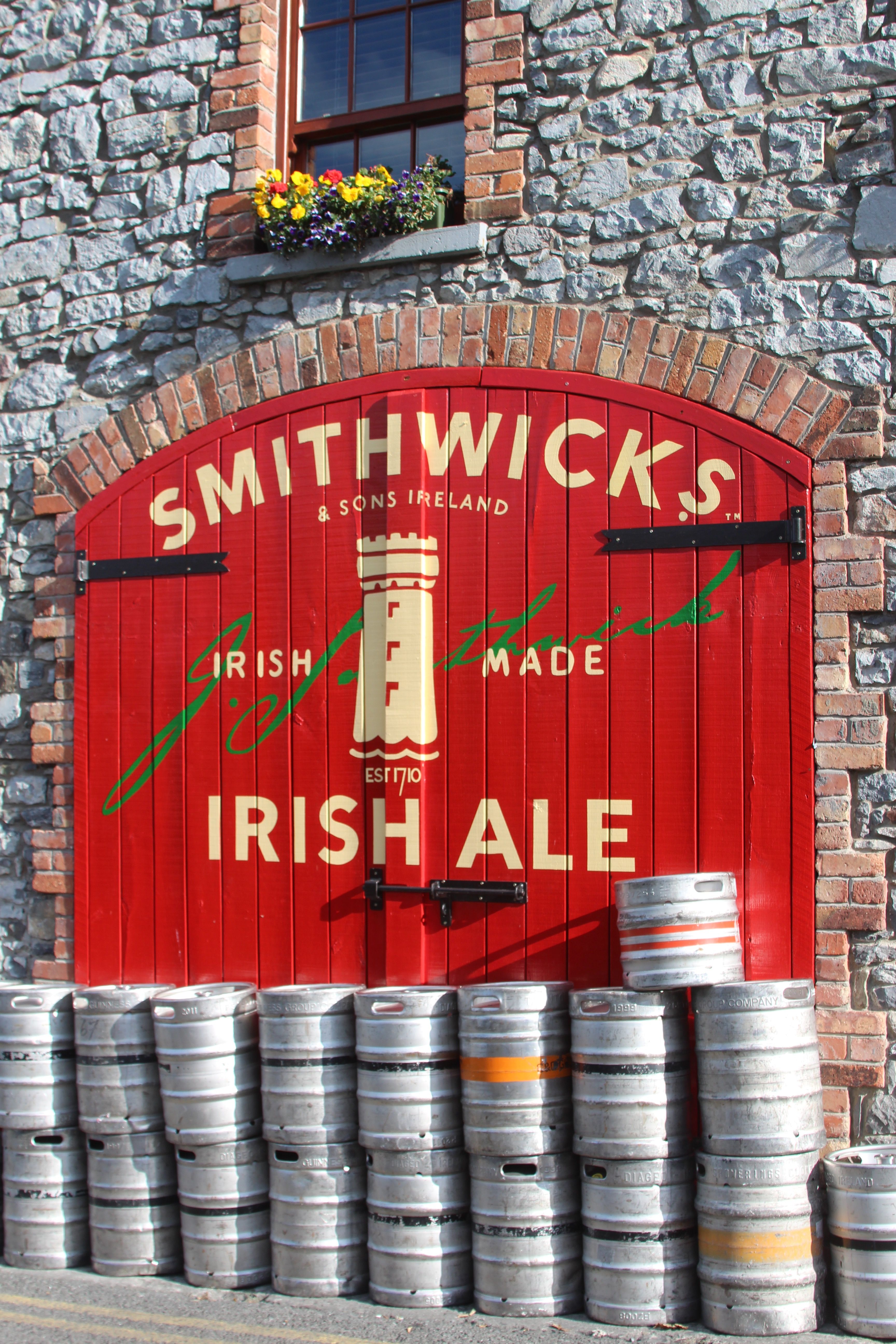 SMITHWICK'S FRIED MUSHROOMS WITH BUTTERMILK-HERB DIPPING SAUCE
SERVES 4 
            These beer-battered fried mushrooms are the perfect addition to any sports-watching buffet. They're offered as a starter or snack food in many Irish pubs, and they're often made with Kilkenny-brewed Smithwick's, one of Ireland's most popular beer brands. Try them with this buttermilk dipping sauce, best made a few hours (or overnight) in advance to let the flavors blend. The sauce is also delicious for dippinraw vegetables.
For the dipping sauce
2 tablespoons buttermilk

1⁄2 cup mayonnaise

1 teaspoon Dijon mustard

1 tablespoon fresh lemon juice

1⁄4 teaspoon Tabasco sauce

Salt 
Ground black pepper
1 tablespoon each chopped fresh herbs, such as parsley, tarragon, dill, or chives 
For the mushrooms
1 pound white button mushrooms
                1 cup flour, sifted
                1/2 teaspoon garlic powder
                1/2 teaspoon cayenne pepper
                1 teaspoon salt 
1/2 teaspoon black pepper
                1 cup Smithwick's
                Canola oil, for frying
1. Make sauce. In a medium bowl, whisk together buttermilk, mayonnaise, mustard, lemon juice, Tabasco, salt, pepper and herbs; cover and refrigerate.
2. Make mushrooms. With a paper towel, wipe mushrooms clean (do not wash); trim ends of stems. In a large bowl, combine flour, garlic powder, cayenne, salt and pepper. Stir in Smithwick's; whisk until smooth. Let batter rest about 10 minutes.
3. In a deep fryer or large heavy pot, add oil to a depth of 4 inches; attach a deep-fry thermometer to side of pan. Heat oil to a temperature of 340º to 350º F. 
4. Working in batches, dip 8 to 10 mushrooms at a time into batter to coat; allow excess batter to drip back into bowl. Drop into hot oil and fry for about 4 minutes per batch. 
5. With a slotted spoon, remove mushrooms and drain on paper towels. Repeat with remaining mushrooms. Transfer to serving platter or bowl; serve hot with dipping sauce alongside. 
MIXED BEAN SALAD WITH WALNUT VINAIGRETTE
SERVES 6 to 8  
            Spicy chicken and fried mushrooms with creamy sauces will benefit from a refreshing salad served alongside. This one with mixed beans and a flavorful vinaigrette will be the perfect complement. Sugar snap peas are the sweet, crunchy cross between English butter peas and snow peas. They're delicious combined with green beans, broad beans, edamame or baby lima beans. Use 10-ounce steam-in-bag frozen beans for this recipe and drain any excess water immediately after cooking to help the beans maintain their crunch.
For the salad
10 ounces sugar snap peas
10 ounces green beans
10 ounces edamame
10 ounces lima beans
2 celery stalks, sliced (optional
Salt 
Ground pepper 
For the vinaigrette 
3 tablespoons roasted walnut oil 
1 tablespoon light olive oil 
1 tablespoon white balsamic vinegar 
Salt 
Ground pepper 
Fresh parsley, for garnish
1. Make salad. Cook beans according to directions on the bag. Transfer to a large bowl. Add celery (if using); season with salt and pepper. 
2. Make vinaigrette. In sealable jar, combine oils, vinegar, salt and pepper; cover and shake until blended. Just before serving, toss salad with dressing; garnish with parsley.
    Margaret Johnson's "Recipes" page occasionally incudes "Ireland Hopping: Adventures in Food, Drink, and Travel." For further details on her work, or to order a signed cookbook, visit www.irishcook.com