Armagh 2-15; Dublin 1-13
So are Dublin in transition or are they in free fall under Dessie Farrell? And are Armagh in full bloom after five years of pruning by Kieran McGeeney or was this victory just a flash in the pan?
On the evidence of Croke Park on Saturday evening, it very much looks like "Geezer," as McGeeney is universally known,  is getting the Orchard to ripen in 2022 while Dublin were merely a pale shadow of their former selves that won six Sam Maguires in a row.
Farrell was quick to point to the "transition" excuse after the match and when you consider he was operating without James McCarthy, Con O'Callaghan, Johnny Cooper, Paddy Small, Michael Fitzsimons and with Jack McCaffrey and Paul Mannion apparently no longer interested in inter-county fare, maybe he has a point.
Certainly Dublin had half a dozen players on the pitch during the course of the game who were not at the level that Jim Gavin had his players performing at during his five in a row run but then it is only January and a lot of improvement can come about between winter and early summer football.
"It's a disappointing start for us, for sure. We knew it wasn't going to be an easy challenge. Armagh looked really, really strong physically, conditioning-wise and they'd a very good game plan," conceded the Dublin manager after the game.
"However, we were missing a lot of bodies. We're trying to introduce some new blood into the system as well. All told, while disappointing, you have to look at the positives as well. I think the fact that we got game-time into so many new players is something we have to take from this. We created a lot of chances. Our shooting efficiency was poor and that's something we need to work on.
"Our lot of core players have left the squad over the last two to three years. We're trying to replace that quality," Farrell added. "You can't replace the experience obviously. But the league is going to tell us whether we have the quality to step in and fill the boots that have left. That's what we're going to see. It's nights like tonight that you get a good handle on who potentially is capable of playing in the big-time."
On the other side, his former Na Fianna clubmate McGeeney was delighted that with injured players back, his side looked the part. "People gave out about our performances last year when we were missing two key defenders," he said. "We showed what we could do with them back and I'm happy with that."
His full-forward Rian O'Neill led the orange charge and shot 1-4 from play as he led the Dubs defense on a merry dance. His goal set the tone and when Jason Duffy added a delightful chip over the goalie's head, it meant they got the self-belief to attack the Dubs, knowing they had every right to claim the two points available in this opening National League match.
Cormac Costello had shown his usual top-class form to keep the Dublin scores ticking over and he was a big loss when forced off 15 minutes before half-time with his replacement Dean Rock looking ring rusty and not really getting to grips with the pace of the game.
You fancied that a nine point lead - 2-8 to 0-5 at half time – was a done deal, although you wondered would the likes of Brian Fenton and Ciaran Kilkenny find their strike and orchestrate a big comeback in the second moiety. The answer is Dublin played better and at one stage had reduced the lead to four points, but overall Armagh were still the sharper side and deserving of their finishing five point winning margin.
The Dubs can thank a fortuitous high ball into square which was finished by sub Lorcan O'Dell the goal which made the game look a lot closer than it actually was.
Ulster stalemate
Tyrone 0-9; Monaghan 0-9
Tyrone and Monaghan equals a true Gaelic dogfight virtually every time they meet. Need we say any more in terms of two teams giving their all in an attempt to come out on top. 
This Ulster "derby" game  had everything except an abundance of scores but the packed stands of 7,000 in Healy Park left satisfied that honors were shared with a point each for the protagonists.
The All Ireland champions didn't look the part – but then they didn't do well in the league last year and look what happened. Like Dublin, they have to cope with players leaving the squad after getting their Celtic Crosses so can  Fergal Logan and  Brian Dooher get their magic wand working a little later down the line? Time will tell but my guess is they won't be too far away.
Monaghan are one of the hardest teams to beat no matter whether you are Donegal, Tyrone, Dublin or Kerry as opponents. Their problem traditionally has been putting back-to-back performances against such top class opposition in championship fare.
They gave it their all again on Sunday but looked like losing out in a tight game until Conor McManus arrived as a sub to shoot the equalizer with six minutes remaining.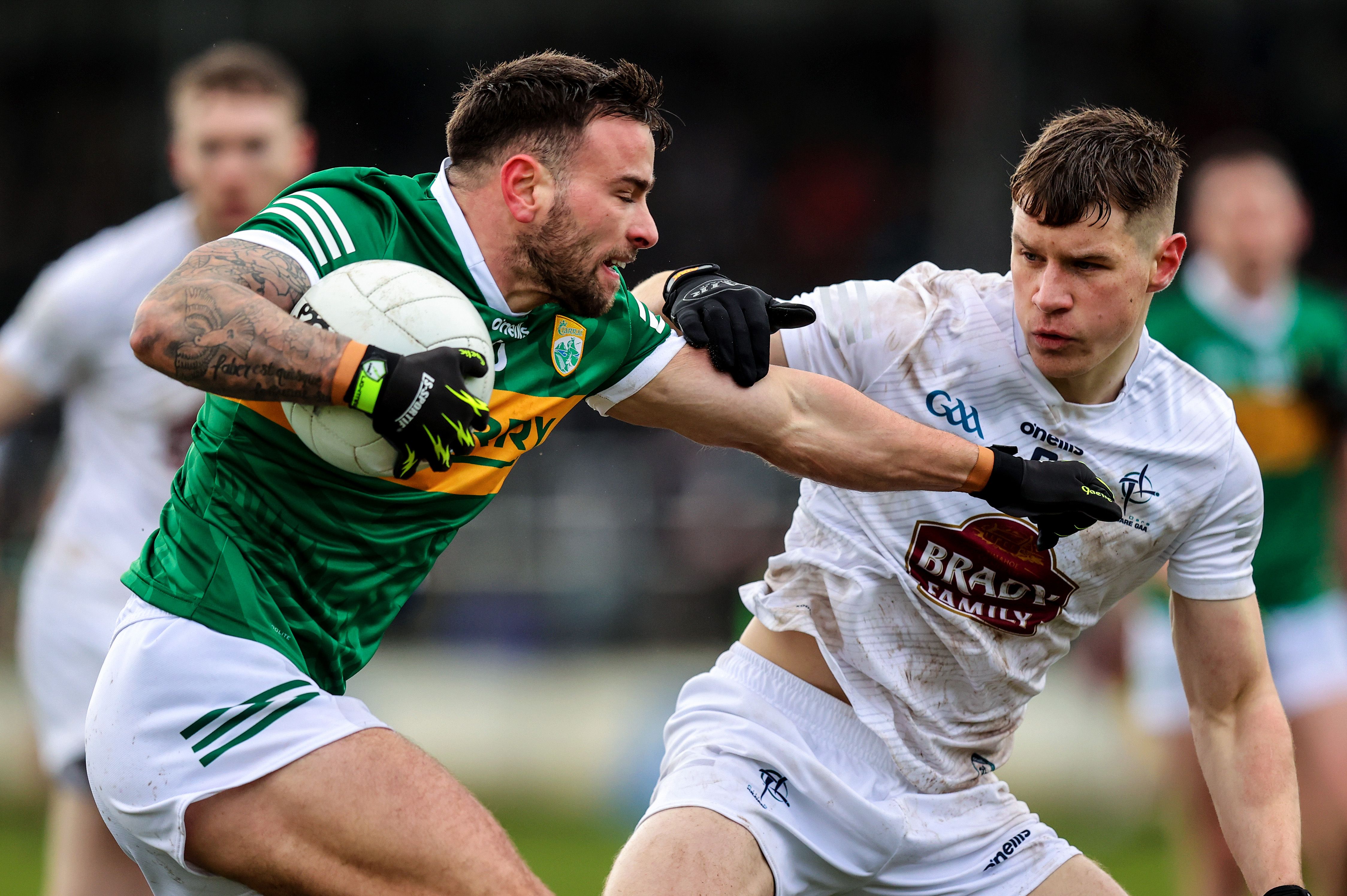 Surprise for old boss
Kildare 0-13; Kerry 1-10
Kildare have a habit of blowing hot and cold and when they were four points behind against Kerry in Newbridge on Sunday, it looked like a case of  cock-a-hoop Kingdom continuing on their recent good winning streak.
It seemed that would be the outcome for the team who lost their manager in the autumn — Jack O'Connor had left the short grass county when the opportunity came up to be Kerry boss for a third time emerged.
In turn, we saw the Lilies introduce their own dream management team — comprising Glen Ryan, Anthony Rainbow, Dermot Earley and Johnny Doyle — conducting affairs from the sideline. The jury is still out on what they can produce with this promising team but they seem to have found a fighting spirit not seen in the jersey since the O'Dwyer years.
Trailing 1-10 to 0-9, they dug deep and found the character to kick the final four points and gain an honorable point in front of another packed Conleth Park.
They had hit the ground running and had the big home following in good mood when scoring the first two points of the day. However, once Killian Spillane bundled the ball home, it was Kerry who took the lead and looked like escaping the plains of Kildare with both points in their back pocket.
Kildare must now build on this performance instead of reverting to their hit and miss form of recent years. Skipper Mick O'Grady led from behind by expertly curtailing Kerry talisman David Clifford to two points. If he can do that, he can be a real treasure for Ryan and co. as they seek to build for the future.
Another great addition to their team was Jimmy Hyland who  scored the equalizer with a pressure kick and was responsible for six of his team's tally. Paul Cribbin too stood up and if he gets his dander up, he can be a player that few defenders will relish the prospect of having to mark.
Jack O'Connor won't mind that his charges got a thud back to earth moment after several McGrath Cup turkey shoots. He is still looking for the class of defender who will bring Sam back to the Kingdom but on Sunday's evidence, he is still short in that department.
Up front too Paul Geaney continues to underwhelm and the experiment of playing Sean O Shea at midfield might be a case of robbing Peter to pay Paul.
Manager Ryan magnanimously stated that  O'Connor had left the Lilywhites "in a very good position" following his tenure at the helm. And after the match he was delighted at how his charges had responded to what looked like a certain home reversal.
"We improved as we went along. Still, a lot of work to do before Donegal but it's a point on the board. We probably left a couple of scores behind us, to be honest. 
"My hopes for the league is that people start to focus on the team and not on fellas on the sideline who can do very little about what's going on in the pitch. There is huge pride in this county for football.
"There's a huge hunger and desire to see our players play well. All we're going to do is try to improve them. Everything else revolves around the fellas who are out on the pitch. What we'll try and do is to facilitate those fellas, doing the best they can and being as good players as they hope to be."
O'Connor was more laconic over the outcome afterwards. "Kildare played very well in the second half and we didn't play well - didn't play well at all really from 15 minutes into the second half," he said.
"We were too lateral, we weren't penetrating in the middle third of the pitch. Any ball that went inside didn't seem to stick. We'd have to consider ourselves very lucky to get out with a point."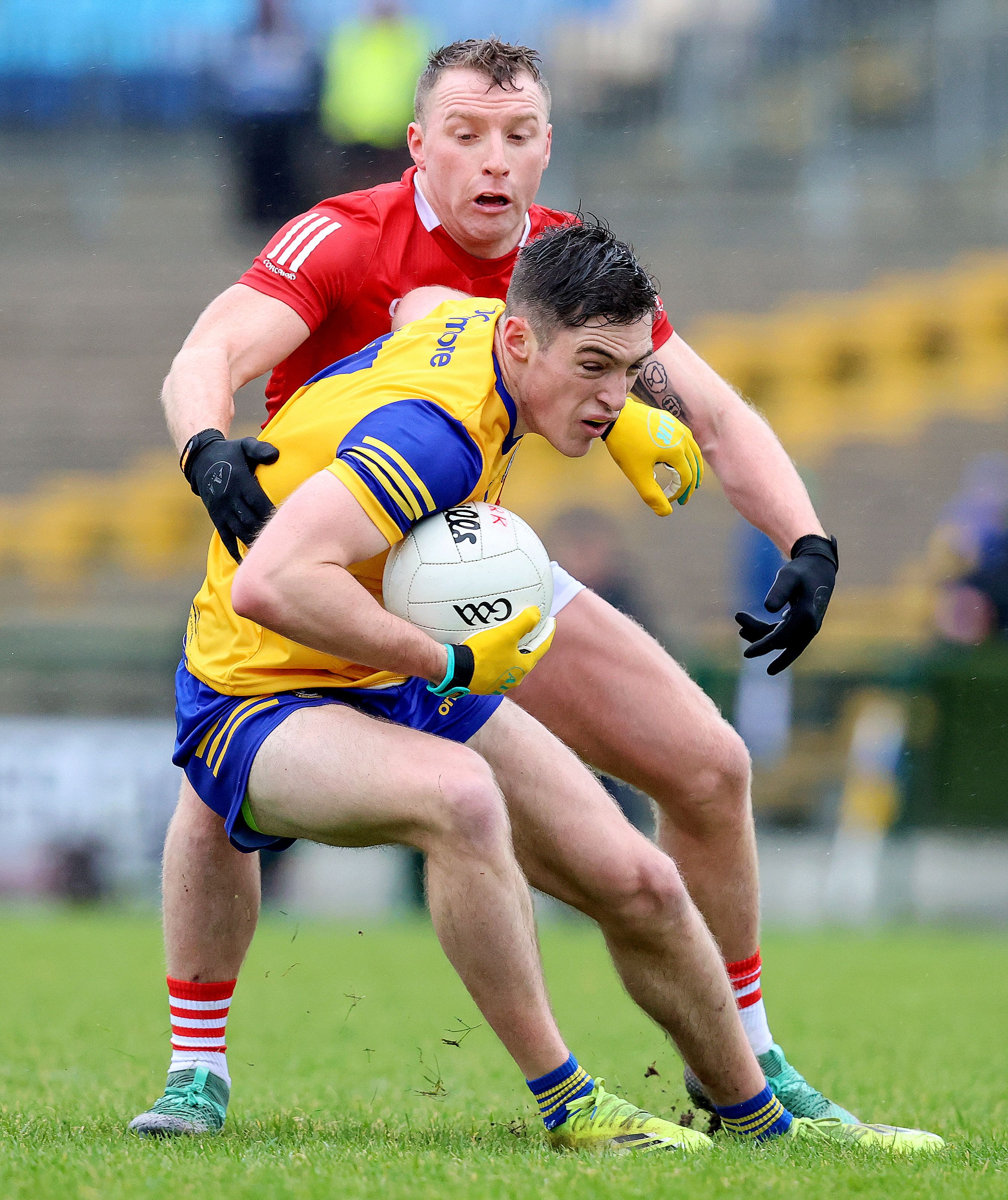 Hennelly the hero
Mayo 0-11; Donegal 0-11
Goalkeepers often have to wear the villain's cap in big sporting arenas but on Sunday Rob Hennelly donned the hero's headgear after outstanding moments at both ends of the pitch by the Mayo netminder in Sligo.
Having saved a penalty from Donegal's Paddy McBrearty midway through the second half, Hennelly could have been excused for thinking he had done his job for the Mayo cause.
However, with four minutes of overtime played, the veteran was called up to take a difficult  40-meter free from the left wing which he expertly landed to secure James Horan's men a "home" point in Markievicz Park in front of 9,000 fans.
These two teams love drawing matches, it seems, and Sunday's outcome was the third time their league encounters had ended in such a fashion.
Even with the wind Donegal drew first blood and led by 0-7 to 0-3 at the interval following a first half in which Mayo were totally off color.
A brace of frees from their talisman Michael Murphy  and another from McBrearty settled the "visitors" while Mayo, who had two frees from Ryan O'Donoghue had to wait until the cusp of the half-time blow to get their first score from play from half-back Eoghan McLaughlin.
The contest went tit-for-tat after the interval but once Michael Langan landed his fourth point from play 15 minutes from time, Donegal failed to score again.
Eschewing the penalty chance which would have put the game to bed, Mayo drew strength from that let off and came roaring back at their rivals for Hennelly to register the equalizer.
Mayo now  travel to play Monaghan in Clones  on Sunday while Donegal have a home game where they will test the real mettle of Kildare  in Ballybofey.