We're checking in with our colleagues and friends to see how they're feeling about their clubs a little more than half way into the 2021-2022 Premier League season.
Last year at this time, Manchester City had a seven-point lead over Manchester United and Leicester City, 53 to 46, and a game in hand, having played only 23. The injury-prone champions Liverpool had stumbled and were in 6th place with 40 points. With 23 games played this season at press time, City have a nine-point lead,  57 to 48, over Liverpool, who have a game in hand with 22 played. 
If fans are looking to last year as a guide, City should hold on, as they extended the margins over their rivals, even the Reds, who recovered strongly to finish 3rd. 
The race for coveted Champions League places would appear a tad less competitive than in 2021, but the relegation battle to avoid the drop is far more open.
Scott Silver, freelance designer, Arsenal
The Arsenal faithful (if there are any left) have to be wondering where the goals will come from, now that Aubameyang is away. Crazy to think this team is only a few points away from a Champions League spot, considering how poor they started the season, and how inconsistent they are. Maybe it just shows that there is some parity in the league, as the Gunners can just as easily take that fourth sport, or finish bottom half of the table. 

Joe Behan, Florida resident, Manchester United
By end of March we will know a lot more about Manchester United's season but by then have to expect scraping into the next round of the Champions League, to go no further, just about hanging around top four in the table but missing out. Overall a failed season with many more building blocks to come.  

Paul Galligan, labor attorney, Leeds United
Someone is going to have to explain the financial fair play rules to me.  It seems they have about the same effect as the Rooney rule in the NFL.  This year the Premier League has had some exciting games, but it looks like we will have the same ending as always.  You have the Top 6 (really Top 3) and 14 also rans just not able to compete financially.  You have to hope that teams like West Ham and maybe Leeds in the future can break the mold.  City's B team would have more of a chance.  Leeds are struggling this year with frustrating injuries and what seems like a burning desire to give the ball away.  However, the club clearly has a long term vision, blooding some very talented youngsters.  In a recent game, the whole bench consisted of teenagers.  But Leeds seem to be gambling that they will stay up.  Gambling is all the rage in New York these days, but it is not my cup of tea. 
Kieran Quilligan, Yonkers resident, West Ham United
We started off extremely well but injuries to four of our first-team defenders have caused us to lose ground. Currently with one of the thinnest squads in the Premier League and with no transfers in the January window it would be a miracle if they could still achieve European football next season 
John Spinks, artist, Newcastle United
Eddie Howe.  Given the circumstances of his situation, it's a pity he has that "E" on the end of his surname.  His application from the outset has been bold and brave.  In a transfer window offering thin fare his signings seem shrewd.  The Chris Wood move seems to disarm Burnley, our fellow contenders for the abyss.  There's the value for me.  I'm not that convinced of his scoring acumen.  Trippier has been as good as he has always been, a real professional, leads by example.  Dan Burn from Villa has the added 'Toon DNA factor in that he supported Newcastle as a boy.  Most exciting of the new lads is Guimares, Brazilian midfielder from Lyon.  It will be fascinating to see if he lives up to his nickname: " The Piano Carrier."  He will encounter plenty of heavy lifting in that squad.
For the first time this season I'm thinking we might stay up.  I'm still uneasy about the possibility of being the richest club in the Championship.  
PS. As for the money I'd be interested in the outcry if we'd got the financing from the Vatican.
Jerry Meehan, Queens resident, Leeds United
As a Leeds United supporter, I have experienced the best and worst of English football. At 58 years of age I am lucky enough to have seen the great Revie team of the 1960s and '70s. Those were fantastic days especially as I was a kid for them, wearing my Admiral Leeds strip that had to be ordered through "the north" because there was a postal strike in the south at the time of that famous 1975 European cup final. Time hasn't been kind and 16 years in the lower leagues would have ended many clubs but not "the Famous Whites." Leeds fanbase is huge and insanely loyal. After all that time we are gracing the Premier League and I'd say most opposition fans are happy to have such a big club back. Hopefully Leeds can continue to rise to where we know they belong, among the top clubs in Europe. M.O.T. 

Dominik Stingas Paczko, Burton on Trent resident, Tottenham
Ever generous, it was nice of Spurs to go above and beyond and give the rest of the Premier League a 3-month headstart. The sacking of Nuno Espirito Santo was inevitable before the first ball was even kicked. Convincing Conte to join would have been seen as masterstroke if we hadn't already willingly passed up that opportunity in July. 
Antonio has already got the Tottenham faithful onside. The football is probably the best it's been since Pochittino and seeing the team having to be held back by stadium security from jumping into the away end after the dramatic injury time win at Leicester feels like the connection between supporters and players is starting to come back. He's also told the board what everyone has been saying since the Champions League final, the squad is seriously lacking in quality. 
The transfer window firmly re-enforced our standing in the fictional football nightclub, Spending the whole night flirting and offering to buy happy-hour drinks for players out of our league, who inevitably land up heading to the VIP table with all the champagne and big shiny trophies. 
There were more, but probably not enough exits, mainly players who we only signed in the last couple of years who were clearly not up to scratch. Perhaps the most notable departure of them all though was Steve Hitchen, the man in charge of player purchasing who convinced Daniel Levy to spend over £100 million on glorified driftwood. 
Everton, where mediocre players go to die, bagged themselves Dele. Seeing him leave the club left me feeling a little bit sad. There was no doubt the fans loved him and desperately wanted him to find his pomp again, but for reasons we'll probably never really know, three successive managers didn't think he was up to the job. 
We still have a sniff of top 4, but 6th is probably more likely. At the time of writing the FA Cup is still flashing a cheeky bit of leg, but we'll end up empty handed.
Whatever happens, this season will forever my favorite. The one where our 7-year-old son has become "proper COYS". In the car after his 2nd visit to The Lane, he told me when he sees Tottenham score, he's so happy he could cry. Stick that in the trophy cabinet. 

Stephen Boland, UPS worker, Liverpool
Even though there's a nine-point gap I wouldn't rule the league out. City want the Champions League badly, so they'll be concentrating on that as well.
Liverpool's panel is pretty deep and they've made some shrewd signings. The back line has been staying solid and they haven't been getting injuries. Liverpool can still give City a run. There'll still be a lot to play for when they play each other. City are due to go on a bad run. It's hard to keep that pace up. 
Liverpool have been pretty consistent all year. They've just drawn too many matches. When a team [City] wins 12 games in a row you're going to fall behind, no matter how well you're playing, because you're going drop points here and there. As for players, I think Salah obviously is doing well. Jota is scoring goals, Trent Alexander-Arnold and Robertson have been solid. They're getting their assists. 
Liverpool have got a good goalkeeper and a good backline; the only problem I've seen is their midfield is bit weaker than City's, but other than that they very competitive in all areas. They've a lot of backup players, like Kelleher in goal. I don't see anyone else in the equation. It comes down to Liverpool or City, but City have to be favorites. 

James Rogers, New York Evertonians
This season has been like a bad dream for Evertonians. As feared, owner Farhad Moshiri's controversial hiring of Rafa Benitez backfired spectacularly, leaving Everton hovering just above the relegation zone and angry fans calling for change. With Benitez gone, Frank Lampard becomes the latest manager in the Goodison hot seat, the seventh in Moshiri's turbulent six-year reign. He inherits an expensively-assembled squad that ended 2021 lacking bite, creativity, and confidence. While the shaky defense remains a worry, Demarai Gray and Andros Townsend have at least provided some much-needed pace and attacking vigor since their arrival last summer. The emergence of startlet Anthony Gordon has also been a highlight of an otherwise turgid season. Long-suffering fans will be hoping that the purchase of Spurs outcast Dele Alli and the loan signing of Donny van de Beek will inject some life into a team that has become all too easy to beat. Injuries haven't helped, but if results don't improve the club could be staring relegation in the face, its first since 1951. Who knows what the next twist in the Goodison Park soap opera will be? 

Jay Mwamba, Irish Echo, Manchester City
It may sound cliched, but the Premier League title is once again Pep Guardiola's to lose. 
With the "Cityzens" pretty much firing on all cylinders and raking up points, Guardiola's Manchester City seem on track for a fourth title in five seasons around the halfway mark. 
After the last round of league matches, the defending champions led second place Liverpool by nine points, albeit the Reds have a game in hand. City are undefeated in 13 matches, having won [ahead of today's clash with lowly Brentford] 12 of those fixtures.
What has Guardiola done right again? He's playing his best possible team week in and out. And for me it means Ruben Dias and Aymeric Laporte in the central defensive roles and Joao Cancelo at left fullback. 
As outstanding a manager as Guardiola is, his penchant to tinker in big games has sometimes backfired. Case in point was his decision to line up against Chelsea in the Champions League without a single defensive midfield. City lost 1-0 but have since beaten Chelsea in both league encounters this season with defensive midfielders, and sans John Stones and left fullback Oleksandr Zinchenko.
Both Stones and Zinchenko are good going forward but not the best defensively. By benching them for better rounded players, in Laporte and Cancelo, City have strengthened their starting line-up. 
City now seem on track for another English title.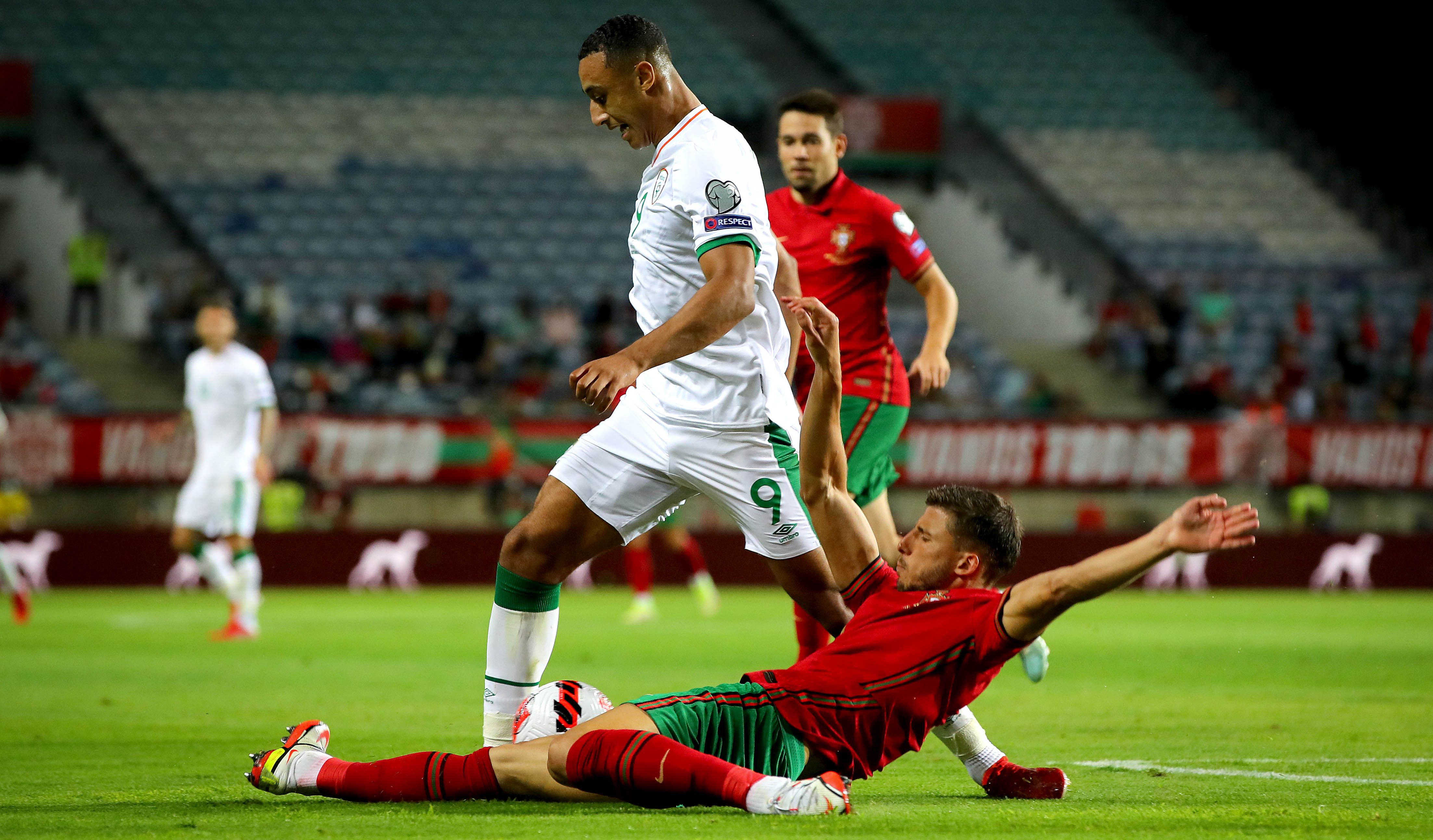 Ireland and Norwich's Adam Idah being tackled by Ruben Dias of Portugal and Manchester City in an international game in 2021. INPHO/RYAN BYRNE
Ray O'Hanlon, Irish Echo, Manchester United
Manchester United, the current version, are the proverbial puzzle wrapped in an enigma. So many star players; but would you bet your last buck on them in any given game? A new manager, one or two new players, one or two departures and the same challenges trying to work out the team formation, the magic formula, the secret sauce. All the ingredients are there at Old Trafford but how they blend to maximum effect has yet to be worked out on a consistent basis. 4-2-2-2? Marcus Rashford needs more space than that lineup allows. Paul Pogba? How long until the next injury? Ronaldo believes that third place in the Premiership is a minimum. Fourth will do. Then again the Reds could go mad and win the European Champions title. With this squad you just never know. 

Paul Finnegan, Irish Echo, Chelsea
They really had a great early start to the season, and it's disappointing they went off the boil over Christmas.  I know they have a very strong squad, and there's no excuse, but some of the players they lost through COVID and injury really did contribute to the chemistry they had going.  When you've got so much talent, it's hard to find the right balance, and they had it for a few weeks, went top, and then stumbled. But I am confident that they'll have a strong second half to the season now.  They may not win the EPL, City are so far ahead, but they'll finish in the top four, and maybe pick up a trophy or two, and I wouldn't rule out another Champions League title, they have a way of winning in Europe.  And for once, may they please keep the manager throughout the hard times? Tuschel is great, he can develop the club long-term like Guardiola is doing at City, if given the time to do so. 
Joe Hurley, musician and actor, West Ham United
 Sitting through our abysmal, gutless display on Saturday vs a 6th-tier club left me bewildered. Are we really 5th, gunning for the Champions League and starring in the Europa Cup? Yes, apparently, we are. 
 Class, commitment and comradeship has carried us so far — beating Manchester United, Manchester City, Chelsea Liverpool and Spurs was a bit lovely — but with exhaustion and injuries  taking a  toll, our failure to sign a single player in January was absolutely astonishing.
 We can only pray  it doesn't haunt us forever, that the team's indefatigable spirit grows stronger and, led by our extraordinary talisman Declan Rice, brings us to a glorious finish, one that could transform the club into globally beloved winners for decades to come.
Somehow with the league's smallest squad and only one striker we're still well in the hunt for the greatest season in our history. We've an.excellent  chance of winning our first trophy in 42 years and the distinct possibility of a previously laughable  top-4 finish. 
 Watching the  Hammers crashing through the Gates of The Big 4 Billionaire Boys Club, romping cross the pampered lawns of Chelsea Mansions and into The Champions League, would send millions of Hammers into Heaven. Some, quite literally so.  
 I think it's our time. Don't you, Bish? 

 Ian Bishop, former West Ham United captain
 Ask me at the beginning of the season and I would've taken the 'Ammers sitting in 5th after 23 games all day, but something in me is still disappointed. Champions League is there to grasp and after a barren window I'm wondering how much they want it. Let's hope a non-disrupted squad works in our favor and we can rectify the home soil hiccups and crack on.