Mayo 2-11; Dublin 0-12
Beating Dublin twice in a row means it's heady days for Mayo, who hadn't managed to get by them for the best part of a decade until they followed up last year's All Ireland semi-final victory over them with another impressive scalping at Croke Park on Saturday night in the National League round three encounter.
In fact to be exact, it took the Westerners nine years and a total of 18 competitive games for all of this to happen. And it must make manager James Horan realise that as Dublin's new fledglings fail to fly at this elevated level, his own trawl of new players has been a spectacular success.
The old adage that goals win matches was never more pertinent than in the wind and rain of Saturday night along Jones Road as  green flags from Jack Carney and Aiden Orme gave them the edge against a team in blue which apparently have forgotten how to win.
It means that Kerry, Armagh and Mayo now all have five points each and are co-leaders of a precarious division going into round four next week when Mayo face Armagh at home while Dublin make the short trip to Newbridge where they will face a hostile crowd and a Kildare side showing renewed competitiveness at this level.
This time round they had a real hero in goalkeeper Rob Hennelly who not only made an astonishing save from five yards out to turn Lorcan O'Dell's goal-bound strike over the bar but sallied forth to kick two crucial points from placed balls at the other end of the pitch as well.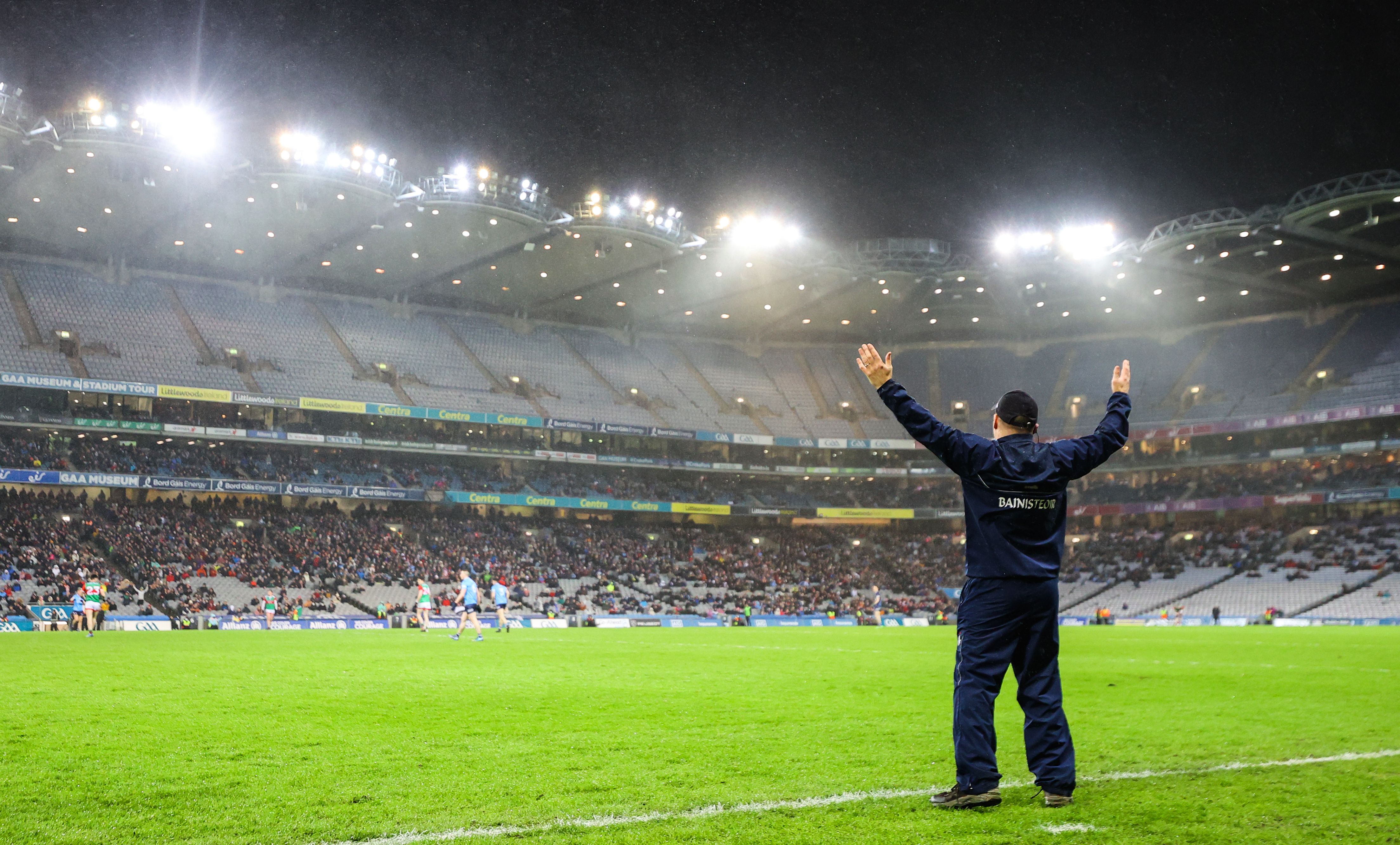 Dublin's excuse list gets shorter by the week as they welcomed back seasoned defenders Michael Fitzsimons from the start  and brought on Jonny Cooper as Dessie Farrell's player count rose to 46 so far this season.  There is something not clicking with the squad, whether it is the leftover fatigue from the six-in-a-row or the fact that Farrell is not getting the same out of what he has on offer as Jim Gavin managed to do is a moot point.
Yes, there is still Con O'Callaghan, Cormac Costello and Paddy Small to come back to bolster the attack but it was the displays of the old hands, not the new kids, which disappointed big time up front on this occasion. Niall Scully kicked uncharacteristic wides and Ryan Basquel is struggling to translate his club former at the higher level.
Only once did the home side manage to get their noses in front when Ciaran Kilkenny shot over after 20 minutes but Carney's goal a minute later was more than three points as it inflated the men in green and red to believe they could go on to win this match.
Dublin recovered with a string of good points but were deflated again when Orme got in for a major three minutes before the interval following an intelligent exchange with Ryan O'Donoghue. With Hennelly adding a 45, they went in at half-time on a Mayo 2-6 to 0-9 scoreline.
Dublin knew what they had to do – start well in the second half but they failed to sustain any real challenge. The fact that they managed to raise three white flags as their scoring prowess in this moiety showed how timid that once feared forward line has become with Dean Rock also looking only a shadow of his former self.
Mayo's schooling in these situations is exemplary and they showed maturity by keeping the scoreboard ticking over by adding two more points than their opponents could muster, with defender  Michael Plunkett bagging a brace of beauties as rewards for his forward endeavour.
Diarmuid O'Connor, who was a colossus of strength all through, fittingly rounded off the scoring to seal a fine personal and team performance.
Mayo: R Hennelly (0-2), 0-1f, 0-1, 45); L Keegan, R Brickenden, M Plunkett (0-2); O Mullin (0-1), S Coen, D McHugh; M Ruane (0-2), J Flynn; Br Walsh (0-1), D O'Connor (0-2), J Carney (1-0); P Towey, R O'Donoghue, A Orme (1-1) Subs: K McLoughlin for Carney (49), C Loftus for Towey (49), E Hession for Mullin (60), A O'Shea for Ruane (62), F Boland for O'Donoghue (65), E McLaughlin for Plunkett (72, blood.)
Dublin: E Comerford; M Fitzsimons, S McMahon, D Byrne; L Gannon, J Small, T Lahiff; B Fenton, B Howard; S Bugler (0-1), N Scully, R Basquel; R McGarry (0-2), (0-1)m), C Kilkenny (0-3, 0-1)m), D Rock (0-4f) Subs: L O'Dell (0-1) for McGarry (40), J Cooper for Basquel (50), A Wright for Howard (65), C Murphy for Gannon (65), H Ladd for Scully (72).
Ref: D Gough (Meath).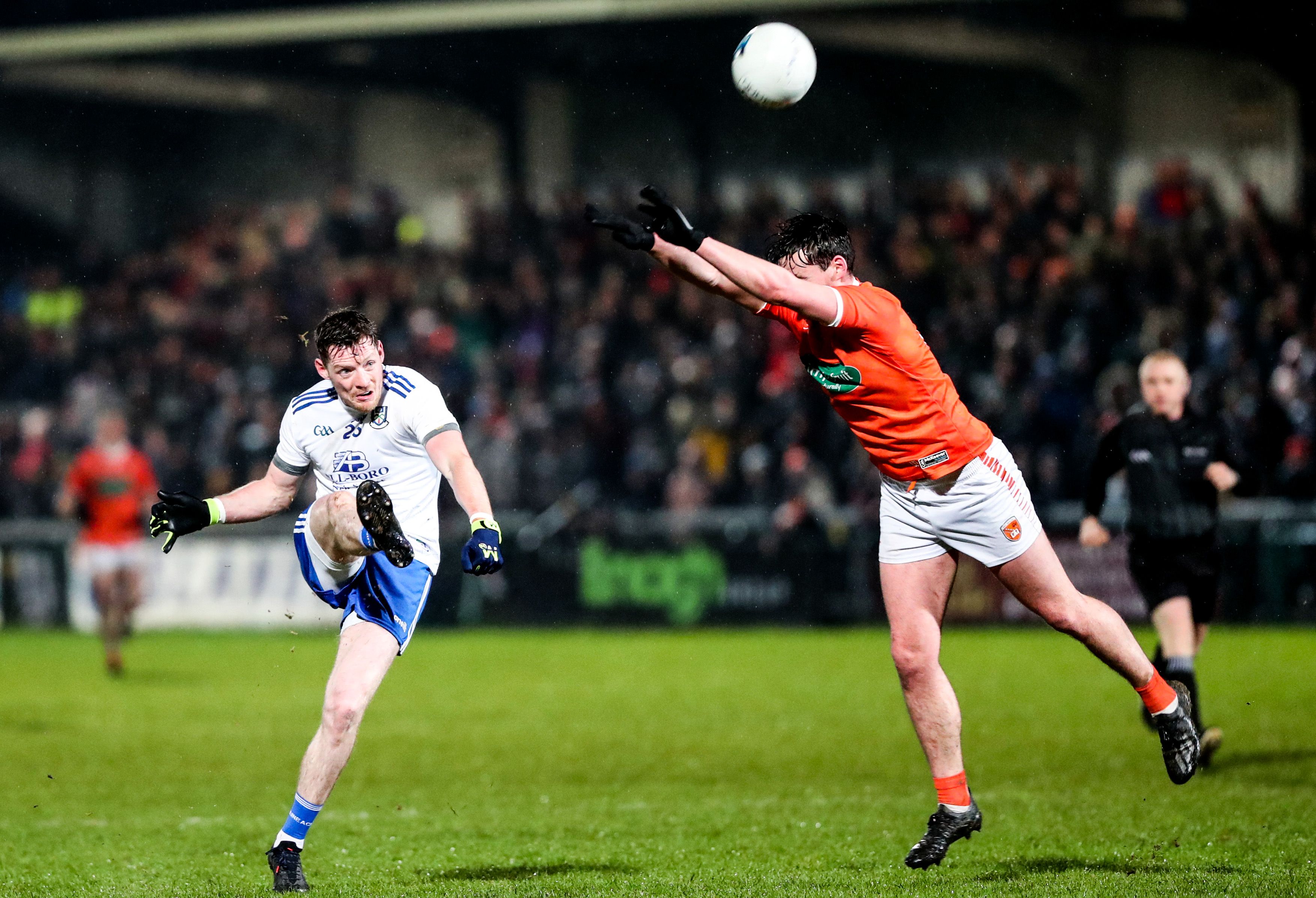 Armagh fight back to preserve unbeaten run 
Armagh 1-7; Monaghan 0-10
This may have been a league match but really it was Ulster championship fare in disguise as gutsy Armagh fought back from a five-point deficit at home in the Athletic Grounds to share the spoils with an equally brave and honest Farney outfit on Sunday.
Indeed the point could be made that it was Monaghan who did the real fighting back as they went into arrears after an hour when a man down following the straight red card to talisman and  top scorer Conor McManus. Not only had they to play over half an hour without him but Dessie Ward was also sin-binned for 10 minutes in that time, so their resolution in the face of adversity was to be admired.
Although Rian O'Neill had stumbled from his peerless state of late by failing to score from a penalty which came thundering back off the crossbar, it looked like a goal by substitute Conor Turbitt  would be the defining score of this game. Once they then moved ahead of their depleted opponents on the hour mark, it looked certain they would complete another victory to go with their wins over Dublin and Tyrone but Jack McCarron had other ideas and his free on the cusp of the long whistle meant the sides ended with a point apiece.
After the early jousting with each team feeling each other out with hits and scores, it was the visitors who kidded on with McCarron, Killian Lavelle and Shane Carey giving them the cushion of an 0-8 to 0-4 lead at half-time.
The tempo of the game increased significantly on the change over and both Stefan Campbell and Mark Bannigan spurned opportunities for goals before O'Neill saw his spot kick cannon back off the woodwork.
However, rather than deflating Armagh, it spurred them on and when Turbitt fired home you'd have put your house on a home victory.
Campbell and O'Neill slatted on points to level and then Tiernan Kelly edged them ahead. It seemed that his score would be enough for a full return of points but McCarron's late effort probably saw a fair result on the day.
Armagh: B Hughes; P Burns, A Forker, A McKay; C Mackin, N Rowland, J Óg Burns; C Mackin, S Sheridan; J Hall, R Grugan, T Kelly (0-1)); J Duffy (0-1), R O'Neill (0-2f), A Nugent Subs: C Turbitt (1-1) for R O'Neill (27); O O'Neill (0-1) for Sheridan (22), S Campbell for Rowland; 14 R O'Neill for Duffy (45); M Shields for Hall (56); N  Grimley (Madden) for Connaire Mackin (64).
Monaghan: R Beggan; K Duffy, C Boyle, R Wylie; K O'Connell, D Ward, K Lavelle (0-1), C McCarthy; D Hughes, N Kearns; R McAnespie (0-1), M Bannigan (0-1), S Carey (0-1); C McManus (0-04, 2f), J McCarron (0-2f), G Mohan  Subs: K Hughes (Scotstown) for Kearns (17); K O'Connell for McAnespie (49); C Walshe for Woods (54); A Mulligan for Mohan (61).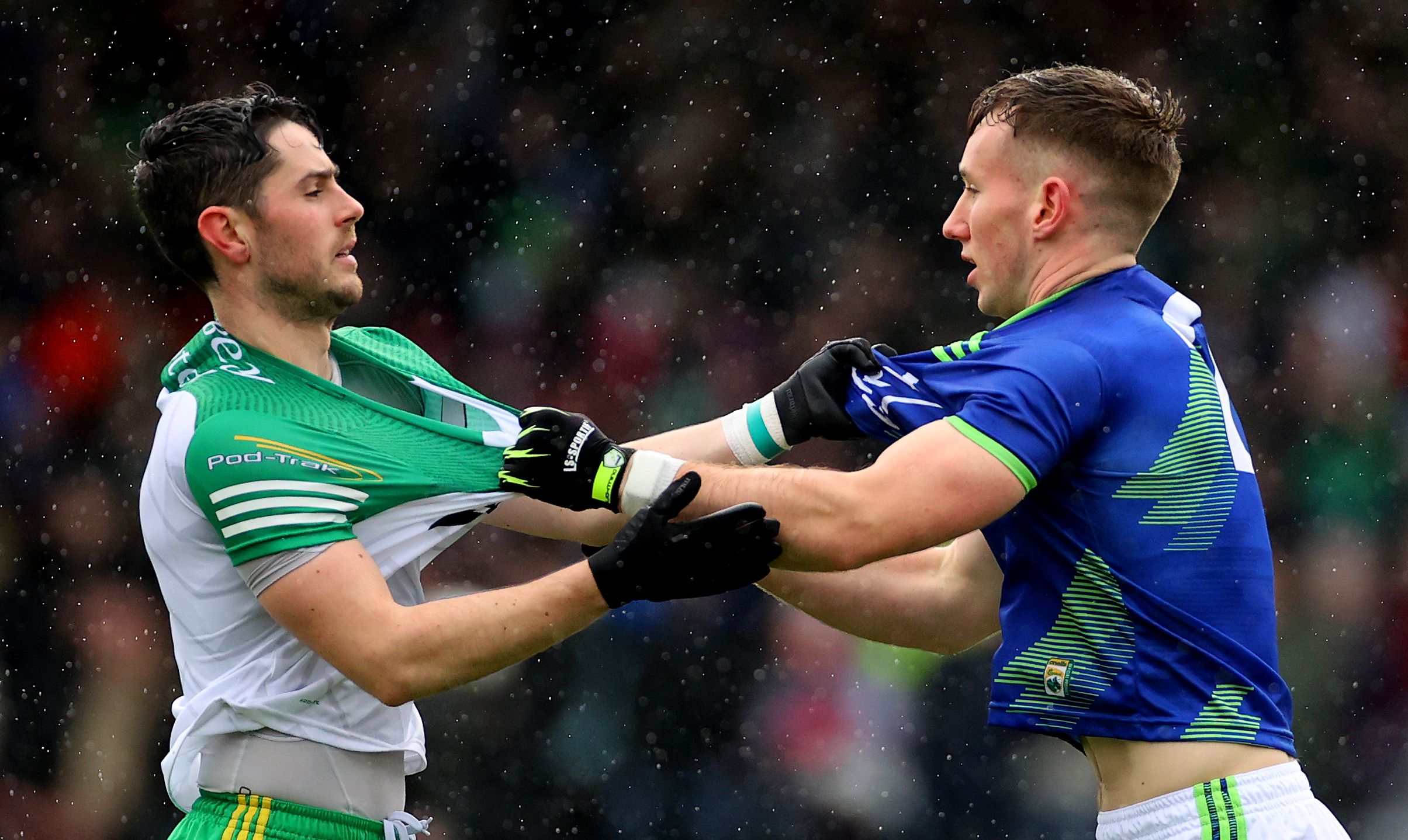 Kerry looking like the likely lads in 2022 season
Kerry 1-13; Donegal 0-7
Three rounds of league form clearly indicate that Kerry look the team to beat in the race for the Sam Maguire this year. Yes, we've been here before with them on this as they are the greyhound which gets his nose in front to the first bend but then seem to lose something on the finishing strait.
With Jack O'Connor at the helm, and a big effort to improve their defensive capabilities already a priority in the way he has set up the green and gold in play, they look hard to contain and harder to break down as Donegal found to their cost when conceding 14 scores and only managing to register half that amount themselves.
The Kingdom now have the best score ratio in the league which puts them ahead of both Armagh and Mayo, who are also on five points.
The story of this game was really about Kerry winning the toss and deciding to play with the gale force wind at their backs for the first 35 minutes.
That allowed them to build up a seven point lead in Fitzgerald Stadium on Sunday and gave them the confidence to also dominate against the elements when they outscored their opponents – no mean feat considering the conditions.
Fortune sometimes favours the brave and David Clifford's lucky second half goal was the score that really put the men from Tir Conall, minus the influence of their talisman Michael Murphy, to the sword. Quite literally, there was no way back after that strike. With Sean O'Shea hitting seven points and growing in stature under O'Connor as the side's key man, it is no wonder that folk leaving the ground had a pep in their step despite the drowning they suffered from the unrelenting elements on the sidelines.
 Donegal, down 0-9 to 0-2 at the interval, didn't really mount a fightback and were waiting for the relief of the final whistle once Clifford's goal had made the game academic from then on.
In the 54th minute and just on about ten minutes, the sharpshooter got possession and rounded Ethan O'Donnell and his miscued attempt fooled Shaun Patton in the visitors' goal and ended up nestling in the back of the net.
Kerry know they will face their toughest encounter to date when playing Monaghan in Clones this Sunday while it won't get any easier for Donegal, who welcome All Ireland champions Tyrone to  Ballybofey nn Saturday night.
Kerry: S Ryan; D O'Donoghue (0-1), J Foley, T O'Sullivan; P Murphy, T Morley, B Ó Beaglaioch; D O'Connor, J Barry; A Spillane, S O'Shea (0-7,0-2f), (0-1) s/l), D Moynihan; P Clifford (0-1), P Geaney (0-1), K Spillane (0-2) Subs: S O'Brien for A Spillane (temp, 14 to 22 mins), D Clifford (1-1) for K Spillane (44), S O'Brien for A Spillane (54), T Brosnan for P Geaney (58), J Savage for P Clifford (65), G Horan for Barry (67).
Donegal: S Patton;  C Ward, B McCole, E Ban Gallagher (0-1); R McHugh, P  Brennan, Ó McFadden Ferry; J McGee, C Thompson; P Mogan, S McDonnell (0-2), H McFadden; P McBrearty (0-2, 0-1f), R O'Donnell, Cr O'Donnell (0-2) Subs: S McMenamin for Brennan (40), N O'Donnell for  O'Donnell (44), O Gallen for McFadden (50), D Ó Baoill for S O'Donnell (67), E O'Donnell for  McFadden Ferry (70).
Ref: M Deegan (Laois)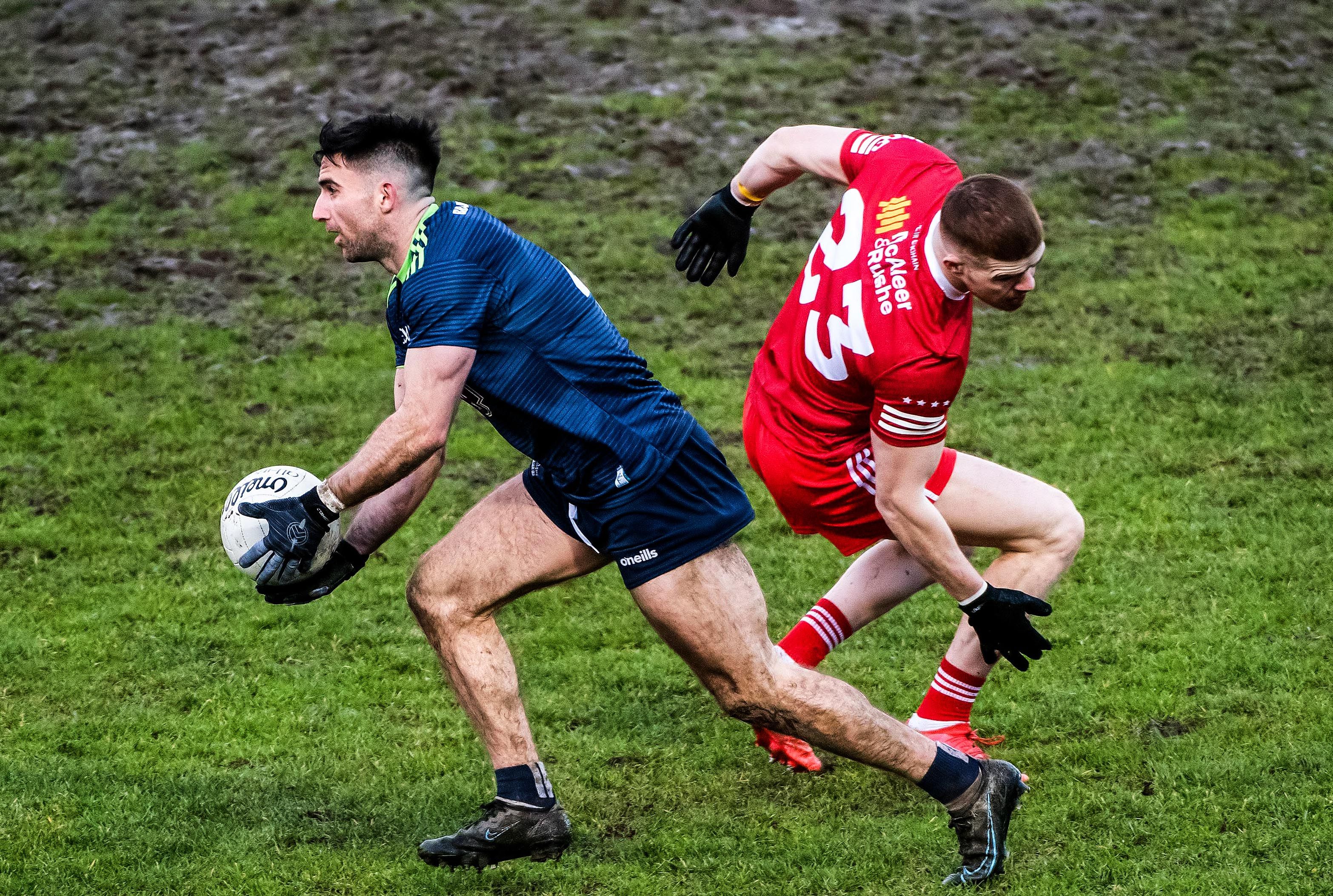 Tyrone steal in at the end
Tyrone 2-7; Kildare 0-12
Kildare came, saw and squandered the chance to pick up a point or even a brace as their old habits of taking the wrong option in front of goal came back to haunt Glen Ryan's team at Healy Park on Sunday.
Not only did they match the All Ireland champions for fitness and skill out the field for the entire 70 minutes, they had put themselves in a position to get something positive out of the game but they hadn't anyone in their ranks with the ability of Conn Kilpatrick or Darren McCurry to finish off goal chances – and paid the price by returning home empty handed.