Sean Kerrigan punched in two penalty kicks within a seven-minute span in the first half to lead Mercyhurst past East Stroudsburg, 3-1, in first-round action of the Pennsylvania State Athletic Conference tournament. The sophomore midfielder from Sligo now has 20 goals this season. The Lakers then defeated Bloomsburg, 1-0, on Sunday for the PSAC crown.
Connor O'Reilly contributed a goal for Notre Dame (Ohio) in a Mountain East Conference tournament win over West Liberty. The sophomore midfielder from Letterkenny, Co. Donegal also assisted on a goal. The Falcons (15-4-2) have an NCAA Division 2 first-round match on Thursday against St. Rose in Rindge, N.H.
Ryan Carmichael scored in the 13th minute of overtime to boost Hofstra to a 1-0 victory over William & Mary in a first-round Colonial Athletic Association tournament match. The junior forward from Portadown, Co. Armagh ran down a long pass on the right side of the penalty area and then delivered a shot across his body that entered the lower left corner to notch the win. That's Carmichael's 10th tally of the season for the Pride (12-3-3), who hit the road to face Elon in Saturday's championship tilt.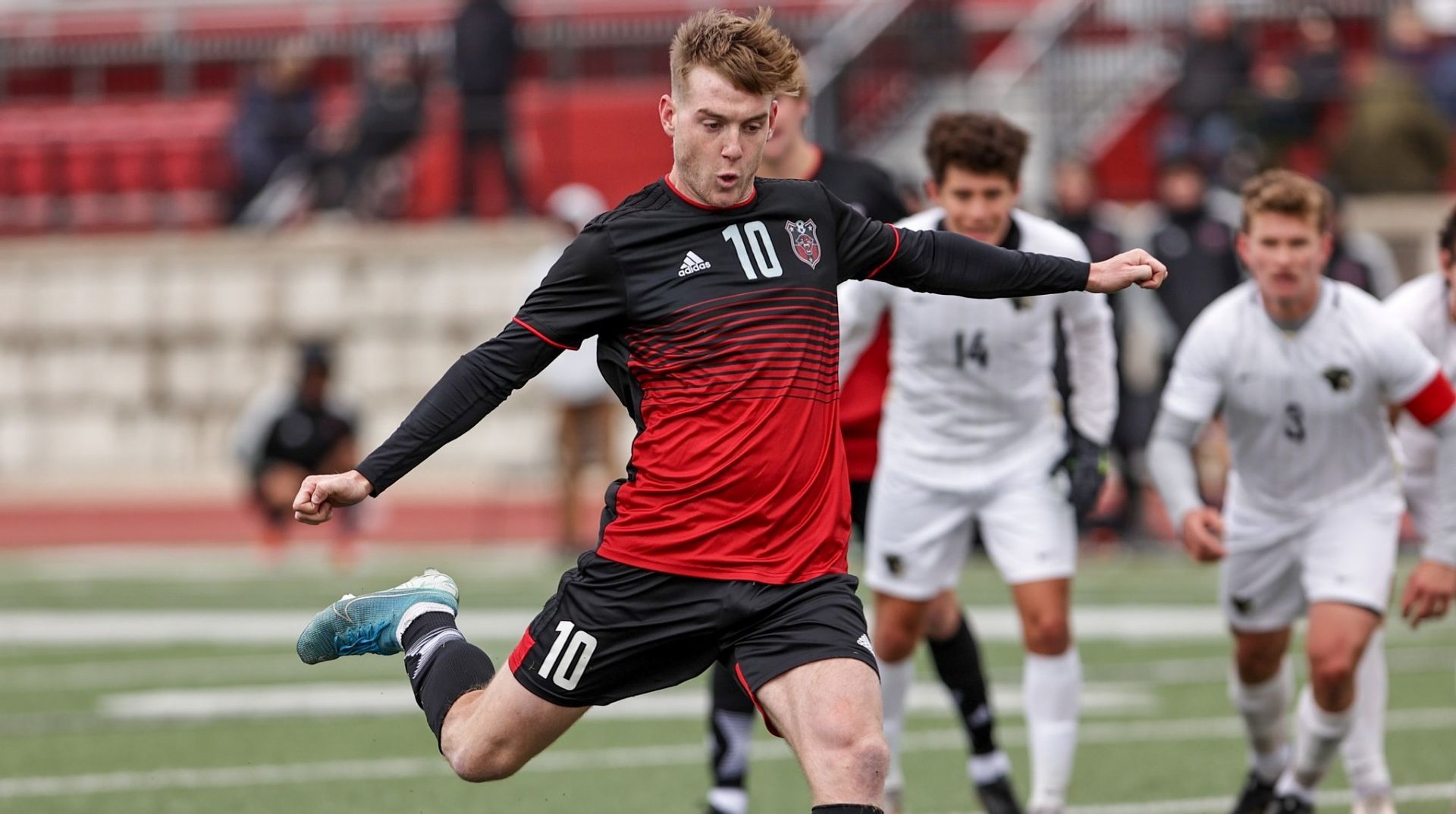 Matt Whelan of Davenport University. WALTER CRONK
 Two goals from Matt Whelan weren't enough as Davenport fell, 3-2, to Saginaw Valley State in the championship match of the Great Lakes Intercollegiate Athletic Conference tournament. The senior forward from Cork notched the first on a penalty kick. The second came to him off a teammate's header, which he then drilled into the lower left corner from about nine yards out. The Panthers reached the title match by virtue of a 3-0 win over Parkside, in which Eoin Broughan scored twice and assisted on the third goal. He is a junior midfielder from Ashbourne, Co. Meath. Whelan finished the campaign with 16 goals for the Panthers (8-8-3), while Broughan had five.
            Conor Behan accounted for UNC-Asheville's lone goal in a season-ending 2-1 loss to South Carolina-Upstate in first-round action of the Big South Conference tournament. The junior midfielder from Dublin finished the season with three goals for the Bulldogs (2-11-4).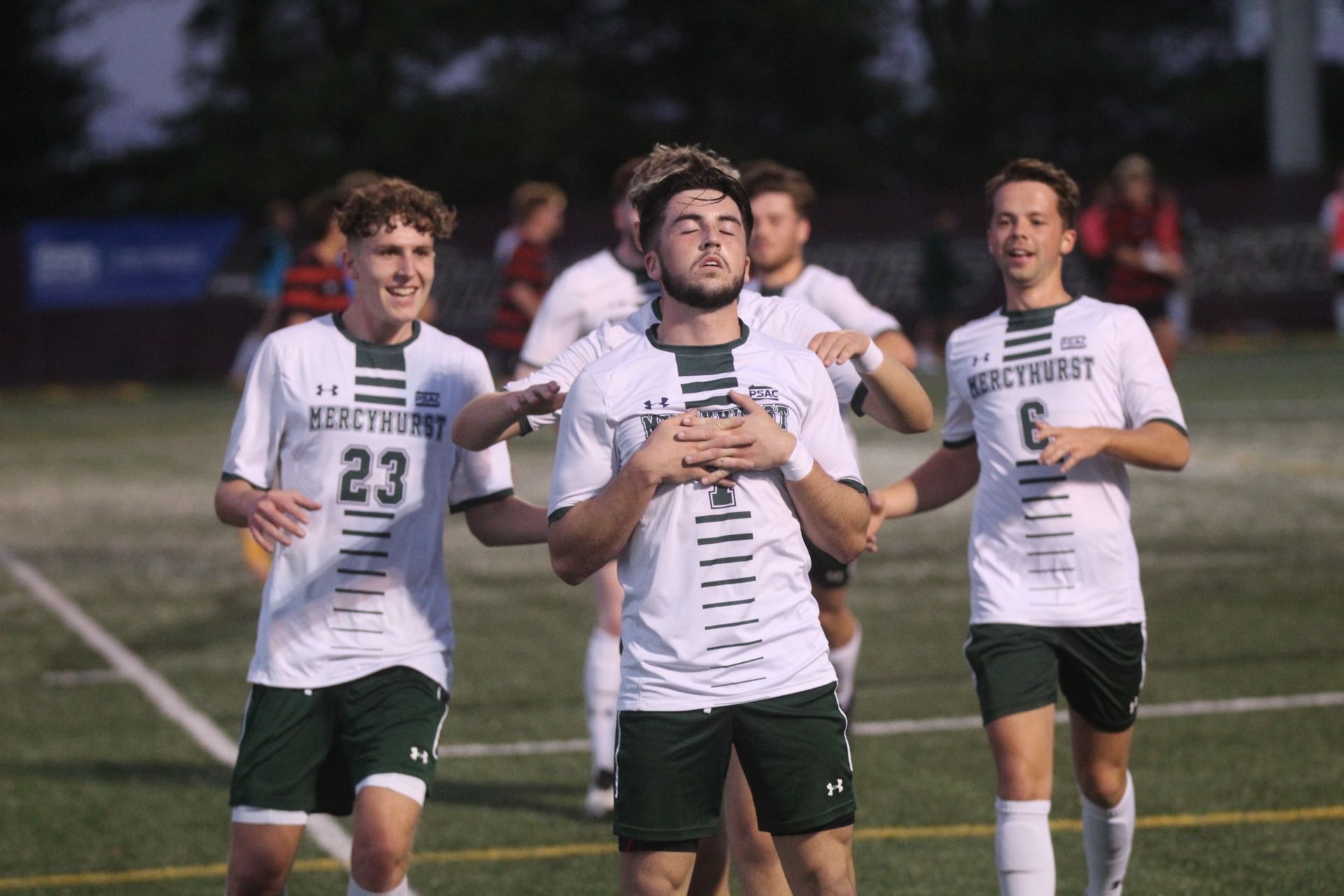 Sean Kerrigan of Mercyhurst is mobbed by his teammates after converting a penalty kick in a 3-1 win over East Stroudsburg. ED MAILLIARD
WOMEN'S CROSS COUNTRY
            Cassie Lagan of Augusta University got second place in the Peach Belt Conference Cross Country Championship race in Beech Island, S.C. A sophomore from Omagh, Co. Tyrone, Lagan was caught by the teletimer in 18:47.7 for 5,000 meters. Monique Whiteman of Flagler got home first in 18:35.5.
            American International's Grace Dervan finished 10th in the Northeast-10 Conference Championship race in Colchester, Vt. A senior from Kilkeel, Co. Kildare, she got the 6,000 meters in 23:14.5. Ashley Corcoran of Southern New Hampshire led the field home in 21:26.7.
            Anna O'Connor of St. Leo University finished 17th in the Sunshine State Conference Championship race in Daytona Beach, Fla. A sophomore from Waterford, she was clocked in 23:40.81 for 6,000 meters. Behind her came Lynn's Emma Campbell, a junior from Swords, Co. Dublin, 45th in 25:41.52, and Palm Beach Atlantic's Aoife Mahony, a senior from Listowel, Co. Kerry, 49th in 26:05.03. The race winner was Dune Costes of Palm Beach Atlantic in 22:22.47.
MEN'S CROSS COUNTRY
James Dunne, an Adams State sophomore from Tullamore, Co. Offaly, got 18th place in the Rocky Mountain Athletic Conference Championship race in Durango, Colo. He posted a time of 25:28.5 for 8,000 meters in a race won in 24:05.6 by Dillon Powell of Colorado School of Mines.
Dylan Keegan, a University of Sciences & Arts of Oklahoma senior, checked in 21st in the Sooner Athletic Conference Championship race in Oklahoma City. The Dubliner covered 8,000 meters in 27:06.9 in a race won by Oklahoma City's Shimales Abebe in 24:32.0.
            Tristan Kelly of Union University of Tennessee got 34th place, best on his team, in the Gulf South Conference Championship race in Montevallo, Ala. A sophomore from Omagh, Co. Tyrone, Kelly needed 25:49.20 for 8,000 meters in a race won by Jan Lukas Becker of Mississippi College in 25:49.20.
WOMEN'S SOCCER
            Florida State advanced to the championship match of the Atlantic Coast Conference tournament thanks to two successful penalty kicks by Heather Payne. The senior from Ballinasloe, Co. Galway put the first one away during regulation, which ended tied at 3, and was called on later in the penalty phase, which the Seminoles controlled, 5-4. FSU (13-2-3) then took the title with a 2-1 victory over North Carolina. They begin NCAA Division 1 tournament play in Tallahassee on Friday against Florida Gulf Coast.
            A Rebecca Cooke penalty kick in the 81st minute turned out to be the difference maker as Quinnipiac edged Canisius, 1-0, in the semifinal round of the Metro Atlantic Athletic Conference tournament. Cooke, a junior forward from Dublin, scored twice in the Bobcats' 4-0 championship victory over Niagara. The Bobcats, coached by Dave Clarke, a Donaghmede, Dublin product, bring their 15-2-1 record to Penn State on Friday for the first round of the NCAA Division 1 tournament.
FIELD HOCKEY
            Hannah Mangan stopped six Stanford shots on goal to help Albany to a 2-1 victory in the championship match of the America East Conference tournament in Orono, Maine on Sunday. She is a senior from Dublin. The Great Danes (15-4) now face Big Ten champs Michigan in first-round NCAA action in Ann Arbor on Friday.
            Aisling Murray set up the winning goal in a 4-2 victory by UMass over Lock Haven in the Atlantic 10 Conference tournament in Amherst, Mass. on Thursday. She is a junior from Dublin. The Minutewomen then saw their season end with a 3-0 loss to St. Joe's of Philly. They were 14-6 on the season.
            Rachel Houston assisted on Rutgers's lone goal in their season-ending 2-1 loss to Northwestern in the Big Ten tournament in Columbus, Ohio on Thursday. She is a senior from Hillsborough, Co. Down. The Scarlet Knights had an 8-10 season.
MEN'S GOLF
Chattanooga's Paul Conroy carved out a share of 16th place in the St. Mary's Invitational at Poppy Hills in Pebble Beach, Calif. The sophomore out of Enniscorthy, Co. Wexford shot 70, 72 and 74, which was three strokes over par and 10 off the winning number belonging to Fresno State's Matthew Manganello. Joshua McCabe, a Grand Canyon University sophomore from Malahide, Co. Dublin, finished joint-72nd at 232 (76-80-76).
            Robert Galligan of the University of Washington got 32nd place in the Cal Poly Invitational at The Preserve in Carmel, Calif. A sophomore from Dublin, Galligan posted rounds of 72, 68 and 79. That left a 13-stroke gap between him and the low pair who finished 10 strokes under par. Marquette's Josh Robinson, a senior from Lisburn, Co. Antrim, tied for 63rd place at 228 (72-76-80).  
WOMEN'S GOLF
            Sara Byrne of Miami (Fla.) tied for sixth place in the Hurricane Invitational at the Biltmore in Coral Gables, Fla. The sophomore from Douglas, Cork shot 72, 71 and 69 to leave a three-stroke gap between her and medalist Allysha Mae Mateo of Brigham Young.
            Beth Coulter earned a share of 15th place in the Pac-12 Preview at Nanea Golf Club in Kailua Kona, Hawaii. The Arizona State freshman from Ardkeen, Co. Waterford was only two strokes off the lead after opening with 68. A second-round 80 scuttled any trophy aspirations but she recovered nicely with a closing 72. She stood 12 strokes behind medalist Rose Zhang of Stanford at the end of play. UCLA senior Annabel Wilson from Lurgan, Co. Armagh finished in a tie for 45th place at 231 (76-82-73).
            Maeve Cummins tied for 34th place in the Legends Invitational at Bradenton Country Club in Bradenton, Fla. The Carson-Newman grad student from Waringstown, Co. Down fired rounds of 74, 78 and 76 to finish 15 strokes behind medalist Ellen Andersson of Nova Southeastern.