Saturday's Big East Cross Country Championships in Attleboro, Mass. were something of an Irish celebration of the sport. The winners of both the men's and women's races hail from Ireland as does the coach of the team that carted off the trophy as top men's squad. 
            In the men's race, Barry Keane of Butler University led the field, including six other Irish, home. The Waterford senior's 23:15 for 8,000 meters was fastest. Villanova's Charlie O'Donovan, a senior from Cork, was fifth in at 23:34. Providence College sophomore Shane Coffey, a sophomore from Naas, Co. Kildare, got 15th place in 24:00, followed by teammates Abdel Laadjel, a sophomore from Lucan, Dublin, 24th in 24:25, Michael Morgan, a sophomore from Sligo, 26th in 24:28, and David McGlynn, a senior from Williamstown, Co. Waterford, 28th in 24:31. Butler's Evan Byrne, a senior from Cork, finished 33rd in 24:54.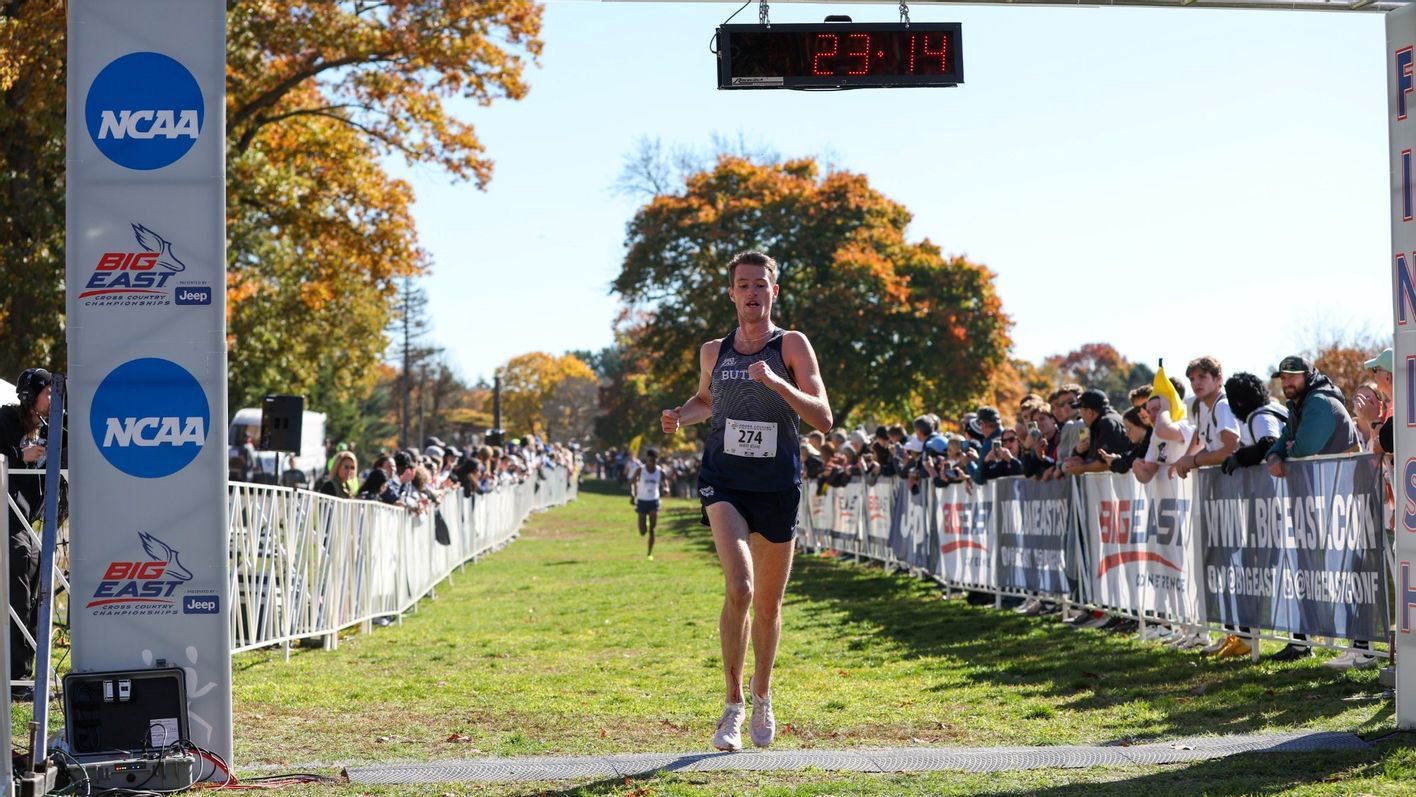 Barry Keane of Butler University leads the field home in the Big East Cross Conference Country Championship men's race in Attleboro, Mass. [Photo by Barry Foley]


            Marcus O'Sullivan's Villanova Wildcats outpointed Ray Treacy's Providence Friars 27-55 to bring the trophy back to Pennsylvania. This is the sixth time that the Irish running legend has coached the Wildcats to a Big East cross country title. 
            Providence College freshman Jane Buckley won the women's race. The Cork lass became the 13th Friars runner to claim this title. 
            "I wasn't expecting [this], to be honest, because this was my first Big East competition," Buckley said. "I've only ran three races here so far. This one was definitely different because the last two races there were 400 people [running], so it was nice," she remarked about a field of "only" 96 runners.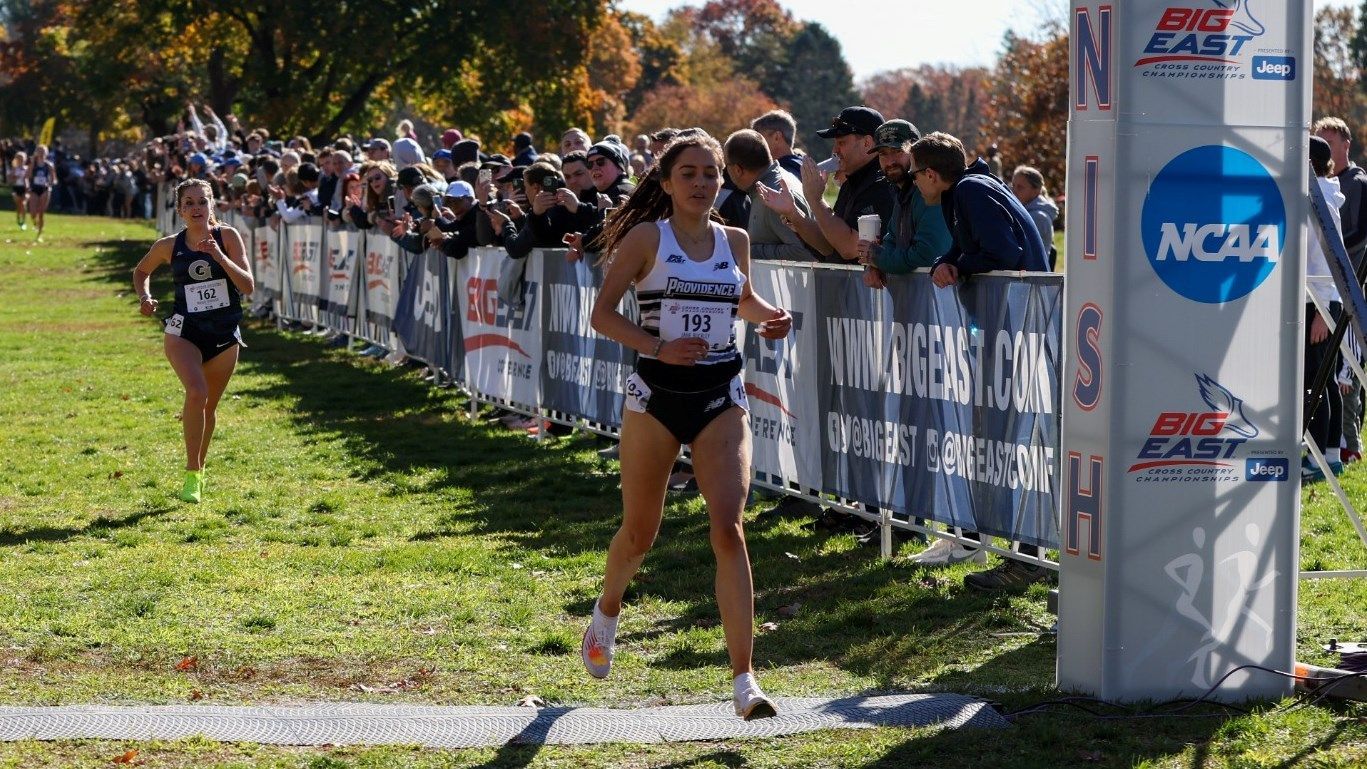 Jane Buckley of Providence College is shown winning the Big East Cross Conference Country Championship women's race in Attleboro, Mass.

Buckley finished in 20:06 for 6,000 meters, two seconds ahead of Georgetown's Maggie Donahue. Providence freshman Niamh O'Mahony, a freshman from Listowel, Co. Kerry, came in 13th in 20:47, ahead of teammates Laura Mooney, a sophomore from Cappincur, Co. Offaly, 16th in 21:00, Orla O'Connor, a senior from Waterford, 18th in 21:09, and Alex O'Neill, a junior from Ennis, Co. Clare, 23rd in 21:22. Georgetown outpointed Providence, 29-40, for the team title. 
            The University of Tulsa won the American Athletic Conference Championship men's race on their home ground with the top three finishers running in the Hurricanes' colors. Isaac Akers broke the tape at the 23:51.7 mark, followed by Cormac Dalton in 23:52.2 and Michael Power in 23:52.8. Dalton is a senior from Mullingar, Co. Westmeath, while Power is a senior from Dungarvan, Co. Waterford. 
            Temple's Laura Nicholson, a junior from Cork, got 14th place in the AAC women's race in Tulsa. She needed 21:36.9 to complete 6,000 meters. Tulsa's Chloe Hershenow won this race with a 20:50.4 clocking. 
            Miceal McCaul, a Tennessee Tech sophomore from Newry, Co. Down, got fifth place in the Ohio Valley Conference Championship men's race in Cookeville, Tenn. He got 8,000 meters in 25:18.9. Southern Indiana's Noah Hufnagel won with a time of 24:37.2.
            Brian Fay of the University of Washington was the eighth to finish in the Pac-12 Conference Championship men's race in Riverside, Calif. The senior from Dublin was caught by the teletimer in 22:57.8 in a race won by Stanford's Charles Hicks in 22:30.9.
            New Mexico's Kevin Mulcaire got 15th place in the Mountain West Conference Championship men's race in Laramie, Wyo. The senior from Clarecastle, Co. Clare finished 8,000 meters in 24:06.0 in a race won by Sean Maison of Air Force in 23:37.8. 
            Mississippi's Shane Bracken finished 17th of 105 finishers at the Southeastern Conference Championship men's race in Oxford, Miss. The senior out of Foxford, Co. Mayo came home in 23:43.09 for 8,000 meters. Auburn's Louis O'Loughlin, a sophomore from Clondalkin, Dublin, was 25th to report in, timed in 24:04.23. Alabama's Victor Kiprop won the race with a time of 22:38.94. 
Iona freshman Tadhg Donnelly, from Clogherhead, Co. Laois, was the 18th finisher in the Metro Atlantic Athletic Conference Championship men's race in Latham, N.Y. His time for 8,000 meters was 25:09.5. Teammate Joshua DeSouza won the race in 23:46.6
            Maybe Fearghal Curtin and Paul O'Donnell reminisced over old times while contesting the Atlantic Coast Conference Championship men's race in Earlysville, Va. They finished 21st and 22nd, respectively. Curtin, a Florida State senior from Cork, was caught in 23:25.6, while O'Donnell, a Syracuse senior from Dublin, was right behind him in 23:26.4. Notre Dame's Carter Solomon led the field home in 22:55.9.
            McNeese State's Sorcha Moloney, a senior from Abbeyleix, Co. Laois, took 17th place in the Southland Conference Championship women's race in Thibodaux, La. She needed 21:50.69 for 6,000 meters in a race won by Joy Gill of Incarnate Word in 20:24.59.
            McNeese State's James Hyland was 34th in at the Southland men's race. The Dublin sophomore was caught in 25:47.22 for 8,000 meters. Dennis Kipngeno of Texas A&M-Corpus Christi won the race in 23:49.15. 
            Portland's Claire Fagan finished 24th in the West Coast Conference Championship women's race in Portland, Ore. The Mullingar, Co. Westmeath senior knocked off 6,000 meters in 21:13.7. Home first was Aubrey Frentheway of Brigham Young in 19:47.2.
            Ruth Heery, a Loyola (Ill.) junior from Waterford, checked in 39th in the Atlantic 10 Conference Championship in Mechanicsville, Va. She reported in at the 18:18.4 mark for 5,000 meters. Elizabeth Mancini of La Salle won the race in 16:38.6.  
 
WOMEN'S SOCCER
            Aoife Horgan scored the winning goal and set up an insurance goal for Central Connecticut State in the Blue Devils' 2-0 victory over St. Francis (Pa.) in New Britain, Conn. on Thursday. She is a sophomore forward out of Ballybunion, Co. Kerry. Mick D'Arcy's squad is 9-5-2 overall and 7-0-2 in the Northeast Conference. 
            Heather Payne earned an assist on Florida State's second goal in a 4-1 victory over Virginia Tech in Tallahassee on Thursday. She is a senior from Ballinasloe, Co. Galway. The Seminoles are 12-2-2 as they defend their NCAA Division 1 national championship.  
            Katelyn Keogh scored twice within three minutes for Trevecca Nazarene in Saturday's 4-2 road loss to Findlay in the quarterfinal round of the Great Midwest Athletic Conference tournament. Earlier in the week, the Trojans (9-6-4) closed out the regular season with a 7-1 pasting of Kentucky Wesleyan on the road. Keogh, a sophomore from Athlone, Co. Westmeath, scored one of those goals and set up two others. 
            Aislinn Meaney scored the winning goal for Indiana (Pa.) in last Wednesday's 3-0 victory over visiting Pitt-Johnstown. The senior forward from Ennis, Co. Clare nailed her fifth goal of the season in the 53rd minute. Noreen Herlihy's Crimson Hawks are 5-4-7.
            Amanda McQuillan made four saves in New Haven's 5-0 victory over Queens (N.Y.) in West Haven, Conn. last Wednesday. She is a grad student from Johnstown, Co. Meath. The Chargers finished the regular season with a 5-10-2 record. 
 
MEN'S SOCCER
            Matt Whelan booted in the winning goal as Davenport defeated St. Cloud State, 3-2, in first round action of the Great Lakes Intercollegiate Athletic Conference tournament on Sunday in Caledonia, Mich. Earlier in the week, the Cork senior accounted for both tallies in the Panthers' 2-0 win over Purdue Northwest to end the regular season. Davenport is now 7-7-3 ahead of Friday's GLIAC semifinals match with Parkside.
            Sean Quinn scored his first goal of the season to allow Tampa to leave the pitch tied at 1 with Florida Tech at home last Tuesday. He is a junior midfielder from Dublin. The Spartans are 7-6-3. 
            Conor Behan scored on a turnaround shot to put UNC-Asheville on the board in a 2-1 win over Radford on the road on Saturday. That was the Dublin junior's second tally of the season. The Bulldogs are 2-10-4. 
            Sean Kerrigan had a goal and an assist as Mercyhurst defeated crosstown rival Gannon, 2-0, in Erie, Pa. last Wednesday. The Sligo sophomore finished the regular season with 18 goals. The Lakers are 17-0-1. 
            Sam O'Callaghan set up Brevard's goal in Saturday's 1-1 tie at home with William Peace. He is a junior back from County Wicklow. The Tornados are 10-5-2. 
            Niall Owens earned an assist on the goal that enabled Palm Beach Atlantic to tie Nova Southeastern at 2 in West Palm Beach, Fla. last Thursday. He is a grad student from Tempo, Co. Fermanagh. The Sailfish are 8-5-2. 
 
FIELD HOCKEY
            Siofra Murdoch converted a penalty stroke nearly seven minutes into overtime to provide Harvard with a 2-1 victory over Cornell in Cambridge, Mass. on Saturday. The sophomore midfielder from Dublin now has four goals this season. The Crimson improved to 12-4. 
            Providence College closed out a 5-12 season with a 4-2 loss to Quinnipiac in Hamden, Conn. on Friday. Niamh Gowing, a grad student from Dublin, scored the first goal of the contest in the eighth minute. She finished the season with four goals and two assists. 
            Rachel Houston, a senior forward from Hillsborough, Co. Down, scored Rutgers's lone goal on a rebound in Friday's 3-1 loss to Penn State in Piscataway, N.J. The Scarlet Knights are 8-9.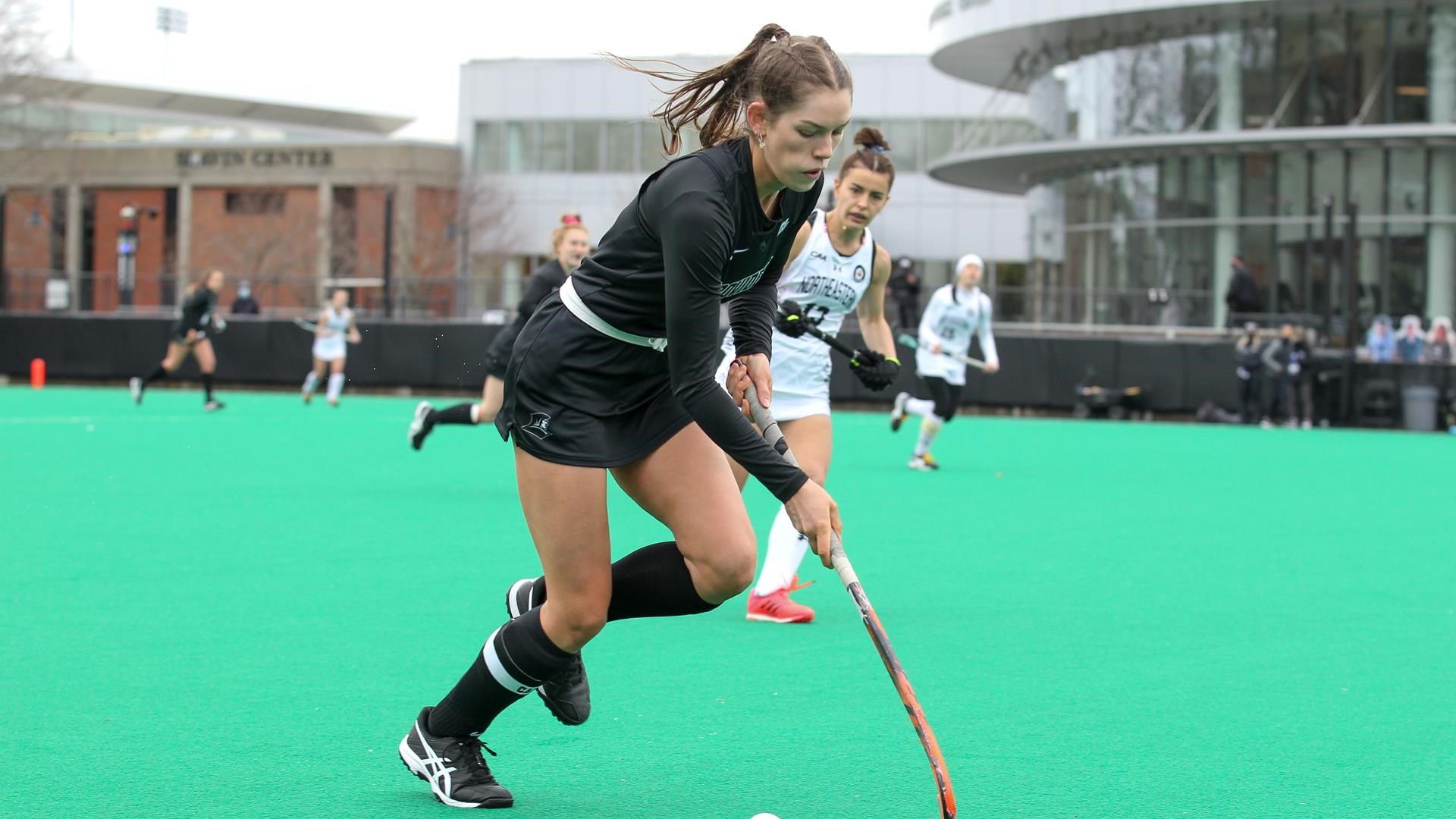 Niamh Gowing. [Photo by Stew Milne]
WOMEN'S GOLF
            Louisville's Mairead Martin held the lead after the first two rounds of the Olde Stone Intercollegiate in Bowling Green, Ky., having shot 72 and 71, but a final round 76 consigned the senior from Kanturk, Co. Cork to seventh place. She finished the event five strokes behind the medalist, teammate Carmen Griffiths. Indiana senior Valerie Clancy, from Mitchelstown, Co. Cork, tied for 20th place after rounds of 76, 74 and 75.
 
MEN'S GOLF
            Jack Hearn's closing 67 was low score for the round and led South Alabama to the team title in The Clerico at the Oaks Country Club in Tulsa. The senior from Carrick-on-Suir, Co. Tipperary paired that with an opening 73, which left him joint-third, three strokes off the low score. 
            Jordan Logue of Mississippi College tied for fifth place in the Matt Dyas Invitational at Oak Mountain in Carrollton, Ga. The Belfast senior had a share of the lead after his first-round 72 but then slipped with subsequent rounds of 76 and 73. That left him seven strokes off the winning score shot by Blake Henriques of Shorter University, the only man to break par for 54 holes. 
            Oakland City University's Irish pair worked out top 20 finishes in the National Christian College Athletic Association tournament at the Hammock Beach Resort in Palm Coast, Fla. Kyle Honer shot 73, 79 and 77 for a share of 11th place at 13-over-par 229, while Jack Dolan signed to 82, 80 and 75, which got him a share of 20th place. Nobody broke par in this event, in which 2-over 218 was low score. Honer and Dolan are freshmen from Dublin.