First off, congrats to We Banjo 3's Enda Scahill for being one of the 2022 winners of the Steve Martin Banjo Prize!  Launched in 2010 by actor/comedian/ramblin' man Steve Martin, the cash award was established to recognize an individual or group for "outstanding accomplishment in banjo."  Scahill, who plays with the supergroup We Banjo 3 and runs a very successful and effective online teaching practice, was one of two awardees for this year, the other being the outstanding bluegrass player Bill Evans of Alto, N.M.
Scahill is, of course, a brilliant musician and one of the most important banjo players to emerge in Irish music the 21st century.  Both honorees were presented with their awards during a livestream last Thursday and Scahill proved himself an excellent ambassador for the instrument, describing its history in Irish traditional music in lovely detail. He was very gracious in his acceptance, singling out the important role his family played in his success.  
 Galway's Scahill joins a list of awardees that includes Gerry O'Connor, Buddy Wachter, Rhiannon Giddens, Sammy Shelor, Noam Pikelny and several others.  It's well-deserved recognition, indeed.  To learn more about Scahill's playing and teaching, visit www.endascahill.com.
 In other news, this week marked the launch of the Irish Music Institute, "a nonprofit organization that encourages people of all ages to explore the ancestral music and song of Ireland."  Founded in Southeast Michigan by Seán Gavin as a way to foster Irish music, it's a platform that is local in plan, global in scope, and presents a new opportunity for learners to engage with Irish music in a serious, more expansive way.
  I spoke with Gavin about the endeavor, who told me he was inspired by the Center for Irish Music in Minnesota.  He's a great admirer of the work they do and feels that they've done much to improve the state of Irish music in the Twin Cities.  To find similar success in Michigan, he realized he'd have to tap into the reservoir of great singers and musicians out there whose talents he believes are being under-utilized.  The ultimate goal?  "To build a worldwide community of teachers and learners that can help foster a supportive space for Irish music and culture, in our own locale of southeastern Michigan and beyond."
 And what can be said of the faculty he's attracted?  It's pretty amazing and includes Joey Abarta (uilleann pipes), Eimear Arkins (fiddle, singing), Nell Ní Chrónín (singing), Kathleen Conneely (tin whistle), Florence Fahy (concertina), Caoimhín Ó Fearghail (uilleann pipes, whistle, flute, guitar), Colm Gannon (accordion), Michael Gavin (fiddle, banjo, guitar, bouzouki, mandolin, singing), Seán Gavin (flute, whistle, uilleann pipes), Brían Ó hAirt (singing), Donna Long (piano), Oisín Mac Diarmada (fiddle), Shane Mulchrone (banjo, mandolin), and Jesse Smith (fiddle).  It's a murderer's row of talent if there ever was one!  If you're looking to learn an instrument, especially if you're a young person in and around Détroit, consider the IMI a first-look option!  Best of luck, Seán!  For more information, please visit irishmusicinstitute.org.
Finally, I want to tell readers about "The Forde Collection," a recent publication from the Irish Traditional Music Archive that makes a large repertory of pre-Famine tunes accessible to the general public.  Edited by Nicholas Carolan & Caitlín Uí Éigeartaigh, this superb collection includes 922 pieces collected in the 1840s by William Forde, a classical musician who took a special interest in the traditional music of Ireland.  It's a collection with great historical significant and one that Irish music historians and aficionados will relish having available.
 Born and raised in County Cork, Forde (1797–1850) was a teacher, composer, and performer of classical music who specialized on the concert flute and piano.  A man of many talents, he was also heavily involved with the promotion and staging of concerts and festivals in the early 19th century and compiled and edited numerous printed collections for London-based music publishers.
 In the 1840s, Forde became deeply drawn to traditional music – what he called "Irish national music" – and began collecting tunes from myriad sources, even conceiving a subscription plan to get them all published in a collection in his time.  To this end, he traveled through Munster (1841-1847), London (1845-1850), and Leinster & Connaught (1846) in search of musicians who could provide him with tunes and took them ipsissima verba from those he was able to find.  
In all, Forde amassed 12 manuscript volumes.  Of the approximately 1,900 tunes they contain, 1,000 were copied from previously published sources.  The remainder, which are the basis for this new publication, came from live performances and contemporary manuscripts. This subset of just over 900 tunes includes song airs in Irish and English, as well as jigs, harp tunes, marches, work-tunes and keens.  Forde is careful to include multiple versions of tunes as well as Irish and English titles, all of which gives unprecedented insight into the music making of the time.  Unfortunately, Forde passed away before his publication could come to fruition, but his manuscript books were well preserved and eventually deposited at the Royal Irish Academy in 1910.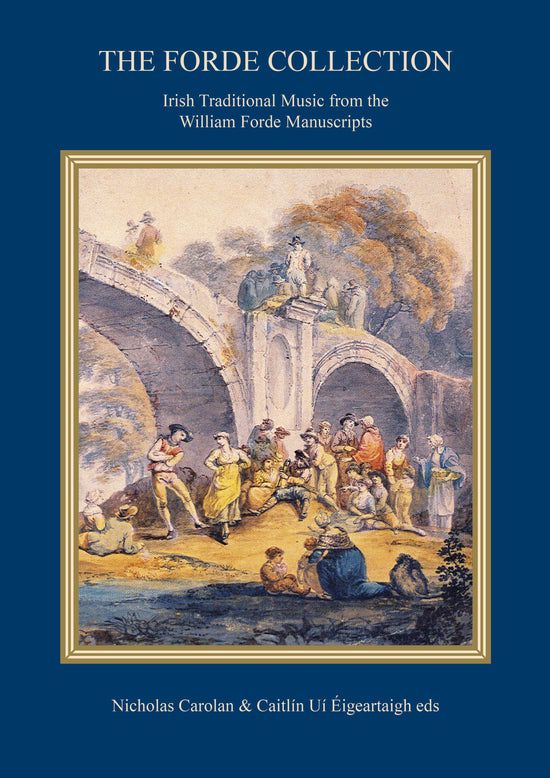 This is a fabulously done book. Academically rigorous and meticulously documented, the manuscripts are very well described and represented.  Carolan and Uí Éigeartaigh provide very informative introductions, the former focusing on Forde's life and work, the latter on the editorial procedures the authors employed.  The book's three main sections, which represent Forde's three main collection regions, not only preserve the tunes that were in circulation, but also include short accounts of the musicians who provided the tunes.  (Some of Forde's major contributors here include Hugh O'Beirne, a piper from Leitrim, Paddy Carey, a piper from Cork, and Patrick MacDowell, a London-based sculptor from Belfast, each with a fascinating story.)  Four appendices contain further information about Forde's manuscripts.
"The Forde Collection" is a wonderful publication with serious historical interest for musicians and musicologists alike.  Very highly recommended!  For more information and to purchase, visit itma.ie.