The San Francisco-based author Ethel Rohan will interview first-time novelist Louise Kennedy as part of Bookshop West Portal's Irish author interview series on this Saturday, Nov. 12 (1 p.m. West Coast; 9 p.m. GMT)  Past guests have included Colm Tóibín and Kevin Barry. 
Kennedy's "Trespasses," set in Northern Ireland during the Troubles, is about a "young woman caught between allegiance to community and unsanctioned love." The event is free and open to all, but registration is required:. https://www.bookshopwestportal.com
And Bookshop West Portal has announced the launch of the Irish Book Subscription Service. "Over the course of 12 rolling months, local and national readers will receive six books of Irish fiction or nonfiction," it said.
 Selections will be made by Rohan (who featured in the Echo last year upon the publication of her acclaimed collection of stories "In the Event of Contact") and, said Bookshop West Portal, will be "accompanied by her insightful letters to subscribers, detailing her passion for her picks, and why she believes each book will also captivate our readers."
"While I read widely and voraciously, nothing quite casts its spell on me like Irish literature can," Rohan said. "In this role, I get to feast on forthcoming Irish books and pick those I believe will best appeal to a wide range of eager, savvy readers." 
For full details go to the website here or phone 415-564-8080.
Recalling Germany in '88
Philadelphia's Irish Heritage Theatre is currently streaming its production of Dermot Bolger's "In High Germany," directed by Peggy Mecham and featuring Barrymore Award winner Keith Conallen. 
Last season, IHT streamed a production of Bolger's "The Holy Ground," which it reports was a "great success, garnering wonderful reviews from both critics and audiences alike. We have remounted the production for anyone who missed it in the fringe, employing professional film-makers to create a polished, beautifully shot version of the play. The final result is mesmerizing."
 "In High Germany" is the story of an Irish emigrant in Germany who tells his son about football and about home, through nostalgia for a match played many years ago. This is the story of Euro '88, the largest football event on the continent, and the Irish team are front and center. The excitement is high for football fanatics like Eoin, Shane and Mick, all working abroad. Supporting the Irish team in Germany, they witness the highs and the lows and the cultural divides that separate fans. For these emigrant friends, home is no longer a birthplace. Home is where their team plays, and there will be many adventures on and off the field before the final whistle blows.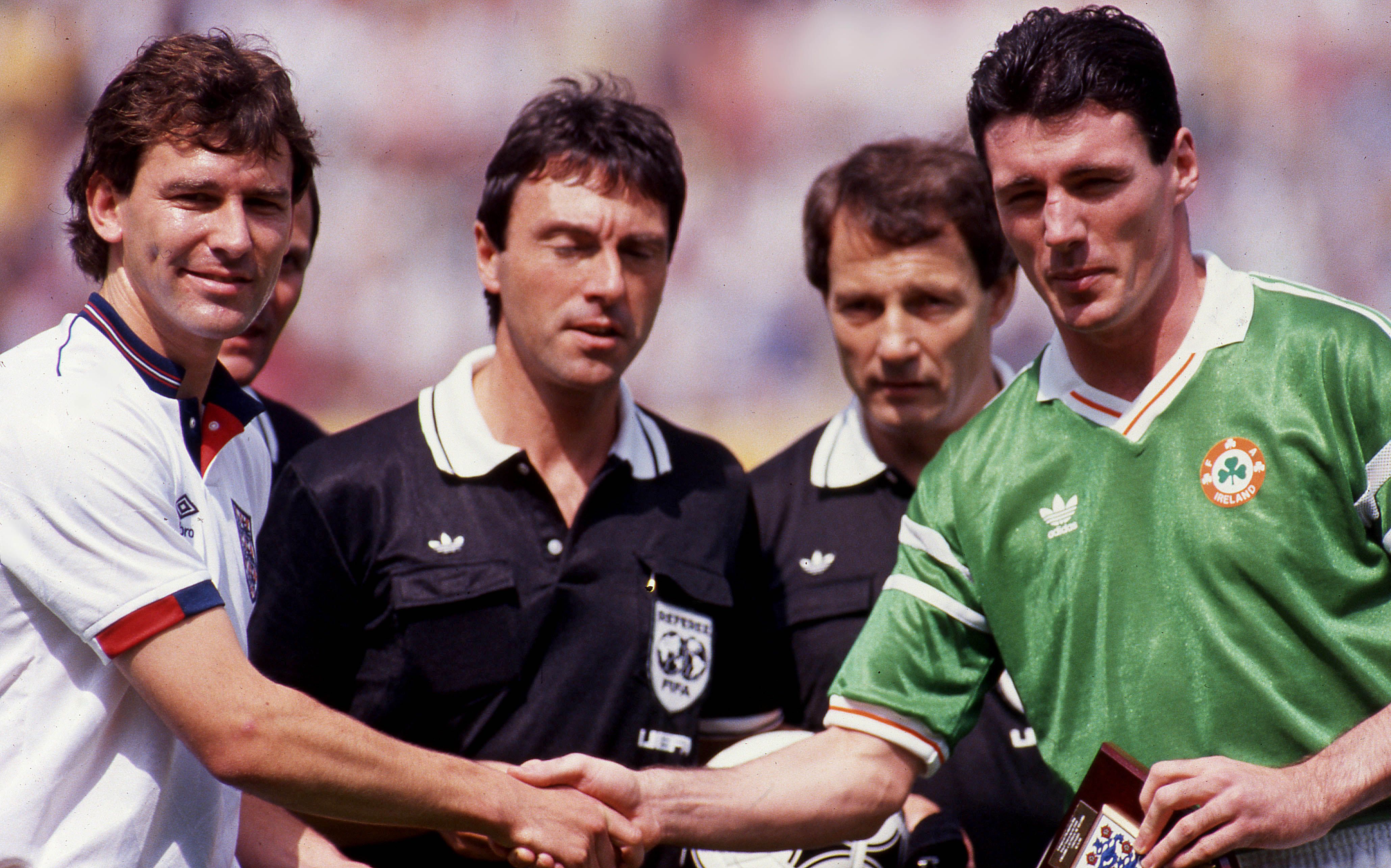 England captain Bryan Robson and Republic of Ireland captain Frank Stapleton shaking hands before they played a game in the European Championship finals tournament in Stuttgart, West Germany, on June 12, 1988.Inpho/Billy Stickland
 The IHT has been called a "bold little theatre company" that takes risks and has featured "dazzling performances". IHT's mission is to provide a window into the works of Irish and Irish American playwrights, celebrating the rich history of the theatre of Ireland. 
"We are fully back and here to stay!" the IHT said in a statement.
 The show runs through Nov. 15. For production information and tickets ($15) go to: www.irishheritagetheatre.org.

O'Leary counts the cost
County Wexford-born artist Helen O'Leary gave a talk "COST," on this past Tuesday evening, as part of New York Studio School's Evening Lecture Series fall program. The event was held in a hybrid format at 8 West 8th Street, New York, and like all of the lectures, it can now be seen on the New York Studio School's YouTube channel. 
O'Leary has received the American Academy Rome Prize (which had the artist living in the Italian capital for 12 months in 2018 and 2019); Hennessy Purchase Award, IMMA, Dublin; John Simon Guggenheim Fellowship; two Pollock-Krasner awards; and the Joan Mitchell Award for painting and sculpture, among others.
The title is a reference to her work, which is very much about cost—"emotional, economic, and environmental."
The artist said, "Throughout my career, I have been constructing a very personal and idiomatic formal language based in simple materials and unglamorous gestures. My artistic practice emerges from constant reassignment, dismantlement, and frugal readjustment. Rooted in the outward simplicity and inner grenade of memory, my work reckons with damage and multigenerational loss, through nurturing, caring, and—ultimately—healing."
O'Leary, who grew up the youngest of four daughters, said, "I spent the last two years of lockdown in Pennsylvania, unable to return to my family/home in Ireland, amplifying my need to unpick and reexamine the cost of choices I make—of where and how I live—adding cradles/cartons/boxes, rough eccentric vessels to hold and shelter."
Teachers to meet
On Saturday, Nov. 19, the American Irish Teachers Association's 45th Conference will take place at New York Irish Center, 1040 Jackson Ave. in Long Island City, one stop on the 7 train from Grand Central Terminal. Speakers include Dr. Maureen Murphy, Martin Enright, and Vincent Cross. It's $20 for conference and $20 for the option of a hot buffet lunch. Registration and light breakfast from 9 to 10 am. For reservations or more information, contact 
dorismeyer@aol.com or call 917-691-2883.