"You are the future of Irish America"
So said Ambassador Geraldine Byrne Nason when speaking at the Friday evening reception last month in Cleveland City Hall that launched the annual national conference of Irish Network USA.
Ireland's ambassador clarified that her comment was meant more as a challenge than a compliment. The attendees of INUSA22 would discuss aspects of that challenge over the weekend of Oct. 21-23; but the event also put the spotlight on the strengths and needs of the Irish community in Cleveland. In that regard, it was a moment, too, to mark some recent news in the company of high-profile dignitaries, such as the ambassador and Mayor Justin Bibb: Aer Lingus said that from May 19 there will be direct flights four days a week between Cleveland Hopkins International and Dublin Airports. 
Byrne Nason also addressed the early Saturday morning session at INUSA22.
"I've been telling a lot of people about Ambassador Byrne Nason's very memorable keynote speech," said Fiona McEntee, managing attorney with McEntee Law Group in Chicago.  "The ambassador spoke so beautifully about her work with Ireland on the UN Security Council. She explained that our direct experience of conflict, hunger and migration, enables Ireland to have a valued and empathetic voice on a global level. This makes so much sense but I've never heard anyone describe it in this way, and it really resonated with the conference attendees. 
"What an honor to have Ambassador Byrne Nason represent us Irish in America," said the lawyer who has been active in IN Chicago at different times over the past 15 years. "She's going to be fantastic in this role."
McEntee added, "I had a wonderful time at the conference in Cleveland. I always come away from these things feeling even more proud to be Irish, if that's possible. 
"I love having an opportunity to connect with Irish, Irish Americans and friends of Ireland, all over the U.S. and the Irish Network really enables this to happen." [Read a Q & A with INUSA President Steve Lenox here.] 
Cleveland resident Marilyn Madigan, who is national president of the Ladies Ancient Order of Hibernians, also made reference to the special guest: "It was an honor for the Cleveland Irish community to have one of the first appearances of the new Irish Ambassador Geraldine Byrne Nason to be held in our city."
She added, "The reception held at Cleveland City Hall was very well attended by the civic community leaders and members of the Irish community of Cleveland." 
Madigan said that one of the goals of her presidency is to network with other Irish organizations. 
"Ladies Ancient Order of Hibernians look forward to working closer with Irish Network USA in the future," she said. "Irish organizations working together can make great strides in promoting our Irish heritage, culture, history and traditions and in assisting the needs of the Irish diaspora in the United States."
Hill Irish formed
The ambassador and embassy staff members weren't the only visitors from the nation's capital.
"As members of Irish Network D.C.," said Kerry McKenney, "a very active branch which has hosted events at the Irish Embassy and other significant locations, Laura Parker and I were excited to join Irish Network USA for their annual conference in Cleveland. 
"It was great also to share information with attendees about another organization we helped establish, Hill Irish, for current and former Capitol Hill staff. 
"[INUSA President] Steve Lenox always puts together a wonderful program," McKenney said, "He has a talent for highlighting the accomplishments and concerns of the Irish both nationally and globally. In addition to the networking opportunities which enabled us to interact with members of the Irish Network nationwide; journalists; elected officials; the Irish ambassador and the deputy director of the Northern Ireland Bureau, we also had the chance to visit City Hall and other unique attractions in the historic city of Cleveland."
Eamonn McConville, the aforementioned deputy director of Northern Ireland Bureau in the U.S., said, "I was delighted to receive an invitation and a very warm welcome from Steve Lenox and Mark Owens to attend and speak at the Irish Network USA annual meeting in Cleveland. 
"It was a great opportunity to join with the Irish ambassador and talk with the members about a whole range of issues and to look at opportunities for collaboration," he said. "It was great to speak with members from across the U.S., including Austin, Houston, Michigan, Denver and Washington DC; and to be part of their discussions about creating opportunities for the diaspora to connect in both a business and social capacity."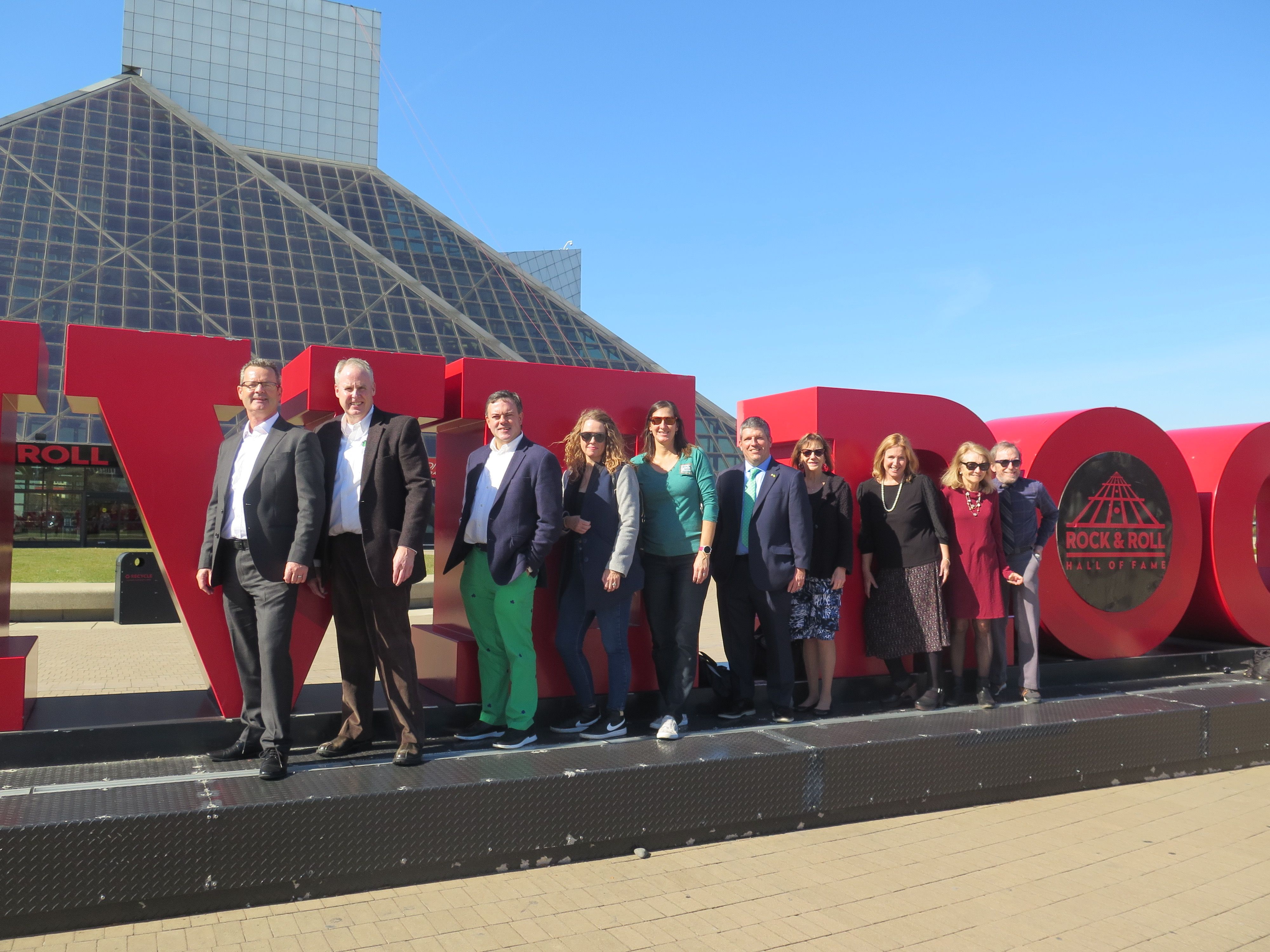 There was an INUSA22 outing to the Rock and Roll Hall of Fame on Saturday afternoon.
McConville added, "It was my first visit to Cleveland -- so a great opportunity to learn about its history and see the supportive environment it has to offer businesses, as well as lots for tourists including the amazing Rock & Roll Hall of Fame. Following on from the conference I have been working with some of the members, including on a conference in Belfast next year; and am looking forward to meeting up with DC-based members soon. Thanks particularly to Steve and Mark for the invitation and to all of the IN members for a fruitful and enjoyable few days in Cleveland."

Interesting friends
"Networking with other Irish-Americans and expats is not just great fun but can be life altering," claimed Maura Clare, who is founder and CEO of the Hamden, Conn.-based Long Arm Distributing LLC, and creator of Smuggling Nun Irish Poitín.
"My initial involvement with Irish Network USA and IN-Colorado was purely about forming friendships with interesting people who share a love of Irish culture," she said, "However, all those IN presentations and connections accumulated over years to organically transmute my professional life, too. A couple of years ago, I surprised myself by leaving steady paychecks behind to start an Irish-based business. Now pleasure is business and vice versa. New start-ups need encouragement, and the Irish Network and Irish Business Organization of NY have been incredibly supportive."
Clare added, "It was such a boost to come back to the Irish Network USA conference this year. Connecting with others who are similarly infusing their love of Ireland into their professional lives is powerful magic. You never know where that will lead you."
By way of contrast, it was the first time at INUSA for Laura Holmes, marketing director for Michigan Irish Music Festival. "The Irish Network Conference in Cleveland was a splendid opportunity to meet a variety of people and perspectives on Irish culture, trending topics, and how our two cultures are currently intertwined here in the States," she said. "As a festival marketer and organizer, we are always looking for fresh ideas for programming and our cultural area. This network certainly brought several new concepts to light. Thanks Cleveland, for hosting!"
"The Irish community there were so welcoming and genuinely delighted to host INUSA22 and celebrate the launch of the direct flights from Cleveland to Ireland," said Cathal McSweeney, of Cork Chamber. 
He added, "We have sponsored the Irish Networks USA conference for a number of years and have built up a great relationship with Steve Lenox, and the many chapters and their representatives across the U.S.
McSweeney said he was "honored" to have met Ambassador Byrne Nason and former Ambassador to Ireland Edward Crawford and was "delighted with the opportunity to tell Cork's story of growth and development with a thriving business community and a quality of life that is second to none."
Game-changer
Orla Cafferkey, of Bay Village, Ohio, who attended the Friday evening reception at Cleveland City Hall with her American-born husband Brendan Sedlak, spoke about the importance of maintaining ties with her Irish friends in the Cleveland area, and with Ireland.
"In Cleveland there isn't a new generation of Irish people like there might be in Chicago or New York. There's me and a handful of others and we meet up fairly regularly and have a good giggle about the ways things are done in America," she said. "But the links with home, and with Mayo and Achill in particular, are still very strong here in Cleveland with many of the Irish community making an annual pilgrimage home."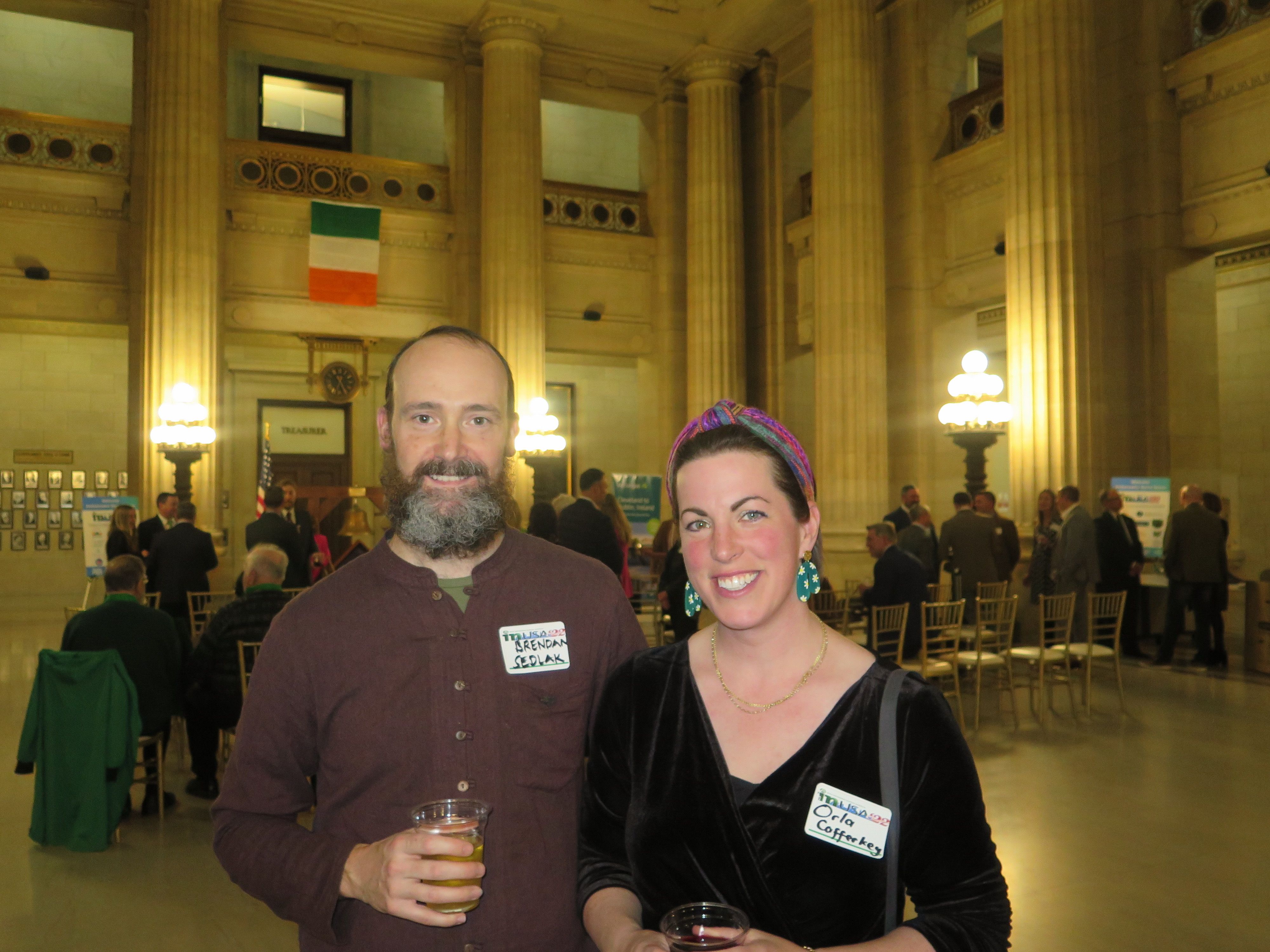 Bay City, Ohio, residents Orla Cafferkey, who is from County Mayo, and husband Brendan Sedlak attended the Friday evening reception at Cleveland City Hall.
For some, "home" is where their forebears came from, but for Cafferkey it's where her parents and other family members and friends are.
"The new direct Aer Lingus route to Dublin opening up is a game-changer," she said, "For me, traveling solo with two lively toddlers twice a year, it will make the journey so much easier. I try to spend as much time as possible at home in Achill, months at a time if I can get away with it, so my kids know where their tribe is and they can be a part of Achill's culturally vibrant community. 
"I am raising them with the Irish language too. It's so important to me that I pass on that richness to my kids, so coming home regularly to Achill really helps to reinforce their language skills too," Cafferkey said, "Bay Village couldn't be further from Achill in so many ways. I feel it's important to me to show my kids there's a different way to be, a different way to live, there's a place belonging to us called Achill Island where we can go to reconnect with our tribe, re-evaluate our goals, and realize our dreams."
Assisting where needed
Brendan O'Sullivan, a member of the Austin chapter of Irish Network USA who grew up in Los Angeles, goes back to his parents' home county with his wife and children regularly. His mother emigrated from Ballyduff, Co. Kerry, to England, then later to the U.S.; his father, one of 15 children, was from outside Tralee. The couple both arrived and met in St. Louis in 1949, and settled in Southern California in 1953, where they raised a family of six children. 
The work of helping young Irish people who've recently arrived goes on to this day. "We have a lot of J-1ers that have found Austin. We look to collect their CVs in advance and try to line people up with work," O'Sullivan said. "It's a challenge but we try to take some responsibility and assist where we can with that.
"We have an Irish consulate in Austin, which is a blessing and also a responsibility," he said. 
The chapter sees itself as an extension of the staff. "When a minister is visiting," he said, by way of example, "we're the first group the consulate reaches out to for assistance."
O'Sullivan added, "In Austin, it's a younger Irish crowd and we're very GAA focused as well. So we have a lot going on as far as that goes."
The Ladies GAA All-Stars are due to visit in April and the chapter will do a good deal of organizing around that as host.
There has been a proposal for Austin to host a mini-conference for Texas in the spring or early summer, with chapters from Houston, Dallas and other cities participating. It's hoped it will "have a conversation about what we can do and what we're doing in the state of Texas."
As for Cleveland, he thought it "excellent" as a venue and was glad to have had the opportunity to visit the city; "And the people that were there -- it's always great, always special to see them."
Numbers were lower than pre-Covid levels, as was expected. "I think we're still dealing with this post-pandemic attendance," he added.
In 2023, it's on to Seattle; or at least that's the most likely location for now. "Hopefully next year," O'Sullivan said, "we can have a much larger participation because we're that much further past the pandemic."