Irish America's first responder heroes were in the spotlight at Rosie O'Grady's on New York's Seventh Avenue on Friday 17 September at the annual Irish Echo awards saluting EMS and fire department frontline workers.
This year's gathering was especially poignant coming on the 20th anniversary of the Twin Towers attacks which took the lives of 343 firefighters. 
The 2021 recipients are: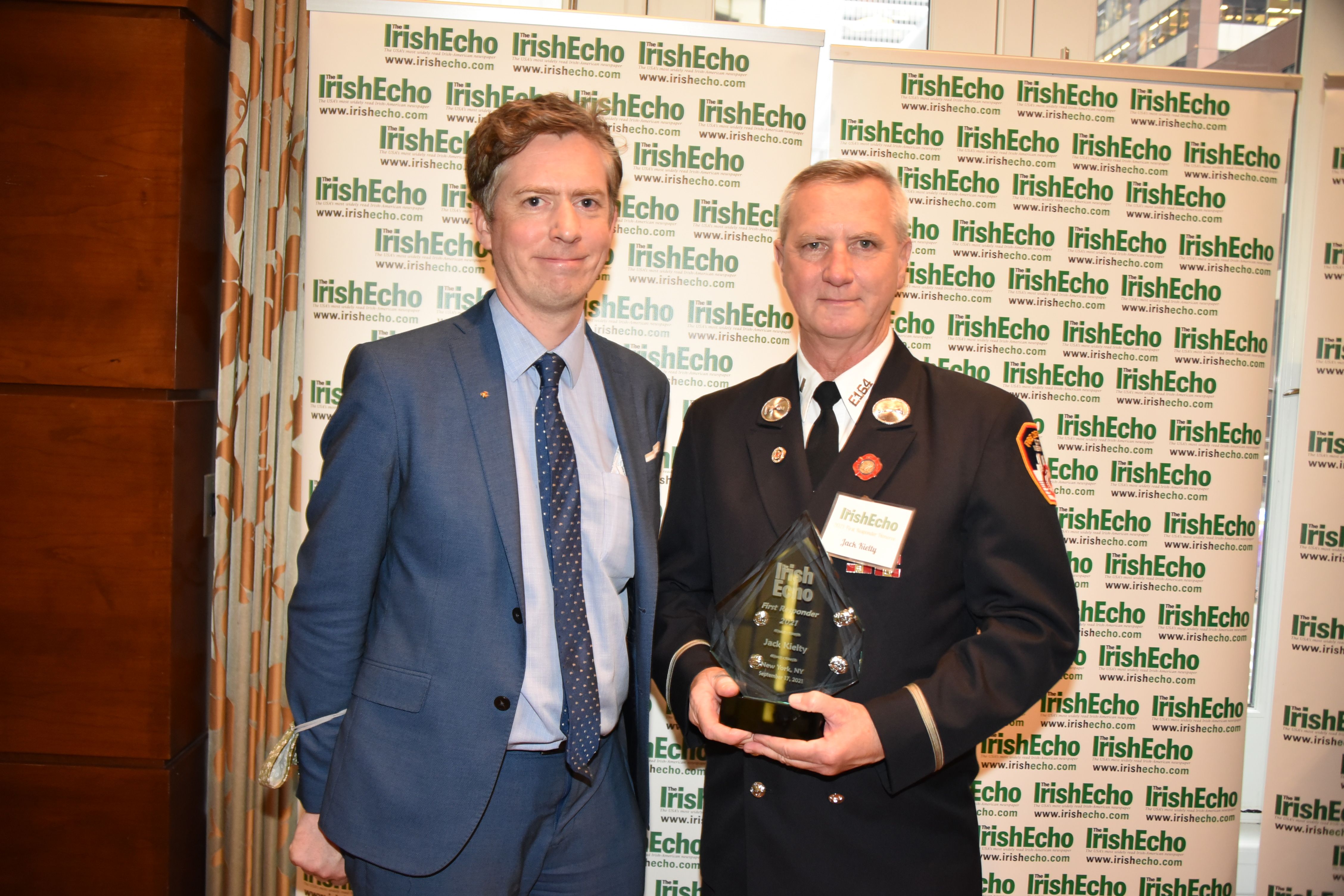 Lt. Mickey Conboy, FDNY, Rescue 3. Based in the Bronx, Lieutenant Conboy is a 36-year veteran of the force. 
Lt. Billy Prange, FDNY, Ladder 59. Lieutenant Prange is a member of the FDNY hockey team who has been with the FDNY for 23 years. 
FF Thomas O'Shea, FDNY, Ladder 59. Thomas' father Gene is a retired firefighter and his son Danny is assigned to Engine Company 298. Firefighting is in the DNA of the O'Shea family. 
Lt. Jack Kielty, FDNY, Engine 164. A lieutenant in the FDNY, Jack also is a trustee on the board of the New York City Fire Pension Fund. 
Capt. Daniel McEnroe, FNDY, Ladder 32. A native of Syosset, NY, Capt. McEnroe is a second-generation Irish American. 
Capt. James Murphy, FDNY, Engine 4. A one-time novice banker, Capt. Murphy is a Brooklyn native who made a career in a profession he loves. 
BC Thomas McCarthy, FDNY, Battalion 7. Battalion Commander McCarthy says he's "fortunate to work with great people who help the citizens of New York."
Eric Reilly, FDNY EMS
Lt Peter Doran, Yonkers FD. Firefighting is a calling, says Fire Lieutenant Doran. "You can't be 'normal' and enjoy firefighting as a carer. It has to call you. I'm glad it did."
BC Kevin Reilly, Newark FD. Battalion Chief Reilly chose a career in firefighting "to make a positive difference in a stranger's life". He is a recipient of the James McCormack Award for the Battalion Chief who does the most to promote the welfare and betterment of all Newark firefighters. 
Stephen Post, Lieutenant/Paramedic, Dayton, Ohio FD. A lieutenant and paramedic with the Dayton Fire Department in Ohio, Stephen serves alongside his firefighting brother. 
FDNY Firefighter Thomas G. Oelkers #Ladder44 was one of 25 names added to the World Trade Center Memorial Wall. Read more: https://t.co/7uubUaMoEZ #NeverForget pic.twitter.com/a4YZiayFGO

— FDNY (@FDNY) September 14, 2021