There's something very special about autumn, the season that officially begins today in the northern hemisphere. By definition, the Autumnal equinox is one of two moments in the year when the Sun is exactly above the Equator and day and night are of equal length. The date is considered to be the first day of Fall. Definition aside, today also marks the season of changing leaves and cooler nights, and — this is the best part of fall for me — indulgent ingredients like apples, pears, pumpkins, potatoes, sweet potatoes, fresh figs, and rich mushrooms. This week we'll start with mushrooms!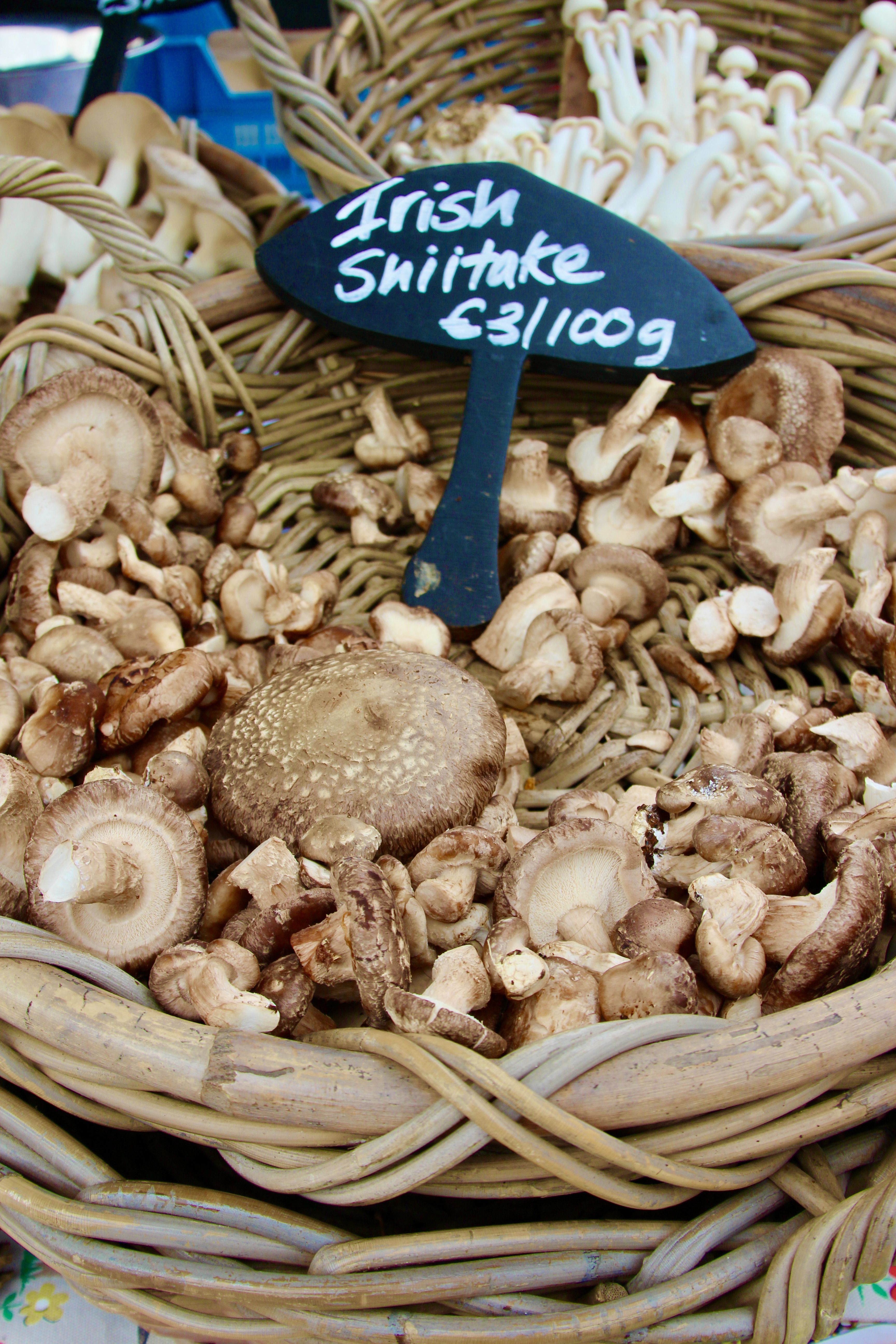 WILD MUSHROOM-BLUE CHEESE TOASTIES 
SERVES 6
 This tapas-like recipe comes from award-winning chef Kevin Dundon, proprietor of Dunbrody House in County Wexford. It's part of a collection of recipes from Kerrygold, the cheese and butter company that imports Cashel Blue from Ireland.
2 tablespoons olive oil, plus more for drizzling on baguette
2 tablespoons chopped shallots
12 ounces mixed wild mushrooms, such as chanterelle, oyster and shiitake,
cleaned and sliced
Salt
Ground black pepper
1/2 cup white wine
1/2 cup heavy cream
2 tablespoons chopped mixed herbs, such as parsley, basil and chives
1 baguette, cut into twelve 1/2-inch-thick slices 
2 tablespoons butter
4 ounces crumbled Cashel Blue
Watercress, for garnish
1. In a large skillet over medium heat, heat olive oil. Add shallots; cook for 2 to 3 minutes, or until soft but not browned. Stir in mushrooms; season with salt and pepper. Cook for 3 to 4 minutes, or until mushrooms are tender. 
2. Add wine; simmer for 3 to 4 minutes, or until evaporated. Stir in cream and herbs; simmer for 3 to 4 minutes, or until mixture thickens. Remove from heat; whisk in butter and cheese.
3. Melt butter in a heavy griddle pan. Grill baguette slices until marked on both sides. Remove from heat; drizzle with olive oil. 
4. To serve, arrange two bread halves on six salad plates. Spoon mushrooms on top; garnish with watercress.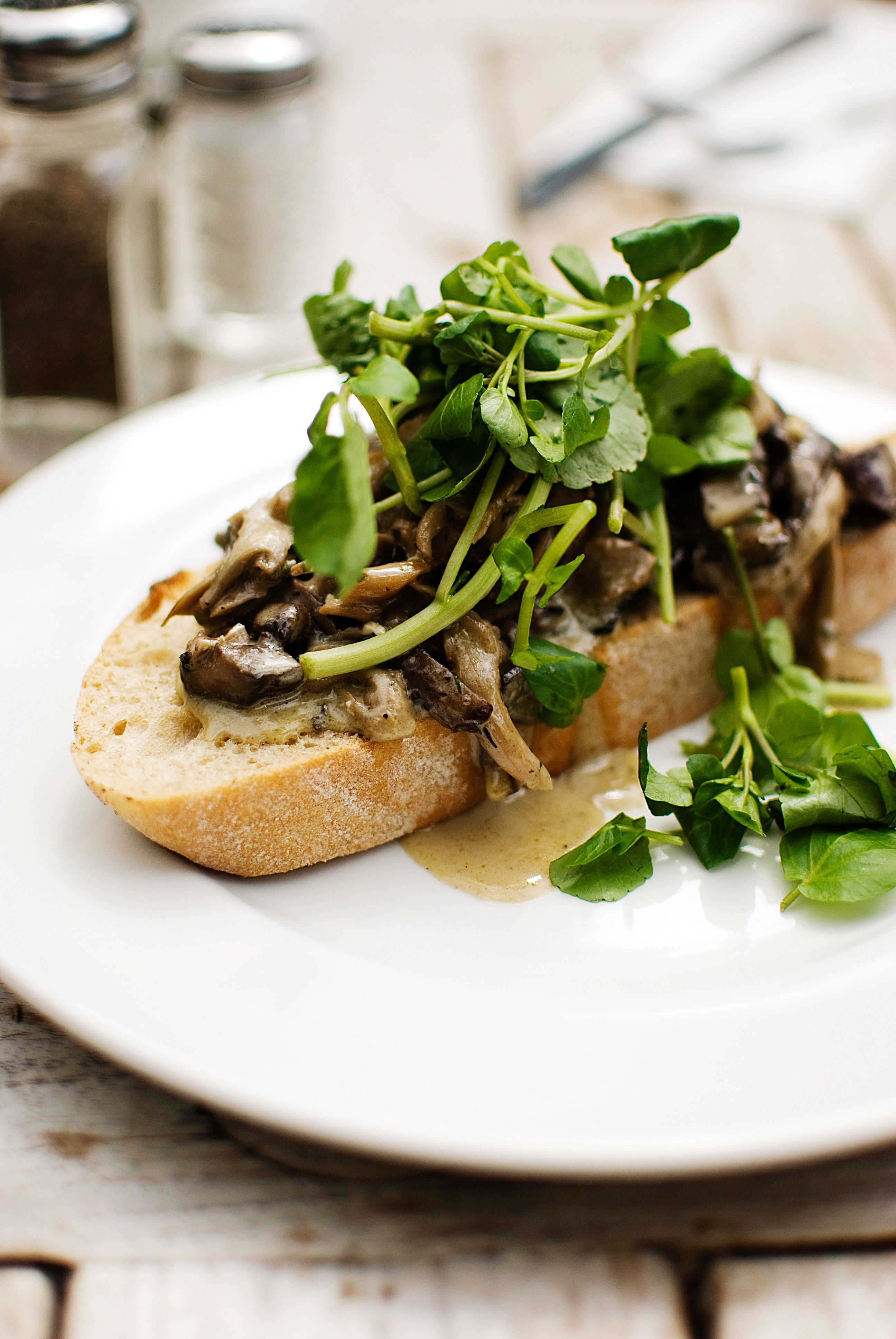 MUSHROOM, BACON & BRIE STRATA
SERVES 8 to 10
A strata — the word means "layers" — is a bread pudding casserole made with cubed bread, eggs, cheese, meat, or vegetables such as mushrooms, spinach, or asparagus. 
Perfect for brunch or a breakfast buffet, the best reason for making these puddings at home is that they're assembled ahead of time by layering the ingredients in a casserole dish, refrigerating overnight, and baking the next day. Without the meat, a strata is perfect for vegetarians; with mushrooms, it's perfect for autumn.
8 slices bacon
1 large shallot, minced
1 1/2 pounds fresh white or wild mushrooms, sliced
One bunch arugula, roughly chopped
10 slices stale bread or baguette, cut into cubes
8 ounces Brie, chopped 
9 large eggs
3 cups milk
1 tablespoon Dijon mustard
1/2 teaspoon dried tarragon
Ground pepper 
1. In a large skillet over medium heat, cook bacon for 7 to 9 minutes, or until lightly browned. Transfer to paper towel-lined plate to drain; finely chop.  
2. Return skillet to heat. Add shallot; cook for 1 to 2 minutes, or until soft but not browned. Add mushrooms; cook for 2 to 3 minutes, or until soft. Add arugula; cook for 1 minute, or until wilted. Drain any liquid.
3. Coat a 13x9-inch baking dish with nonstick cooking spray. Layer half of bread into prepared dish; top with half of mushroom mixture and half of cheese. Crumble half of bacon on top; repeat layers.
4. In a large bowl, whisk together eggs, milk, mustard, tarragon and pepper. Pour over  layers in pan, pressing down with a spatula to be sure bread absorbs liquid. Cover with buttered aluminum foil; refrigerate overnight. Remove casserole from refrigerator 1 hour before baking. 
5. Preheat oven to 350°F. Bake casserole, covered, for 30 minutes. Uncover; bake for 30 to 35 minutes longer, or until filling is set and top is browned. Let stand at room temperature for 10 minutes, before serving.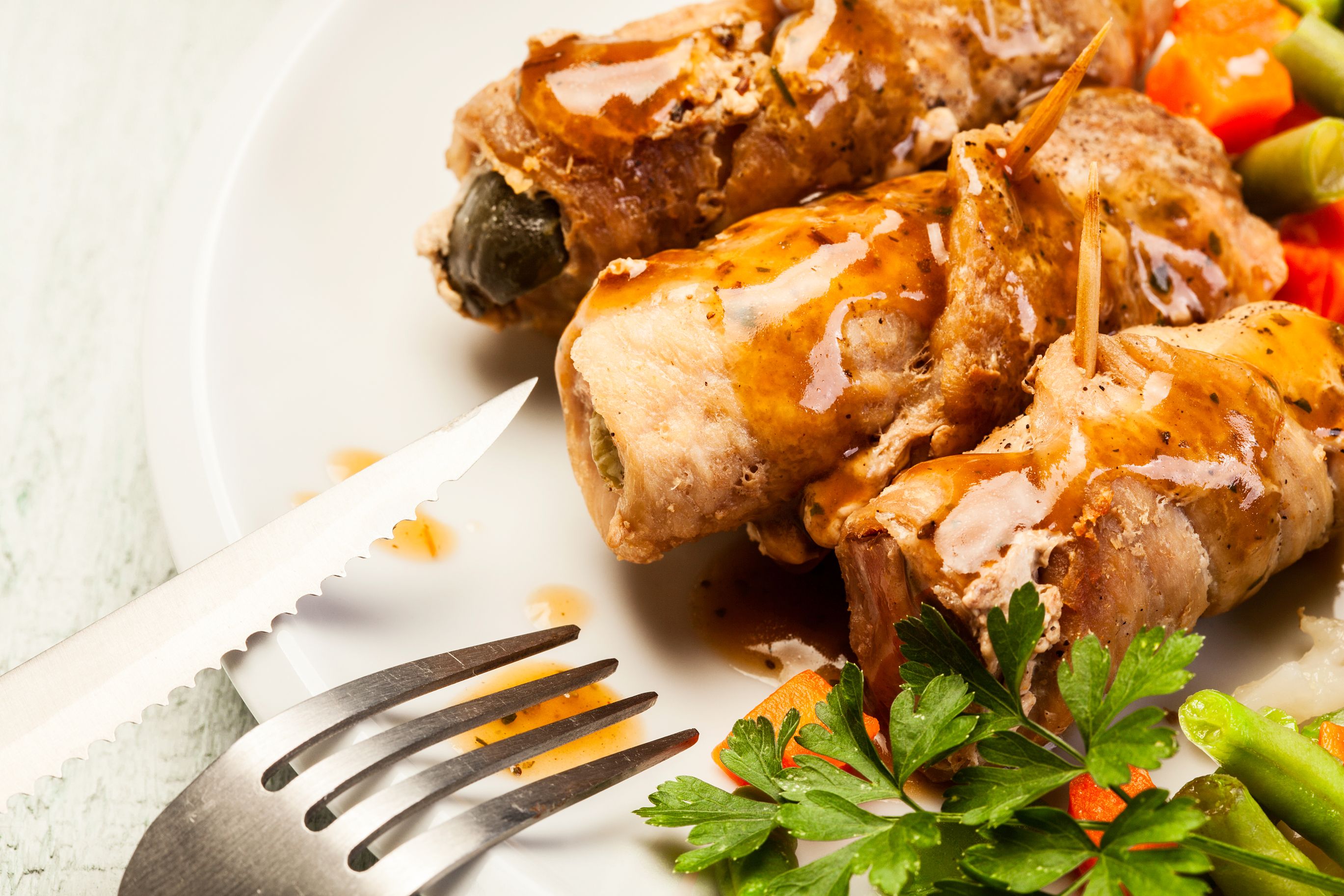 BEEF OLIVES WITH WILD MUSHROOMS
SERVES 4
 The British and Irish term for wrapping meat around a stuffing, browning it, and finishing it in a brown sauce is called an "olive," a term that most likely referred to the "olive-like" shape of the meat when it's tied up and cooked. Some call this dish "Knaves of Beef." It's delicious with boiled, roasted, or mashed potatoes.
1 ounce butter
2 slices bacon, chopped
12 ounces wild mushrooms, chopped 
1 garlic clove, finely chopped 
1 teaspoon chopped fresh tarragon
1 cup breadcrumbs
Salt 
Ground black pepper 
1 large egg, beaten
8 thin slices of beef round
2 tablespoons vegetable oil
2 cups beef stock
1 1/4 cups Guinness  
1. Preheat oven to 350°F.
2. In a large skillet over medium heat, melt butter. Add bacon; cook for 2 to 3 minutes, or until nearly crisp. Add mushrooms and garlic. Cook for about 3 minutes, or until the mushrooms are soft but not browned. Stir in the tarragon and breadcrumbs. 
3. Remove from heat; season with salt and pepper. Stir in the egg; mix well. 
4. Lay out slices of beef on wax paper; season with salt and pepper. Place a spoonful of stuffing in the center of each piece; roll up neatly and secure with a toothpick.
5. In a large ovenproof skillet over medium-high heat, heat oil. Brown meat on all sides; add stock and Guinness. 
6. Transfer skillet to oven; cook, turning meat once or twice, for about 45 minutes, or until tender. 
7. To serve, place 2 olives on warmed plates; spoon sauce over meat. Serve with potatoes. 
Margaret Johnson's "Recipes" page now includes "Ireland Hopping: Adventures in Food, Drink, and Travel." For further details on her work, including how to order her cookbooks, visit www.irishcook.com