PS1 today is home to MoMA PS 1
"Don't call me 'mayor.' Just call me Paddy!"
So said the last chief executive of Long Island City, a somewhat larger entity in the late 19th century than the thriving Queens neighborhood of the 21st.
A walking tour tomorrow Saturday, April 7, at 11 a.m., will take a trip back to the 1880s and '90s world of County Tipperary-born native Patrick J. "Battle Axe" Gleason, the key political figure just across the East River from Manhattan, when Long Island City was an independent municipality infamous for illegal gambling, payoffs and saloons that never closed. The tour guides will also tell the broader Irish story in the neighborhood and its environs.
If the U.S. Civil War veteran and businessman is remembered today at all it's perhaps for MoMA PS 1, as he founded the original institution at the site.
On May 21, 1901, the New York Times noted his passing with an obituary headlined "Patrick J. Gleason Dead; Picturesque Political Character Succumbs to Heart Disease. Ruled Long Island City Autocratically Until the Greater New York Charter Went into Force."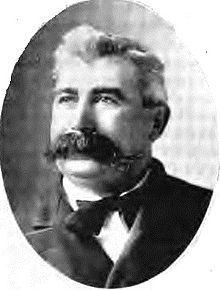 Patrick J. Gleason.
A reported feature of his funeral was the grief of the children of PS 1, whom, it's said, loved him for the efforts he made to build their school. County Armagh-born teacher and writer Geoffrey Cobb and Queens historian Mitch Waxman will relate that on tomorrow's walking tour, passing along the way the site of the former Miller Hotel, on Borden Avenue, where Gleason would hold court in the barber shop. 
The tour begins at New York Irish Center, 10-40 Jackson Ave., Long Island City, and end at Bantry Bay on Greenpoint Avenue, 90 minutes later. 
RSVP HERE