There's a sense that Shane Lowry is a lock to make Europe's Ryder Cup team, that even if he doesn't qualify on points, Captain Padraig Harrington will name him to the team. Understandably, Lowry would prefer not to rely on Harrington's good graces, which means he will have to play well enough over the next three weeks to move far enough up the World Points List to cinch a spot. He may have helped himself in the Northern Trust at Liberty National in Jersey City but not as much as he could have. 
Lowry opened with rounds of 71 and 67 to comfortably make the cut by four strokes. He set aim on the title by shooting 62 on Saturday, which left him three strokes off the lead. Thanks to Hurricane Henri, the field had Sunday off. Back for Monday's final round, Lowry got a stroke closer to the lead after a birdie at the sixth hole. 
The best-laid plans, however, got waylaid after Lowry turned onto the back nine. A waterball led to double-bogey 6 at 10 and then bogey at 11 saw him plunge down the leaderboard. He finished with 72, good for a share of 11th place and good for the right to play the next FedEx Cup event. He also looks well positioned to earn his place on the European Ryder Cup team by merit.
Loving my custom "We won't stop" @FootJoy shoes to support the children at @StJude Hospital!

Let's have a great week @WGCFedEx 🇮🇪☘️ pic.twitter.com/3ak2jSo7k9

— Shane Lowry (@ShaneLowryGolf) August 4, 2021
 A bogey at the ninth hole to close out Monday's round also closed out Seamus Power's PGA Tour season. He needed to finish in the top 70 on the FedEx Cup points list to qualify for this week's BMW Championship in Owings Mills, Maryland but landed outside in 73rd place. 
Power combined rounds of 70, 67, 70 and 69 to finish the event tied for 31st place, eight strokes under par and 12 off the low number. He was sailing along six strokes under par on Friday when he suffered a double-bogey 6 at 18. 
"For me, there was nothing to lose and only to gain," said Power, who not long ago was playing Monday qualifiers. "I didn't quite gain enough. Just didn't have my best game and that's what cost me. It's a strong field. Guys making birdies all over the place and I wasn't able to get it close. It is what is it. I gave it my best. Bogey at the last is disappointing but in a few days I'll be feeling better about it."
Rory McIlroy finished seven under par for the tournament, which landed him in joint-43rd place. He posted rounds of 71, 70, 66 and 70. 
Lowry and McIlroy now head down I-95 to Maryland, where the top 30 on the FedEx Cup list at tourney's end will qualify for the Tour Championship in Atlanta.
EUROPRO TOUR
 Providing an encore for a very low round of golf never seems to be as easy as it should be. Simon Thornton can now attest to that. A first-round 60 in the Northern Ireland Masters at Clandeboye Golf Club in County Down staked him to a five-stroke overnight lead. 
Thornton's 60 was built on birdies over six of the first seven holes, followed by a soft patch in which he played the next seven holes evenly. He resumed his hot hand at 15 with eagle, which spawned birdies at 16, 17 and 18. 
 "I suppose I got off to a good start," Thornton said after Wednesday's first round. "And then on, you just roll with it. I was striking it lovely."
But Wednesday's magic was in scant evidence on Thursday. Thornton began the second round with a double-bogey 6 and played the rest of the round a stroke over par for a round of 72, which left him a stroke off the lead going into Friday's third and final round. 
A thick fog delayed the start of the final round until mid-afternoon, when a shotgun start was employed. He found the conditions to his liking, shooting a bogey-free 67, which put him two strokes up on his nearest pursuer and put the trophy into his hands.
"I have to say the weather suited me," Thornton said. "Hitting those little punch shots in. I'm delighted. Everybody in this country loves golf. We all love golf. So many golf courses and so much passion for the game So to have so many come and watch and to watch Jonathan (Caldwell, the tournament host) is just fantastic."
Stuart Grehan at 6-under-par 207 (69-67-71) was the other Irishman to finish in the top 10. Eight strokes separated him and Thornton. Caldwell posted rounds of 69, 70 and 71 at his home course to earn a share of 18th place, 11 shots behind the winner. 
Dermot McElroy, winner of the previous Europro Tour event, missed the cut by a stroke after shooting 70 and 73. 
Thornton, 44, is a former European Tour stalwart, who won in France in 2014. He is now affiliated with the Tulfarris Hotel & Golf Resort in Blessington, Co. Wicklow and limits his play to Irish PGA events as well as the odd European and Challenge Tour events that visit Ireland.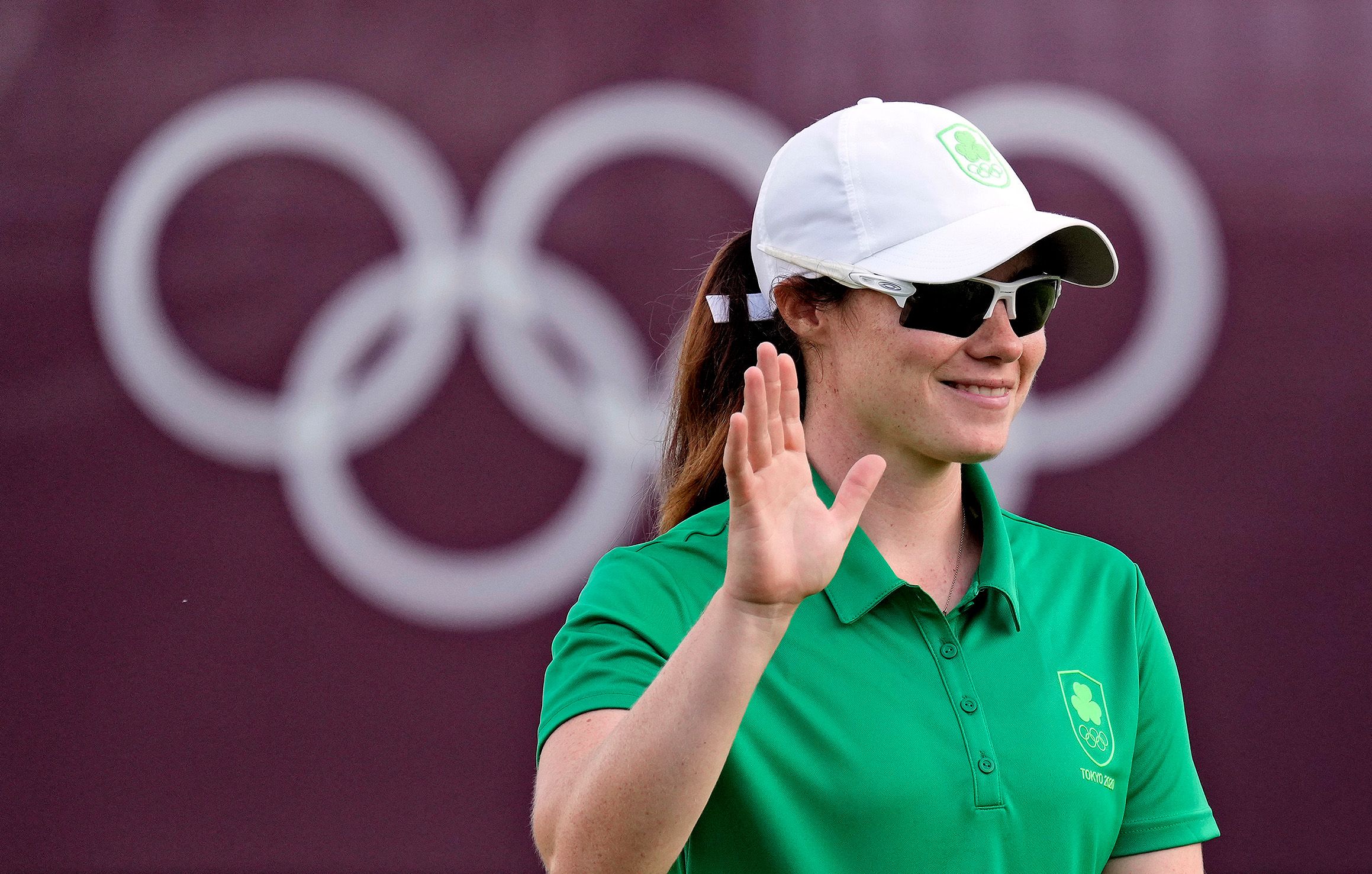 Leona Maguire competing for Ireland in Tokyo last month.
INPHO/PHOTOSPORT/JOHN COWPLAND         
LPGA TOUR
Somewhere down the line there's a trophy that's waiting to be hoisted by Leona Maguire. She tied for 13th place in the AIG Women's Open at Carnoustie in Scotland. 
The least Monday Monday of the year! 14year old me had a big dream and it's been quite the journey since that '09 JR Solheim cup but today we made history!! So excited to represent @SolheimCupEuro 🇪🇺🇮🇪🇪🇺🇮🇪🇪🇺 #cantseecantbe pic.twitter.com/2AZiZnB4Ab

— Leona Maguire (@leona_maguire) August 23, 2021
After opening with 72, Maguire shot a bogey-free 67 to draw to just two strokes off the lead going into the weekend. Subsequent rounds of 72 and 71 kept her competitive but weren't of championship caliber. This is her seventh straight top-20 finish.
"It was a solid week," Maguire said. "It was nice to get that bogey-free 5-under on Friday and would have liked to make a bigger run at the weekend. I was a little off here and there, and you don't have to be much off on this golf course for it to really bite you. Stayed patient. Hung on, but, yeah, just wasn't good enough to make a move." 
Amateur Lauren Walsh finished joint-42nd after shooting 74, 69, 76 and 70. The Kildare miss will now venture to Wales, where she will compete for the Irish/British team against the United States this week in the Curtis Cup before returning to North Carolina for her junior season at Wake Forest University. 
EUROPEAN TOUR
An opening-round 76 put Niall Kearney behind the 8-ball in the Czech Masters in Prague but he rallied with an immaculate 68 on Friday to make the cut on the number. The weekend yielded rounds of 70 and 69, which lifted him into a share of 29th place, 10 strokes off Johannes Veerman's winning score. The par-3 16th hole was Kearney's big nemesis. He needed seven strokes there on Thursday to clear off the green and was sailing along with a bogey-free round on Sunday when he suffered a double bogey there.
Of importance to Kearney is that he moved up four rungs on the Race to Dubai ladder to 115th place. That's five notches below where he needs to finish this season to earn full status on the 2022 Tour. The importance of this is underlined by noting that Kearney won't be playing in this week's European Masters in Switzerland as he's too far down the alternates list to have any shot of drawing in. 
Padraig Harrington was also on hand in Prague to do some scouting of possible Ryder Cup captains picks. He also got in a little competition. He combined rounds of 70, 71, 70 and 73 to earn a share of 33rd place. Whereas the 15th hole was a problem for Kearney, the 17th was Harrington's bugaboo. He carded three bogeys and a double at this par-4 frame. The five strokes he lost there eclipsed the four strokes he lost over the 17 other holes throughout the entirely of the tournament.
Rounds of 71 and 72 earned Gavin Moynihan weekend tee times but the resulting 79 and 73 weren't what he was looking for. He finished tied for 67th place, seven strokes over par.