Sandwiches and Scones  
            A proper afternoon tea is just that – proper! Dainty finger sandwiches, delicate pastries and perfectly crafted scones are presented ceremoniously on a three-tiered cake stand. Jams, clotted cream and lemon curd appear in little pots alongside. A steaming cup of tea is poured with absolute precision over a strainer into fine china. Doesn't this sound like a perfect way to celebrate "Grandparents' Day," a yearly event observed on September 12 that often gets overshadowed by activities that come with the end-of-summer and back-to-school? If a proper tea seems too daunting, or if you just want to enjoy a casual teatime with your grands, fear not. These carefree recipes can be served on simple china — with or without the three tiers — with a hot cup of your favorite tea brewed with a teabag, yes, a teabag! Champagne is optional but encouraged on this special day. This week sandwiches and scones; next week teatime breads and sweets. You can find these rand other teatime recipes in my cookbook Teatime in Ireland. Order signed copies at www.irishcook.com.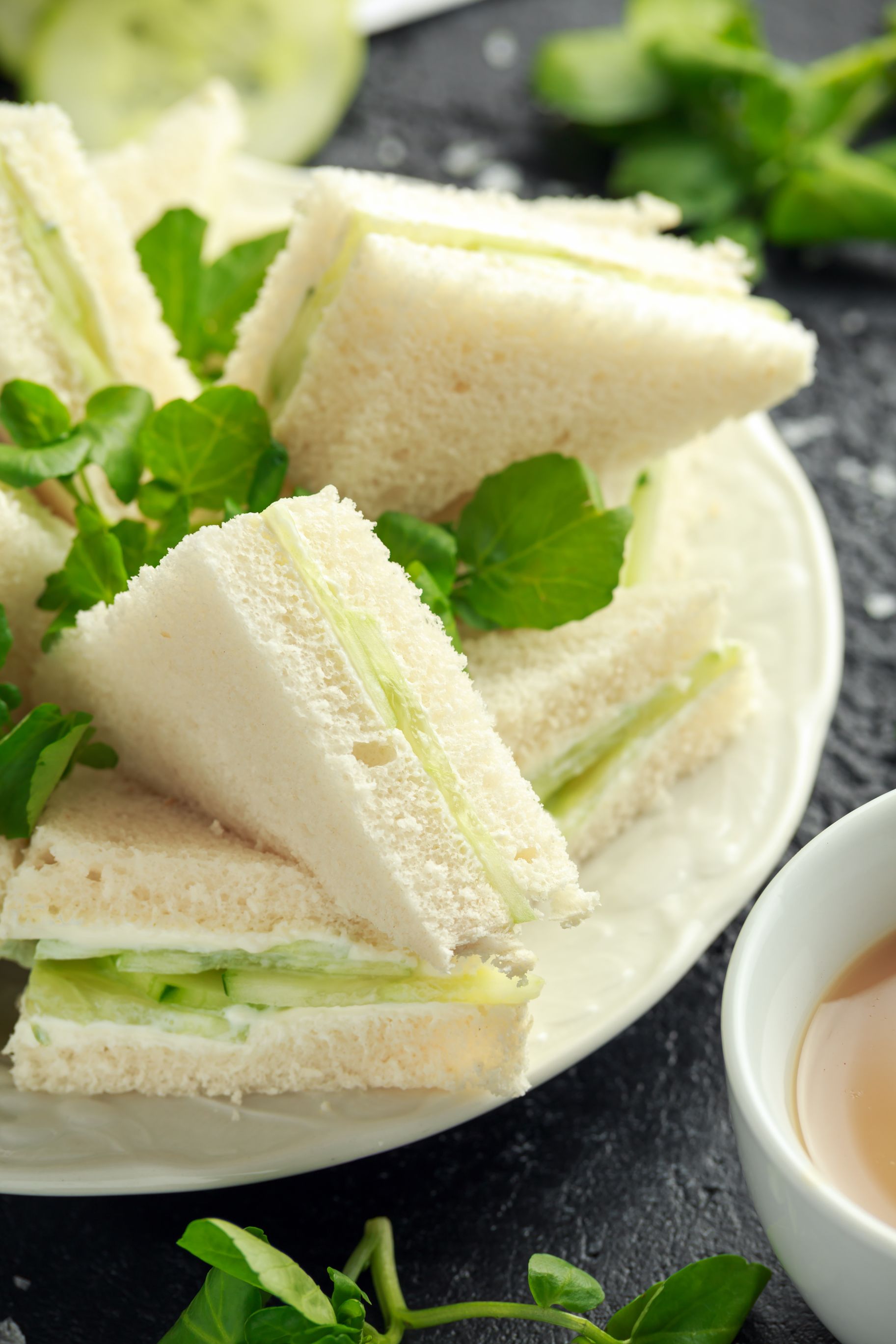 CUCUMBER AND HERB 
CHEESE TEA SANDWICHES
MAKES 12
            Cucumber sandwiches are nearly obligatory in the first course of a formal afternoon tea, and they're equally delicious in a casual setting. Garlic and fine herbs cheese, such as Boursin, elevates the sandwich to special occasion status. English cucumbers, which have thinner skin and smaller seeds than the common slicing cucumber, are generally preferred because of their sweeter flavor.   
1 English cucumber, thinly sliced
Salt, for sprinkling
White vinegar, for sprinkling
12 slices firm white bread
1 (8-ounce) package cream cheese, at room temperature
4 ounces garlic and fine herbs cheese, at room temperature
1/2 teaspoon lemon pepper
Sea salt
1/3 cup milk
Watercress leaves
1. Put cucumber slices into a colander; sprinkle with salt and vinegar. Toss gently to coat slices. Leave for 30 minutes to drain excess moisture. 
2. With a serrated knife, trim and discard crusts from each bread slice; set aside.
3. In a medium bowl, combine cream cheese, garlic and fine herbs cheese, lemon pepper, salt and milk; beat until smooth. 
4. Spread a thick layer of cheese mixture onto one side of six bread slices. Overlap cucumber slices; top with watercress. Cover with remaining bread slice. 
5. With a serrated knife, cut each sandwich in half horizontally. Serve immediately or cover with a damp tea towel or paper towels and refrigerate until ready to serve. 
ROAST BEEF TEA SANDWICHES 
WITH RED ONION MARMALADE
MAKES 12
            The sweet-salty-savory condiment known as red onion marmalade or red onion jam takes about an hour to make but it's well worth the time. You can use it on these sandwiches made with thinly sliced roast beef or use it to top ham and cheese. The marmalade can be refrigerated for two weeks. 
For the marmalade
2 tablespoons butter
2 tablespoons olive oil
2 large red onions, thinly sliced
1/4 cup (packed) light brown sugar
1/2 teaspoon fresh thyme
Sea salt
Ground black pepper
3/4 cups dry red wine
3/4 cup malt vinegar
For the sandwiches 
12 mini croissants, cut in half horizontally
Baby arugula
1/2 pound thinly sliced roast beef
1. Make marmalade. In a large saucepan over medium heat, melt butter and oil; add onions and stir until coated. Stir in sugar, thyme, salt and pepper. Reduce heat to medium-low and cook, stirring occasionally, for 25 to 30 minutes, or until onions are soft and caramelized. 
2. Stir in wine and vinegar. Continue to cook, stirring occasionally, for 30 to 35 minutes, or until mixture is thick and syrupy. 
3. Remove from heat; let cool in pan. Serve on sandwiches, or transfer to plastic containers or glass jars; cover and refrigerate.
4. Make sandwiches. With a serrated knife, cut croissants in half. Spread a thick layer of marmalade onto bottom half of croissant; top with arugula. Arrange roast beef slices on top; cover with top half of croissant. Serve immediately or cover with a damp tea towel or paper towels and refrigerate until ready to serve.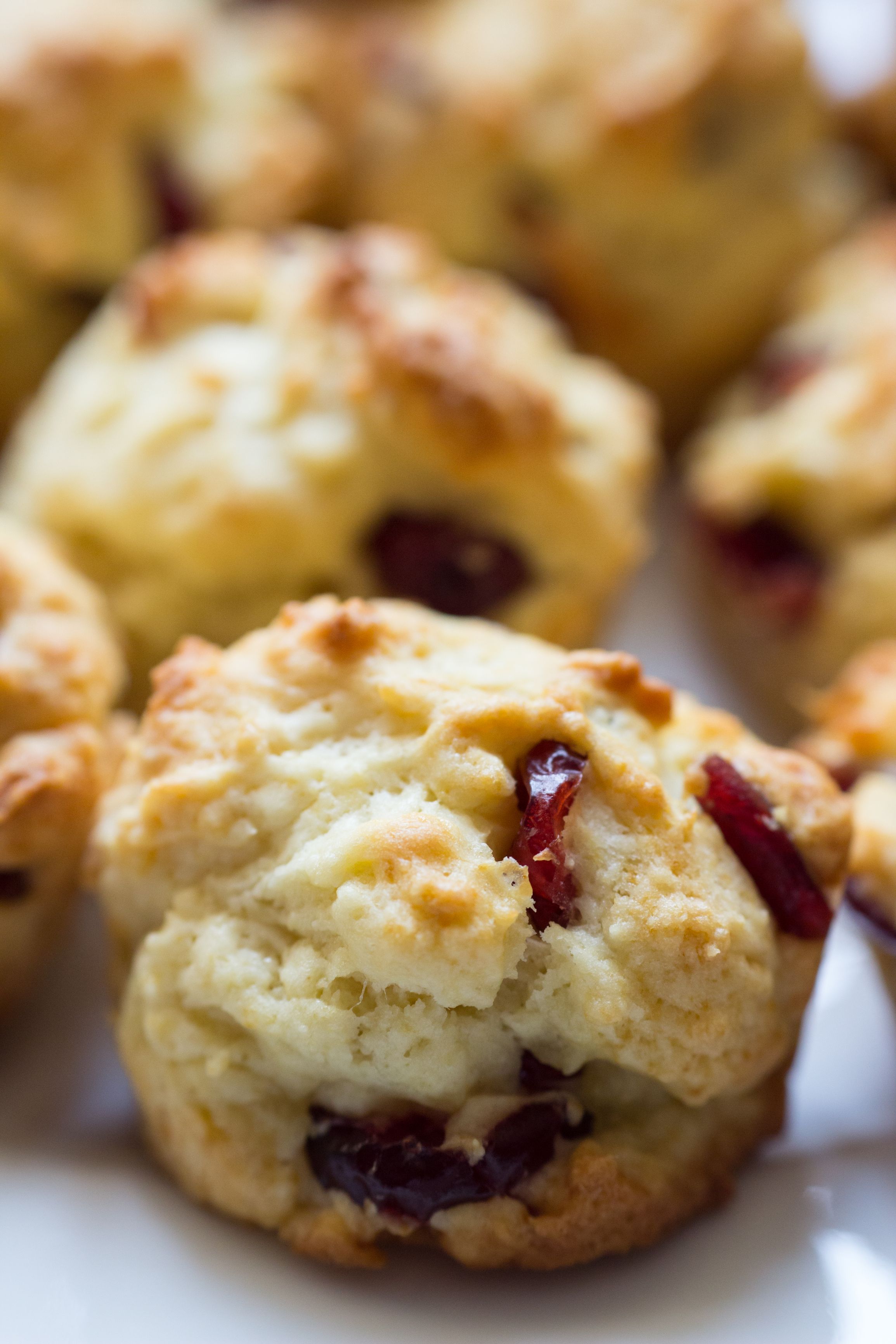 CRANBERRY-GINGER 
ROP SCONES
MAKES 10 TO 12 SCONES
This recipe breaks from the traditional round scone shape and requires no kneading, rolling or cutting. Simply mix up the dough and drop onto a baking sheet (you can prepare up to this point and freeze). In another break from tradition, the recipe uses yogurt instead of either buttermilk, milk or cream; crystallized ginger chips (optional) add a bit of zing!                  
2 cups flour
1/2 teaspoon salt
1/4 cup sugar
1 tablespoon baking powder
3 ounces cold butter, cut into pieces
3/4 cup sweetened dried cranberries, chopped
1/4 cup crystallized ginger, chopped (optional)
1 tablespoon lemon zest
2 large eggs, beaten
1/2 cup vanilla yogurt
1 teaspoon vanilla bean paste
Milk, for brushing tops
Softened butter, for serving 
Clotted cream and lemon curd, for serving (optional)
1. Preheat oven to 375°F.  Line a baking sheet with parchment paper.
2. In a large bowl, whisk together flour, salt, sugar and baking powder. With a pastry blender, two knives, or your fingers, cut or work in butter until mixture resembles coarse crumbs; stir in raisins, ginger (if using) and lemon zest.
3. In a medium bowl, whisk together eggs, yogurt and vanilla. Make a well in center, and with a wooden spoon, stir into dry ingredients until mixture forms soft dough. With a cookie dough scoop or large spoon, drop dough onto prepared pan leaving about 2 inches between each; brush tops with milk. 
4. Bake for 20 to 24 minutes, or until lightly browned. Remove from oven; let cool on a wire rack for 10 minutes. Serve with butter, clotted cream or lemon curd.