On the other side of Christmas is Yuletide, the twelve-day festive season that marks the span between the birth of Christ on December 25 (the first day) and the coming of the Magi on January 6 (the twelfth day). For many, things go back to business-as-usual once Christmas Day is over, but in Ireland (and other countries including the United Kingdom and its former colonies) the sacred and secular converge with days that are celebrated as both national and religious holidays. St. Stephen's Day, for example, celebrated on December 26, is a feast day as well as a national holiday in the Republic of Ireland. In Northern Ireland, it's a national holiday known as Boxing Day, a term first recorded in 1833. There's no holiday from food, though, and while individual families have their own food traditions for the day — many simply repeat the entire Christmas meal and serve it buffet style — the most universal tradition involves using leftovers in as many recipes as possible and to prepare quick-to-reheat dishes in advance. These recipes, from my latest cookbook Festive Flavors of Ireland, put leftovers to very good use. From my kitchen to yours, Nollaig shona duit!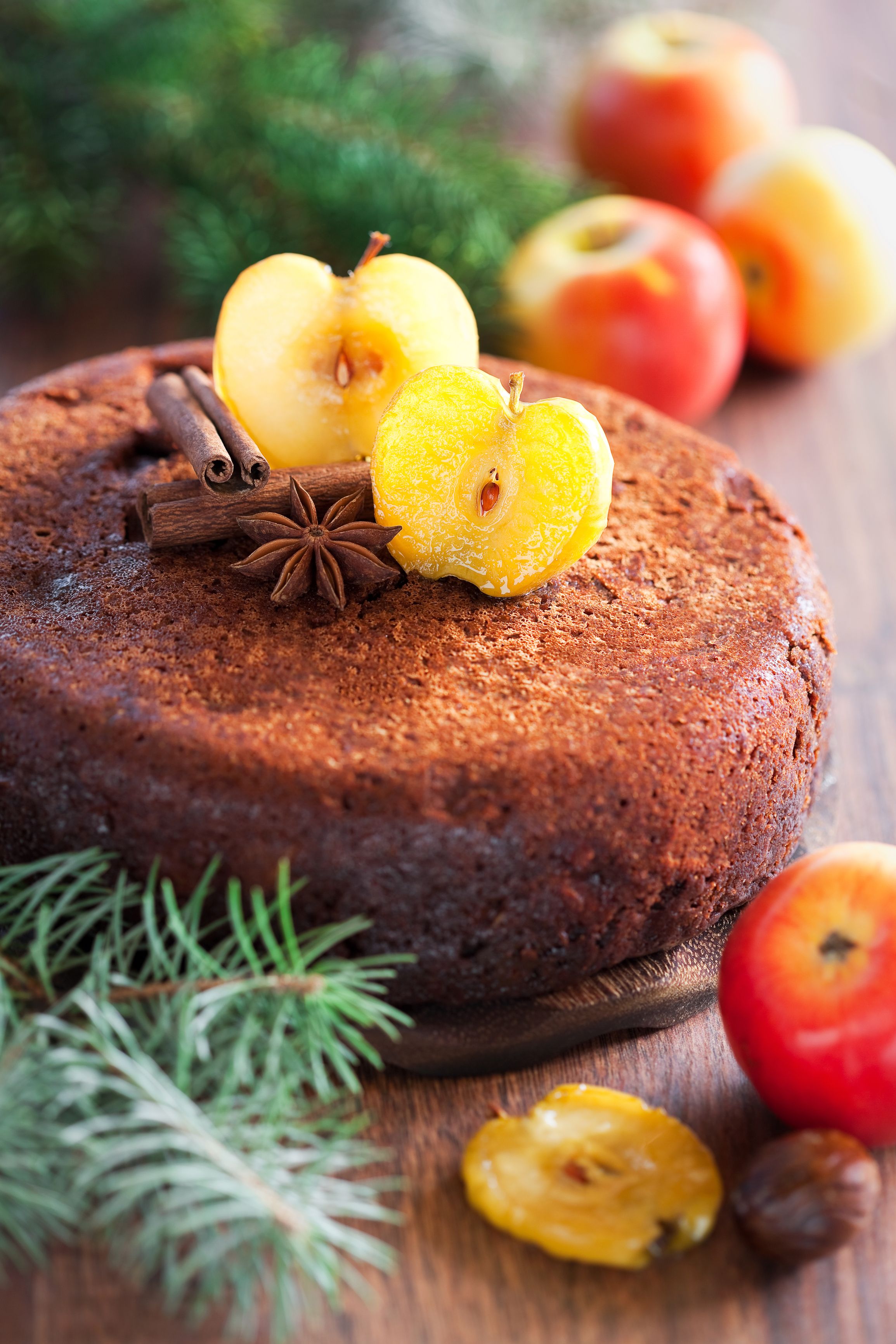 Mincemeat & Apple Pudding.
HAM & CHEESE QUICHE
SERVES 6 TO 8
 Leftover ham and cheese from the Christmas meal from will never be wasted when you combine them in a quiche — served hot or at room temperature — that's perfect for breakfast, brunch or on a post-Christmas buffet. Use a refrigerated pie crust for the bottom of the quiche, or bake it without a crust for the same delicious flavor. 
1 refrigerated pie crust (optional)
2 tablespoons wholegrain mustard, divided
8 ounces chopped ham 
8 ounces shredded Cheddar cheese
2 tablespoon chopped fresh chives
6 large eggs
3/4 cup heavy (whipping) cream
Ground black pepper
1. Preheat oven to 375°F. Slowly unroll crust (if using); place in an ungreased 9-inch glass pie plate. Press firmly against side and bottom. Fold crust under and press together to form thick crust edge; flute edges (do not prick bottom or sides of crust). Bake for 10 to 12 minutes, or until lightly browned; let cool on a wire rack. 
2. Brush 1 tablespoon mustard over bottom of crust to seal; sprinkle ham, cheese and chives over crust.
3. In a medium bowl, whisk together eggs, cream, remaining 1 tablespoon mustard and pepper; pour over crust. Place pie plate on a baking sheet
4. Bake for 35 to 40 minutes, or until filling is set (if edge of crust browns too quickly, cover with foil or pie crust shield after 15 minutes to prevent excessive browning). Remove from oven; let cool for 15 minutes before cutting into slices. Serve warm or at room temperature.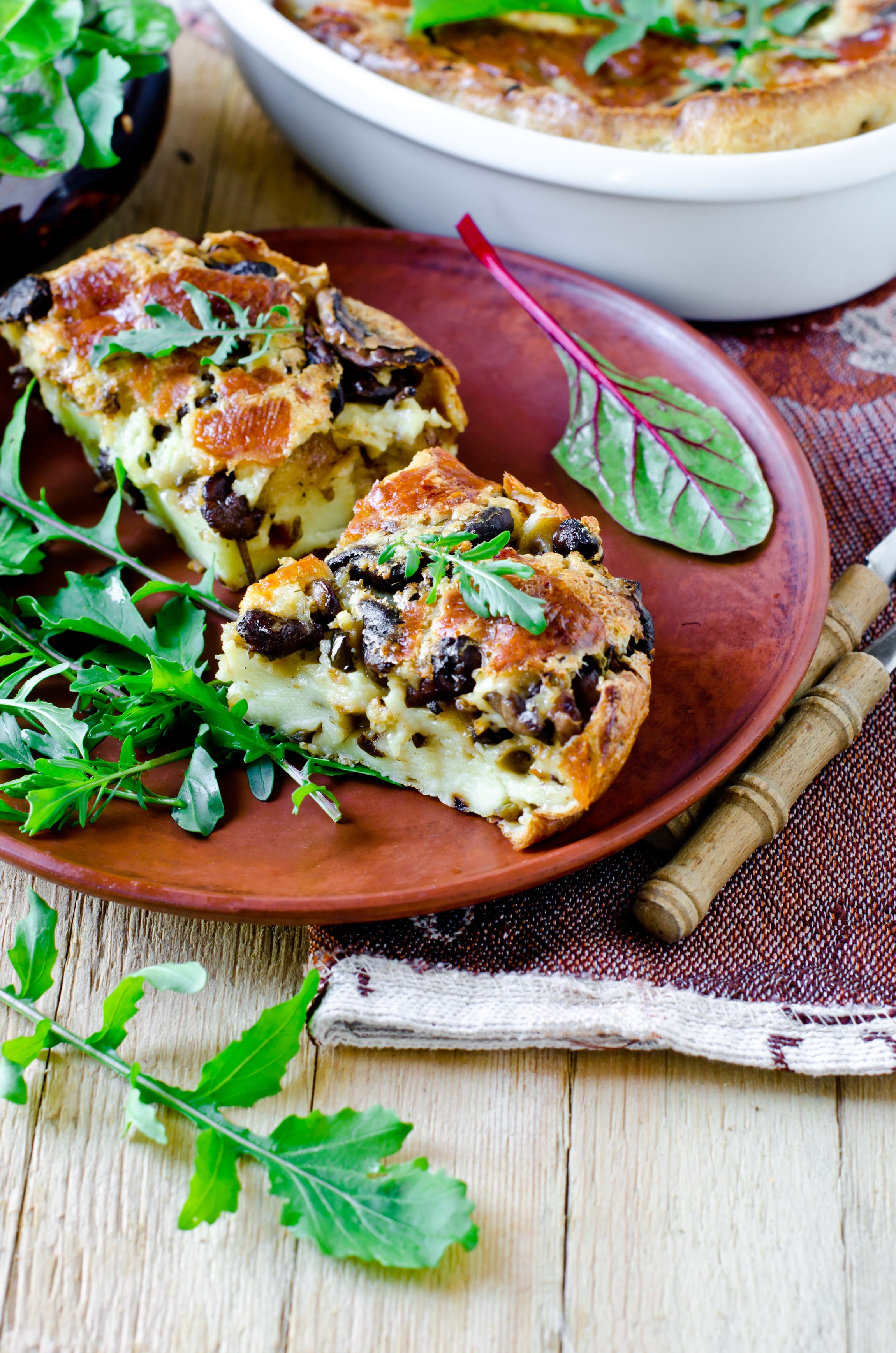 HAM, SWISS & MUSHROOM STRATA
SERVES 8 TO 10
For this delicious post-Christmas dish, use Emmental, Gruyere, or Jarlsburg cheese, all Swiss-style in appearance with a mild, buttery and nutty taste. While these cheeses originated in countries outside of Ireland, Kerrygold produces its own version of both Swiss and Emmental, and Dairygold produces Jarlsburg for a Norwegian cheesemaking company at its dairy co-op in Mogeely, County Cork. For best results, refrigerate the strata (the name means "layers") for at least two hours or overnight 
4 tablespoons extra virgin olive oil, divided
2 large shallots, finely chopped
4 Portobello mushroom caps
1 ounce unsalted butter
1/2 cup chopped flat-leaf parsley
1 loaf brioche, challah or French bread, cut into 1-inch pieces 
10 ounces Emmental, Gruyere or Jarlsburg cheese, cut into 1/2-inch pieces
6 large eggs
3 cups milk
1/2 cup heavy cream
1 teaspoon salt
1/4 teaspoon ground black pepper
1. In a large skillet over medium heat, heat 2 tablespoons oil. Add shallots; cook for 5
minutes, or until softened but not browned. Transfer shallots to a medium bowl.
2. Cut mushroom caps in half; slice halves into 1/4-inch-thick slices.  Return skillet to medium heat; melt butter. Add mushrooms; cook, stirring frequently, for about 10 minutes, or until softened and browned. Transfer mushrooms to bowl with shallots; stir in parsley. 
3. Coat a 13 x 9-inch baking dish with nonstick cooking spray. Place half of bread cubes in dish; top with two thirds of mushroom mixture. Sprinkle with two thirds of cheese. Cover with remaining bread, mushroom mixture and cheese.
4. In a large bowl, whisk together eggs, milk, cream, salt and pepper. Pour evenly over strata, making sure to moisten all bread cubes on top. Wrap securely with plastic wrap; refrigerate at least 2 hours or overnight.
5. Preheat oven to 375ºF. Bake strata, uncovered, for 90 minutes or until golden brown and puffed. (Check strata after 60 minutes; if top is getting too browned, cover dish loosely with foil.) Remove from oven; let cool a wire rack for 5 minutes before cutting into squares. Serve warm.
MINCEMEAT & APPLE PUDDING WITH CUSTARD SAUCE
SERVES 10
 Anyone who loves mincemeat can never have too many recipes for ways to use it beyond the traditional tart or pie. The fruity mix goes especially well with tart apples in this pudding, a delicious cake-like sweet. (The pudding can be made 1 to 2 days in advance and reheated). Top it with Custard Sauce or Brandy Butter. 
For the pudding
2 tart apples, peeled, cored and chopped
2 tablespoons light brown sugar
Grated zest and juice of 1 lemon
5 ounces butter, at room temperature
2/3 cup granulated sugar
3 large eggs
1/3 cup plus 1 tablespoon homemade or prepared mincemeat
1 teaspoon vanilla extract 
1 1/4 cups flour
1 1/2 teaspoons baking powder
1/4 teaspoon salt
1 teaspoon ground cinnamon
1/2 teaspoon ground nutmeg
1 tablespoon milk
For the custard sauce
2 1/4 cups milk
1/4 cup heavy (whipping) cream
2 teaspoons vanilla bean paste
5 large egg yolks
2 tablespoons sugar
2 teaspoons corn starch
1. Make pudding. Preheat oven to 325°F. Coat a 9-inch springform pan with butter flavored cooking spray.
2. In a large bowl, toss apples with brown sugar, lemon zest and juice; spread evenly into bottom of prepared pan.
3. In the bowl of a stand mixer fitted with a paddle attachment (or with a hand mixer), beat butter and sugar on medium speed until light and fluffy. Beat in eggs, one at a time, beating well after each addition; stir in vanilla and mincemeat.
4. In a medium bowl, whisk together flour, baking powder, salt, cinnamon and nutmeg. Stir into mincemeat mixture; stir in milk. Spoon mixture over apples; smooth top.
5. Bake for 45 to 50 minutes, or until top is golden and a skewer inserted into center comes out clean. Remove from oven; let cool on a wire rack for 15 minutes. Remove sides of pan.  
6. Make sauce. In a medium saucepan over medium-low heat, bring milk and cream to simmer; stir occasionally. Stir in vanilla bean paste.
7. In a medium saucepan over medium heat, whisk together egg yolks, sugar and corn starch; bring gently to simmer. Slowly pour into cream mixture, whisking constantly until blended. Return pan to heat; continue to whisk until thick and smooth. Use immediately, or tsransfer custard to a bowl and press a piece of plastic wrap directly on surface to prevent a skin from forming.
8. To serve, cut pudding into slices; spoon custard sauce on top.
 Margaret Johnson is the author of 12 cookbooks, including Festive Flavors of Ireland. For further details on her work, or to order a signed cookbook, visit irishcook.com