Sophie Toscan du Plantier had a choice: a peaceful hideaway, nestled amidst rolling green hills, or one in a wilder, coastal, more remote part of Ireland.
She had lived with an Irish family as a teenager and, drawn back to the country as an adult, she took the second option. It was a place on the Mizen Peninsula, near the town of Schull. It had a view of the "Fastnet" lighthouse. She was a writer and the place appealed to her darkly romantic side, her "gothic" side, family members say 
It had the sun, the wind, the rain — all things that reflected her character. "Tortured, stormy, calm," her brother Bertrand Bouniol says, "you really have Sophie's spirit there."
Sophie Bouniol – she was known by her family name in West Cork – bought the house in 1993 and was found murdered at the gate to the property on the morning of Dec. 23, 1996.
Sophie, herself a television producer, was married to a high-profile film producer and lived with him in Paris with her 15-year-old son from an earlier marriage. But she preferred the glow of the lighthouse over the glare of the camera flashes that came with her spouse's career.
She organized a pre-Christmas trip to Cork, as her son had traveled to be with his father for the season, while Daniel Toscan du Plantier was staying with family elsewhere in France. 
It's not made clear here how spontaneous the decision to go to Ireland was or how long she'd intended to stay. Before Sophie traveled she phoned invites to her aunt, a cousin and a friend, but they couldn't go at such short notice or didn't hear the message in time. The last images of Sophie capture her arrival at Cork Airport, alone, days before her death. She was 39.
"Just how a woman could be murdered in the safest place in Ireland beggars belief," an Irish TV reporter is heard to say early in the compulsively watchable three-part "Sophie: A Murder in West Cork" that's currently streaming on Netflix.
Eugene Gilligan recalls he made the journey from Dublin to Schull, arriving at 10 p.m. on the 23rd, an extremely cold, clear night. The Garda forensic detective found the local station was in darkness, and the telephone in a nearby kiosk vandalized.
"They were out at the scene," he says. He rewired the phone and called his contact, who gave him directions.
Gilligan says, "I can still see now. It's as clear today."
He adds later, "There was a concrete block at the scene. Yes. I can still see it."
The body would remain there until the state pathologist arrived from Dublin.
Peter Bielecki, a sculptor, said he'd heard that local Guards "cried themselves to sleep" for days afterwards. 
The series early on introduces police officers, relatives of the victim, journalists, Schull natives and "blow-ins."
The blow-ins are not outsiders like Florence Newman's great-grandfather, who was appointed stationmaster in another century, or Denis Quinlan, a former Schull pub-owner originally from Cork City. Rather, they are the foreign-born. "The lost children of Europe drawn to rugged West Cork," says former resident Elizabeth Wassel, the widow of poet John Montague.
In "Sophie," the outsider accents tend to be from small-town or rural England, like Bielecki's and that of Len Lipitch, a jewelry maker, or Scottish, as in the case of Toma McCullim, who says she represented the "lesbian-feminist blow-ins" that settled there.
They arrived as hippie pot-smokers, yachties, artists. "People that think differently," Bielecki says. These blow-ins and the various other elements of the residential community had their idyllic world turned upside down by the murder of Sophie Bouniol; it was in local terms a cataclysmic event and everyone was badly shaken up by it.
"I couldn't stop thinking about it. And in the end, it was just playing on my mind. I went to the Guards," Lipitch recalls about settling upon his own suspect. "It did feel very strange having thoughts of other people. You know, when you have no proof, your mind goes into ridiculous places and I wasn't the only person to behave like that."
'Lost his way"
Police in Schull and at headquarters in Bandon would eventually focus on one person in particular, and he would become the most famous of the blow-ins. 
Ian Bailey, inspired by the example of Woodward and Bernstein, showed early promise as an investigative journalist. But he was described as "somebody who'd lost his way" after the breakup of an early marriage in Gloucestershire. 
In West Cork, he rebranded himself an Irish poet, and continued with a freelance reporting career as "Eoin Bailey."  In time, he moved in with a Welsh woman named Jules Thomas and her children.
"I think he saw Ireland as a sort of nirvana," says one friend from his earlier life. 
Bailey, then, was well-placed to write the earliest stories on the shocking Toscan du Plantier case, which he submitted to the Sunday Tribune and other Dublin newspapers. He aired theories on the murder: it was, for instance, the work of a hired killer with a French connection; and the series explores the notion that her husband or another man with whom Sophie had been involved a few years earlier had a motive. 
Police in both jurisdictions discounted them. In any case, even locals thought of the Bouniol residence as remote and difficult to access, and so it seemed highly improbable that a foreign hit-man would find and then kill his victim in an improvised way.
Almost inevitably, Bailey began to put out stories about Sophie Bouniol's personal life in West Cork; Bielecki contemptuously dismisses them as "nonsense." 
Attention then shifts to the macabre and the supernatural — tales of palm readings, premonitions and the like. And although the most dramatic of these is a Schull-area legend (involving the White Lady of Three Castle Head), it's the French who seem most culturally at ease discussing them.
More generally the filmmakers skillfully use the area's wild, wintry beauty to invoke eeriness; it helps, too, that Bailey's own "Prairie Cottage" is like something out of "Midsomer Murders."
In time, the narrative focuses on the English-born freelance journalist himself. And Bailey is quite comfortable in front of a camera. "He loves being interviewed," says Sophie's aunt, Marie Madeleine Opalka.
And no less so as the 25th anniversary of the murder approached, and two documentary series were released — Netflix's "Sophie," directed by John Dower and produced by Sarah Lambert, and Jim Sheridan's "Murder at the Cottage," which is on Sky Crime across the Atlantic. 
"Jim is objective," Bailey said recently of the Sky Crime series.
Bailey is clearly regarded as a monumental bore by many who've encountered him in person, but he's an endless source of media fascination as well as an adept generator of copy in his own regard. (Sound familiar?)
He manages to show his displeasure at the Netflix version even while you're watching it. He refers to fellow interviewee Detective Supt. Dermot Dwyer, for example, as a "psychopathic criminal wearing the blue uniform of the Garda Síochána."
Despite all of this, or maybe because of it, some say he ought to be given the benefit of the doubt. Lipitch and Wassel both say don't convict him on his personality.
An alternative approach comes right at the end of Part II when Bielecki is asked why everyone thinks that Bailey is guilty. His answer is the best possible teaser a series could have for the following episode (it's included in the official 2-minute trailer, which can be found on YouTube or at imdb.com). 
Ultimately, "Sophie" settles around a duality: the Director of Public Prosecutions in Dublin deciding not to proceed against a suspect and that suspect being later convicted in Paris in absentia.

Story-telling art
Of course, true crime is tricky on film — a perspective is usually being pushed, which thus can easily be open to a charge of distortion by omission, especially since even the simplest of cases can be quite complicated legally. "Sophie," however, at least feels like it has presented an acceptable overview, while also having its own position.  
In that regard, it does better than the two documentaries that won Oscars for its executive producer Simon Chinn.
The first, "Man on Wire" (2009), about high-wire artist Philippe Petit's walk between the Twin Towers in 1974, has received "universal acclaim" and is a rare production that has a 100 percent rating on the Rotten Tomatoes website. And yet, for me, it fails on a basic reportorial level.
The second, "Searching for Sugar Man" (2012), has an impressive 95 percent, but again there are a few details missing that a journalist would include. Meantime, the filmmakers were also forced to defend the omission of a piece of information about the career of its main subject, American singer-songwriter Sixto Rodriguez, that might have undermined the simplicity of the tale being told. Their stated defense was reasonable: it wasn't essential to the basic story, and the information wasn't available to the individuals from whose perspective they said the film was being told. Still their choice was: include nuance or leave it out and have some viewers feel a little shortchanged later when it's revealed.
If you've got 90 minutes or so, surely you should be able to include the basic elements of a story as it would be reported, let's say, in a Sunday Times magazine feature? The critics and Hollywood, though, have elevated the art of story-telling in the ways they like it, which means oftentimes it's the document in "documentary" that can lose out. 
The "extras" that came with the "Man on Wire" DVD revealed the basic missing reportage (such as who was backing Petit financially), but also contains an alternative view of the relationship in later years between the hero and his assistants of 1974, one indeed that makes more sense and is fairer to them.
And that's another potential issue — interviewees being mere pawns in the story-teller's game.

First-hand sources
It greatly helps that the interview subjects who appear in "Sophie" are compelling and likely the sort that can't be easily manipulated — not least of them the Irish Times' Barry Roche and Michael Sheridan of the Sunday Independent. And for those wondering if Garda vehicles ever got a trip to the carwash 25 years ago in West Cork, the mildly eccentric, dapper Dwyer goes some way towards redeeming the force's image. 
Of course, it doesn't look good when a piece of evidence like a farmyard gate goes missing. Dwyer, though, makes the distinction between corruption, which inquiries have said wasn't a factor, and incompetence, which he seems to suggest is the norm when you're looking back over time at this type of case. Indeed, the whole true-crime genre is dependent, it would appear, upon police screwing up. 
Police strategy in this case seemed baffling only to make more sense later as information came out in civil cases. 
The film is told almost entirely with first-hand sources, people who've been living with this from the beginning. And so it's left to the Irish Times' Paris correspondent Lara Marlowe and a couple of others to explain — not in entirely satisfactory ways —the differences between the legal systems of Ireland and France. 
I haven't seen Jim Sheridan's "Murder at the Cottage," but he's famous in part for directing a film about an infamous miscarriage of justice; so we might reasonably assume that this is a concern for him here. And the DPP might say it's a concern when a case is overly reliant upon circumstantial evidence. 
Meantime in "Sophie," some of the journalists are particularly effective in critiquing the DPP, but the series might have benefitted from having a dispassionate analysis of the office's thinking, even if from someone who disagrees ultimately with its decision not to proceed.
Finally, with neighbors and the media pointing the accusing finger, and police not always behaving as they should, it has been easy to make the suspect the victim.  But the actual victim is front and center here to an extent that's not often the case in the genre. In addition to her brother and her aunt, Sophie Toscan Du Plantier's son, parents, an uncle, a male cousin and a female friend all have their say. The family's closeness and the collective effort to find a resolution to the crime become essential to the narrative as the series proceeds. 
But for Georges Bouniol, a resolution is almost beside the point.
"You don't get justice with the death of your daughter," he says (the family members speak in French mostly, and English subtitles are added).
Sophie's son, Pierre-Louis Baudey-Vignaud, brings it back to where she died, the Mizen Peninsula property the family has retained, which, he says, is the only place he went to with his mother that he still visits."It's like going to see her," he says of his trips there as the series concludes. "It's like going to stay with her every time. Mom is very present in this house."
And just when we hear her voice for the first time, he says again, "She is very present."
"Sophie: A Murder in West Cork" is streaming on Netflix.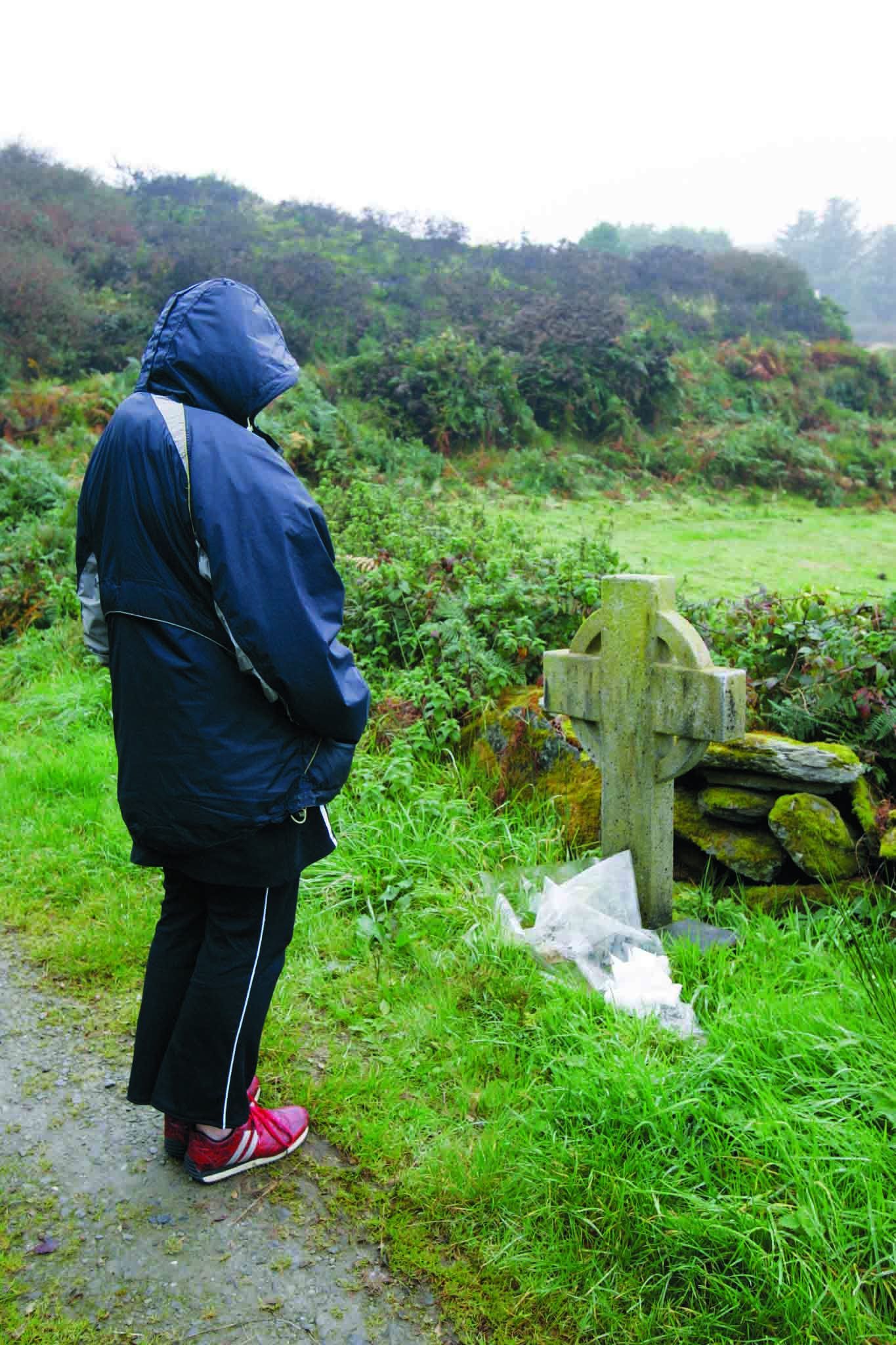 A 2005 visitor to the memorial headstone to Sophie Toscan du Plantier outside Toormoor on the Mizen Peninsula in West Cork. ROLLINGNEWS.IE