Traditionally, the biggest and most important festival in the Christian calendar is Christmas, and nowhere is it greeted more enthusiastically than in Ireland, where the season officially begins on December 8 – a day known as Mairgead Mór, Big Fair Day –  and lasts through January 6 –  Nollaig na mBan, Women's Christmas (more on that in January). While the spiritual preparation begins with Advent, the practical preparations, sometimes known as "getting in the Christmas," are on-going from this week forward. 
And of course, food plays a big part, from tasty nibbles and drinks with friends to the last morsel of Christmas cake following the main event. 
          The centerpiece of a traditional menu for Christmas dinner in Ireland is turkey with stuffing and cranberry sauce, although the big bird only first appeared on British tables in the late seventeenth century. By the eighteenth century, wealthy Irish families enjoyed the new delicacy, and it slowly spread to the menu of lower classes Irish families as well. While some contemporary Irish cooks still roast a goose or bake a ham, a big bird remains the star of the show. However, for a delicious scaled-down version, you might want to try something different this year and opt for this all-in-one turkey roulade. 
TURKEY ROULADE WITH CRANBERRY & CHESTNUT STUFFING
SERVES 6 to 8
            This butterflied turkey breast — rolled and stuffed jellyroll-style — is a smaller version of the Christmas turkey but packs the same holiday punch: lots of white meat, rich stuffing and a beautiful presentation. For the juiciest roulade, buy a boneless breast with the skin on so that the skin is rolled into the center of the turkey to help create internal moisture and to add flavor to the stuffing. A butcher will do most of the work for you, but you might want to give the breast a final flattening with a meat tenderizer or rolling pin.
For the stuffing
2 ounces butter
1 cup chopped onions
1 cup chopped celery
1 cup chopped cooked chestnuts
1/2 cup dried cranberries
1 tablespoon fresh rosemary
1 tablespoon chopped fresh sage
1 1/2 cups stuffing mix or bread cubes
1 1/4 to 1 1/2 cups chicken broth
Salt
Ground black pepper
For the roulade
6-pound turkey breast, boned
Salt
Ground black pepper
1 ounce butter, at room temperature
1. Make stuffing. In a large skillet over medium heat, melt butter. Add onions and celery; cook for 3 to 5 minutes, or until soft but not browned. Stir in chestnuts, cranberries, rosemary and sage; cook for 5 minutes.
2. Transfer mixture to a large bowl. Stir in stuffing mix or bread cubes and 1 cup of broth; add additional broth until bread is moistened. Season with salt and pepper.
3. Make roulade. Preheat oven to 325°F. Lay out butterflied breast, skin-side down, on parchment paper; sprinkle with salt and pepper. Spread stuffing in an even layer onto breast, leaving a small border on all sides. (Place excess stuffing in a buttered baking dish; cook during last 45 minutes of roasting the turkey). Roll turkey up tightly; place seam side-down on parchment. With kitchen twine, tie up breast at 2-inch intervals; tie up lengthwise. Spread all over with butter; season with salt and pepper. Lift roulade and parchment onto a baking pan.
4. Roast for 1 3/4 to 2 hours, or until an instant-read thermometer registers 150°F in center. Remove from oven; cover with aluminum foil. Let rest for about 15 minutes before carving into 1/2-inch-thick slices
            Margaret Johnson is the author of twelve cookbooks, including the recently released Festive Flavors of Ireland. For further details on her work visit www.irishcook.com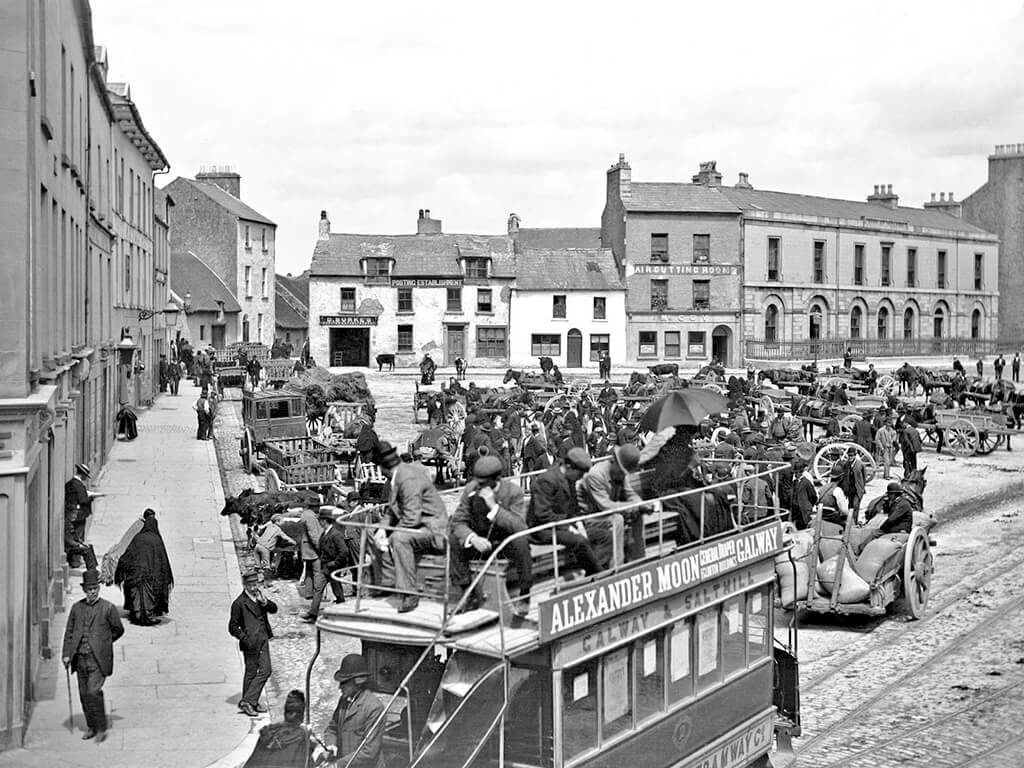 Galway market, Eyre Square, 1903.
Those Were the Days: Mairgead Mór
          In addition to offering a wide-range of holiday recipes in my new cookbook, "Festive Flavors of Ireland," you'll also enjoy reading about many long-standing, often bygone, Irish holiday traditions at the end of each chapter. Brian Nolan, a Loughrea, Co. Galway native, shares his memories of Mairgead Mór, a great day of celebration when farmers would converge on town to sell their crops, livestock, and poultry, and women would come with them to spend their "butter and egg money" on holiday gifts and goodies.
          According to Nolan, "Over most of Western Europe, particularly in those areas connected with the ancient Celts, December 8 was associated with the celebration of the festival of the winter solstice. It was an amazing sight to me as a child in the early 1960s, before marts and supermarkets modernized everything. On that day, everyone came to town — the ruddy-faced, wool-capped men with their sturdy womenfolk; the too-thin gaggles of wide-eyed children — on horses, in donkey and cart, on bicycles, and on foot, and everyone carried something for the fair. They arrived before dawn, and left, mess of straw and leavings behind them, after dark.
          "Geese by the hundred, turkeys and chickens by the thousand, all 'live,' tied to the back of upturned donkey carts between loads of turf. Mounds of potato sacks brimmed with Kerr's Pinks and Banners from Clare; huge heads of cabbage and turnips; bunches of parsnip and carrots, and the very rare bushel of Brussels sprouts. Wheels of hardy cheddar, and what seemed like acres of flats of eggs in hues of brown and white, with the bigger duck-eggs, bluish in the winter sunlight.
          "The fowl would be raucous, hog-tied or closeted in bushel baskets, with their heads poking out, or in more modern times, poking their heads out of car-boots, and all cackling and clucking and gobbling away to their hearts' content. The 'townies' and some city market buyers made their canny way, back and forth between the rows of sellers, examining here, feeling there, commenting on the size and weight, and what they were fed on, and whether they were spring or summer birds.
          "Amid all that was the excitement of the shops, the bustle of the women going in to settle their account with the harvest, butter, and turkey money enabling them to pay off the tab and get some new clothes for themselves and the children, now wide-eyed in expectation and appreciation of the beautiful goods and sweet chocolates they were able to see and touch now." 
          December 8 was one of the most important dates in the Celtic calendar as it marked the celebration of a farmer's success and the approach of the New Year. In modern Ireland, it's the biggest shopping day of the year.
          By the way, Nolan, a great storyteller and passionate ambassador for tourism in Ireland, is the founder of Galway Walks (galwaywalks.com), a delightful way to tour the city with a native.