Irish Cream Liqueurs, Part One
You don't have to be Irish to drink Irish cream liqueur, but if you like the flavors of whiskey, cream, coffee, cocoa and vanilla, chances are you're already a fan! Unlike other legendary Irish drinks like Guinness Stout, first brewed in 1759, or whiskey, a drink that Irish monks introduced to the country around the twelfth century, Irish cream liqueur only dates back to the 1970s when a surplus of both Irish whiskey and cream were blended in an attempt to create a new drink. The first mix wasn't that satisfying, the story goes, but when Cadbury's Powdered Drinking Chocolate was added, the result — now known as Baileys Irish Cream — turned out to be a ground-breaker in the world of wine and spirits. According to one of the mixologists who mastered the blend, the taste was so good it triggered the thought that "alcoholic drinks don't have to taste punishing!" Fast forward to today and, depending where you live, you'll find a wide range of Irish creams priced from as low as $10 to as high as $40, with tastes that rank from mediocre to marvelous. 
Officially launched in 1974 — although it took about three years to gain much popularity — Baileys is the original Irish cream liqueur by which all others are judged. Made from Irish dairy cream, whiskey, neutral spirits, chocolate and vanilla flavorings, it's easily sipped over ice, blended in other cocktails, stirred into a cup of coffee, or whisked into a decadent dessert. 
Soon to follow Baileys into the marketplace, Carolans Original Irish Cream is made with Irish whiskey, farm-fresh cream, and sweetened with honey. Named for Turlough O'Carolan, a famed seventeenth-century musician, the label and recipe were both created in 1978 in County Tipperary. Rather than the dominant chocolate note that other brands boast, mixologists suggest the honey flavor is more versatile for creating cocktails. Emmets, named for Irish patriot Robert Emmet, was the next Irish cream to launch, with Saint Brendan's Irish Cream following in 1983. It's made in one of Ireland's oldest dairies in Leekpatrick, Northern Ireland. Named for the sixth-century Irish monk who set sail to discover the Garden of Eden, this liqueur is crafted using two main ingredients: all-natural Irish cream from local dairy farms and triple-distilled, aged Quiet Man Irish Whiskey. 
Like Saint Brendan's, a number of Irish creams are made at distilleries that produce their own whiskey: The Irishman comes from Walsh Whiskey in County Carlow, producers of premium and super-premium, triple-distilled craft whiskey, and The Whistler, from Boann Distillery in County Meath, is crafted with single pot still Irish whiskey. It's one of the first cream liqueurs in the world to utilize whiskey of this quality. Coming in at 38 proof, it has one of the highest cream contents, highest percentage of whiskey, and highest alcohol by volume of any on the market. 
Part II next week: Saint Patrick's Irish Cream, Five Farms, and Coole Swan, the only Irish cream made with Belgian white chocolate.
DETAILS
The price for a 750ml bottle of Irish cream ranges from $12 to $40, so there's one for every budget. Baileys, Five Farms, The Whistler and Coole Swan are the most expensive, coming in at around $30. 
Irish cream liqueurs have a shelf life of about two years from the time they're bottled and last only a few months after they're opened; some specify a shorter time; most suggest refrigeration. Check the "best before" date on the brand you buy. 
Not all brands are available in all states; some are specially bottled for large wine and spirits chain stores or supermarket chains. 
Most brands are between 15% and 17% alcohol by volume; 30 to 34 proof.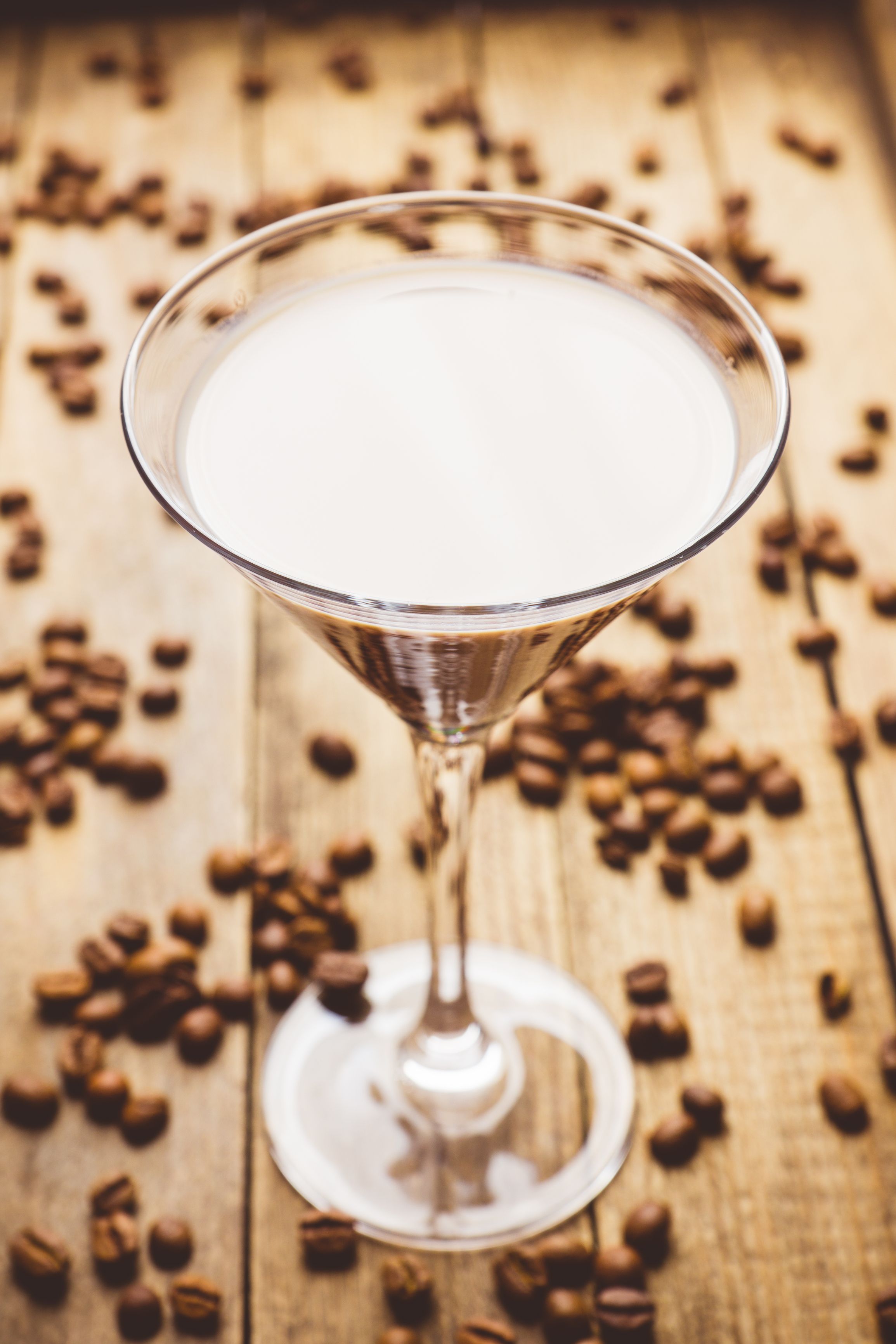 BAILEYS FLAT WHITE MARTINI
MAKES 1 DRINK
1 1/2 ounce Baileys Original Irish Cream
3/4 ounce vodka
3/4 ounce espresso
3 coffee beans, for garnish
1. Chill a martini glass.
2. In a shaker filled with ice, combine Baileys, vodka and espresso; shake to blend.
3. Strain into glass; garnish with coffee beans.
MUDSLIDE
MAKES 1 DRINK
1 ounce vodka
1 ounce coffee liqueur, such as Kahlua 
1 ounce Saint Brendan's Irish Cream
1 ounce heavy cream
1. Fill an old-fashioned glass with ice.
2. In a shaker filled with ice, combine vodka, coffee liqueur, Irish cream and heavy cream; cover and shake. 
3. Strain into glass.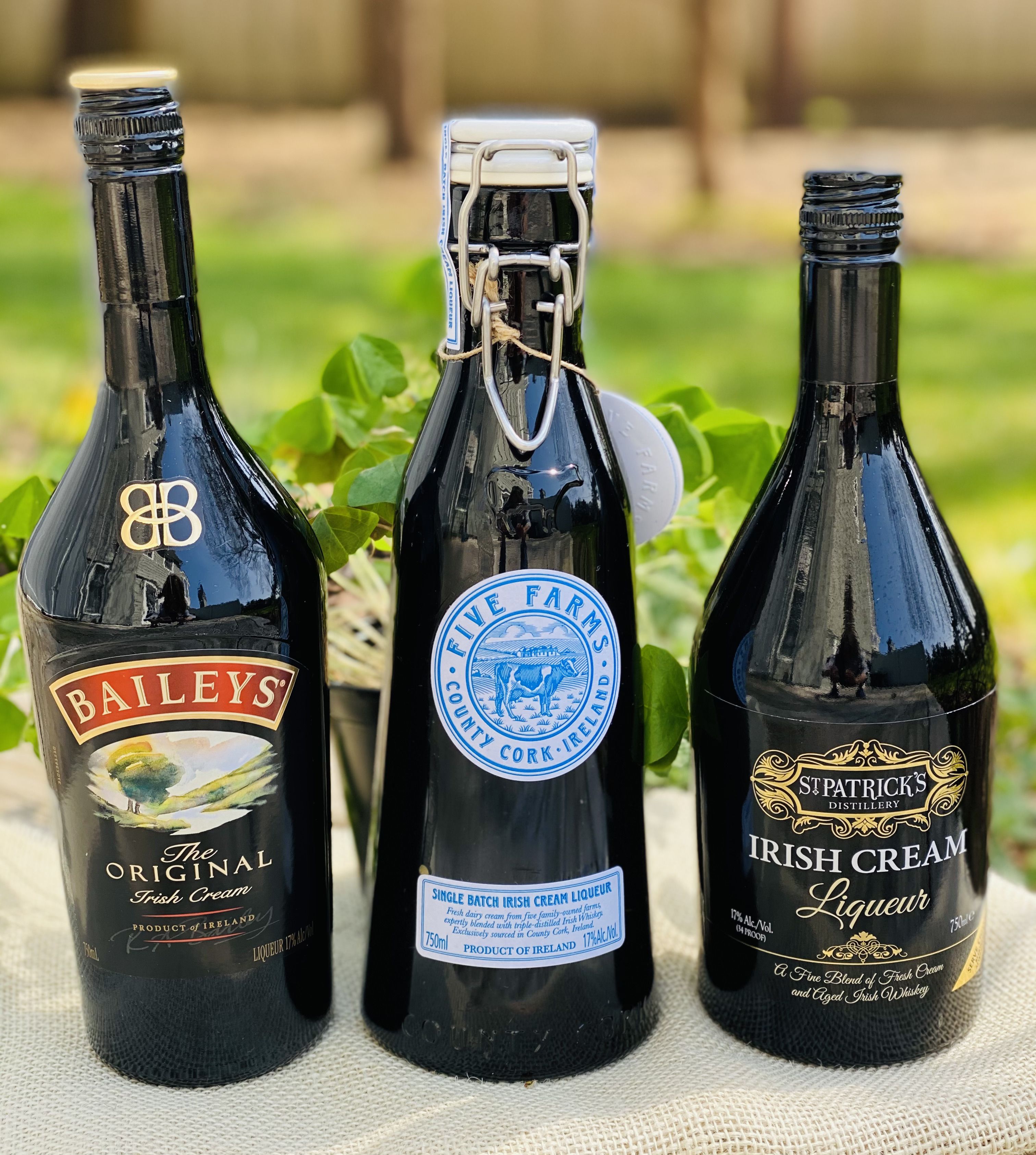 IRISH MORNING COFFEE
MAKES 1 DRINK 
 Created exclusively for Saint Brendan's Irish Cream by Join Jules, this morning drink is a great way to start the day.
1 ounce coffee liqueur, such as Kahlua
1/2 ounce cinnamon simple syrup
2 ounces Saint Brendan's Irish Cream
Cold brew coffee
Frothed vanilla milk, for topping
Cinnamon, for garnish
1. Fill a tall glass with ice. Add coffee liqueur, simple syrup, Saint Brendan's Irish Cream and cold brew coffee (leave 1 inch space on top); stir to blend.
2. Top with frothed vanilla milk and sprinkle with cinnamon.