As Samhain approached, the Nollaig Na mBan NY women were excited when I suggested we have our first in person celebration since the pandemic. For the past several years we've been celebrating Celtic fire festivals to help raise funds for the Dwelling Place of NY - a transitional shelter for homeless women. 
When my cousin Eileen suggested heroes as a theme, I immediately wanted to invite spirits of strong individuals who led by example. I hoped we might learn from heroes of yesteryear, and gain strength and courage in these challenging times. 
So, as the Earth Goddess with autumn leaves on my head, I told the gathering to observe the earth as it rests for the winter and looks forward to spring when it will return with new growth. As humans, we might take this lesson from the earth and remember that it's necessary to let go in order to move on. 
 After a hearty lunch graciously served by our waitress Gail at the Playwright's Celtic Pub on Eighth Avenue and West 46th Street the heroes appeared ranging from an ancient warrior queen to modern day beloved relatives and others in between. The appearance of Gráine Mhaol (Grace O'Malley) brought us back to the 16th century. A sword at her side, Mary McIntyre told us of the challenges and turbulent politics in the life of this well-known historical figure in Irish history. A woman of character and great courage, she devoted herself to piracy throughout her life and distinguished herself through numerous battles, on land and sea. 
Nancy Oda took on the spirit of a modern day heroine, Veronica Guerin, the Irish crime reporter who was murdered in 1996 by drug lords in Dublin. Investigation into her death led to arrests and convictions. "I chose Guerin because she galvanized the Irish government to address the burgeoning drug problem. Unfortunately, she had to die to get the public's and the government's attention," Nancy said. 
Dan Brown, our photographer this evening, chose Sam Henry as his hero.  Born in 1873, Henry was an Irish customs officer of many talents: pension officer, antiquarian, lecturer, writer, photographer, folklorist, folk-song collector and musician. By the way, Dan recently published a book of short stories and monologues. You can catch his presentation of "The Sometimes Why" at The Cell Theater next month: click here.
         Pat Mangan brought on Hannah Sheehy Skeffington, a suffragette and staunch Irish nationalist who campaigned for women's rights in Ireland. In a convincing presentation, Pat told us that Sheehy Skrffington also toured the U.S. in 1916 speaking about the abuses of the British military in the immediate aftermath of the Easter Rising (including the shooting dead of her pacifist husband, Francis, and two other journalists in a controversial incident at Portobello Barracks). 
In a well thought-out costume, Dee Nolan gave a passionate presentation as Alice Paul who was an American suffragist, feminist and women's rights activist. Alice advocated for and helped secure passage of the 19th Amendment to the US Constitution, granting women the right to vote. It was Alice Paul wrote the primary text of the Equal Rights Amendment in 1923. 
         In addition to powerful heroes, spirits of the night visited. As witch, Elizabeth Lenihan and her mom, Mary Twomey, as the witch's cat recited a poem and performed a dance step to honor the goddess. We loved the call of the witch as she reached beyond the barriers of time to others of her ilk. The cat spoke, showing that she wasn't to be ignored. 
In celebration of her 75th Jubilee Anniversary of her canonization in 1946 and reminding us that All Saints Day was approaching, Mother Frances Xavier Cabrini appeared. Sheila Houlihan told us that Cabrini was the first U.S citizen to be declared a saint. She is honored as the Patroness of Immigrants and Refugees.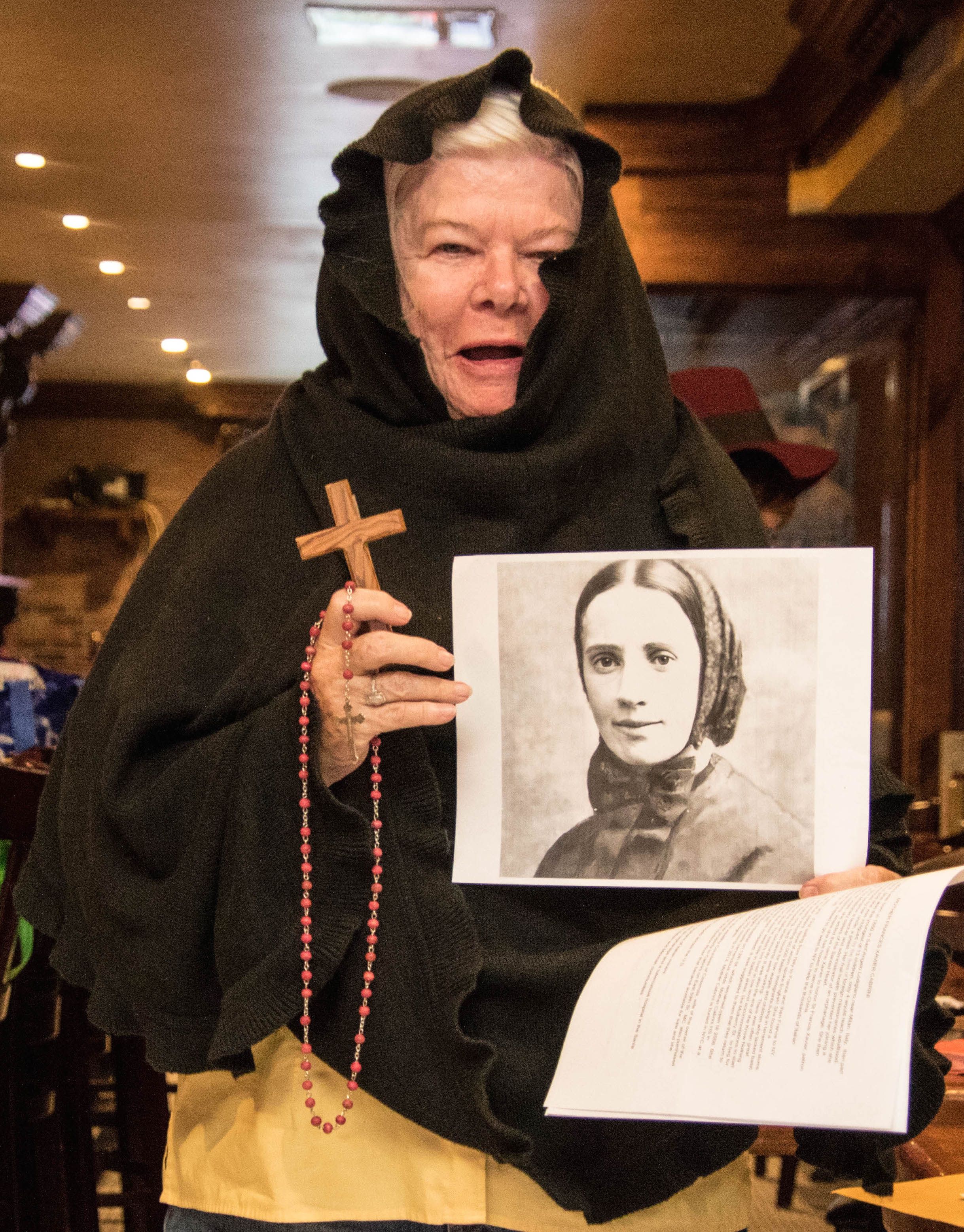 Sheila Houlihan.
Reminding us that we must keep going in spite of adversities, Mary Fee, who baked our delicious barmbrack, brought us Helen Keller, the American author, disability rights advocate and political activist. After enjoying Mary's bread and congratulating Pat Mangan who found  the coin and is about to become rich this year and Nancy Oda who found the ring and is set to find the love of her life, we were visited by some beloved relatives of our guests. 
Deirdre Batson introduced her Uncle, William Thomas Batson an RAF bomber pilot from Cobh Co. Cork. Shot down over Belgium and parachuted to safety, he was betrayed and imprisoned and suspected of spying. Spending the remainder of the WWII in in a POW camp, he and others wrote journals about their daily lives. Batson returned to Cobh with his Danish wife whom he met in the War office and Deirdre's family members knew nothing about these events until some researchers discovered them in the process of making a film about the WWII contributions by Cobh residents.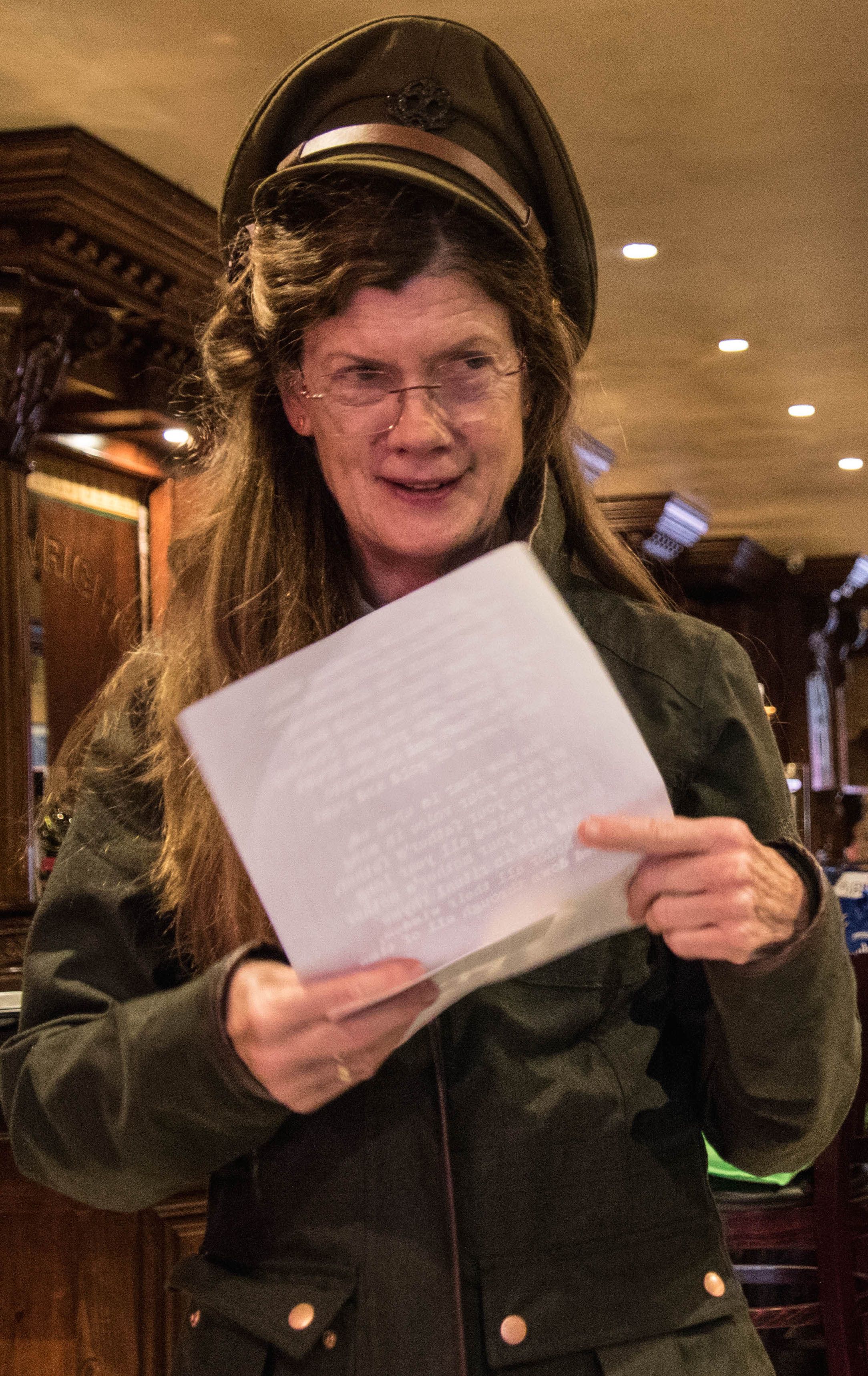 Deirdre Batson.
In a lively yet moving presentation, Siobhán Dolan spoke about her brother in-law, Dan H. Sullivan, saying that he was the Purple Heart in her life. It was Siobhan's first time joining us and we look forward to welcoming her and partner, Billy, back again. 
Kathleen Frazier brought her grandmother Mary Josephine O'Connell Frazier to the celebration. Kathleen's artistic and powerful presentation of this young Irish immigrant who worked as a domestic but always stayed positive in spite of her difficulties preceded our Ceremony of Light. Here we reviewed the meaning of Samhain and intoned the names of those who recently departed this life. Among those remembered were James Cagney who, along with his wife Bridget always attended our Samhain celebrations. 
Our evening came to a close with my reading of "Beannacht - A New Year Blessing" by the late John O'Donohue: 
…May the nourishment of the earth be yours,
May the clarity of light be yours,
May the fluency of the ocean be yours,
May the protection of the ancestors be yours. 
Founder of Nollaig Na mBan NY, Maura Mulligan is author of the memoir, "Call of the Lark."