This is how the world ends: not with a "bang," but with an interlude of anger and laughter, before all has gone quieter, darker and still. That is to say, this is what the lives of siblings May and Tim would have us surmise, as the two dismayed characters trapped in Kevin Barry's 2017 one-act play "Autumn Royal," directed by Ciarán O'Reilly and starring Maeve Higgins and John Keating, which is getting its North American premiere at Irish Repertory Theatre, through Nov. 21. 
Being lighthearted and heavy-handed, blithe yet terse, this compact tragicomedy provides the inaugural reopening of the Irish Repertory Theatre's live on-stage performances with plenty to ponder upon—and more to be desired—with all the complexity and tenacity this theatre is meant for. 
 "Autumn Royal" follows the narratives of Tim and May, two stagnant adults in Cork city slipping into a maturity past their prime, who are unable to leave the family home and get on with forming independent lives for themselves, as they look after their semi-senile father in the room upstairs. As each sibling copes separately with the slow theft of time; the guileless, spotless-minded Tim with his persistent delusions of moving away to Australia and finding love on the surfer's shores, and the embittered, livid May with booming, amplified lash-outs of regret.
With a Beckettian-level-minimum attempts to free themselves of their dismal fate in the house, the siblings opt to place the father in an assisted living home (the ironically titled "Autumn Royal"), but after the plan abruptly fails in a disaster of public scandal (a great escape involving bare-bottomed ravings about Judas Iscariot), it becomes starkly apparent that Tim and May's elderly father, nor they themselves, will be going gently into that good night, or nightmare. 
While an effete, suspense-less scene later ensues in which May and Tim entertain, and talk themselves out of, killing their father to get out from their obligations for his care, the play's plot entirely cycles between the imperceptibly eventful present, and a dramatic past which Tim and May vividly, repetitively remember, in agonizing detail, that time and again prevents them from envisioning a future, and ultimately perhaps resign themselves from ever experiencing one. 
To this effect, "Autumn Royal" achieves something impressive here. Combining the whimsical and the sardonic, light above the surface yet dark just below the inverse, Kevin Barry achieves that curious feat of writing a story about lives of bumbling banality, while the root causes of which are anything but that. In this sense, the story is all so understandable: people's lives, full of promise and potential, that have gone unrecognized, spoiled and tormented into boredom. 
"We're never going to get past ourselves here, Tim," May foreshadows to the audience, with enough double-entendre in  metaphoric and physical intimations  to relish the astute spectator, as these characters proceed to impede themselves from moving beyond the confines of their home (an existentially claustrophobic room, excellently conceived by set designer Charlie Corcoran), of themselves, and the past altogether.    
As a memory play, this hyper-aware work packs a postmodern wallop through the monologues of May, who repeats with increasing ire, "I remember f---ing everything!" making such reruns into the past as inescapable from the character's stagnation as it is from the genre itself.
From the captivating comedic chops of actors John Keating and Maeve Higgins to the piercing frankness of the dialogue's subject matter—spanning all things from silence and abandonment, infidelity and childlessness, impotence, aging, life, death and inheritance, the performance had an alluring draw on the Irish Rep's audience. As brother and sister Tim and May, Higgins and Keating are a perfect pair, bringing a delightful shared kindred spirit of emotion, and snappy banter that rolled out between the two of them like cascades of humor. 
Keating and Higgins alike possess some savant-like talent for harnessing each word to the absolute wattage of wit and hilarity, and then peppering the audience with a humor that is utterly contagious (a pun now not quite as funny in the current state of theatre going). As disillusioned and angst-stricken May, Higgins bleats her character's miseries with an abject reality and tragic sympathy; and as a sensitive, naive Tim, Keating brings forth such tender twists of sincerity in each moment that surprises and tightens the heartstrings. While emotionally-demanding scenes by the end had felt somewhat lethargic, notwithstanding, the performances were nothing if not authentic to the characters' stunted condition, and did not take away from the audience's enthrallment. 
In thematic terms, "Autumn Royal," led under the direction of Ciarán O'Reilly's intriguingly ambiguous sense of time, has been well placed in this moment. Having a storyline both contemporary and ageless, it has found its mark with an audience, in search of connection, both personal and political. 
On its face, as a play about people going mad to get out of the house was a subject matter effortlessly relatable to the pandemic theatre patron, which was guffawed and lost on no one. Just as resonant was the story arch of a daughter who has wasted her formative years in commitment to preserving a community, religion and parent (the "father," who, pseudo-religiously lives at the top of a shining stairway, is absent from the scenes, and merely indicated to by the occasional wrathful thundering from above) that, as May said, "never even f—ken liked…" Sound familiar?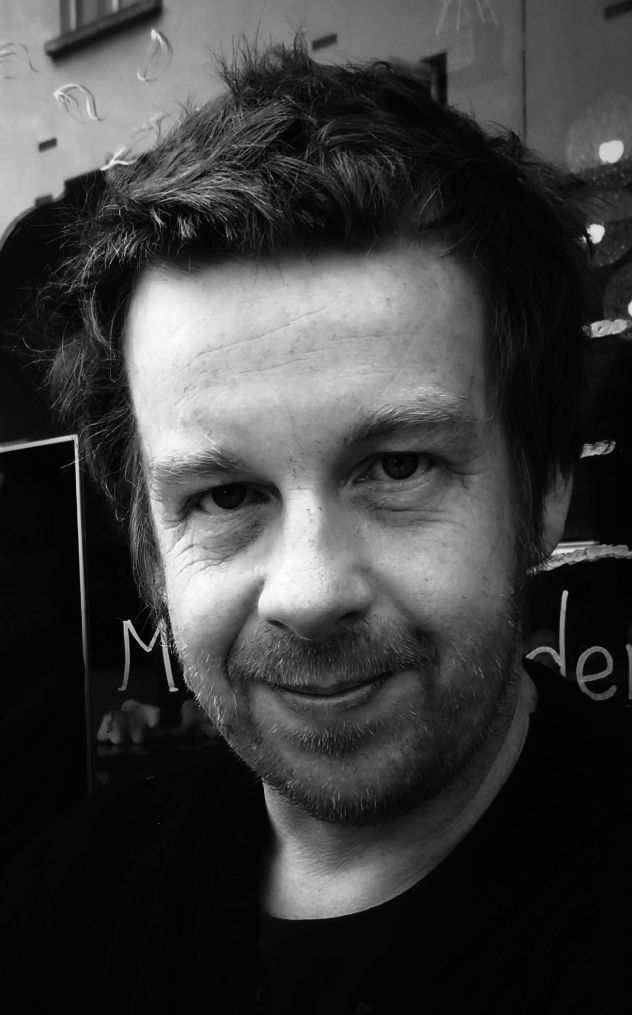 Kevin Barry.
Yet further than this, the play strikes a social chord of timeless significance, illuminating an anxiety of deeper meaning: the feeling of one generation feeling "cheated" of out a future, of a life they believed to have deserved, by the generation preceding them. It reveals the pervading feeling that the beliefs and ideals, or rather hypocrisies and inability to live up to those ideals, have done little but inhibit and undermine a generation they'd meant to instill with values, and did not. This multi-generational incapacity to get past the failings of one's parents, and trauma of childhood, has become a theatrical obsession as potently today as it was for O'Neill and before, and just as worthy of the examining and scrutiny now as ever, recurrent though it may be. 
The play finds its end by dredging up the thought that if you can't get rid of the past, nor kill it, then you must go on living, and waning, with it. But with no future in sight, then how? One macabre answer: with a laugh.
"Autumn Royal" is an ominous foreboding for a generation of theatre crossing into its autumn years. Yet at the Irish Repertory Theatre, for this live and spritely audience, it receives a royal welcome.