It's official: autumn is here, and that means so are the "U-Pick" signs. Even if you're not in an apple-picking area, you can still pick them up at your local greengrocer, farmers' market, or supermarket, just without the fun of the personal picking experience. With over 2,500 varieties available worldwide, the challenge is knowing which apple is best for the recipe you're making. Some are better for baking, while others work best for dishes like applesauce or apple pie. Check the list of "Apples A-Z" for some of the most popular varieties found in the U.S., and don't be afraid to mix and match for a blend of flavors.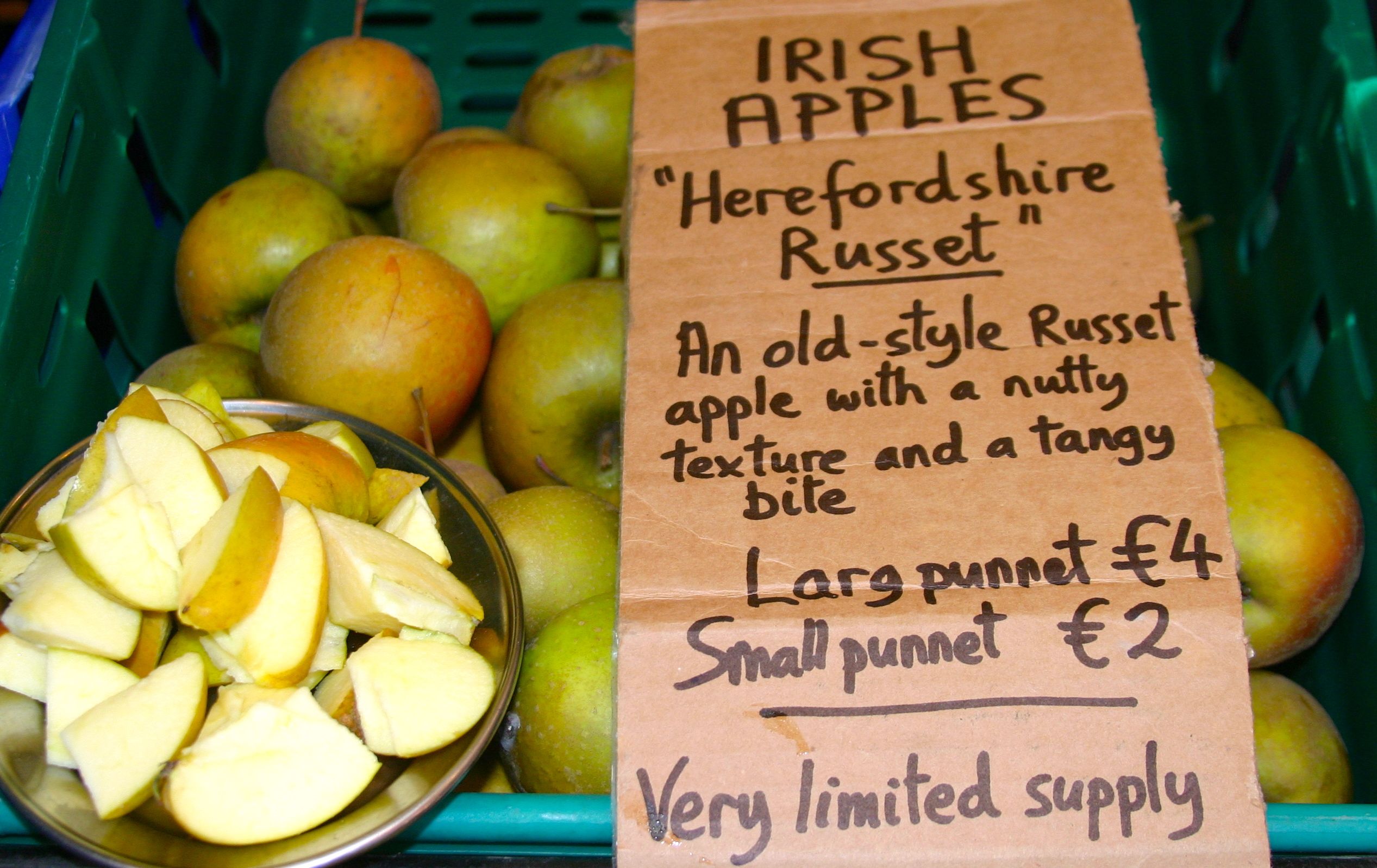 APPLE-DATE CRUMBLE     
SERVES 6
For the filling
1 cup raisins
1 cup chopped dates
1/3 cup (packed) light brown sugar
3 tablespoons dark rum
1 teaspoon mixed spice or 
1/2 each cinnamon and nutmeg
Juice and zest of 1 lemon
4 tart apples, peeled, cored and sliced
For the crumble
1 cup flour
1 cup (8 ounces) unsalted butter, cut into pieces
1/4 cup (packed) light brown sugar
1/4 cup oatmeal
1/2 cup chopped pecans
Vanilla ice cream or whipped cream, for serving
1. Make filling. Preheat oven to 375° F. Butter a 9-inch baking dish.
2. In a large microwave-safe bowl, combine raisins, dates, brown sugar, rum, butter and spices; microwave on high for 1 1/2 minutes, or until butter is melted and mixture is syrupy. Add juice and zest of lemon and apples; toss to coat. Transfer mixture to prepared pan and spread evenly.
3. Make crumble. In a large bowl, combine flour and butter. With your fingers, rub butter into flour until large clumps form. Stir in sugar, oats and pecans; scatter over apple mixture. Cover with foil and bake for 30 minutes; remove foil and bake for 30 minutes longer, or until crumble is golden and filling is bubbling. Remove from oven and let cool for 10 minutes. Serve with ice cream or whipped cream.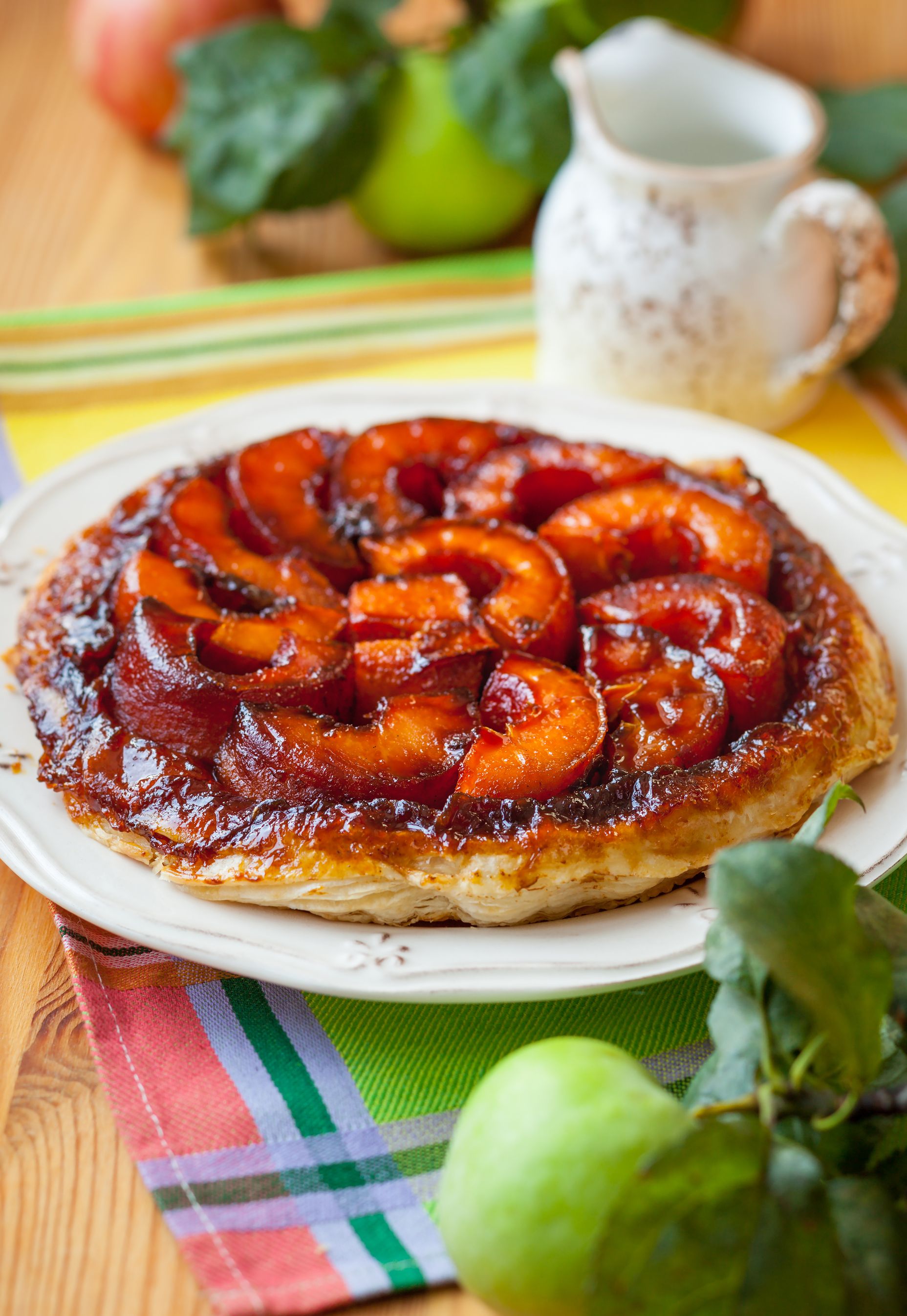 SODA BREAD TARTE TATIN
SERVES 8 to 10
1/4 cup golden raisins 
1/4 cup Irish whiskey 
1 cup sugar
4 tablespoons unsalted butter 
1 tablespoon ground cardamom
2 Granny Smith apples, peeled, cored, and sliced crosswise 
2 cups cake flour
1 tablespoon baking powder
1/4 cup sugar
8 tablespoons unsalted butter 
1/2 cup buttermilk
Vanilla ice cream or crème fraîche, for serving
1. In a small bowl, combine raisins and whiskey; soak for 30 minutes. Drain; reserve whiskey. 
2. In a 10-inch ovenproof, nonstick skillet, combine sugar, reserved whiskey, butter, and cardamom. Cook over medium-low heat for 4 to 5 minutes, or until butter melts and begins to caramelize. Remove skillet from heat. Starting in center, arrange apple slices in concentric circles over caramel. 
3. Preheat oven to 400°F. In a large bowl, sift together flour, baking powder, and sugar. With a pastry cutter, 2 knives, or your fingers, work or cut in butter until mixture resembles coarse crumbs. Stir in raisins and buttermilk; mix until dough comes together. 
4. Dust a work surface with flour; turn out dough. With floured hands, form it into a ball. Knead for 20 seconds, then roll or pat dough into a circle 12 inches in diameter. Place dough on top of apples, tucking it around edge of pan. 
5. Bake tart for 25 to 28 minutes, or until crust is golden. Remove from oven and let cool on a wire rack for 10 minutes. Place a rimmed serving plate over pan, and with potholders to protect your hands, invert tart onto plate and remove pan. Slice tart and serve warm with ice cream or crème fraîche.
APPLES A TO Z
Braeburn: a complex sweet-tart flavor with a texture that remains firm when it's baked. Reddish, with yellow-green highlights, it's excellent for eating, salads and for baking. 
Cortland: juicy and slightly tart with bright red skin and white flesh. This is an excellent baking apple; equally good in salads and on cheese plates because the flesh doesn't brown and discolor quickly.
Empire: a hybrid of McIntosh and Red Delicious, this apple is firm-textured and sweet-tart in taste. It's a good all-purpose apple for juice, sauce, baking, snacks, salads and drying.
Fuji: firm, crisp and juicy, with soft red to pinkish skin, Fuji is popular for both eating and baking because it holds its shape when cooked.
Gala: crisp and sweet with a mild flavor, Galas have yellow-orange skin with red striping. Their aromatic flavor makes them terrific for salads, applesauce and for pressing into cider.
Golden Delicious: bright yellow with a sweet, mellow flavor, this is a good all-around cooking apple that maintains its shape after baking.
Granny Smith: crisp and quite sour, this bright green apple is one of the most popular varieties of tart apples. It's a good all-purpose cooking apple and is often paired with sweeter, spicier apples in cooking and baking.
Honeycrisp: crisp and juicy, with a honey-sweet and tart flavor, this is a fairly new apple variety. It's a great eating apple and good for baking and applesauce.
Idared: tart and juicy with pale yellow-green flesh, this is a cross between Jonathan and Wagener, two old time New York varieties. Idareds make a beautiful pink applesauce when cooked with the skins on; also delicious for snacks and salads.
Jonagold: tangy and sweet, this apple is a cross between tart Jonathan and mellow Golden Delicious. With a yellow-green base and a blush stripe, it's excellent for eating, cooking and with cheese.
Jonathan: tart with a rich, spicy-sweet flavor, this crimson beauty holds its shape well when baked and is also good in salads and for applesauce.
Macoun: sweet and aromatic, this apple is excellent for snacking, in salads, and in applesauce. With bright red skin and juicy white flesh, it makes a splash on a cheese plate.
McIntosh: juicy and crisp, this popular eating apple has bright red skin with green undertones. McIntosh tends to break down when cooked, so it's best paired with other apples (or with a thickener added) when used in pies and other baked goods. 
Mutsu: juicy, sweet and super crisp, this large, yellow-green fruit (also known as Crispin) has a sweet, refreshing flavor and is great for eating, in salads, and for baking.
Northern Spy: crisp, white, juicy flesh with a sweet-tart flavor. Stores well and is good for baking and juicing. 
Red Delicious: dark red skin with sweet juicy flesh, these apples are popular for snacks and salads. Because they retain their good looks for a long time, they're often used in Christmas decorations.
Rome: large red and mildly tart, this old-time variety is great for dishes such as fried apple slices or baked apples because they retain their shape. Combine mildly tart Rome with sweet Golden Delicious for perfect applesauce.
Winesap: firm and aromatic with a spicy bite, this sweet-flavored apple is good for sauces and baking.
Margaret Johnson's "Recipes" page now includes "Ireland Hopping: Adventures in Food, Drink, and Travel." For further details on her work, including how to order her cookbooks, visit www.irishcook.com