The FDNY boxing team's latest outing to Dublin ended in a drubbing at the hands of their Garda opponents at the National Stadium.  
"It was a tough night for FDNY's Bravest," said team official Susan Reno. "Each contest was close but it was the Irish who took all five decisions." 
Honorary team member Jeremiah Ryan recorded the only win for the visitors in his match against the hosts' Denis Dunne. Retired firefighter and FDNY Boxing coach Jerry Ryan coached his son in a battle of universities pitting Ryan's Sacred Heart College against Dunne's Maynooth University.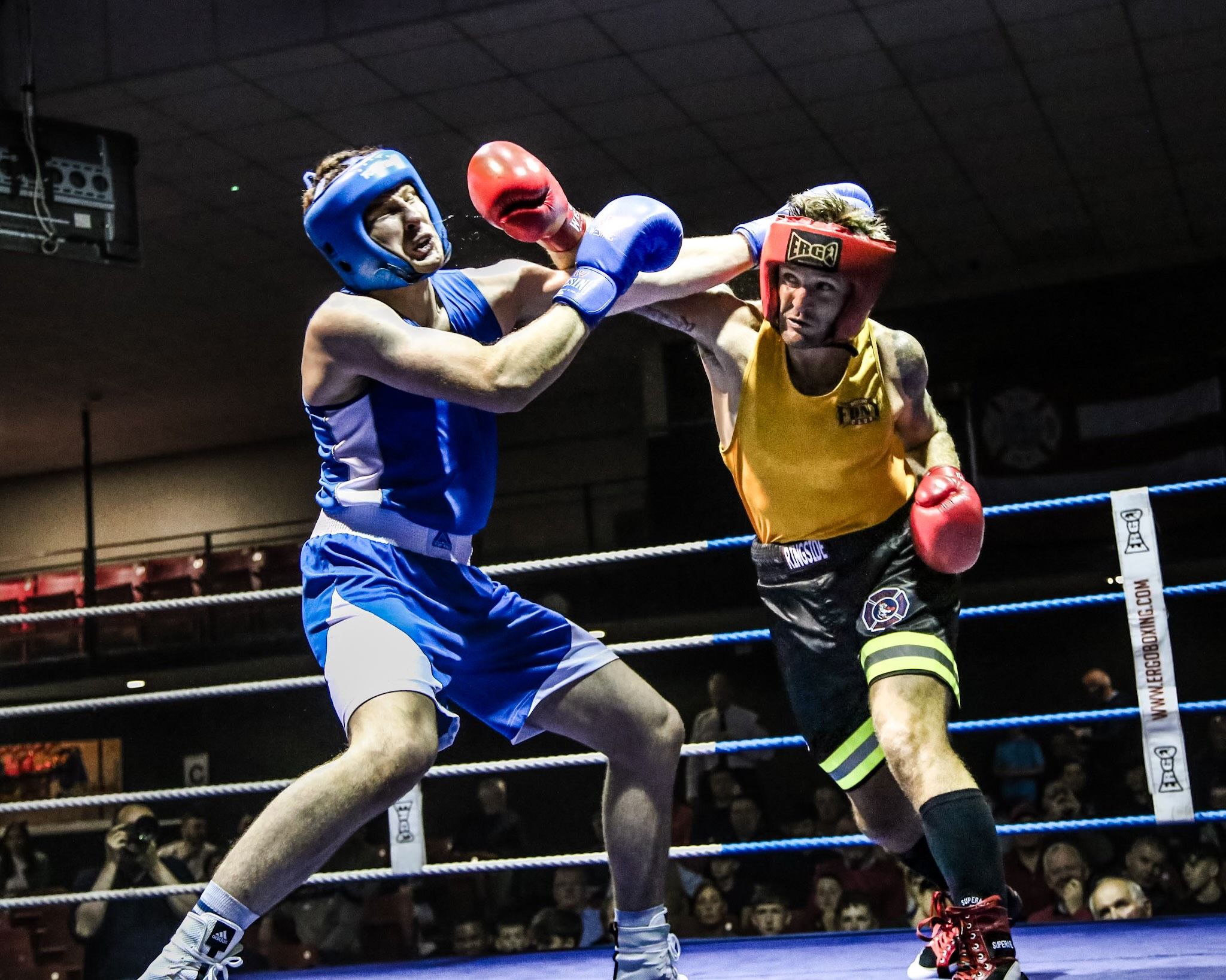 East Village Firefighter Danny Quinn, right, connects against the Garda's Paul Corcoran.
"Jeremiah and Sacred Heart not only took the win, but also the award for Fight of the Night," noted Reno. The night had begun with light heavyweight Danny Quinn, an East Village firefighter, dropping a decision to the Garda's Paul Corcoran in a hard scrap. Later, Brooklyn firefighter Andrew Tanzi set aside his drum and kilt with the Emerald Society Pipes & Drums to don a pair of boxing gloves. Alas, the Ladder 174 drummer was bested by light heavyweight Eoin O'Connor in a highly entertaining contest. 
There was also the inevitable disputed decision. "To the surprise of many, Engine 283's Sean Dillon's excellent movement and counterpunching did not win favor in the eyes of the Irish judges," said Reno. The light heavyweight lost to the Garda's Jack McHugh, who's from Galway.
In other action, veteran FDNY light heavyweight James Gennari was outpointed by the bigger, younger Feidhlem Behan. 
In the only women's bout on the card, Engine 76 welterweight Nicole Malpeso gave the Garda's Olympic hopeful, Christina Desmond all she could handle in a losing effort. "Malpeso is no stranger to boxing Olympians and while she didn't get the win from the judges, she did earn the Boxer of the Night award," said Reno.The night ended with FDNY veteran middleweight Jeffrey Barreau coming up short against Eoin O'Neill.