Folks, if you love a hard-hitting pure-drop trad album the way I do, well, "Beo," the new album from Pádraic Keane, Páraic Mac Donnchadha & Macdara Ó Faoláin, is one for you.  Recorded live in 2022 and 2023 at Lucas's Pub in Ennis, the Crane Bar and Tigh an Cheoil in Galway, and Maureen's Bar in Cork, it is a spectacular album that showcases the brilliant energy shared by three really marvelous players.
 Pádraic Keane (https://www.padraickeane.com/) is a superb uilleann piper from Galway who comes from a musical family.  (His father Tommy is a renown piper with a long and distinguished resumé.)  He was TG4's Young Musician of the Year in 2011, has featured on albums released by Na Píobairí Uilleann and Raelach Records, has performed with the Irish Chamber Orchestra, and the RTE Concert and Symphony Orchestras, and in 2021 released a well-received album (which I've not heard, unfortunately) called "In Full Tune."
 Macdara Ó Faoláin, from County Waterford, is both a musician and luthier.  His backing receives rave reviews from top players in general and his playing here is consistent with common appraisal.  But the sound he flashes is an excellent advertisement for his lutherie skills, which are substantial.  He specializes in bouzoukis and mandolins and produces gorgeous instruments, which you can check out here, http://www.mofluthier.com/.
 In my opinion, Páraic Mac Donnchadha (https://www.paraicbanjo.com) is one of the great banjo players of our time. His playing can be heard on his magnificent 2018 album "Not Before Time," on the 1991 album "Live at Pepper's" and on the legendary private recordings from a session in Gort in 1992 that included Linnane, Kevin Crawford, Conor Tully and others.  Live playing is indeed where Mac Donnchadha's star shines brightest and this album may perhaps be where he's captured at his best.
 The music that these three produce is electrifying.  There's fire in the playing, and a warmth in the spirit that comes from the heart, which audiences definitely appreciate, if we're to judge by the reactions captured here.  Part of the unusual richness in the music has to do with how it's pitched: Keane's pipes are a flat set in B (mostly), and Mac Donnchadha's tuned his banjo to match, giving the music a depth not commonly heard elsewhere. 
 All the tracks are great, not a clunker among them.  An interesting thing about this album it's done some of my work for me: in the liner notes, each player talks about their favorite track, with Ó Faoláin choosing "O'Keeffe's Rambling Pitchfork / …" for how well it spotlight the musical conversation; Keane choosing "Tom Ward's Downfall / …" because it captures the energy of live performance, and Mac Donnchadha choosing "Gooseberry Bush / …" because of its exceptionally strong flow.  I really can't disagree with any of their selections as they'd all be tracks that I'd single out as well.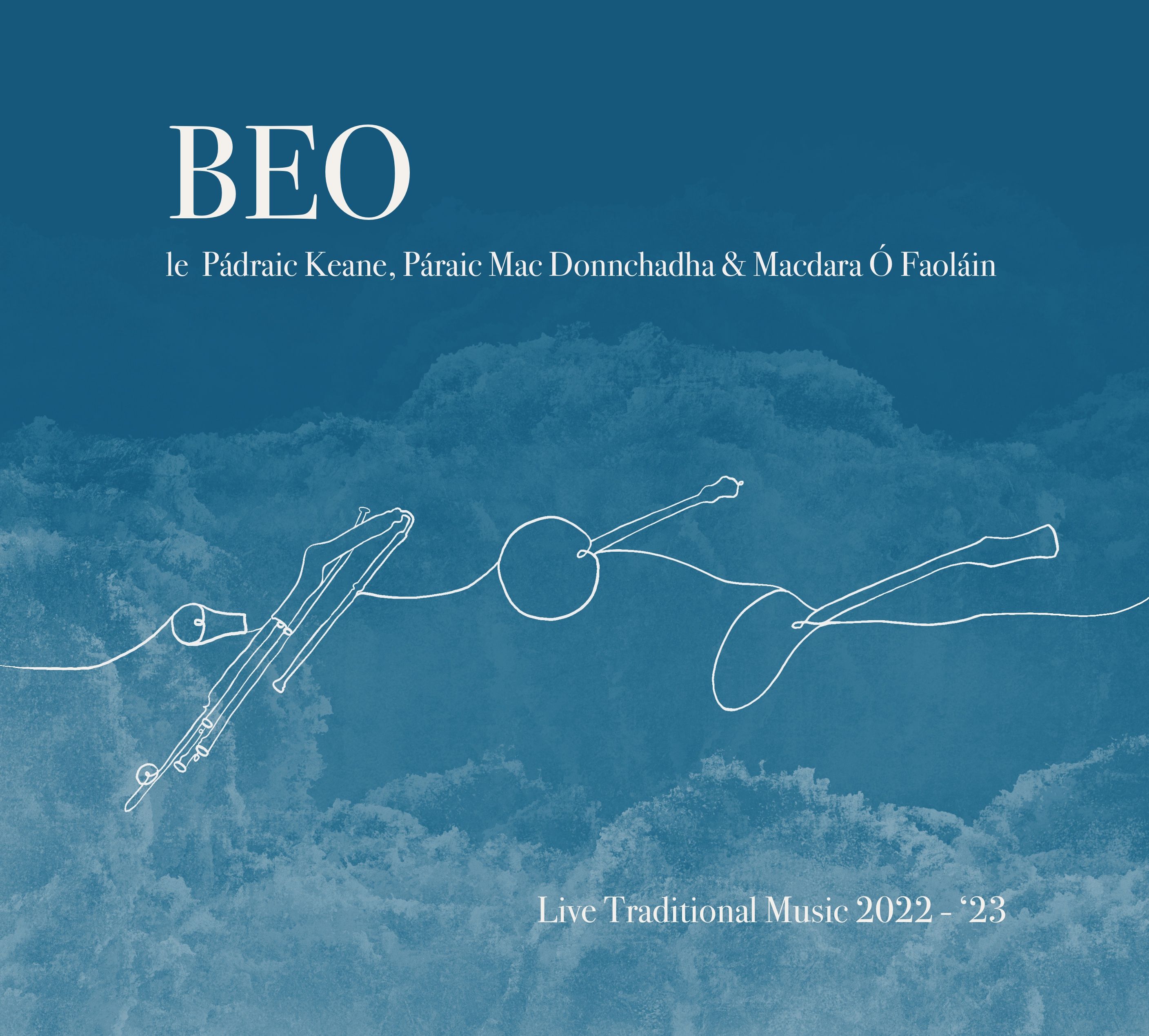 This being said, I also found "Paddy Gone to France / …" a particularly nice track.  Its flow is great, but I find Ó Faoláin's backing particularly interesting here.  In addition, I love when Keane's drones on the second tune because they give the whole track a lift that feels like the heat coming off a warm fire. Then, there's "Drimroe Cross / …," a set of jigs, that is played at a wonderful, relaxed tempo, with all the notes articulated in a way that lets you savor the sweet melodies in the set.  Finally, there's "Rodney's Glory / …," which Keane plays on a set of pipes pitched in C.  This one stands out because the pitch shift comes as a bit of welcome contrast to the rest of the album, but also because the tunes are so beautifully played. 
 "Beo" is an apt title for a live album as lively as this because the music here is nothing short of outstanding.  The fairly unusual pipes/banjo combination is reminiscent of John Carty and Michael McGoldrick's recent release "At Our Leisure," but with a spontaneous energy that I find more akin to Noel Hill and Tony McMahon's "I gCnoc Na Graí."  As I said above, I think this is a spectacular bit of music.  There are a lot of great albums out at the moment, but if you take the time have a listen you might agree that this one is maybe just a bit of a cut above the rest.  Consider this one a must-have for traditional music lovers.  To learn more and purchase, visit https://pipesbanjobouzouki.bandcamp.com/album/beo/.