Banjo drivers!  Book your flights and pack your things, because the second annual Irish Tenor Banjo Summit is coming up this Nov. 17-19 at the Creative Alliance in Baltimore, Md., and it's shaping up to be an excellent event.
 The weekend will be action packed, starting off with an evening céilí on Friday, the 17th, with music provided by by Seamus Egan (tenor banjo), Billy McComiskey (accordion), Matt Mulqueen (piano), Joanna Clare (fiddle), and Josh Dukes (drums), and calling by Catherine Brice.  Then, on Saturday, the 18th, Egan, David McKindley-Ward and Peter FitzGerald will teach workshops.  They'll be followed by an evening concert featuring Egan, McKindley-Ward, and FitzGerald, along with Julia FitzGerald, Peter Brice, Eamon Sefton, Sean McComiskey, Sarah Collins and Conor Hearn.  Seamus Egan, David McKindley-Ward and Peter FitzGerald.  A final banjo meetup is planned for Sunday morning.
 Weekends like this are great craic and the music scene in Baltimore is very strong, so you can bet on this being a special time for musicians.  I heard nothing but rave reviews about last year's event, so give this one a look if you're interested in upping your banjo playing game.  Richard Osban, the event's organizer, is one of the Baltimore scene's leaders and will do his best to make sure this event a smashing success.  To register, visit here.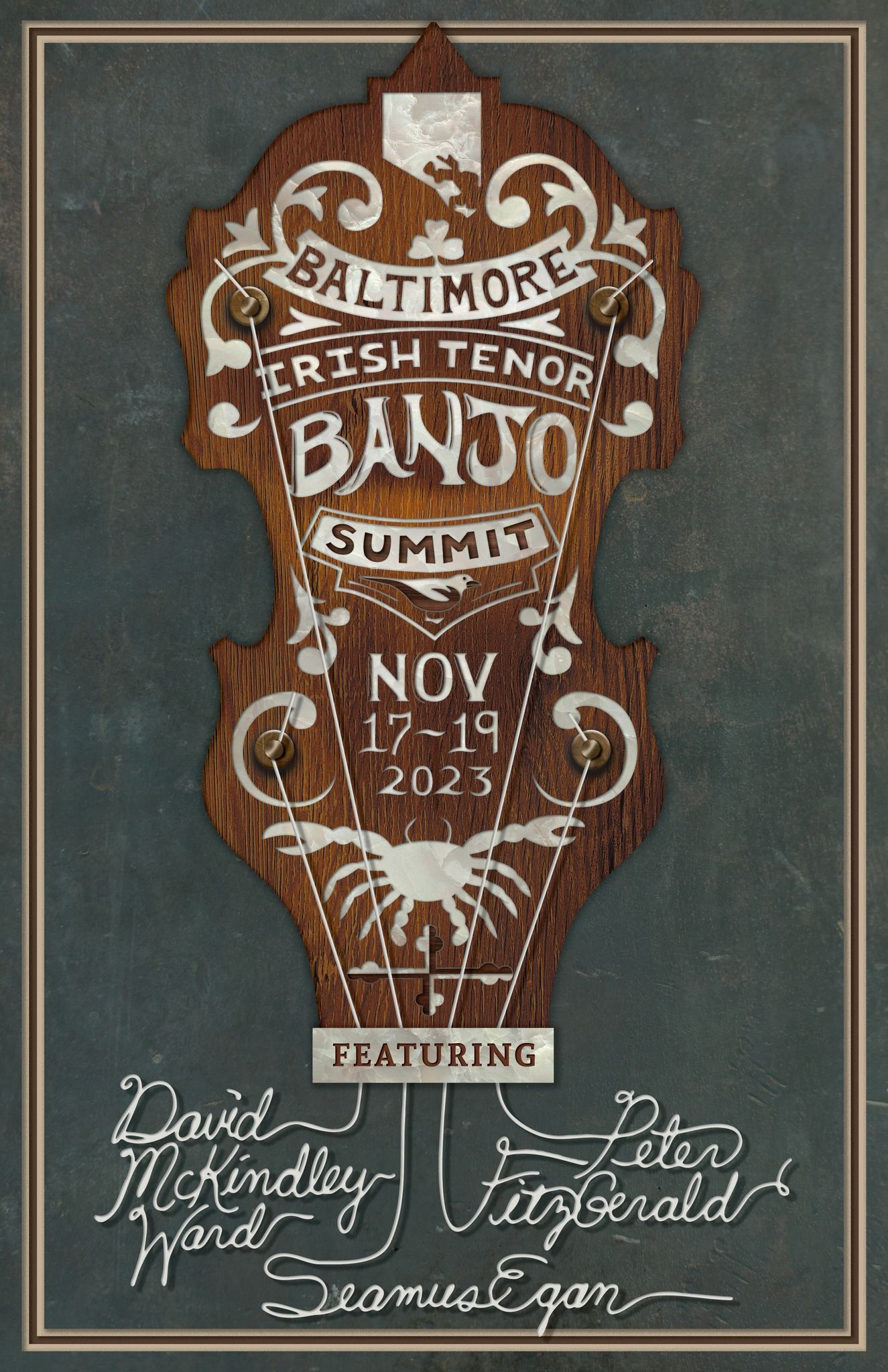 By the way, all this banjo business reminds me: do any readers remember "Banjaxed," the 2006 banjo concert that took place at the Moravian Church on 30th and Lexington in New York City?  A sold out event, it featured performances by Mick Moloney, Seamus Egan, Darren Maloney, Pio and Donie Ryan, Eamon O'Leary, Frankie McCormick, Dessie Groarke, and Don Meade, all of whom made a real racket.  (In addition, the great Jimmy Keane and I both participated in the night's finale.)  Was just thinking about this great and memorable evening of banjo music the other day, so I'm glad to see a kindred event happening in Baltimore.
 Also, a couple different rounds of congratulations are due.  Last weekend, I received word that the great Paul Keating, who until recently was my journalistic counterpart over at the Irish Voice, had been named the County Clare Association of New York's 2023 Honoree. 
 Keating is truly a man about the Irish scene.  He contributes to it in so many different ways, but I'm sure that most of this column's readers will know him chiefly as the artistic director of the Catskills Irish Arts Week; incidentally, the dates for CIAW 2024 are July 14-20, so put that in your calendar) and also as the Public Relations Officer for Comhaltas Ceoltóirí Éireann North America. His work for both organizations is unmatched.
 The dinner dance to honor Keating will taking place Saturday, Oct. 14, at the Irish American Center in Mineola, N.Y.  Again, this is a great and well deserved bit of recognition for someone who not only goes above and beyond in his service to the Banner County here in New York, but to the music in general.  Good stuff, Paul, and congrats!
 Speaking of honors, I also recently learned that your very own Irish Echo will recognize the great Donie Carroll with a 2023 Community Champion Award!  Carroll, who is a brilliant singer, is a most deserving recipient who, like Keating, does more than his fair share for the New York traditional music scene.  In fact, when I met Carroll nearly twenty years ago, he was introduced as the "Patron Saint of Irish Musicians in New York," which I've came to learn is no exaggeration, judging the frequency with which he helps others or encourages people to sing a song or a play tune. It's really hard to measure his selflessness and truly there is no on like him around New York.
 Music aside, Carroll's real avocation these days has been fundraising for the Mercy Centre an organization located in Bangkok, Thailand that serves that city's poorest residents. (You can read more about the organization and the good work they do by visiting their website.)  What he does for the organization is outstanding. A tireless Mercy Centre supporter, he's organized an annual fundraising concert since 2008 and this year the "Annual Mick Moloney Memorial Concert: Mercy Center Fundraiser," named for Moloney, who for over two decades dedicated his time and efforts for the Mercy Centre, will take place on Friday, Oct. 20, at the New York Irish Center in Long Island City.  Performers scheduled to appear include Carroll, Don Meade, Cillian Vallely, Brenda Castles, John Roberts, Liz Hanley, Jefferson Hamer, Ivan Goff, the Niall O'Leary dancers, and myself, with more to be added––stay tuned!
 It should be noted that for the last few years Carroll has run a successful singing session at Sanger Hall in Sunnyside on Wednesday evenings.  In addition, he's recently organized a weekly Saturday afternoon session of traditional music at Sanger Hall that features Lunasa's Cillian Vallely (see Lunasa's website here) and myself (mine is here).  Sanger Hall's a lovely, comfortable and easy to enjoy neighborhood spot with good pints and fine food – a smart place to go with friends if you want to enjoy some nice music and chat.
 Congratulations again to Carroll on the well deserved recognition!  The 8th Annual Irish Echo Community Champion Awards will be held on Thursday, Oct. 5 at the Battery, which is located at 1 Battery Place in Manhattan––check it out!  For more info, click on "Events" on this, the Irish Echo's, website.