Last month the first statue in Europe to a Black statesman was unveiled in Belfast to honor the escaped slave Frederick Douglass who visited the city many times while he was in Ireland during 1845. 
Douglass (1818-1895) was an extraordinary force and a man of intelligence and courage. After the publication of his memoir "Narrative of the Life of Frederick Douglass: an American Slave," his friends and publisher encouraged him to leave the U.S. because as an escaped slave he was still subject to recapture and punishment. He was only supposed to stay in Ireland for a few days but he stayed for months because he was greeted with such enthusiasm that he felt at home. The "Ireland of the Welcomes" is sometimes oversold by Fáilte Ireland but in Douglass's case it was on point. He expected hostility but he experienced acceptance. He expected his message to fall on fallow ground but the opposite occurred. He expected discrimination because of his skin color but this did not happen. His message was received with great fervor. For the first time in his life he felt he was not treated as a color but a man. What a great testimony to the Irish people. 
"Douglass' visit had a big impact on his philosophy and subsequent campaigns" said Seamus Scanlon of The City College of New York's Downtown Campus (click here for information). "He recognized that slavery, colonization, landlords, the subjugation of women, poverty and inequality were all part of a continuum of human rights violations." 
It was a privilege to unveil a statue of anti-slavery activist, Frederick Douglass, in Belfast today.

Belfast is the first city to mark his time in Ireland in this way. 1/2 pic.twitter.com/rLQRmPXt1g

— Ryan Murphy (@CllrRyanMurphy) July 31, 2023
The highlight of Douglass's visit to Ireland was meeting his long held hero Daniel O'Connell (The Irish Liberator). As a teenage slave Douglass had heard about the Liberator's vehement anti-slavery stance from Irish immigrants working the docks in Baltimore. The subtitle of the book by Laurence Fenton - "Frederick Douglass in Ireland : The Black O'Connell" nicely encapsulates their mutual respect and admiration.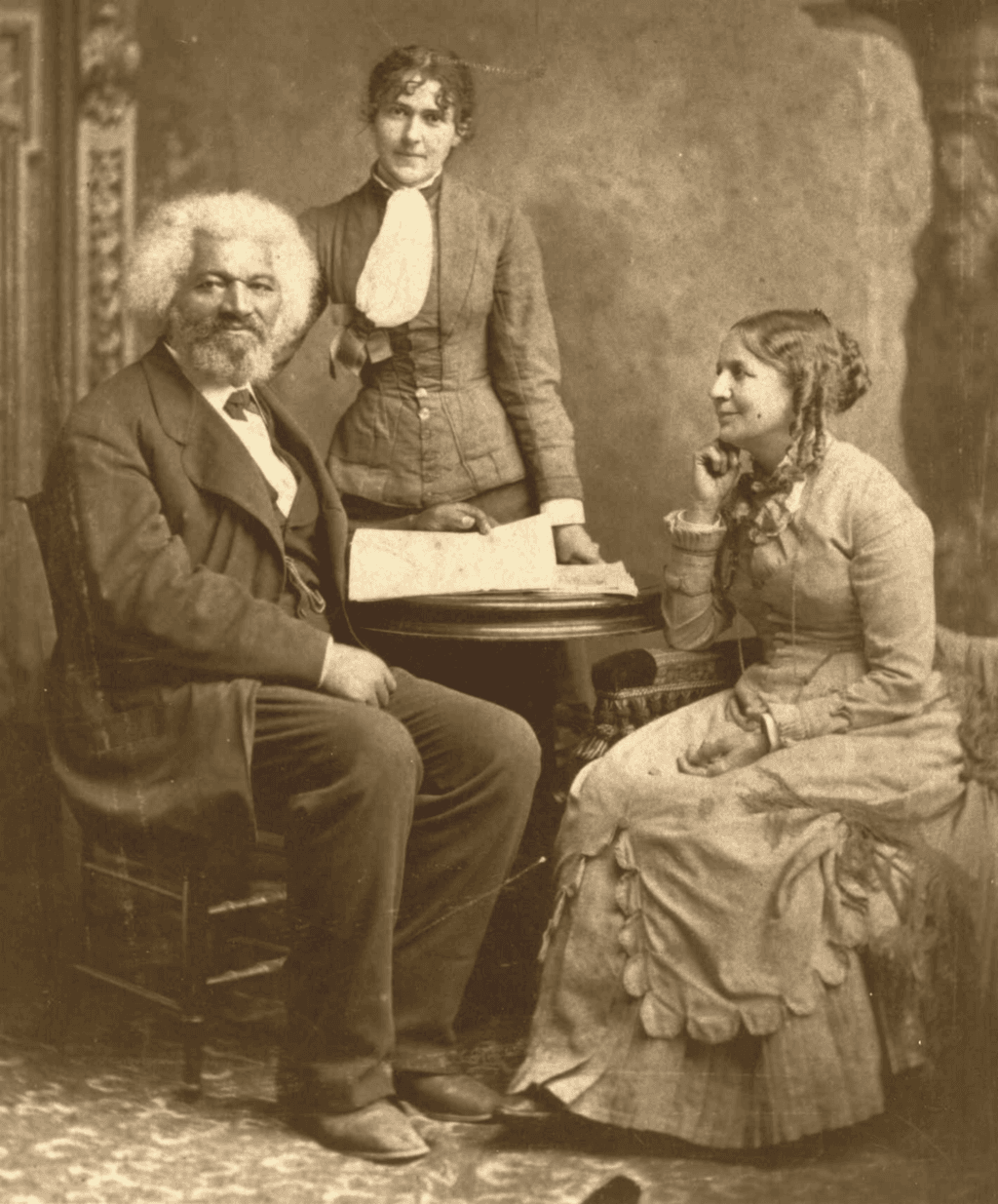 Frederick Douglass pictured with his second wife Helen Pitts Douglass, whom he married in 1884, and her sister Eva Pitts (standing).
Professor Danielle Zach also of City College Downtown (who writes extensively about human rights in the context of Northern Ireland), feels that "Belfast's statue of Frederick Douglass—one of history's staunchest champions of human rights and dignity for the oppressed and marginalized—is a fitting homage to a courageous person whom we should each struggle to emulate. His presence in Northern Ireland—a still fraught political space where the struggle to realize justice for Troubles victims continues in the face of formidable forces advocating for impunity—stands as a profound symbol of hope for a future of peace with rights and justice for all in the Six Counties and beyond." 
Douglass visited many cities and towns in Ireland as well as Belfast speaking in halls and other locations  – many towns have plaques to commemorate his visits but the Belfast statue goes a big step further to honor a great man and a great humanitarian. Ireland and the U.S. have many inequalities still and some indeed that are emerging and growing – income inequality, homelessness, no-contract jobs, etc.  - so people of the caliber of Douglass and O'Connell are required again in both countries as much as they were in the mid 1850s to speak out and carve out a better future for all the citizens of Ireland the U.S.