There are two Alberts on the front cover of "Sgt. Pepper's Lonely Hearts Club Band." One of them is perhaps the more famous, even if his visage is somewhat obscured on the cover. His surname is Einstein. I was sent a few days ago a sheet from an Irish-American newspaper published on June 11, 1960 — Pages 13 and 14, to be precise — that once belonged to the other one, last name Stubbins, former footballer for Newcastle United and Liverpool.The Beatles posed in front of 57 photos (life-sized, black-and-white photographs pasted onto hardboard and hand-tinted) and nine wax dummies for the "Sgt. Pepper" cover. Writers (including three big Irish ones), actors, artists, philosophers, political leaders and religious gurus are particularly well-represented. Albert Stubbins is the only footballer, with world heavyweight champion boxer Sonny Liston, one of the wax dummies, the only other purely sportsperson. Olympic swimmer Johnny Weissmuller is there as Hollywood's Tarzan. 
John Spinks, who sent it to me, was fascinated as it happens by "Champion Swimmer" on Page 14 of the Advocate, published in New York. It was a joke, I'm guessing, that the editor missed, slapping it down when a hole emerged. Whether Frank Finnerty was in on it himself or it was composed by his buddies down at the pub, we won't ever know. In any case, Frank, supposedly a teacher of engineering at Columbia, is a world-beating champion swimmer; a pioneer at spear-fishing who brings in a 50-pound haul each dawn at Coney Island; "saved more persons from drowning that any man alive today"; and broke every swimming record when in college. Some of the above had been verified by United States Army Intelligence and other facts by the United States Dept. of Justice.
John is our official Newcastle fan (being ecumenical by nature, he's also in the tank for Clare's hurlers) and he was friends with Stubbins's son and the family back in his home place. The son sent on the piece of memorabilia picked up by the former soccer star (1919-2002) on a sojourn to New York. Reading through it, I saw just why Albert had kept it — he is quoted in Joe McKeown's "Soccer Games and Gossip," also on Page 14. (GAA coverage is on Page 13.)
But how did he end up on the "Sgt. Pepper" cover in 1967, to the right of George's left shoulder and behind Marlene Dietrich? One theory is that he was John Lennon's favorite player, or at least so the rumor went. "Not sure if it was the name, the face, the broken nose," said John Spinks, a visual artist.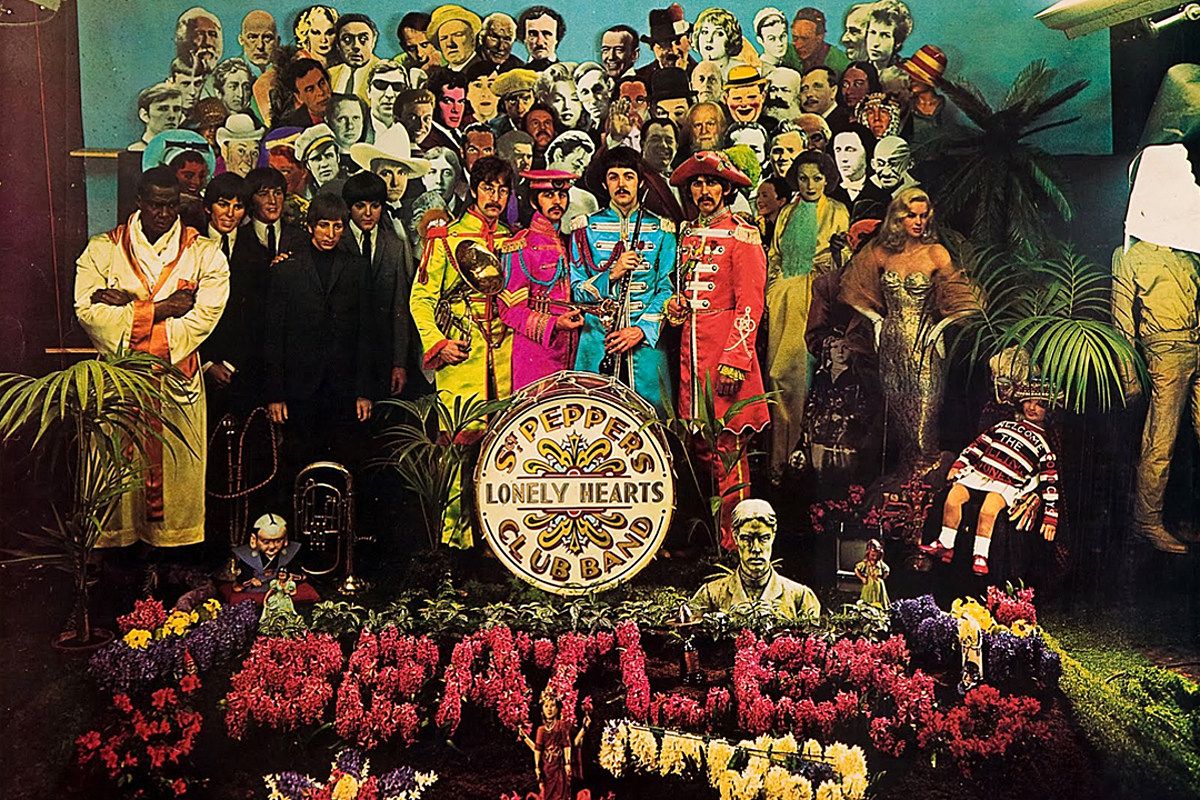 Actually, only one Beatle is on record supporting a team from Liverpool and it was the other one, Everton. The early years of the Fab Four's superstardom were good to their home city's clubs. Everton were league champs in 1963, Liverpool succeeded them the following year and then won the FA Cup for the first time ever in 1965, while Everton lifted that trophy at Wembley in 1966. 
Ahead of Liverpool's cup final appearance vs. Leeds United in '65, the Beatles sent a telegram: "Best of luck lads, we'll be watching on the tele. John, Paul, George and Ringo."
It's on display at the Shankly Hotel in Liverpool, which is named for the manager Bill Shankly, who put the Reds on the map in the 1960s and was as charismatic in his way as any of the Beatles.
Paul McCartney, who showed up at Wembley in 1968 when Everton lost to West Bromwich Albion, told Radio Merseyside years later: "Here's the deal: my father was born in Everton, my family are officially Evertonians, so if it comes down to a derby match or an FA Cup final between the two, I would have to support Everton."
A Goal.com magazine piece in 2019 added that George hadn't the slightest interest in sports, but his son Dhani is Liverpool, and so is Paul's brother Michael, aka Mike McGear, while Ringo follows Arsenal because his London-born step-dad used to bring him when the visiting Gunners played Everton at Goodison Park or Liverpool at Anfield. The drummer's two sons are reportedly now season-ticket holders at Anfield. Finally, John's father Alfred Lennon was a supporter of the Reds. So maybe Stubbins, who spearheaded Liverpool's successful championship campaign in '47, was really Alf's favorite player? Alf Lennon and John weren't close, but it's possible the name got mentioned. 
But no, Liverpool FC's own version is that it was Paul who had Apple reach out to Stubbins to say he was being included on the cover, because, well, the boys loved football growing up and they knew how important and how popular the star was.  Stephen Done, curator of the Liverpool FC Museum, has concluded, "It's such a John name — Albert Stubbins."
Indeed, how could you not like the name, how could you not like the man?
"I loved him," John Spinks said, recalling visits home, when he'd drop by Albert and his wife Anne in Wideopen, North Tyneside. (They'd been neighbors, sort of: "Albert's mam lived in the 'old people's bungalows' across the road from our house.")
Others, young strangers from Liverpool, would also find their way to his door to ask about his time in the city, from 1946 to 1953, and pretty soon they'd be out on the street playing football with him. He kept in shape, the prolific goalscorer known for his flying headers in the iciest of conditions. 
Albert was also a huge jazz fan and at least once had dinner with Cab Calloway and was friends, too, with Harry James.
"He said to me," our Newcastle fan recalled, "'You're in New York. You're alive! you're alive!" He meant "fully alive," as he knew a person could be in a city that he loved so much himself.
The McKeown column bears witness to a unique moment in the former player's life, which happened in New York. We had the recent Summer Series with big foreign teams playing one-off games, such Newcastle vs. Brighton at Red Bull Arena. Back in 1960, invited teams played each other in a sort of round-robin series hosted at tristate stadia.  Among the invitees were Glenavon (recent league winners, Northern Ireland), Kilmarnock (runners-up, Scotland), Nice (France), Bayern Munich (West Germany), and Burnley, which just a few weeks before went top of the league on the last day of the season to become champions of England.
The Advocate's McKeown combined enthusiastic boosterism with unfiltered opinion (defending Kilmarnock, for example, from "Johnny-come-lately scribblers" and Burnley manager Harry Potts who accused them of dirty play — a "wee bit robust," he conceded, but added it was a "he-man sport" and noted that the referee clearly indicated that the dirtiest player was Mr. Potts's own right-back), and he mixed that with a social & personal element, listing notables and others he knew from the community who turned up at the various games.
"All the best to the best. That's for Mr. Cox of the International Soccer League who has started a great soccer venture," McKeown wrote. "After last week's double header at the Polo Grounds, not a fan there can say that soccer is not the greatest game of all. Our first game was a dandy. New York Americans, who were under-dogs, against Burnley of England. Al Stubbins, a great player in his day, is manager and after his team's couple of games were not what he wanted, therefore his 'Red Noggin' [Albert had red hair] got to work. He revised his team and the result was that Burnley were a wee bit lucky, getting away with a tie 3-3 after being on the losing end at half time 2-1."
McKeown concluded, "The second half was a humdinger and ended…amid tremendous applause which they richly deserved."
And for the second game, the French and German teams "put on one of the fastest and most spectacular soccer displays seen in years." It ended 2-2.
The spell with the New York Americans was to be the former star's  sole venture into football management. Albert Stubbins  decided that his red noggin, later on gray, was best suited to full-time sports journalism.