Gaeilgeoirí gathered at the Irish Arts Center in New York's Hell's Kitchen area on May 13 for the annual Lá na Gaeilge — blessed by a beautiful Big Apple sunshine — and a series of events that spoke to the very heart of the Irish language and Celtic cultural experience.
Under the guiding hand of The Irish Arts Center's Jessie Reilly, the center's múinteoirí Gaeilge, and Ireland's award winning Scoil Scairte at the Trailblazery, participants were immersed in an almost mystical realm where language, land, logainmneacha (place names), ceol, caint, and a collective Celtic spirit were rediscovered and renewed under the theme of Bealtaine.
"There's a real interest and renaissance around the Irish language now," said New York's Deputy Consul General, Seán Ó hAodha, who opened the proceedings.
Our annual Féile na Gaeilge / Irish Language Day is this Saturday! This year, we explore Irish culture & language through workshops, conversation circles, film screening, and more, while honoring Bealtaine with @trailblazery 🌸☀️🌷

All are welcome > https://t.co/6KWzY5wlpU pic.twitter.com/hGX5BJAYyd

— Irish Arts Center (@IrishArtsCenter) May 11, 2023
"It's remarkable how many people are speaking Irish out there in New York and further afield, and who still have this interest in Irish and the Irish language," he said.
The huge number of people attending the Lá na Gaeilge from every borough of New York and beyond was testament to that.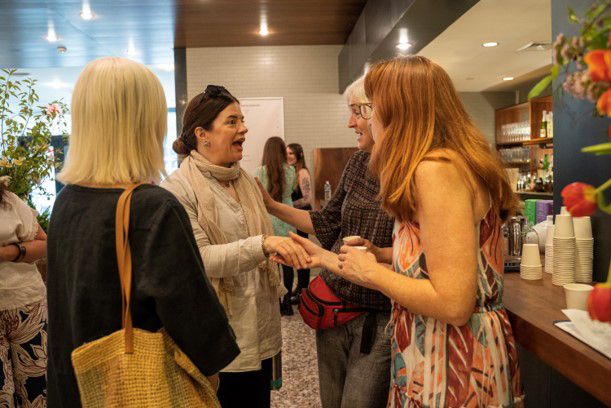 Kathy Scott, Trailblazery's Creative Director, gave a fáilte mhór to all present, and offered a flavor of what lay ahead in the day. Everyone was quickly immersed in the senses, sounds, and taste of the day as Scott and her team, including Creative Producer, Maedhbh McCullagh, offered some Irish teas and tinctures of hawthorn, which set a warm, imaginative, and earthy tone for the day's events.
There was a touch of magic in the air and an unspoken confirmation that all were indeed 'returning to our senses/beo bríomhar arís:' the central message running through the theme of Bealtaine for the day.
"What Bealtaine can give us on the inside: the gift of that time when we see out in nature how everything is budding, blossoming, opening and enlivening; it's kind of a cue for us to do the same and it gives us permission," said Scott.
Beidh mé ag múineadh gceardlann cócaireachta @IrishArtsCenter Dé Domhnaigh.Very excited 2 be teaching a bilingual cooking class on Sunday at the Irish Arts Center.@ManchanMagan will be joining us to bake sourdough 🍞Use code 'FRIEND5' for $5 off🎟 #Gaeilgehttps://t.co/DFXAIL5EEm pic.twitter.com/39639oKlfk

— Caoimhe Nic Giollarnáith (@MuinteoirGaeNYC) March 31, 2022
This Trailblazery theme of the day was embodied in the caint and quiet whispers traveling between person to person; the energy moving from room to room; and a collection of voices joining together in word and sentiment to create a resounding song of a people proudly using the Irish language.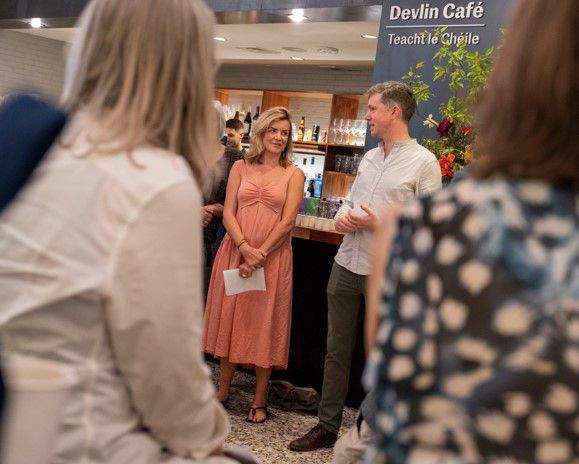 "I'm here today, aged 55, originally from Ireland, and reconnecting with my native language," said Sharon Byrne-Cotter, who now lives on Long Island, NY. "I'm learning it with the support of the hedge school here, and I never could learn any Irish in school, and I love it, and feel happy and connected and proud. It's a privilege to be here," she said.
There were four different workshops on the day conducted by the center's four Irish language teachers, with different levels of language learners in each, and workshops conducted bilingually to help those on the first steps of their Irish language journey.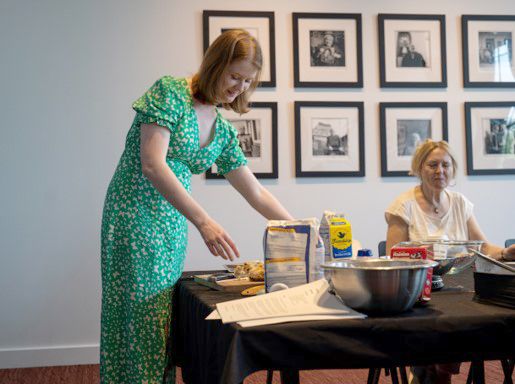 "Through my Irish ancestry, the language is something that got lost and I want to get it back to get a piece of myself, in that journey through time and immigration," said Alexa Pollock, from Manhattan, who is a student of Joseph Jones.
Caoimhe Nic Giollarnáith's workshop got everyone's digestive juices flowing as aromas of arán wafted around the center while she baked her mother's recipe of bonnóg aráin or bannock bread, which was traditionally eaten in Ireland during the festival of Bealtaine, but is eaten year-round now.
Paul Ferris led a hugely interesting workshop on logainmneacha and delved into that connection between land and language, giving a wonderful insight into the meaning of placenames and the constituent words with a connection to seasons and festivals.
Yaaaaasss!!! Thank you to @IrishEcho & every single one of you who voted for me.Walked away tonight with 2 awards #Top40Under40 and #PeoplesChoiceAward I'm so delighted!!!!! Got to speak #Gaeilge in my speech too!!! pic.twitter.com/fS5O2M6kHt

— Siobhán Ní Chiobháin (@SiobhanNiChi) February 23, 2019
"For me, it comes down to getting to know myself. I do have Irish ancestry and it's a way of connecting to a part of myself I want to know more," said Kate Hanley-Hover of Brooklyn, NY, who is learning Irish at the Arts Center with Siobhán Ní Chiobháin.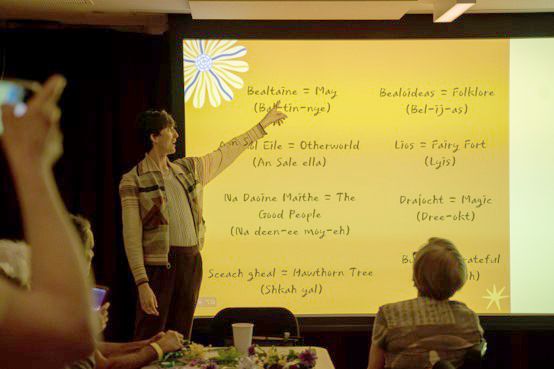 Joseph Jones' booked-out workshop, creating a Bealtaine wreath to keep the fairies at ease, was brimming with history and mythology as participants made their wreaths and gained deeper insights into the language, culture, and history of Ireland through Jones' in-depth knowledge and love of the language.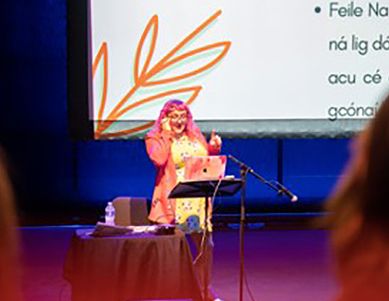 Siobhán Ní Chiobháin held a fascinating workshop on Fire and Water: Uisneach and the Festival of Fire. The discussion from the audience that ensued after the presentation was deeply moving and full of heartfelt thoughts and experiences, as voices from different places and generations spoke of the connection to the language, their ancestors, and the inherited trauma that Irish people carried for so long, and which some continue to carry to this day.
"I was doing research, like a lot of Americans do, and I traced my grandfather," said Noreen Dean Dresser of Harlem, NY. "I was ashamed when I was standing in Wexford that I couldn't read the street signs; I couldn't read the records," she said. "And I promised; I promised my grandparents, for the price they paid, I would learn the language."
The integration of Bealtaine with the beauty of the Irish language made for a perfect mix as the center was filled with a diverse range of people who found a common connection through that burning desire and basic need to return and connect to the spirit of the land and language.
A film screening of Dearghúil: Anatomy of a Passion, from director Paula Kehoe, on the life and works of Máire Mhac an tSaoi, really resonated with the day.
Kathy Scott inspired many by sharing that she had spent the day in Máire Mhac an tSaoi's house but when "this queen, this banríon, started to speak to me in Irish, I was fumbling and couldn't really respond, and something in me registered regret and also I was going to do something about it," she said.
After more caint agus bia everyone returned to the theatre for what really was a mesmerizing, other worldly experience. Scott, with her entrancing voice, led the audience on a Bealtaine immram (wonder-voyage), with musicians, Brian Crosby, Leah Song, and Lily Henley.
The stage was adorned with a circle of flowers, created by the audience who each chose a flower and quietly placed it in the circle before taking their seats. And then, through chants of stirring and stilling phrases of the Irish language, and with echoes of mystical music meandering its way into the minds and hearts of all present, the audience set sail on a currach of collective Celtic meditation and traveled on an immram of the imagination.
"The thing that's striking me about today and what's happening in Ireland and in the diaspora is that there is this soft awakening of what we've not completely forgotten, but what we've lost touch with," said Wicklow native, Robert Mulhall, who now lives in the Berkshires, a few hours from New York.
"And I feel the land is awakening that within us, and that it is returning us home to something that is inherently beautiful and creates a deep power inside all of us; and the center of that is our old traditions and our old wise ways, but also the language, and our music, and our culture," he said.
Everything was seamless, integrated, and inspiring, and so intricately interwoven with the Irish language that one could be forgiven for thinking that all left this world and sailed to an saol eile, if only just for one balmy Bealtaine afternoon in Manhattan's Irish Arts Center.
Photos by Jenna Sofia