Last June, Micheál Martin, the then taoiseach, attacked the decades long neutrality policy of the Irish state. He claimed that; "We need to reflect on military non-alignment in Ireland and our military neutrality. We are not politically neutral …"
And Martin cast aside any pretense that the people should have a say in this when he said: "We don't need a referendum to join NATO. That's a policy decision of government."
Several months ago Martin established a Consultative Forum on International Security Policy. The last of three forums took place this week in Dublin. Last week one was held in Cork, and another was held in Galway.
President Michael D Higgins chose in an interview two weeks ago to challenge the government's decision to open up the debate on neutrality.  He criticized the make-up of the Forum and expressed his concern that the Irish state is drifting toward NATO and accused it of "playing with fire."
A recent opinion poll confirmed support for the president's stance. It recorded that two thirds of the South's population support the current stance on neutrality. Less than a quarter of people were for changing it.
Instead of retreating from neutrality a sensible Irish government should be building on the state's positive contribution in the United Nations and move to enshrine the principle of neutrality in the Constitution. An independent Irish foreign policy, with equality and humanitarianism, peace building, and cooperation at its core, can play an important role in an increasingly tense world.
The last Special Olympics World Games to be held in Ireland was 20 years ago. I remember it well. Events were held all over the island, including Belfast, and the opening in Croke Park was a spectacular event.
Neutrality is not a policy of indifference or isolationism, or of staying aloof from the troubles of the world. Positive neutrality means playing a constructive role in promoting human rights and freedom, defending people from oppression, advocating for peace, and participating as peacekeepers in UN efforts in Lebanon, in the Congo, in Chad, South Sudan and elsewhere. 
Regrettably, the government's Consultative Forums are less about public discussion on this important matter and more about shaping public opinion in the direction of reducing neutrality and embedding the state into NATO.
This direction of travel has been part of Fianna Fáil and Fine Gael strategy over recent decades. They have done this in a number of ways. Firstly, instead of pursuing an independent foreign policy strategy, for example on support for Palestinian rights, they have handcuffed the state to an EU foreign policy agenda that refuses to challenge Israel's apartheid regime. They have also supported measures like ending the search and rescue operations in the Mediterranean that saved thousands of lives in the past.
Secondly, successive governments have underinvested in the state's Defence Forces. Consequently, it is unable to monitor Irish airspace or seas, and cannot secure the state against modern threats. And finally there is Fianna Fáil's and Fine Gael's endorsement of membership of NATO's Partnership for Peace and the EU's Permanent Structured Cooperation (PESCO) structure in which the armed forces of most EU states pursue structural integration.
Instead of holding a talking shop, a government that is serious about charting the future course of foreign policy should establish a Citizens' Assembly with maximum public and political participation. In the meantime, the task of Irish republicans is to defend neutrality and to ensure that the Irish government raises its voice against oppression, poverty and war and for peace.
DOUBLE STANDARDS
For a brief time two weeks ago the horror of our 21st century coffin ships in the Mediterranean Sea caught the media headlines. A trawler filled to overflowing with desperate people sank off the coast of Greece. Over 500 people drowned. Many were trapped in the hold of the ship.
It was the latest tragedy in a sea that has become the most dangerous route for refugees fleeing violence, hunger and destitution in their own places. Then the story disappeared.
It was replaced in part by the loss of the submersible off the coast of Newfoundland. Five people on a tourism dive to the wreck of the Titanic died as a result of a catastrophic implosion. The USA and Canada and others mobilized their extraordinary resources in a search and rescue operation that went on for days. The story was told and retold from every conceivable angle. Speculation was rife about the technology and design of the submersible and its ability to repeatedly dive to such depths. All of us, including this column, thought of the families involved and sympathized with them.
Thousands of miles to the east the deaths of hundreds of people had been all but forgotten by most media outlets. The European Union, and the states along the Mediterranean coast, continue to pursue policies that bar refugees. The double standards of governments that correctly mobilize search and rescue resources in one place, and withhold and block those same much needed search and rescue supports in the Mediterranean, is a shameful reminder of an absence of compassion and humanity.
It is long past time for the European Union to honor its human rights principles and commitments and provide the resources and policies needed to help refugees.
WELL DONE
Team Ireland has won 24 gold, 22 silver and 29 bronze medals at the Special Olympics World Games in Berlin. The Games were a great experience for all the athletes who competed. They included 73 sportspeople from Ireland who  participated in 12 sports with outstanding successes. Well done to them all, to their supporters and families and to Special Olympics Ireland.
Eunice Kennedy Shriver, of the famous Kennedy family and a life-long advocate for people with disability issues, founded the Special Olympics in 1968. Her son Tim continues this work as chairperson of the Special Olympics. An Irish woman, Mary Davis, is the CEO.
The last Special Olympics World Games to be held in Ireland was 20 years ago. I remember it well. Events were held all over the island, including Belfast and the opening in Croke Park was a spectacular event. A proud team of West Belfast Special Olympians led the Féile Carnival parade that year and Robert Savage, Conor Maguire and Brian Storey opened the Féile with wonderful speeches.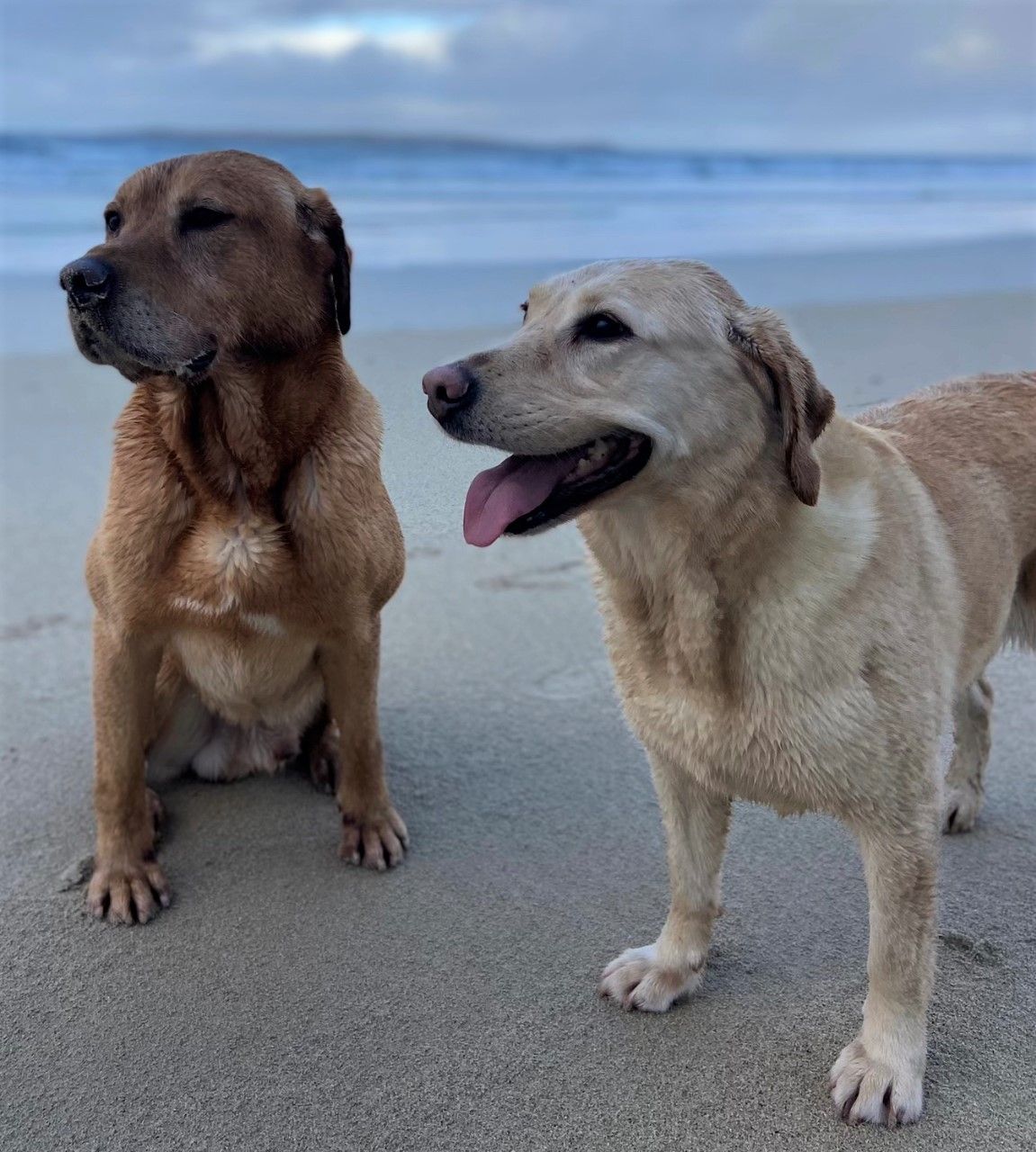 ODE TO DOGS
Our oldest lad's oldest lad loves dogs. So do his sisters, especially the youngest one. She has a way with her when she is with her canine. Fiadh is her name. The dog that is, not the oldest lad's oldest lad's youngest sister.
His dog is called Finn, although when they wrote his name out for his collar and some official forms they spelt it Fionn. The dog can't read or write so he doesn't know any difference. I prefer Fionn, although I call him Finn, same as everyone else.
Finn can do many things. For example he will go and get his lead and arrive in with it in his mouth when he is looking for a walk. He has also learned how to open the latch on the gate. He sneaks into the kitchen to steal food. He can swim like a seal. He will chase a pucked sliothar until he can run no more. He is also very tolerant of children and gentle with the oldest lad's oldest lad. He has taught him many things. For that we give thanks.
He can't abide other dogs. Except Fiadh. I blame a wee local anti-social terrier for that. When Finn was a pup this wee skitter of a cowardly mutt did a Judas and savaged him. Finn still has the scars on his jaw from that attack and understandably ever since Finn can't abide wee terriers. Once bitten and all that.
He is getting a bit contrary as well as his facial hairs turn grey and his doggie years mount up. But like many other oul lads of my acquaintance any kindness to him is rewarded with overpowering demonstrations of love and devotion. Fiadh is much cuter than Finn. She is smarter by far. And more biddable. But not as fierce even though she can bring out his more protective traits. When they get started barking and shouting they would put the fear of dog into any would-be attacker.
Our dogs have a great life. They sleep a lot. They are well fed. Walked regularly. They do shed hair a lot. Despite frequent combing and brushing they and the oldest lad's oldest lad and his youngest sister are often in trouble on account of the doggie hairs which accumulate in the back yard occasionally. Apart from that they live happy lives. They bring joy to our oldest lad's oldest lad and his siblings, especially his youngest sister and the rest of us.
I could never imagine life without a dog. They are always glad to see me. You are also never alone with a dog. So thank you Finn. Go raibh maith agat Fiadh. Long may you live the good life.