The news of the sudden passing of the fiddling legend Seán Keane spread quickly on Sunday.  Keane (b.1946) was one of the greats.  The brother to button accordionist James Keane, he was the winner of several All-Ireland Championships, and a member of the Castle Céilí Band, Seán Ó Riada's Ceoltóirí Chualann, and, of course, The Chieftains.  
A dyed-in-the-wool traditional musician, he had several solo albums, appeared on those of many others, was the subject of several documentaries (both radio and television, including a recent retrospective produced by the Irish Traditional Music Archive), and in 2004 received TG4's "Traditional Musician of the Year" award.  It's a stunning and unexpected loss in a year that been sadly full of them. Sincerest condolences to Keane's family and friends in this very difficult time.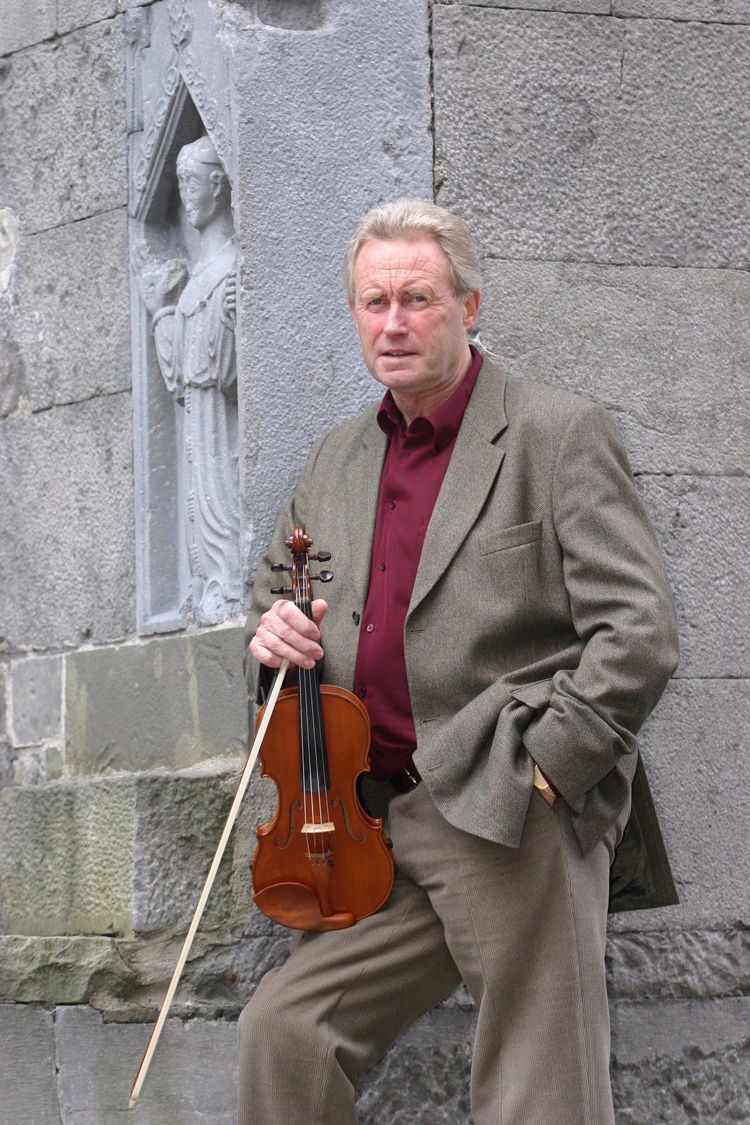 Seán Keane, a member of the Chieftains, died on Sunday. [Photo: WorldMusicCentral.org]
 Next, switching gears (but not instruments) to report that Brian Conway has just released "The Brian Conway Fiddle Method," a book of tunes and technical guidance built off his renown teaching approach.  The book's subtitle, "With Tunes from Portal Irish Music Week" indicate that much of its contents have been taught at the Portal week, but the book's contents are in fact tunes that fully represent the New York/Sligo style Conway has trail blazed.   Fiddlers take note!
 Traditional music connoisseurs know Conway as one of the top fiddlers in the tradition.  He first learned from his father Jim and he was an early student of the great Martin Mulvihill.  However, it was his longstanding bonds with Martin Wynne and Andy McGann – and their connection to Michael Coleman – that laid the foundation for his highly nuanced music.  
 His accolades are many.  Conway won All-Ireland junior titles in 1973 and 1974 and was the 1986 All-Ireland senior champion.  He's in the Mid-Atlantic region of Comhaltas Ceoltóirí Éireann's Hall of Fame and in 2008 my predecessor here in the Echo named him Traditional Irish Artist of the Year.  In addition, Conway has recorded several critically acclaimed solo albums, including "The Apple In Winter" (with Tony DeMarco), "A Tribute to Andy McGann," "First through the Gate," and "Consider the Source," and with Joanie Madden, Billy McComiskey, and Brendan Dolan recorded an eponymous album named after their group, the Pride of New York. 
 And then there's Conway's unparalleled renown as a teacher.  He has students the world over (many whom meet with him online) and so many of them have competed in the All-Ireland at a high level it's tough to keep track of which have gone on to become All-Ireland champions.  (There are several.)  It should come as no surprise that he teaches at music camps throughout the United States and Ireland, which is why this book should be exciting news for fiddle players everywhere.
 One of Conway's longstanding associations has been with the Portal Irish Music Week (https://portalmusicweek.com/).  Founded in 2011, Portal is one of this country's important teaching hubs. It's a small, five day long program that for many years was based in Arizona, although this year it will be held in Kingston, New Mexico for the first time, running September 21-25.  It is known for offering focused, engaged tutelage in scenic surrounding from a number of high end instructors.  Conway has been a part of Portal's programming since its beginning and this book is a product of his work there.
 "The Brian Conway Fiddle Method" is impressive in its range and in its clarity.  It includes 43 tunes, presented in both simple and ornamented versions.  There are 17 jigs (including a section about technical tips and ornamentation), 13 hornpipes (again, with a section on ornamentation), and 13 reels (with a very short statement on his approach), all of them including a couple of paragraphs that discuss the tune at hand.  Each tune is clearly notated with meticulously placed slurs and fingerings and the technical chapters that preface each explain Conway's philosophy to bowing each tune type in short, clear language.  Although Conway is widely known for a rigorous approach to bowing, his method is geared toward developing a set of tendencies that enable a player to make bowing choices that best reveal a tune's phrasing. These tendencies are consistently applied throughout this book and should give prospective readers an excellent perspective on the Conway direction.
 Although the book's contents are all Conway, it came together largely through the efforts of Marilyn Stangl, a student of Conway's since 2011.  Stangl has done admirable work in transcribing and organizing Conway's tunes and her short "chapter two" provides valuable insight into Conway's approach.
 "The Brian Conway Fiddle Method" is a first rate instructional guide that will have serious appeal for anyone looking to understand Conway's Sligo style.  It will also have real interest for developing players in search of a perspicuous and penetrating but also well-articulated and time-tested approach to playing.  It should be considered a must-have for anyone who has taken classes with Conway.  However, it is also recommended to those who embrace other regional styles as it's an accessible under-the-hood look at something that might be different.  A superb book for fiddle players!  "The Brian Conway Fiddle Method" can be purchased by emailing Marilyn Stangl at mstangl711@gmail.com.