Ireland's film industry has been placed firmly in the spotlight recently with Oscar nominations, locations lauded, and artists receiving worldwide applause, and make no mistake about it, that's in the Irish language too.
There was great excitement with An Cailín Ciúin being nominated for an Oscar, yet there's nothing quiet about the Irish language film industry which is going from strength to strength.
Belfast Gaeilgeoir, filmmaker, and actor Seosamh MacSeoin or Joseph Jones, who now splits his time between New York and Dublin, and indeed, Waterford, is taking the film world by storm with his short film, "Uilíoch" or "Universal."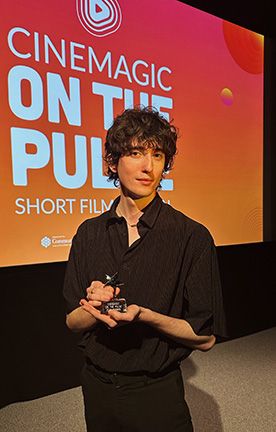 As writer, director, and actor in the film, developed by Nemeton TV and supported by Údarás na Gaeltachta, Jones is rightly very proud of his film that has been described as "a short film set during the Troubles that explores the depths of grief. Through a series of flashbacks, the film poses the question: how does something that brings silence, create so much noise?"
"Grief is common," says Jones, "we've all experienced it, and if not, it is coming, which is, you know, really sad and unfortunate. But when it happens to us, we are so unprepared."
That these films are all in the Irish language taps into a deeper connection with loss, renewal, and artistic merit.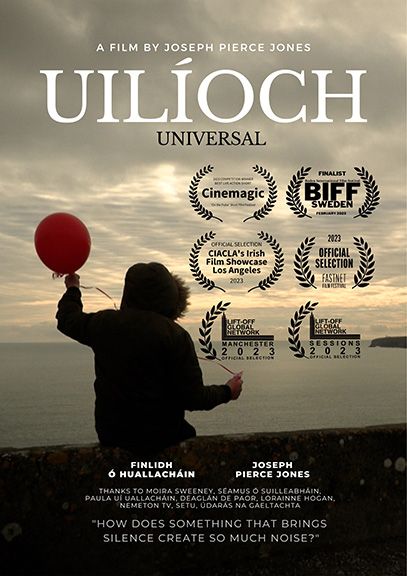 "You could say that Ireland is dealing with its own trauma through loss of language," says Jones. "So, you also have a connection like that. And to put it in the Irish language is a powerful and revolutionary thing in itself."
Jones loves the Irish language, and this is a labor of love for him. He's been busy flying back and forth across the pond as his Irish language film sweeps up endless awards. He's been invited to numerous festivals, where his film has been a stand-out success, and with such a busy schedule, he gave this interview at LA airport before jumping on a plane back to New York.
"Uilíoch won Best Live Action Short Film at the Cinemagic 'On the Pulse' film festival in Belfast in March 2023, supported by NI SCREEN," he says.
"It was the only Irish language film out of all 14 finalists. In addition, it has been selected to be screened at film festivals in Los Angeles, Cork, Manchester, Rome and Sweden," says Jones.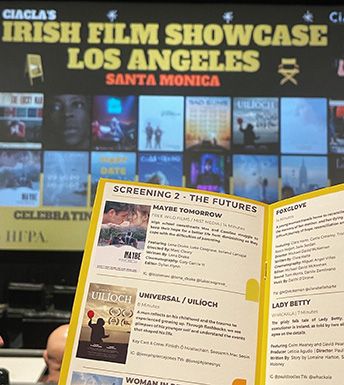 And that's not all. Uilíoch won 'Gearrfhíseán Dátheangach na Bliana' (Bilingual Short Film of the Year) at the SMEDIA Awards in April 2023: the awards that celebrate the best of Irish student media.
Jones also had a private showing with a Q&A for Craobh Chumar an Dá Uisce (The Conradh na Gaeilge branch in Albany, New York) in mid-April.
And this short film all came about as Jones had taken the highly respected and well-renowned Higher Diploma in Arts in TV & Media Production: Leiriú Teilifíse agus na Meán at SETU in Waterford, under its brilliant Course Director, Moira Sweeney.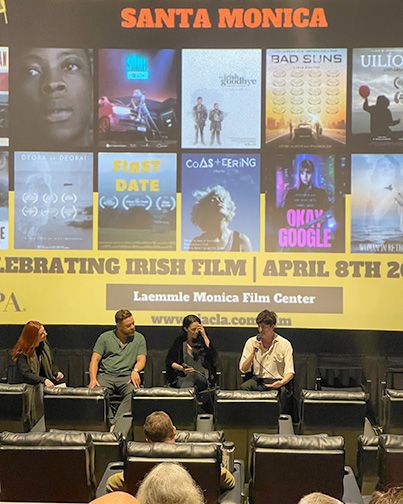 And the real beauty of it all: students are out filming and learning while they naturally develop their Irish language skills in Ireland's very beautiful Gaeltacht region of An Rinn, as the course is in Irish and at production company Nemeton, Irish is the lingua franca
"It's practice based. It's all through the Irish language, and we're in An Rinn, in the Gaeltacht," says Jones.
And the Gaeltacht area of An Rinn, Co. Waterford, has it all: from spectacular coastal filming locations to breathtaking landscapes and a wonderful welcoming community full of music, language, and culture.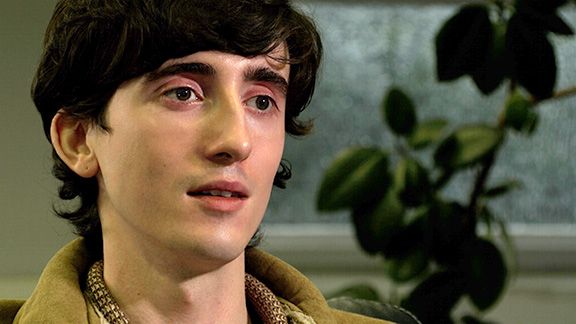 "I go round the shops, and I only speak in Irish," says Jones, "and the people are breá sásta labhairt i nGaeilge."
So, through this course, Jones made his short film, Uilíoch, and he was determined that everything was done tríd an Ghaeilge: all production crew and cast conversed in Irish. Even all the directions on his script were as Gaeilge too, although crew members said that often Irish language scripts have the script in Irish and the directions in English.
"To me, it just makes sense," says Jones. "Why would I translate something that has already been conceived and also constructed in a language that is not going to be the same?"
And he conceives absolutely everything in Irish…thoughts, words, ideas for his films and writing all come to him in Irish, so it's natural that he has an all-Irish language working film set.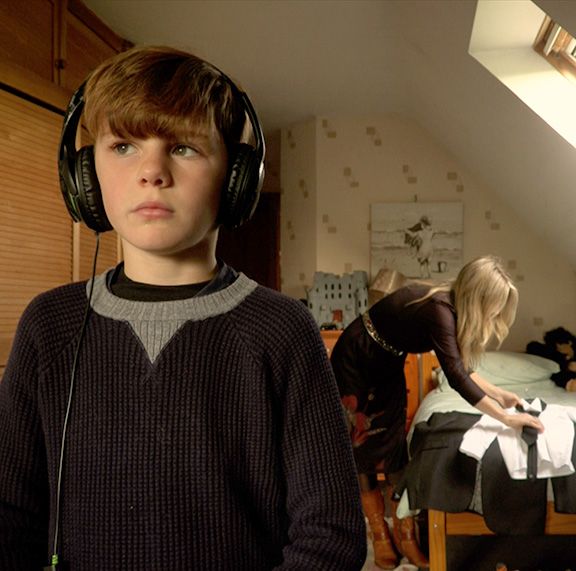 "When I have to explain it in English, I get really confused because I only ever thought of this in Irish," he says.
Jones sees the connection between the USA and Ireland, the Irish language and Irish language film only getting better.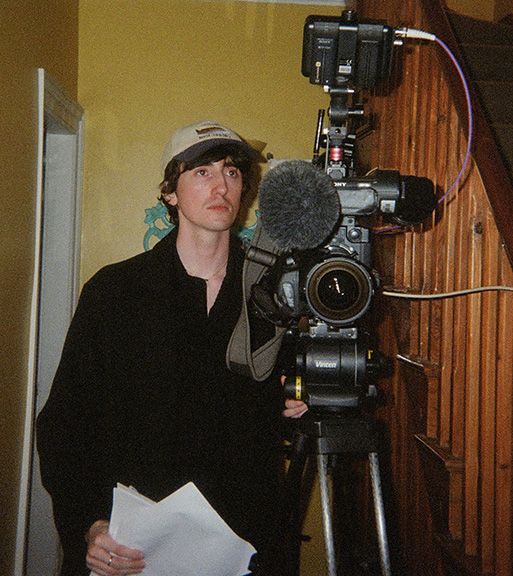 "Our success in Ireland is their success as well," he says. "As the world becomes more global, so does the Irish language. We don't just want to see the Irish language as a hobby; we want to live our lives through it."
Join our new Irish múinteoir Joseph Jones on Wednesdays for the @NYIrishCenter new semester of Irish language Classes.

8 - Week Semester

$20/class - $160 Semester https://t.co/re2ruy1XHD pic.twitter.com/AkDBCi72oT

— New York Irish Center (@NYIrishCenter) September 7, 2021
Alongside all this film work, Jones still continues to work as an actor, and as a huge advocate and campaigner for the Irish language, he's still teaching an Ghaeilge!
'I still teach online with the Irish Arts Center, New York, and I still do events," says Jones.
His classes are fun and informative, and his unwavering grá and historical knowledge of the language always shines through.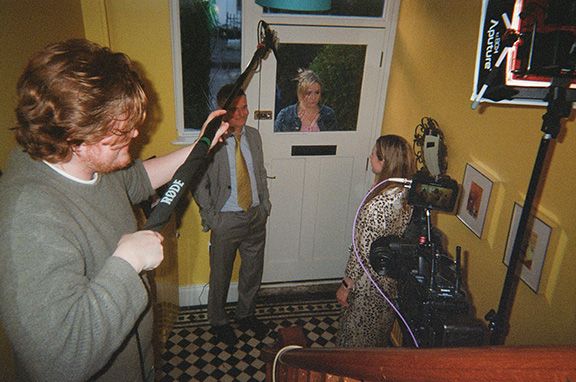 You can catch him soon as he'll be teaching a really interesting workshop at New York's Irish Arts Center's brilliant Lá na Gaeilge in the Hell's Kitchen area on Saturday, May 13th.
"The theme is Bealtaine and our pagan traditions, and welcoming spring, and we've four workshop leaders and we'll be doing different, really interesting things," says Jones.
Irish Language Day / Féile na Gaeilge features four workshops that offer hands-on activities, demos, & lessons centered around Bealtaine traditions, led by IAC teachers Joseph Jones, @SiobhanNiChi, @MuinteoirGaeNYC, and Paul Ferris.

May 13 > https://t.co/6KWzY5wlpU pic.twitter.com/4gIeX5PMFM

— Irish Arts Center (@IrishArtsCenter) May 9, 2023
It promises to be an amazing day with the theme of Bealtaine, workshops, a film screening, ceol, and of course caint agus craic, and is presented in partnership with the Hedge School/Scoil Scairte at the Trailblazery. 
I'll be there to cover it for The Irish Echo, agus gan amhras ar bith, it's a day not to be missed!