Cambridge FC, a football club based at Ringsend Park, Dublin, is taking its teams to Spain this September to give its players a soccer experience that they will remember for the rest of their lives.  CFC started their fundraising campaign with a night at the races in Shelbourne Park on February 25 with raffles and GoFundMe page to boot.  Their dream trip is fast becoming a reality as the club prepares a blockbuster dinner dance with a Paul McGrath Q & A at the Gibson Hotel in Dublin. 
The CFC staff and its soccer community continue a tradition of excellence that started back in 1968 when founder member Shay Quinn followed his vision to begin a club for the love of the game and for the families in his district.  Many ambitious ideas were born towards the end of the 1960s for Cambridge and continue to this day.  Special events such as soccer trips abroad and social gatherings solidified the CFC family.  Playing proper football on the pitch while sticking together has become a CFC brand.  
Hard work and caring have become core values, making Cambridge FC a player-centered club.  The CFC legacy continues with giving the kids the best coaching but above all the experience to enjoy and love the game.  The club continues to evolve and there is a game for one and all whether it be recreational or indeed for the players who dream of becoming a pro.  The very essence of what Cambridge has given to its players was described by ex-player Mick Behan when he said: "The greatest thing any young boy or girl can do is to get involved in sports, for me it was Cambridge FC."  
"CFC committee member Keith O'Brien said.  "Cambridge is a club on the up."  
The club has grown from 8 teams to 18 and that includes 5 girls' teams and a "football for all" team.  The 2022 season saw the start of Google Little Kickers Academy with upwards of 60 boys and girls taking part.  Cambridge is immensely proud to have over 45 volunteer coaches and a dedicated committee steering the club in the right direction.                
"This year with the support from Google we were able to bring on Scott Foley as Director of Football which has been a real game-changer," said a proud O'Brien.  
It is this kind of support that enables the club to raise coaching standards and become an inclusive club for the community.  CFC will announce an ongoing sponsorship deal with Google which will see all the kids walk out on match days with the Google logo worn proudly alongside the club crest.  
"This is not just a sponsorship deal with Google, it's a partnership," Keith said.  
The newfound relationship with the internet giants will enhance the club's growth.  It is fitting that the partnership saw the U16 Girls Team win the Age of Images Cup Final and they were the first team to wear the new kit on the day. 
Keith added, "The month of May is lining up to be a very special period as other CFC teams reach final stages of their respective cups."  
One of those teams is Laura Fay's U18 Boys which she has managed for 10 years.  Her dedication, along with staff addition Paddy McGuinness, has paid off as the boys have just won the Redmond Cup
"I took the lads on years ago as no one could coach them.  We were always getting slaughtered in most games finishing at the bottom of the table.  When their heads were on the ground, I kept them going," Fay said.  "We are just about holding on to top of the league but win or lose I'm going out on a high."  
Fay admitted, "Years ago, I had to go down to Ringsend Park with a pen and paper to watch senior and junior teams train so I could learn new drills.  It has been a long road, but the hard work has paid off." 
Fay's devotion and enthusiasm are traits that many a CFC coach has delivered on the Cambridge journey for decades.  
Meanwhile the Under 16 boys also won major honors recently.
The Early Days  
Since the birth of Cambridge 55 years ago it has been a tour de force.  Within its first year the team was off on a trip to Manchester.  As always, the group was a creative mixture of players from Ringsend, Pearse Street, and adjacent neighborhoods.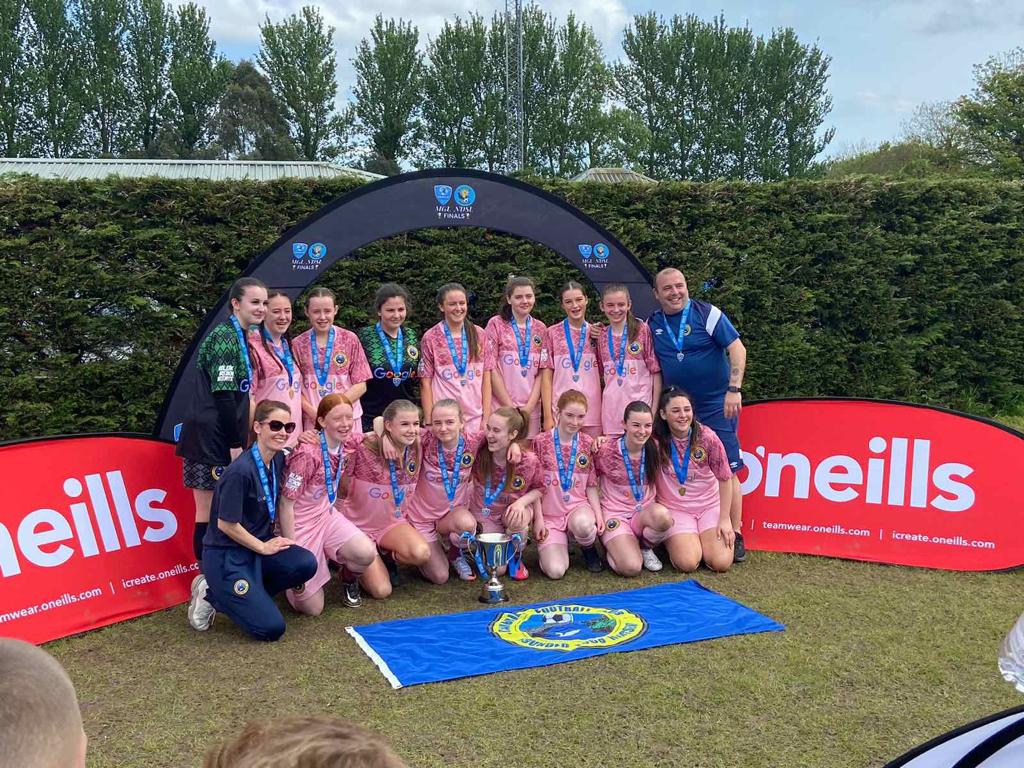 The Under 16 girls team, the winners of the Age of Images 2023 Cup Final.
The 1970s then brought unparalleled success with great teams and exquisite management.  Back then founder member Shay Quinn rode his bike from street to street making his rounds and recruiting players from the local playgrounds.  In 1972, one such recruiting ground on Shay's list was Markievicz House on Townsend Street.  
A group of kids were knocking the ball around on one of their two concrete made up pitches in the flats.  The younger lads played on H Block while the bigger lads played more serious ball on G Block.  The 'more serious ball' was played for some small amount of cash that the older lads collected and put into a kitty.  
Ex-Cambridge player Ian Kelly assured.  "These matches went on from early morning 'til late in the evening and even extended on to the following day until such time there was a winner."
Kelly remembers it well the day Quinn appeared in the flats.  
"This man comes in on his bicycle over to H Block and he asks, any of you interested in coming down to play with a club in Ringsend called Cambridge Boys.  We knew it was Shay Quinn, well known for setting up the club."
"He had our attention," said Kelly.  "We had already heard of this club as some of the older lads from G Block had been down there, the likes of Tomo Nolan, Noel Dennan and many more.  It gave these lads from the Pearse Street area a chance to play with a club that had a real changing room and to play on a real grass pitch, it seemed the way to go.  Some had the pleasure of playing with the previous Ringsend club Bolton Athletic, but this was different.  It gave all the young lads from the Pearse Street area an opportunity to play down the park with their friends."
So off Kelly and his mates go, and a team was formed for the U12B League under the guidance of Jackie Bailey Senior.  Jackie as it turned out was a real football man and had played League of Ireland with Transport.  His two sons Jackie Junior and Derek had already signed for Cambridge.  Mr. Bailey had extensive knowledge and true passion for the game along with his other hobby, greyhound racing, usually at Shelbourne Park or Harold's Cross.
"We didn't have a lot of success," admitted Kelly.  "However, we got a great grounding while developing a real love for the game.  Most of the lads went on to play football right into adulthood.  This was all down to Jackie's management and his way of handling the lads he had under him."  
Kelly recalled.  "Some years ago, I ran into the son, Jackie Junior, at Shelbourne dog track and asked how his father was doing.  He told me he was living out in Marino.  I got his number and gave him a ring.  We were both delighted to catch up.  He told me an extraordinary thing, that one of our players had rung him just a month before from England and that he was looking for some advice on a personal matter.  Mr. Bailey helped him get sorted.  When our conversation finished, I thought to myself that even after all those years Jackie was still there for one of his lads." 
Jackie Senior was highly respected in the game and collaborated with Joe Corcoran and coach Eddie Johnston.  Jackie Junior played for the latter.  These managers had an understanding that if the under 13s were short they could bring in some of the Under 12s into their team.  Likewise, the U12s did the same with the teams coming behind them with such players as Paul O'Brien, Rocky O'Brien and Anto Walsh.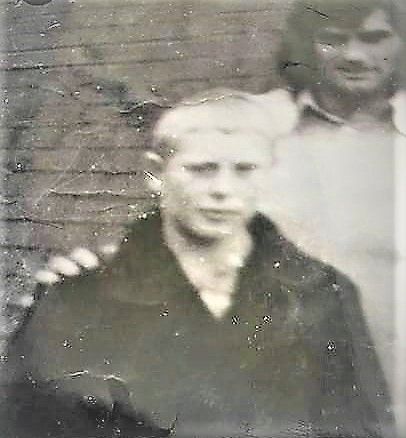 Jackie Bailey Jr. with superstar George Best.
The managers, however, knew that young Jackie was exceptionally talented.  Young Bailey alongside a brilliant Under 13 team, captained by Liam "Jack" Dunne, had all the signs of greatness.  A remarkable future was on the horizon at both schoolboy level and beyond.     
Corcoran's Cambridge Conquer the 70s 
Jack Dunne joined Cambridge Boys FC U12 in 1971/1972 under manager Shay Quinn and his assistant manager Eugene Fitzgerald.  Dunne captained the side for the length of his time at Cambridge (12 to18 years of age) and while the honors are impressive, they are year after year.  First year Under 12c League title and Troy Cup winning promotion to 13A where they went on to beat WFTA for the League.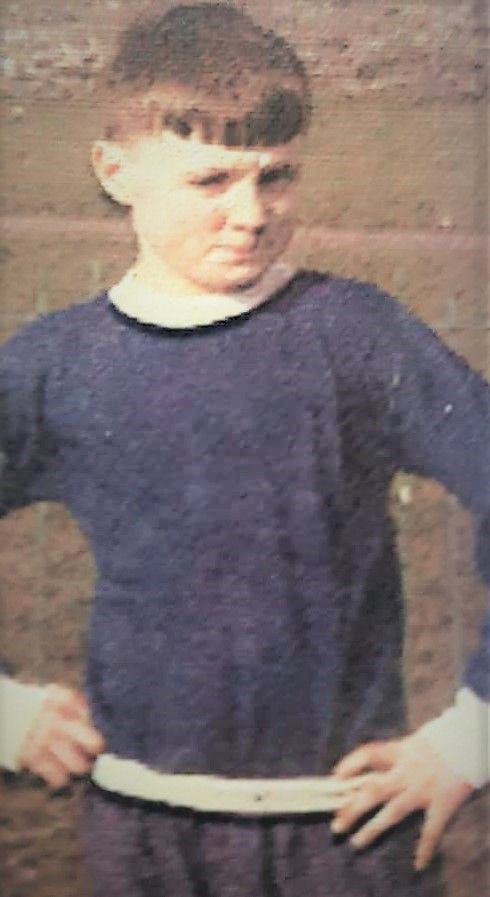 Captain Jack Dunne.
The team could now compete in the top tier against clubs such as Home Farm, St. Kevin's, Stella Marris, Belvedere, and Pearse Rovers.  Then it was the arrival of managers Joe Corcoran and Eddie Johnston that took the team to yet another level. 
Dunne said.  "Corcoran was brilliant at targeting new players and getting them to sign for Cambridge."  
Doing the double became their standard and it was not a surprise to see the star-studded team win the All-Ireland Cup Under 15s.  They continued with more success, winning the U17 League, the Leinster Youth Cup and beating Home Farm U18 for the FAI Youth Cup at Tolka Park.  It was a performance Dunne reckons, "One of their best ever."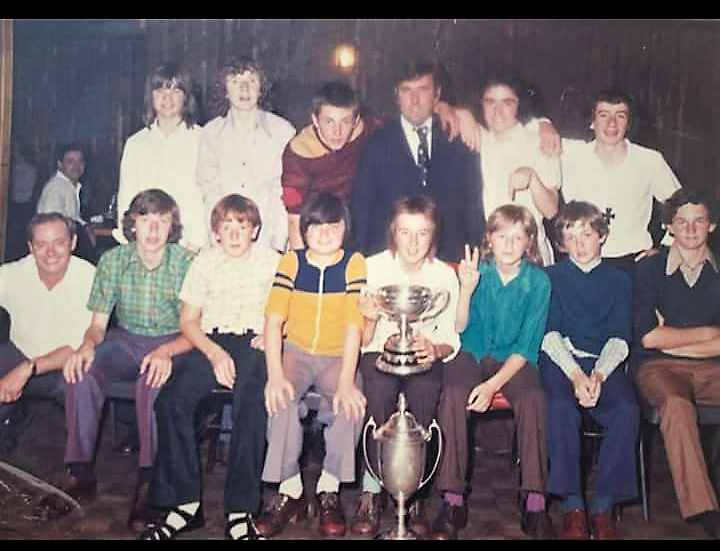 Cambridge FC in the early 1970s.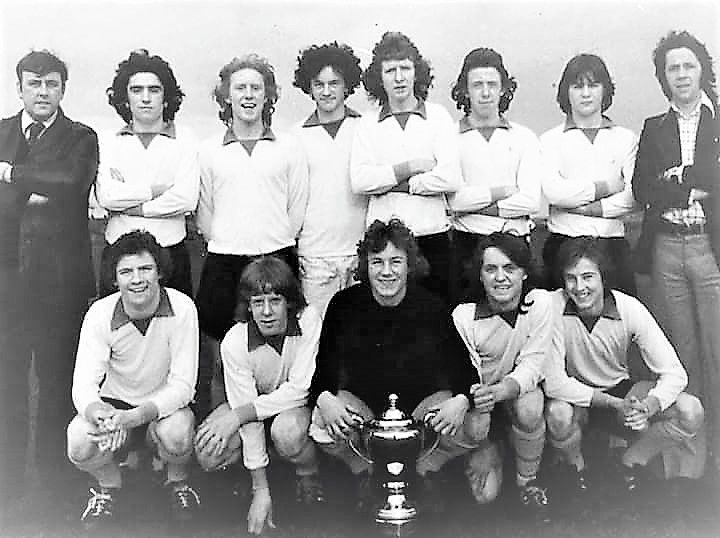 Cambridge FC winners of the FAI Youth Cup.
They did go on to win the FAI again the next year, the first team to do so.  They also won their Premier League that season.    "It was a great run for all of us and it ended with a fantastic trip to the USA in September 1978.  We traveled to New York and Connecticut to play in an unforgettable 22-day Match Tour taking on the likes of Hofstra University, Central Connecticut, Eastern Connecticut, and Western Connecticut.  We played 11 matches, winning 10 but lost against an Army Senior Team who beat us on penalties.  It was an experience we will never forget," Dunne concluded.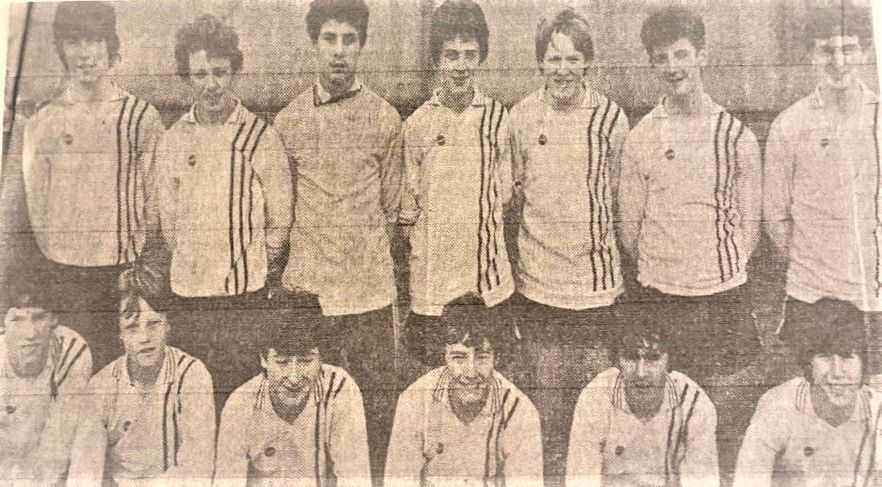 Cambridge FC in 1982.
Leo's Lads Another Force    
While Joe Corcoran's team began to dominate schoolboy football Leo McDonagh had put together a side that also started to turn heads.  By the mid-70s Cambridge teams had become a force to be reckoned with.  
"Back then," Mick Behan claimed.  "It was an honor to be part of Cambridge Boys in the Dublin District Soccer League."
Mick's formative years (12-15) playing soccer was a great and successful period with Cambridge.  Leo himself had a wonderful career in League of Ireland with Dundalk FC and brought all his knowledge and experience to the Ringsend club.    
"I'll never forget growing up under the leadership of the late great manager Leo McDonagh.  He was a true gentleman," Mick said.  "He treated everyone equal, and we learned a great deal from him not only in football but life in general."
It was a privilege to play for Cambridge and Manager McDonagh brought together a great group of lads who remain friends to this day.  Jody Byrne and David 'Rocky' O'Brien both went on to have extremely successful careers with League of Ireland clubs for many years.  McDonagh's captain fantastic was Michael 'Skipper' Dunne.  
"Our captain Skipper Dunne was a leader on the pitch who always had your back if one was experiencing a difficult time," Behan said. 
They were the first Under 17 team to win the Pepsi Cola Cup, a competition that was open to under 18s too.  The team went on to retain the trophy the following year, a feat that was never matched.
Indeed, the great Corcoran team, considered the best, that preceded McDonagh's side was full of household names such as Paddy Joyce, Pat Nolan, and Gino Lawless. 
"More importantly," Mick reminded.  "We must not forget teams after us, most of all the teams of today."  
While the club has been graced with top notch players throughout the years let's not forget while they play the piano everybody else carries it.  Cambridge has an endless amount of success stories such as the O'Brien brothers from South Lotts.  Liam and Mick left and went on to play at the pro and international levels while Declan stuck with his team from Under 8 all the way to U18.
Fitzgerald's Team Stick Together  
As Declan's team moved along their loyalty started to pay off.  Of course, it helped having Pato Kelch in the side, but they were one of the last teams to stick together from the early days.  They played in the South County League U9 and U10 under the name Ringsend Boys.  
Declan's side managed by Philip Fitzgerald was not short of stars either.  At U17 and 18 they fell short losing Kelch to Manchester United while Paul Hughes and Declan O'Briene went to Home Farm.  
From 12C to13B and on to the big guns at 15A Fitzgerald's team was taking scalps.  In 1982 they beat Home Farm in the Dick Neville Cup and in the SFAI Barry Cup they also took down Belvedere Boys.  They were as good as any opponent that year and thirty years later Cambridge Legend Joe Corcoran wrote. 
"On behalf of the club I'd like to thank the players for their loyalty to the club which does not happen in the present day (2012).  It's great to see the past players return to the club with their children.  The reunion," Corcoran said.  "Is a great idea."
Gregg's Grit Convinces Committee
Corcoran was a matter of fact with his comments on loyalty, but times had changed.  While Thomas Gregg remembered his early days, running free down the left wing close to the park drain, he also recalled when things were not as good in 2001.
"My son Danny aged 5 asked me back 22 years ago could he join the football club with his friends from school, which was my reintroduction to Cambridge FC."                                                                                               
Gregg continued.  "With just a handful of teams in 2001 something was missing.  The established committee seemed fearful of a changeover and passing the mantle on to what they perceived to be the wrong people could hurt the club's future.  This perception had held the club back."  
"The biggest obstacle to turning the club around was belief and trust," Gregg realized.                               
The 12-year-old Thomas knew early on that playing wise he would never be a contender but now the mature father felt he could make a difference.  Initially Gregg was somewhat reluctant with his drive but gradually he earned Corcoran's respect.  Corcoran's legendary status in football was world class given he was top scout and point man for Manchester United after serving his time as Billy Behan's understudy.                                                                       
"I pushed and challenged refusing to take no for an answer with certain requests," said Gregg.  "The committee realized I was genuine in my drive to make Cambridge FC a true football force once again."  
Within a handful of years Cambridge FC pushed on from near extinction to carrying teams in abundance.
"Most of all," Gregg insisted.  "We pushed the club with true values regarding player equality and fairness.  Moreover, my own team which we started back in 2002 as a U7 team stuck together until U18, possibly the first team to do this in quite a while."                                                                                          
It was a big undertaking to match the past success of back-to-back league titles and doubles, but they did okay.  For Gregg the real foundation for the regeneration was found on. 
"Sticking together and keeping young lads away from trouble and strife while keeping them content with a football life."
As for Thomas himself, the Ringsend man admits.
"Experience with CFC has helped shape the person I have become today, and I hope to continue giving back to the game and the community I love."  
Cambridge continues to grow and evolve from those early days and is still a very much respected club in football circles.  CFC has superb facilities, second to none, all down to the hard work of past and present committees, volunteers, and the community itself.  
Joe Behan, a native of Ringsend, Dublin, lives in Florida.