In the fabric of Minnesota's history and culture is embroidered the name of someone to be celebrated not only on International Women's Day but on every day of the year as she meticulously weaves her passion  for the arts together with Irish music, dance, and language to create the cultural colossus that is The Celtic Junction Arts Center of St Paul.
Natalie Nugent O'Shea is the heartbeat of The Junction and the grá she has for her executive director role radiates through every event and activity in this cultural powerhouse.
"I always knew I'd work in the arts; I just didn't know it would be in Irish arts," says O'Shea, whose husband Cormac Ó Sé is from Dublin, Ireland. "One thing I absolutely adore about Irish arts is that it helps people better understand themselves and others. It's the great connector."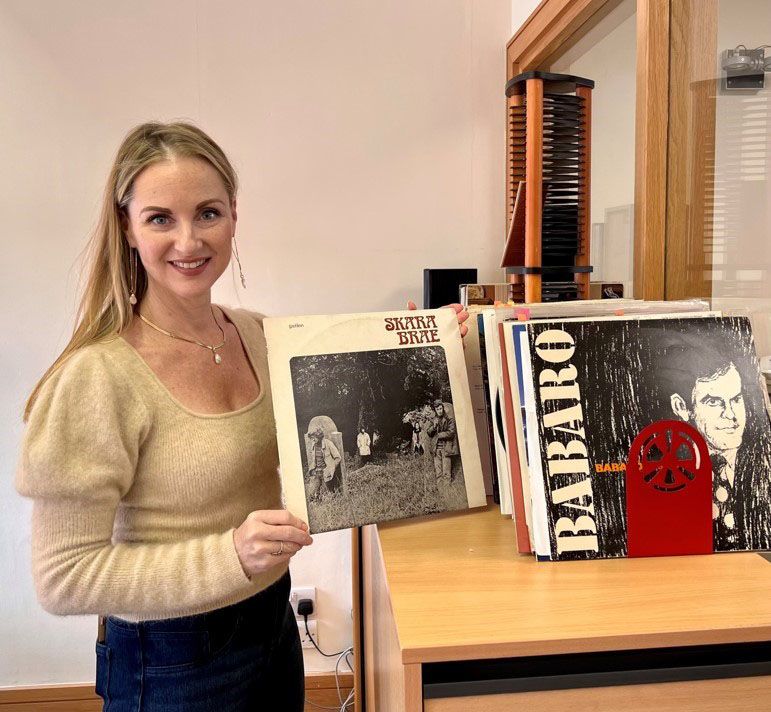 There are many beautiful connections here. The word junction itself; this city of St. Paul's with the confluence of the Mississippi and Minnesota Rivers; and the connection Irish culture and its language has to the land; and the land upon which this Celtic Junction Arts Center stands, which they humbly acknowledge as Dakota and Anishinaabe land.
Altan at the @DakotaMpls on Thursday, March 9th. Two shows! Get the details and ticket links below. How lucky are we #TwinCities Irish music lovers?https://t.co/KeIqssCta6

— Celtic Junction Arts Center (CJAC) (@celticjunction) March 7, 2023
"We've done several seminars and presentations where we've talked about the deep connection of the Irish language with the land, with its mythology, its people," says O'Shea.
"And then we say, look at the richness of the land we are sitting on. Just outside this window," she reflects reverently, "I'm sitting about 1000 feet from the Bdote, which is the place of the creation myth of the Dakota people. I'm living on it. I'm living on their mythology and their history."
O'Shea is making history. She is a joy to listen to and behold. Both poetical and philosophical, yet very pragmatic, she has painstakingly worked through every possibility and detail to make The Celtic Junction Arts Center the artistic, inclusive, and all-encompassing Irish cultural center that it is.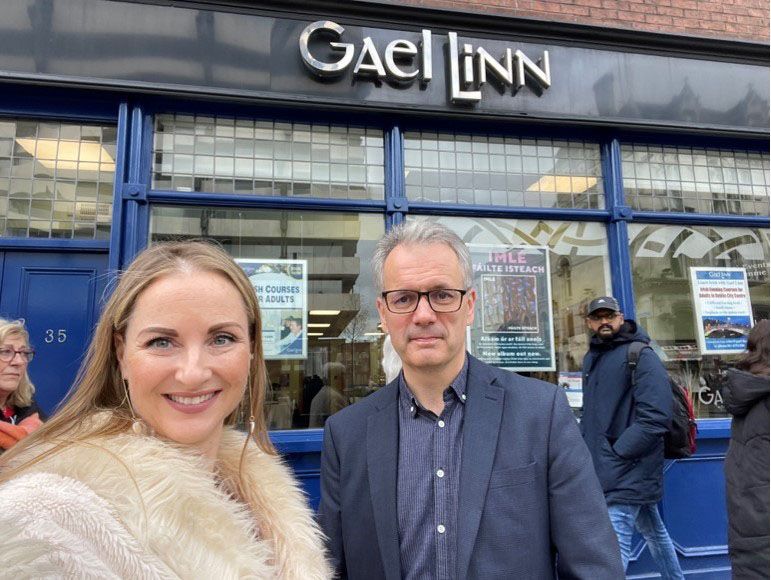 "We founded the cultural center in 2009," says O'Shea. "But what we're doing, since the founding of the nonprofit  is trying to be the flagship for Irish culture and bringing culture with the community."
The center was given a bequest of over 3,000 items from the personal library of Dr. Eoin McKiernan, a pioneering Irish American campaigner who was passionate about the Irish language, literature, culture, history, and folklore. To acknowledge Eoin's role as the pre-eminent Irish American who replaced shamrockery with authentic Irish cultural experiences from the 1970s on, the Junction built a library in his honor.
Thank you to Natalie Nugent O'Shea & Cormac O'Shea for inviting me to the impressive @celticjunction which is a brightly shining light for Irish culture in the American mid-West. pic.twitter.com/4JqEs0PhFN

— Daniel Mulhall (@DanMulhall) August 24, 2021
"He was the founder of the Irish American Cultural Institute," says O'Shea. "And he was phenomenal. He was ahead of his time.
"He was a massive champion of the Irish language and wrote a pamphlet acalled 'Will of the Nation' inspired by that beautiful phrase, 'Tír gan teanga, tír gan anam.' He began from the premise that to really understand the depth of Irish culture you have to understand the language."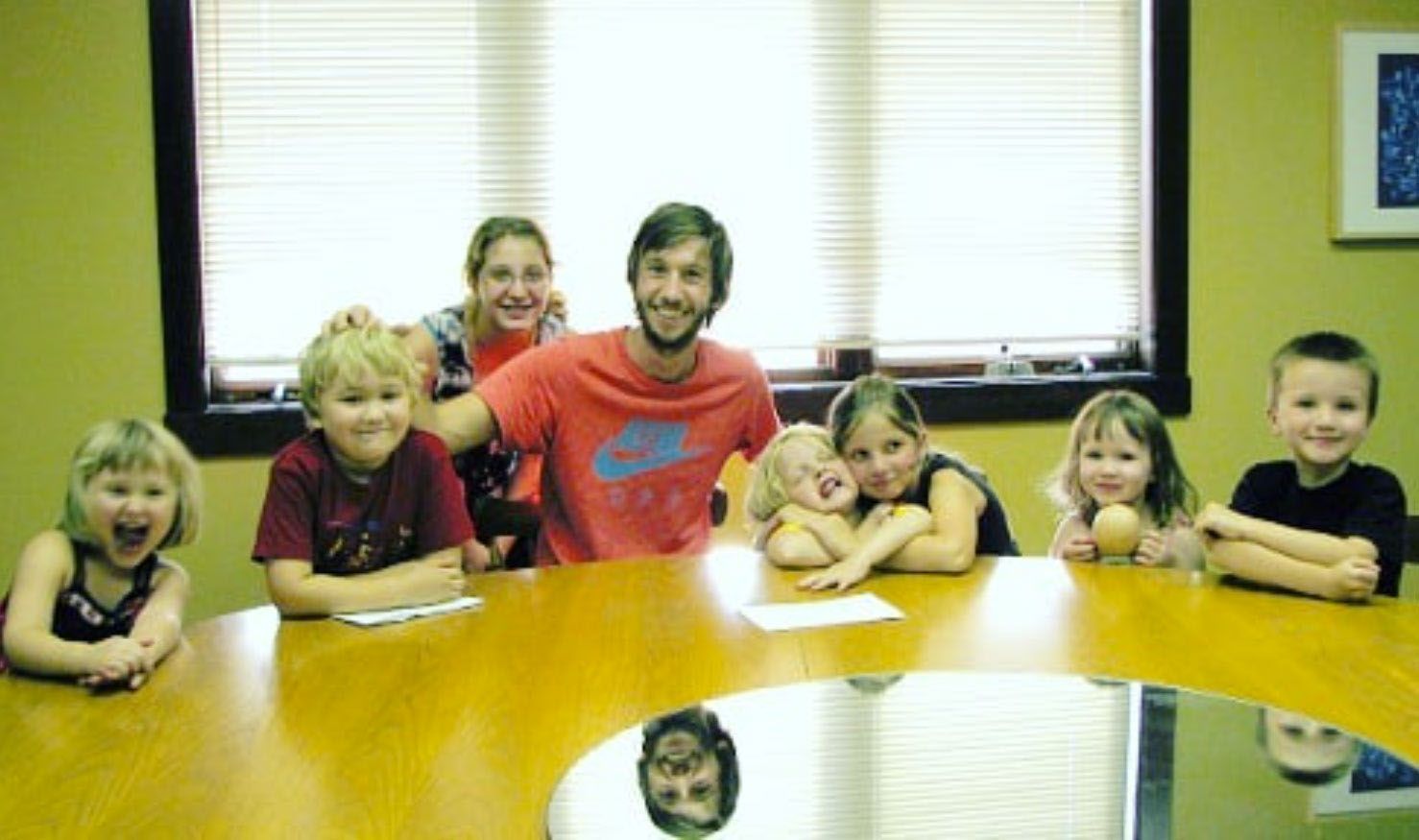 O'Shea has carried forward McKiernan's legacy.
"In the spirit of him, we started the library, but then we also started educational classes. And we really began with the Irish language because there's a surprising community of Irish language speakers here in the Midwest, in the prairies," says O'Shea.
"There's a community group called Gaeltacht Minnesota, and there's a gentleman by the name of Will Kenny and he's been teaching and supporting the Irish language here in Minnesota for 35 years."
Junction students can take exams if they wish in the language but their main aim is to instill a love of the language in the community.
"The learners just want to be able to speak it, to understand it and to make connections with their history. But the great thing is, of course, not all of them have an Irish history. They're thinking, this is an amazing language, and I want to learn it. So, we're actually getting this broad affinity in the diaspora," says O'Shea.
A recent collaboration the cultural center celebrated is with Gael Linn.
O'Shea has tapped eloquently into that connection many Irish poets and writers have written of between identity and land. She honors that tradition with those who have come before us.
"We're immigrants that have come and we've changed the native space of the native land. One of the things we've been exploring, and we've had a really great reception on it, is the idea of what does one lose when you lose your connection to the land and the language?" poses O'Shea.
"So, we start with Ireland, and Derry, and of course Derry being a great oak and it's the place of the oaks, or Donegal, Dún na nGall. What do you lose when you get these anglicized translations?  If you go into all of the detail, what's lost? You lose a sense of place; you lose a sense of identity. And as you lose a sense of connection, there's a disconnection."
O'Shea pauses briefly before opening all to the opportunities, "And what happens when you explore making that connection again?"
This is a vocation, a work of art, and a lifetime of dedication by O'Shea. She is asking the bigger questions, delving deeper, reaching out, facilitating numerous outreach programs, and making real connections. The Irish language in Minnesota and beyond is blossoming under her care.
The Irish Junction will be hosting another Deireadh Seachtaine na Gaeilge this year on April 21, 22, and 23, and it's bigger and better than ever.  They have expanded their classes to five levels, so there's a céad míle fáilte to all, and a level for everyone, from the absolute beginner to the advanced Gaeilgeoir.
The teachers are all top class, and hail from all over Ireland, USA, and Canada, and include Gael Linn's CEO Réamonn Ó Ciaráin, as well as Dr. Patrick O'Donnell, Maureen Engelhardt, Dean Farrell, and Lavinia Finnerty. There's many special guests, a bodhrán workshop, theater, and of course, ceol, caint agus craic! All details in the link below: