Mona McSharry of the University of Tennessee swam to three podium finishes at the NCAA Division 1 Championhip meet in Knoxville. A junior from Grange, Co. Sligo, she qualified for the finals in two individual events and one relay. She also had consolation participation in one event. 
McSharry's best showing came in the 100-yard breaststroke. After finishing third in the preliminary stage, she got second place in the finals with a 57.16 clocking. Texas freshman Lydia Jacoby swam a winning 57.03. 
"That was just a gutsy and competitive swim," said Tennessee Associate Head Coach Ashley Jahn of McSharry's 100 breast effort. "She's so tough and such a great competitor as well as a great leader and great example of sticking to a process and enjoying that process. She did a great job tonight. Really proud of her and her runner-up finish."
Fourth place is where McSharry finished in both the prelims and finals of the 200 breast. She got to the wall in 2:04.59 in the finals, a race won by Virginia's Kate Douglass in 2:01.29, which was a new NCAA record. 
The Lady Vols featured McSharry in the second leg of the 400-yard medley relay, in which they finished fifth. They got the job done in 3:27.92 in a race won by Virginia in 3:22.39. 
McSharry also tried the 50-yard freestyle. She had the 13th best time in the prelims, which earned her a spot in the consolation final, where she finished eighth. 
Tennessee finished eighth among teams. Virginia earned the team title. 
McSharry also excels out of the pool as well as in. She earned recognition on the College Sports Communicators Academic All-American first team. A Kinesiology major, she boasts a 3.61 grade point average. 
BASKETBALL
March madness turned out to be fleeting for the Irish trio who advanced to the final 64 brackets. Each lost in the first round, on St. Patrick's Day, no less. 
In the women's tournament, Maryland held Bronagh Power-Cassidy in check, and as she went, so did Holy Cross, which suffered a 93-61 loss to the Lady Terps in College Park, Md. The Dublin sophomore scored just three points on a successful heave. She shot 1-for-7 overall. The Crusaders finished the campaign with a 24-9 mark. 
On the men's side, Silas Sunday, a freshman from Lucan, Dublin, got in for five minutes of Iona's 87-63 loss to UConn in Albany, N.Y. and scored four points. He hit two of his three field goal attempts. The Gaels, who bid adieu to head coach Rick Pitino after the game, finished 27-9. 
Grand Canyon kept it close against Gonzaga in Denver but ultimately fell, 82-70. The Lopes' Aidan Igiehon, a junior out of Clondalkin, Dublin, got in for four minutes and posted no numbers. GCU finished 24-12. 
MEN'S GOLF
Jordan Logue of Mississippi College cruised to an easy victory in the Derrall Foreman Invitational at Cleveland Country Club in Cleveland, Miss. A senior from Belfast, he posted the low score in each of the three rounds – 68, 67 and 67. The margin of victory was 12 strokes.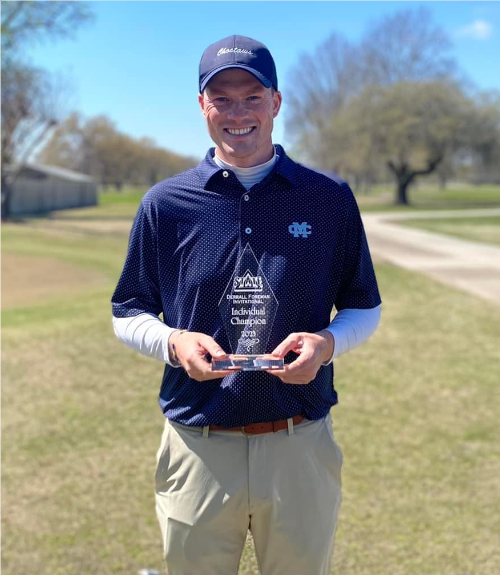 Jordan Logue.
Jordan Hyland is back in prime form for the spring season. The Davis & Elkins senior from Belfast won the Battle at Brunswick Plantation in Calabash, N.C. by three strokes. He combined rounds of 70 and 72 to lead the Senators to victory in the team table by one stroke over Wayne State. 
Sam Murphy of Grand Canyon University finished fourth in the GCU Invitational in Phoenix. Rounds of 70, 68 and 66 (low for the round) had the Galway sophomore nine strokes under par for the tournament and four off the winning number posted by Nate Adams of North Dakota State. Josh McCabe of GCU got a share of 24th place at 214 (72-73-69). He is a sophomore from Malahide, Co. Dublin. The Lopes finished second in the 16-team field, beaten only a stroke for the title by Texas Christian. 
Luke O'Neill helped Kansas State win The Johnnie-O at the Sea Island Seaside Course in St. Simons, Ga. A junior from Galway, he shot rounds of 74, 68 and 71, which was good for a share of 18th place, 15 strokes off teammate Tim Tillmanns, the medalist. Also on the course was Cian O'Connor of Memphis. The Roscommon freshman posted rounds of 74, 74 and 75 to tie for 61st place. 
Max Kennedy was low man for Louisville in the General Hackler Championship at the Dunes Golf Club in Myrtle Beach, S.C. A junior from Dublin, his rounds of 69, 66 and 72 were good enough for a share of fourth place, four strokes off the winning number posted by Virginia's Ben James. The Cardinals tied for fourth place in the team scramble. 
Florida Atlantic's Alex Maguire tied for 22nd place in the Seminole Intercollegiate at Legacy Golf Club in Tallahassee, Fla. A senior from Mornington, Co. Meath, he shot 78, 72 and 75 to finish the event nine strokes over par and 19 behind runaway winner Gray Albright of Florida State. Arkansas State's Jack Madden finished joint-35th at 12-over 228 (78-74-76). He is a senior from Dungannon, Co. Tyrone. 
WOMEN'S GOLF
Sara Byrne tied for 10th place in the Briar's Creek Invitational in Johns Isle, S.C. The University of Miami (Fla.) sophomore from Douglas, Cork, shot 74, 71 and 71 to finish the event at even par. She trailed the low scorers by six strokes.