If it's the third week in March it means that the Saint Patrick season is once again upon us!  It's the time of year when our traditional musicians are at their busiest, but also when it can be hard to keep an eye on what's going on in the world of traditional music in general.  So aside from reading the Echo, how does one keep up with what's good these days?  What's keeping the people on the street talking? 
 Well, a good place to start is by looking toward TG4 for their Gradam Ceoil Award announcement. The Gradam Ceoil Awards, which is sometimes called "the Oscars of traditional music," just named their 2023 winners and It's a stellar group of musicians that everyone should be aware of.  Awardees include uilleann piper Mick O'Brien (Ceoltóir /Musician's Award), Síle Denvir (Amhránaí/Singer), Méabh Smyth (Ceoltóir Óg/Young Musician), Fintan Vallelly (Gradam Saoil/Lifetime Achievement), Maurice Lennon (Cumadóir/Composer), and Mick, Louise, and Michelle Mulcahy (Grúpa Ceoil/Music Group).  (Michelle Mulcahy is an old hand at this – she was also TG4's "Young Musician of the Year in 2006.)  Each of these people have put extraordinary music into the world and go above and beyond to set a high bar for excellence in traditional music – congrats to them all!
 Gradam Ceoil awardees, and recipients of other extremely prestigious awards are, in fact all around, if you know where to look.  Take, for instance, the Irish Arts Center, which has officially released the names of the performers that will appear at their Mick Moloney tribute concerts, March 30-April 1.  Moloney received the Gradam Ceoil's Special Contribution Award in 2014 and was also a 1999 National Heritage Fellow.  The IAC's celebration of his life will consist of a large, distinguished group of award- and soon-to-be-award-winning artists, starting with a unbelievable list of Green Fields of America alumnae including Athena Tergis, Liz Carroll (Gradam Ceoil, Cumadóir/Composer, 2011; National Heritage Fellow, 1994), Billy McComiskey (National Heritage Fellow, 2016), Brenda Castles, Liz Hanley, James Keane, Seamus Egan, Ivan Goff, Brendan Dolan, and Eamon O'Leary.  
 The show will also feature folks like Joanie Madden (National Heritage Fellow, 2021) and Cherish the Ladies, the group Mick helped get going.  Look for several star dancers from the Green Fields fold, too, including Riverdance original Jean Butler, Donny Golden (National Heritage Fellow, 1995), Kieran Jordan, and Niall O'Leary.  And there'll be a number of Mick's other friends, like Nora Brown, Donie Carroll, Stephanie Coleman, Jefferson Hamer, Cheick Hamala Diabate, Tamar Korn, Dan Levinson, Don Meade, and of course, Leni Sloan, all of whom worked with him in various ways over the years and shared in his artistic vision.
 If you're interested in traditional music and live in New York City this is the thing to see this season, full stop. You're not again likely to see a show so stacked with talent, especially one spread over so many days.  Don't miss it.  For more, visit the Irish Arts Center's website.
 On the play deck this week is "Peggy's Dream" by Martin Hayes & The Common Ground Ensemble.  On this album Hayes, who you've seen many times at the Irish Arts Center (including once with the Common Ground) and who has also won a Gradam Ceoil (his in 2008 for Musician of the Year), is joined by a very interesting group of musicians, including cellist Kate Ellis (Artistic Director of Crash Ensemble), pianist Cormac McCarthy, bouzouki & concertina player Brian Donnellan (who, like Hayes, is an alumnus of the Tulla Céilí Band), and guitarist Kyle Sanna (Bela Fleck, Chris Thile).  Although each of these musicians come from different backgrounds and bring different styles of music to bear on this project – contemporary classical, jazz, and experimental musics among them – it's the traditional music through which they find their "common ground."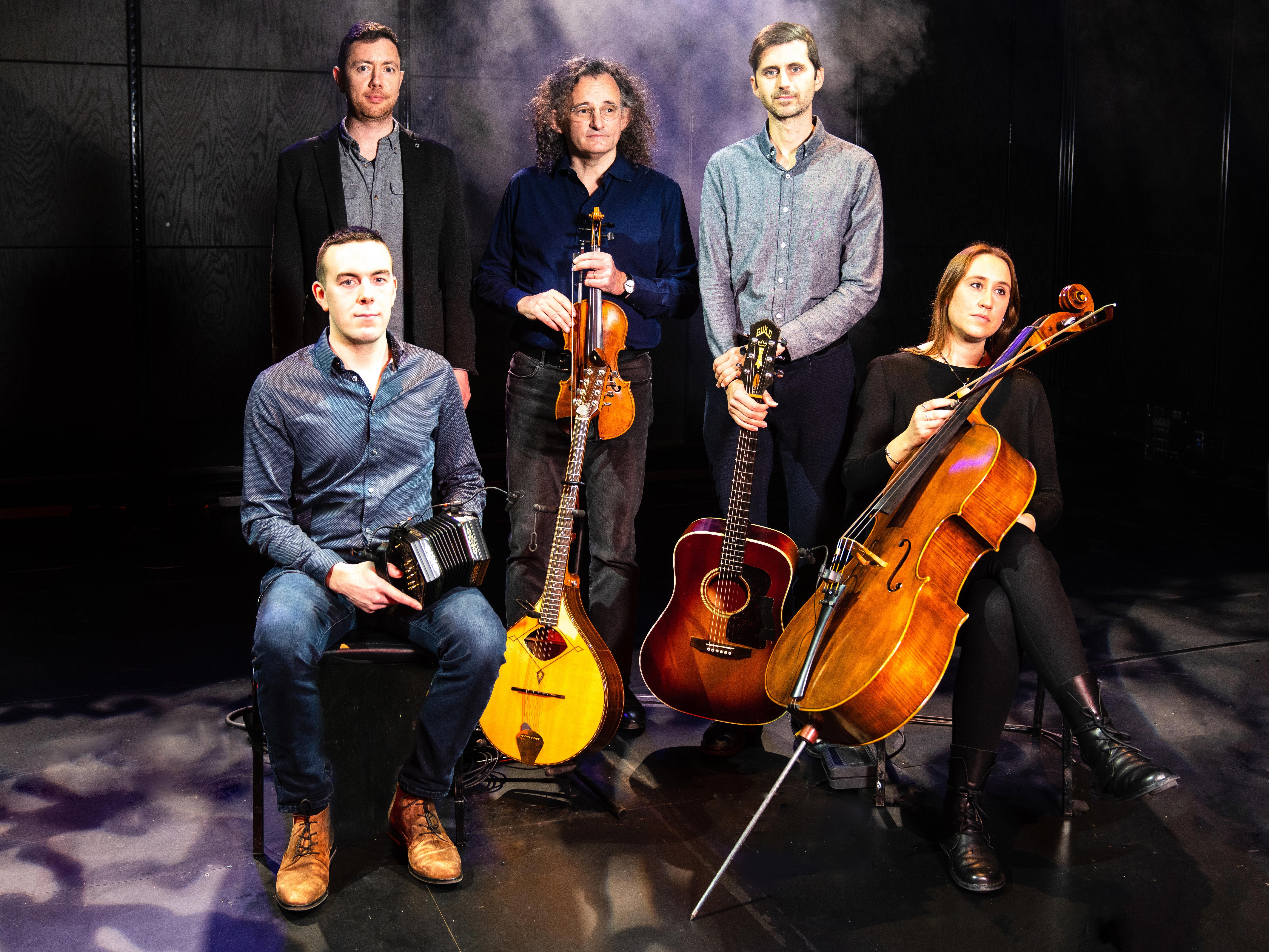 The Common Ground Ensemble.
I'm throughly impressed by this album.  The music is gorgeous, with some moments impressionistic and languid and others layered and tense.  There is generally a great sense of space in the arrangements.  And while these moods are really very interesting, they most importantly serve to enhance the melodic beauty of the tunes Hayes has selected.  
 The ensemble he's brought together are all versatile, first class musicians.  They really seem to have a keen commitment to Hayes's artistic plan, since the results are this sophisticated and nuanced.  I think the music here is a touch above the already high standard Hayes generally reaches in his other albums and I think it has to do with the chemistry of this particular group of musicians.
 A few tracks stand out for me, and in different ways.  "The Boyne Water," the one that opens the album, is a bold yet minimalistic expression of a great tune that plays it a little safe.  It doesn't try to do too much and isn't wholly unlike things we've heard from Hayes's projects in the past.  However, toward the end there are flashes – especially in the piano, I think – that make the track feel very fresh.  It's a solid way to introduce us to this group's identity.
 Then I listen to "Garret Barry's Jig."  A superb telling of a classic jig, the arrangement create a sense of drama built around the tune's melody.  The opening and closing portions of the track frame the tune in mystery and are a great contrast to the tune, as it moves toward, and then away from, clear focus.  The way Hayes spins the melody into the arrangement makes the whole pretty exhilarating to hear.
 "Peggy's Dream" is similarly cinematic.  The tune is an unusual one, coming from the Goodman collection by way of Steve Cooney, and it's one that seems to encourage expressive liberty.  Hayes has taken wonderful advantage of this, but it's the way the band responds to his playing (and that of Donnellan) that makes this track feel so wonderfully deep.
 "Peggy's Dream" is a beautiful, sophisticated album.  Hayes is playing at the highest level, as always, and the band he's assembled is brilliant band.  Give this one an extra serious look when it releases on March 24.  Keep an eye on Hayes's website for the announcement.
 And this week, while you're waiting for this new one, why not give Hayes's other albums like "The Lonesome Touch" (with Dennis Cahill), "Blue Room" (with the Martin Hayes Quartet), or The Gloaming's three eponymous, numbered album – a listen at the website.  Or maybe Maurice Lennon's work with the great Stockton's Wing.  Or "Tunes from the Goodman Manuscripts," the album Mick O'Brien made with Emer Mayock and Aoife Ní Bhriain?  Or the Mulcahy Family's albums.  Or anything by Mick Moloney and his cohort.  It's all brilliant music and exactly the type of stuff you'd want to be caught listening to at this time of year.
 Finally: a shout-out to Douglas Comhaltas!  Based in Douglas Village in Cork City, the branch, which is celebrating its 25th anniversary this year, is led by Chairman Barry Cogan and his wife Aislinn and has over 340 members.  A group of representatives from the branch are in town this week and will be at the Sunnyside Folk Club on Wednesday, the Sober St Patrick's Day event on St. Patrick's Day morning and the New York Irish Center Patrick's night.  Welcome to New York!