Abigail Rafferty earned Most Valuable Player honors for leading DeSales to the championship of the Middle Atlantic Conference Freedom division in women's basketball. The Bulldogs received a scare from Arcadia in Wednesday's 64-54 semifinal victory. Rafferty was good for a game-high 20 points, dropping in 10 of 16 field goal attempts. She also took down eight rebounds. Saturday's championship tilt against Stevens Tech saw DeSales prevail, 59-36, as Rafferty tallied a game-high 18 points as well as a game-high 14 boards. She canned eight of 11 shots from the floor and two of four free throws. She is a junior from Dungannon, Co. Tyrone. The Bulldogs (26-1) advance to the NCAA Division 3 tournament. 
Holy Cross snapped a three-game losing streak with a home win over Loyola (Md.), 59-51, on Wednesday, with Bronagh Power-Cassidy leading the scoring attack. The Dublin sophomore put 15 points on the board, knocking down six of 15 shots from the floor, including three of six from bonus territory. She also brought down five rebounds. The Crusaders (20-8) took their act to West Point on Saturday for a 60-54 win over Army. Power-Cassidy scored 13 points, shooting 4-for-10 from the floor and 5-for-9 from the foul line. 
Enya Maguire provided Houston Christian with a spark in losses to McNeese State, 65-60, at home on Thursday and to Nicholls, 64-46, on the road on Saturday. The Belfast junior came off the bench to score 15 points and earn a game-high four assists. She made five of 15 field goal attempts, including three of 11 from NASA, and both free throws. Against Nicholls, she managed a game-high 19 points on 7-for-21 shooting from the floor, including 5-of-12 from long range, while playing all 40 minutes. The Huskies are 11-17.  
Home cooking resulted in victories for Texas-Rio Grande Valley over Tarleton, 66-58, on Wednesday and Sam Houston, 65-61, on Saturday. Waterford sophomore Deborah Ogayemi contributed nine points in the Tarleton win, hitting four of eight shots from the floor and her only free throw. She also grabbed seven rebounds. Against Sam Houston, she brought down a game-high 10 caroms and chipped in four points on 2-of-7 shooting from the floor. The Vaqueros are 11-16.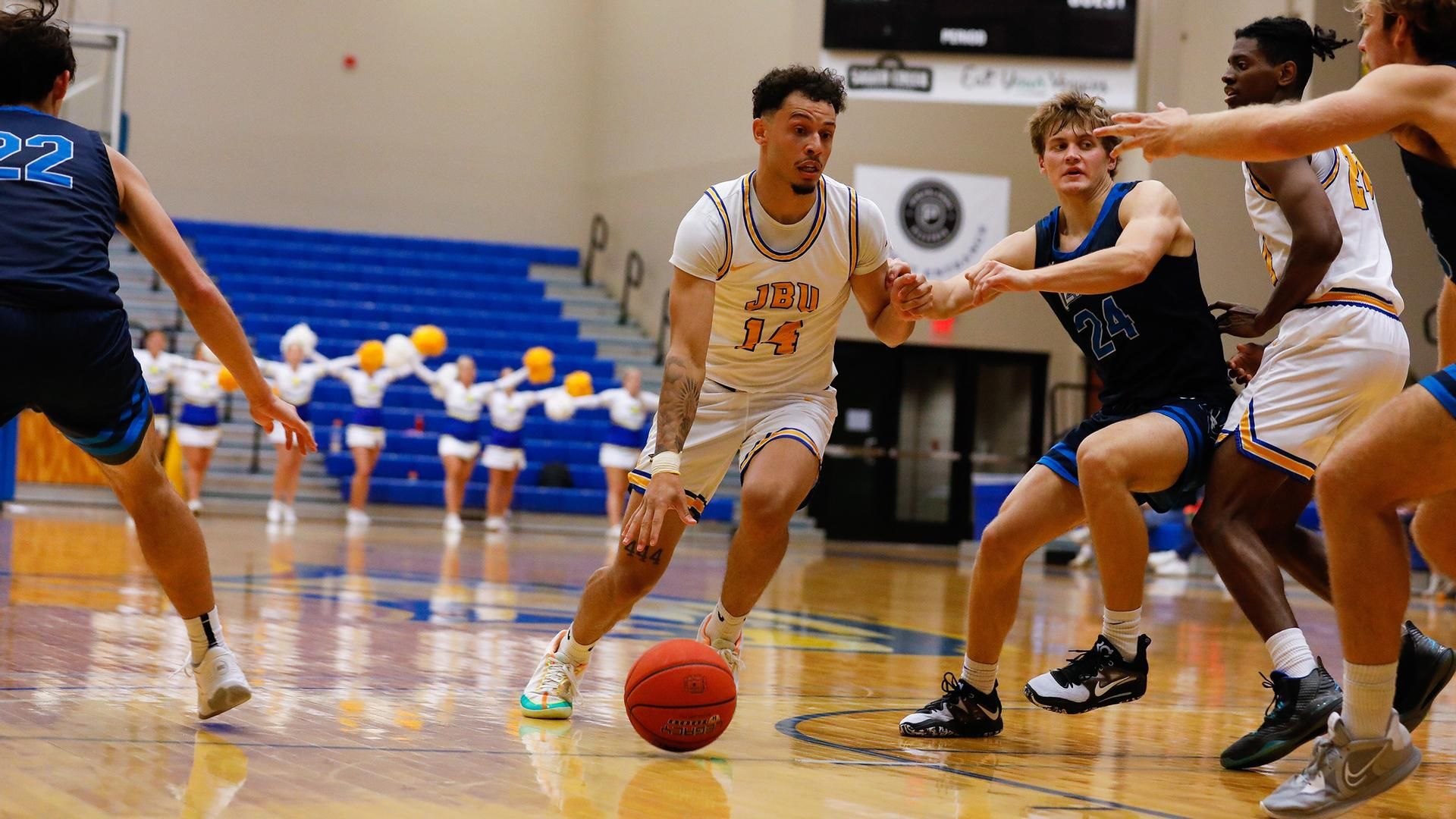 MEN'S BASKETBALL
James Beckom posted a team-high and personal season-high 19 points in his collegiate swan song as John Brown University ended its season in the first round of the Sooner Athletic Conference tournament with an 80-53 loss to Langston on the winner's court on Thursday. The 6-3 senior guard from Cork had a 6-for-13 shooting night from the field and 7-for-10 from the charity line. He also grabbed eight rebounds. 
Beckom ended the season with a 9.2 points per game average. He averaged 45 percent from the floor and 67 percent from the foul line. He also was named to the SAC All-Defensive Team. His 7.6 rebounds per game were by far the highest on the Golden Eagles, which finished the season with a 12-17 record. He also had seven double-doubles this season. 
"James has been such a tireless worker on the court throughout his time with us," said Jason Beschta, JBU's Head Coach. "There is no one who outworks him in any game and he sacrifices his body, time and again, to come up with a big rebound or make a defensive stop." 
Freshman forward Jamie Muldowney provided scoring punch for Coker in road losses to Catawba, 87-84, on Wednesday and to Carson-Newman, 71-70, on Saturday. The County Laois product tallied 14 points against Catawba on 6-for-15 shooting from the field, including 2-for-7 from three-point territory. He also had eight rebounds. Against Carson-Newman, he scored 17 points on 5-for-12 shooting from the field, including 4-for-7 from deep, and 3-for-4 from the foul line. The Cobras are 12-16. 
Sean McCarthy ended the season leading Felician in scoring in road losses to Alliance, 90-78, on Wednesday and to Post, 112-70, on Saturday. The Cork sophomore tossed in 32 points against Alliance, knocking down an incredible 15 of 19 field goal attempts, including one of two from long range, as well as his only free throw. He also was credited with four assists. Against Post, he scored 16 points and had a team-leading eight boards. He shot 4-for-10 from the floor, including 1-for-3 from outside the arc, and 7-for-9 from the foul line. He finished the season averaging 11.2 points per game while shooting 47 percent from the floor. The Golden Falcons finished with a 6-21 mark. 
Sanmi Fajana was deadly last week as Wis.-Parkside defeated Wayne State, 69-47, on Thursday and Saginaw Valley State, 73-65, on Saturday, both at home in Kenosha, Wis. The Dublin sophomore nailed seven of nine shots from the floor against Wayne State, including two of four from downtown, and his only free throw for a game-high 17 points. He scored eight points against Saginaw, making all three of his field goal attempts, two from long range. Parkside is 21-7. 
Sam Alajiki scored a team-high 13 points in California's 65-56 loss to Washington in Berkeley on Thursday. The Dundalk sophomore hit that number on 5-of-9 shooting from the floor, including 2-of-4 from outside the three-point arc, and 1-of-3 from the foul line. Freshman teammate ND Okafor, also from Dundalk, chipped in seven points on 3-of-9 shooting from the floor and 1-of-2 from the line. He also got credit for six rebounds. The Bears are panting for hibernation with a 3-26 record. 
SWIMMING
Villanova's Cara Stapleton contributed mightily to the Wildcats' victory in the Big East Championships in East Meadow, N.Y. last weekend. The junior from Dublin swam a leg on two relay victories and earned points in three individual races. She took third place in the 100-yard freestyle relay championship race, in which she touched the wall in 50.57 against a winning 50.15. She qualified for two freestyle consolation finals, taking second place in both – the 200, in which she finished in 1:52.56, and the 50, in 23.61. She also led off in both the victorious 200- and 400-yard freestyle relays. 
MEN'S GOLF
Robert Galligan of the University of Washington tied for 19th place in The Prestige Individual Invitational at the Golf Club at Terra Lago in La Quinta, Calif. The Dublin junior struck rounds of 71, 77 and 76 to finish eight strokes over par and 13 off the winning number belonging to Princeton's Riccardo Fantinelli. 
Meanwhile, over at PGA West in La Quinta, Louisville's Max Kennedy shared ninth place in The Prestige team event. Also a junior from Dublin, Kennedy combined rounds of 72, 71 and 69 to finish a stroke under par and seven off the winning score posted by Ludvig Aberg of Texas Tech.