Six straight hours of performances at the New York Irish Center's "40 Shades of Green" concert on St. Patrick's Day concluded with the McKenna Clann, who had received 1.3 million views on a viral Twitter video earlier in the week.
But the relaxed, convivial mood at the center was far from heady celebrity, or more formal venues such as the Irish mission to the UN, where the Clann played earlier in the week.
"This is Ciaran on the harp, and he's single," said eldest brother Eugene in introducing his six siblings in the Clann's young trad band.
Top-notch performances combined with down-to-earth fun at the center on Friday. Children with painted faces sat, mesmerized, at the feet of dancers; couples danced impromptu on the sidelines; and the full-capacity crowd sang, clapped, and stamped their feet enough to evoke an encroaching army, at times.
It's easy to see why Time Out New York hailed the event as one of the top two ways to celebrate St. Patrick's Day, last year, when "40 Shades" was introduced.
And, of course, it was a night of stories. Among them the son who planned to surprise his mother by flying in from Vancouver to New York, where she would be attending the event. It was he who got the surprise when the two bumped into each other beforehand. 
"I was walking along outside Macy's and there he was," said Trish Conroy of son David, who has been in Vancouver for several years now as a social worker.
She had traveled over with younger son, Daniel, who plays banjo with Comhaltas Douglas, a group of mostly school-age traditional musicians from Cork. Among them Orla Connolly sang a skin-tingling version of "Sé mo laoch mo ghile mear" ("He is my hero, my dashing darling," by some translations.)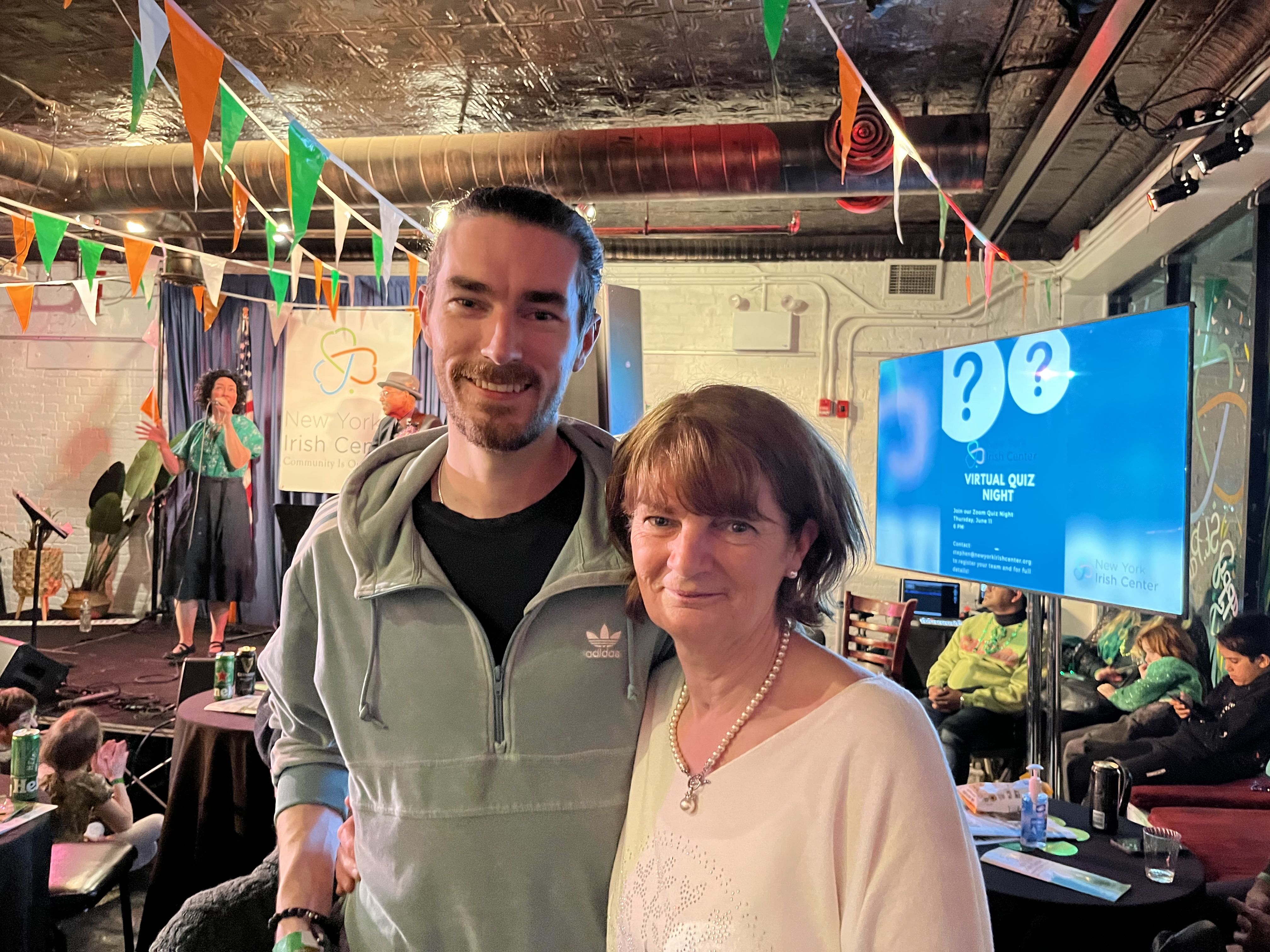 Trish Conroy and her son David met up in New York City. [Photo: Orla O'Sullivan]
They played very well and with an engaging innocence, several among them, heads down, in grim-faced concentration.
It was a study in contrast to the gloss of Darrah Carr Dance, New York-based performers who kept broad smiles throughout.
Even when a young child repeatedly reached for the "magic broom" around which Jonathan Matthews danced, he smilingly kicked it out of reach while retaining his intricate footwork.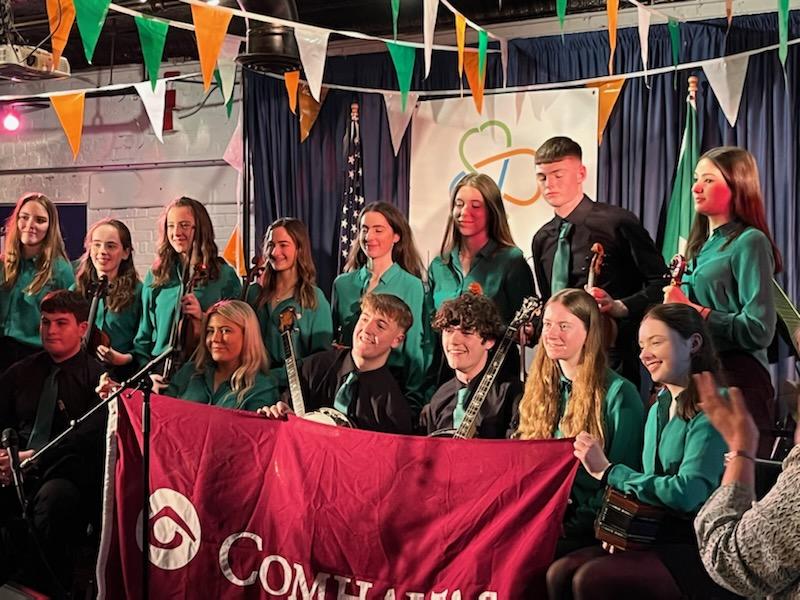 Comhaltas Douglas.
Matthews and four women gave an energetic, dazzling display on a hastily created dance floor. A fusion of ceili and "Stomp" you might say. 
Speaking of fusion, a couple spontaneously danced in a jazz style called Bilbao to Tara O'Grady singing the "Irish Rover". He, Shannon Fritts-Penniman, an attorney at the Emerald Isle Immigration Center in Woodside, heard about the event in work. She, his wife, Tanya Yarmola, said "I'm Russian- Ukranian, but I've been celebrating St. Patrick's Day in New York for years."